Most Beautiful & Best Greek Islands to Spend the Summer of 2023
The charming Greek Islands are the ideal choice when looking for an escape to paradise! Unveiling the best Greek islands for an unforgettable summer getaway, including some underrated destinations.
Greece is home to an astounding number of islands, with estimates ranging from around 1,200 to 6,000 islands and islets scattered throughout the Aegean and Ionian Seas. However, only around 227 of these are inhabited. And about 50 of these Greek islands are perfect for a summer holiday.
Imagine a world where time slows down and every moment is a celebration of life's simple pleasures. In fact, Greek Islands are all about that and more: never-ending coastlines with mesmerizing beaches, filled with sun, lively parties, and legends of long-lost civilizations. Everything surrounded by a gentle sea breeze.
We've seen and experienced their undying charm in movies like Mamma Mia, Zorba the Greek, or Captain Corelli's Mandolin. And they got into our hearts.
Disclosure: This article contains affiliate links. If you make a purchase after clicking one of these links, I earn a small commission from that website at no extra cost to you. Learn more: Disclosure policy.
Planning Your Trip to Greece
The first trip I have ever planned on my own was heading off to Greece for summertime. 18 years ago. Being born in Romania, just an 11-hour driving distance from paradise, I was seeing it as my first attainable dream destination.
I remember I worked for a whole summer in college, saving up every penny for the ultimate reward—a memorable 10-day vacation to Greece. Back then, a mere 250 euros was all it took to embark on such an adventure. I started in Katerini, a seaside city, not far from the vibrant Thessaloniki. From there, I set off to explore the Greek islands, starting with the breath-taking island of Skiathos. It was like nothing I had ever seen before,
Planning your dream trip to Greece doesn't require much. A bathing suit, sunglasses, a hat and lots of sunscreen. And a genuine hunger for adventure and summer fun.
---
📖

Essential reading on the Islands of Greece
---
Santorini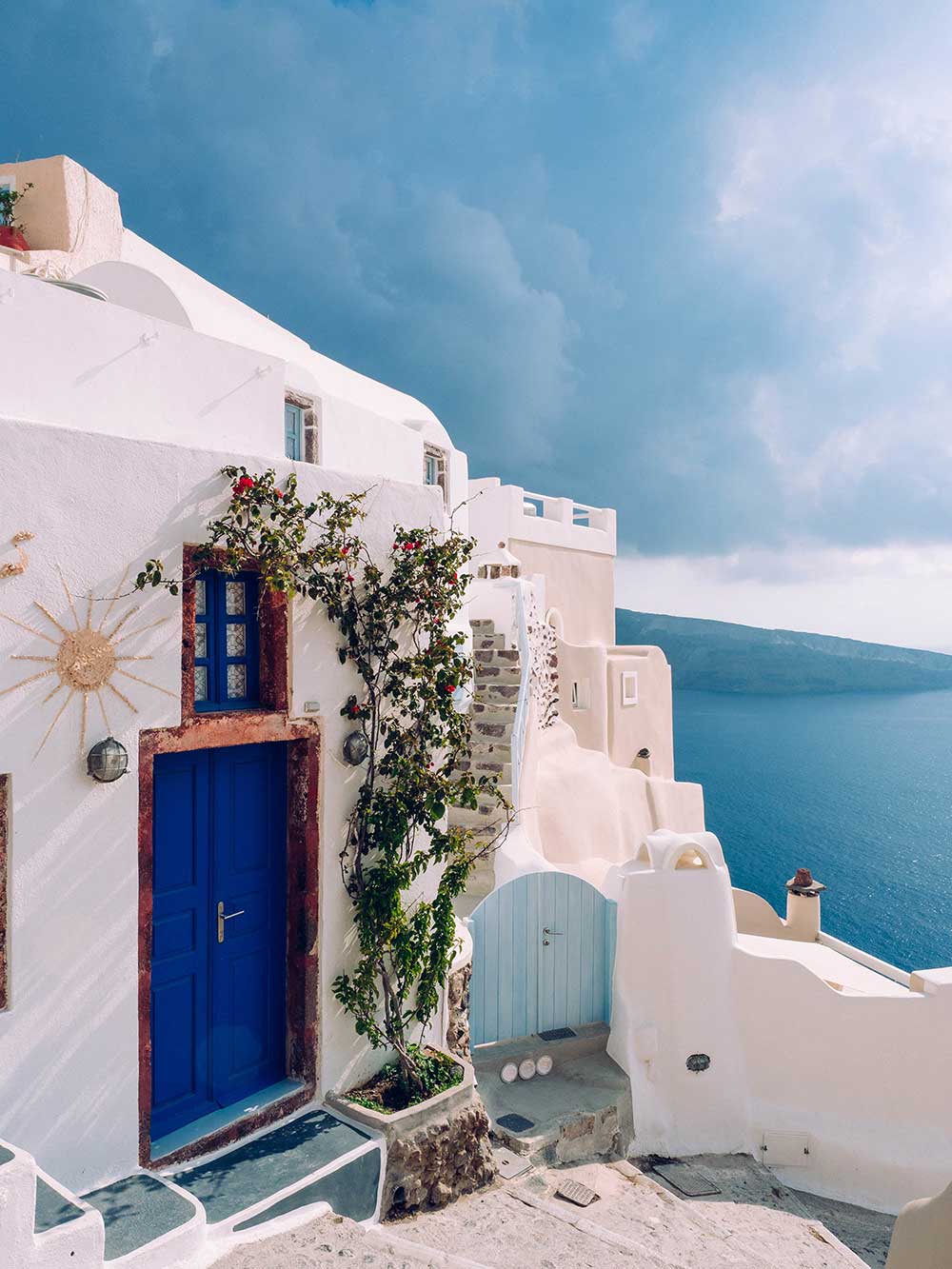 Santorini White Houses, Aegean Sea, Greece
🏝️ Best Greek island for: honeymooners, couples searching to relax, and solo travellers.
Santorini is the fairest of them all. The most beautiful of all Greek Islands. An endless landscape of white houses, with stunning sunsets in the backdrop and dramatic cliffside views overlooking the Aegean Sea make Santorini be a dreamy destination. And the legends say to have been inhabited by cyclopes once.
Part of the Cyclades group of islands scattered in the southern Aegean Sea, Santorini's rugged terrain was actually shaped by a 16th century BC volcanic eruption.  The buildings on the island themselves, well clinging to massive rocks, hang over a thousands-year-old crater covered in water.
Oia is undoubtedly one of the most renowned villages on the island withs such buildings. And this includes iconic white-washed houses and azure-topped churches unfolding on the hills along narrow and extremely charming streets.
Santorini is also known for its unique black and red volcanic beaches, which are unlike any other beaches in Greece. I would personally recommend choosing one of Perissa, Kamari, and Red Beach.
And when you're done soaking up the sun, pay a visit to the ancient city of Akrotiri, a Minoan city buried in volcanic ash after an eruption, that has been remarkably well-preserved until the current day. Or  even more fun, you can go yachting. Sailing in Greece is quite popular, especially when you have hundreds of neighbouring islands to explore.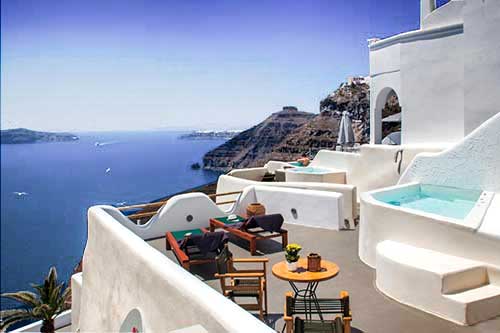 🛎️ Santorini Accommodation:
💸 Santorini budget/person/day: €70 – €300, from backpacking to splurge.
Mykonos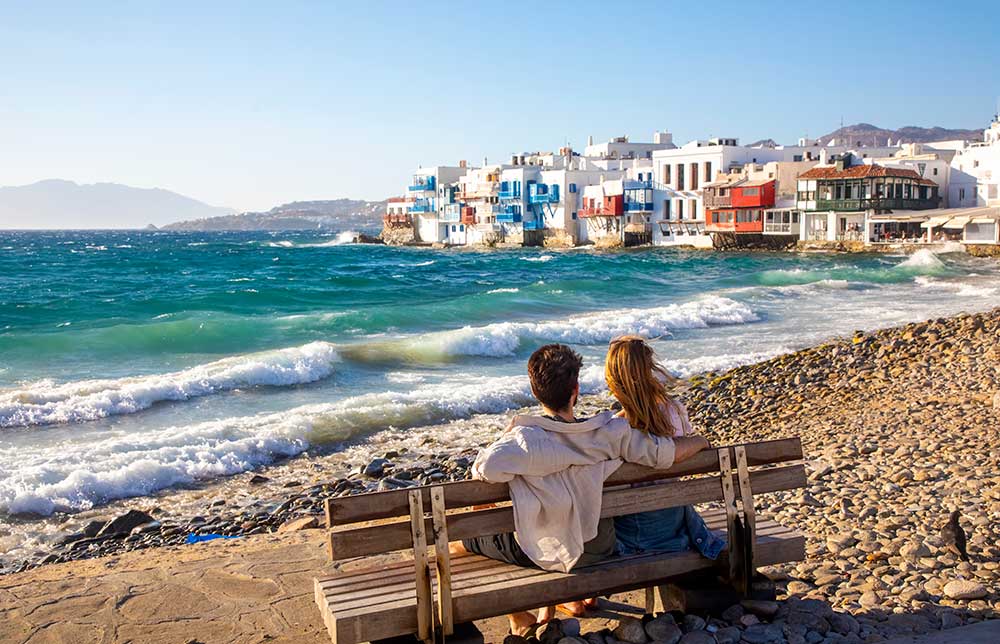 Mykono's Little Venice, Aegean Sea, Greece
🏝️ Best island in Greece for: young people, couples, solo travelers, and everyone else ready to party.
Mykonos is part of the same group of Greek Islands as Santorini, but it's more popular due to its vibrant nightlife. Some say it is by far the best and liveliest summer party destination in Greece.
With its beautiful, crystal-clear waters and golden sand beaches, such as Paradise and Super Paradise, visitors can relax in the sun, and enjoy water sports such as snorkeling, windsurfing, and jet-skiing. while listening to happy music from beach bars. At night, the island transforms into a clubbing heaven with massive dance clubs attracting world-renowned DJs and keeping the party going until well past dawn.
While Mykonos is known for its vibrant party atmosphere, it also has several iconic landmarks to explore. The most famous of these is the row of 16th-century windmills, which sit atop a hill overlooking Mykonos town, and the Mykonos Folklore Museum, which features traditional costumes, ceramics, and other exhibits.
However, beyond the party scene and landmarks, Mykonos has also a quieter side, with many beaches like Elia and Agios Sostis and villages to explore such as Chora, Ano Mera, and Ornos. The cities keep the architectural trend of the Cyclades with traditional bright white, and blue accents, cubic-shaped buildings,  and narrow streets, which are lined with shops, cafes, and restaurants.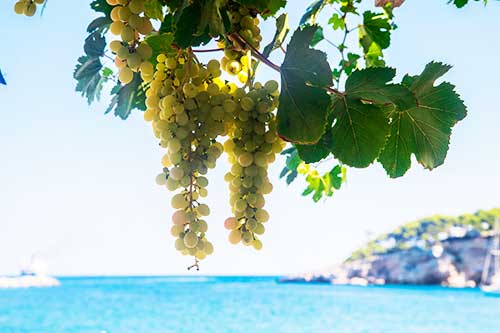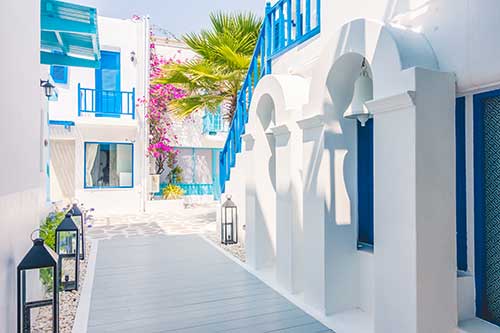 🛎️ Mykonos accommodation:
💸 Mykonos budget/person/day: €60 – €250, depending on the accommodation type.
Crete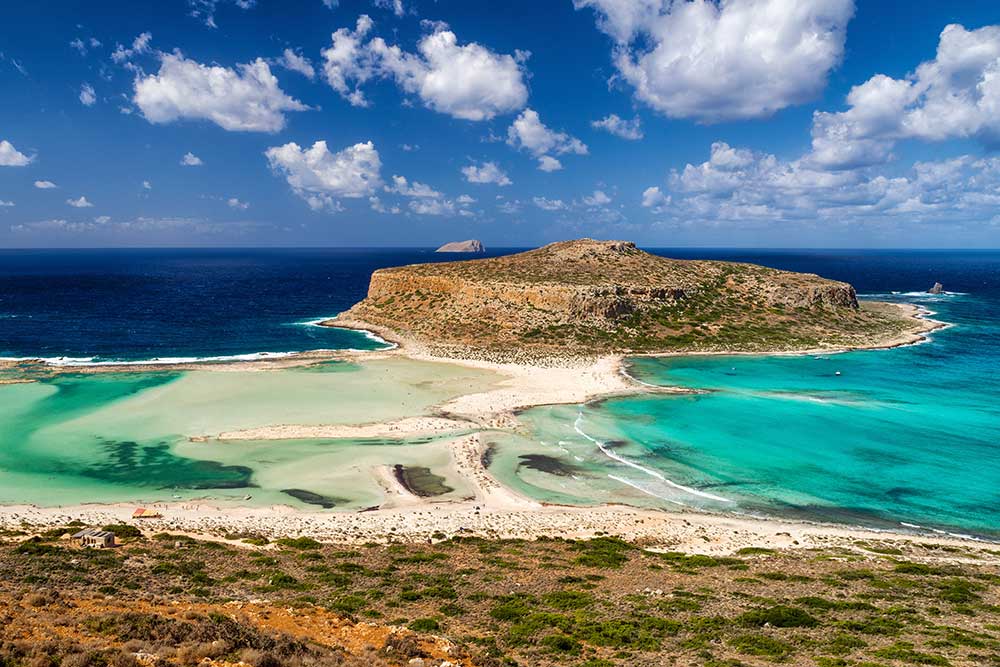 Balos Beach in Crete, Mediterranean Sea, Greece
🏝️ Perfect summer destination for: families with young children, outdoor adventure & water sports seekers. 
Many tourists are drawn to the sun-kissed beaches of Crete, from Elafonisi with its dreamy, soft, pink sand to the exotic palm-fringed beach of Vai. But the island, actually the biggest one in Greece, offers much, much more than the typical beach getaway.
Things you can do in Crete are extremely varied and cover a lot of the great outdoors activities: canyoning, hiking, scuba diving, paddling. You name it!
One particularity that I love about Crete are the gorges, narrow and steep-sided valleys formed by the erosion of water over millions of years: towering cliffs, lush vegetation, and the crystal-clear rivers. THE paradise for hikers: the challenging Samaria Gorge, and Imbros Gorge, a shorter and less demanding trail.
Not less charming are the tours to thriving wineries and olive groves, as well as visits to historical cities such as the Chania with its Venetian harbor. Some traditional windmills can be seen on Lassithi Plateau.
Still, beyond all these, Crete is a mystical home for ancient archaeological wonders, mythical creatures, and gods. Steeped in the legends of Olympus, the realm of Greek mythology, the island is known to house Zeus's birth cave, as well as the ancient ruins such as Palace of Knossos.
Cretan cuisine must try: dakos, kalitsounia, and souvlaki.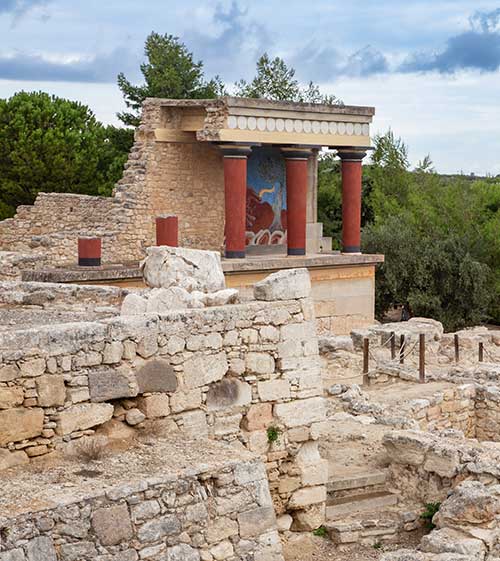 Palace of Knossos is a sprawling, labyrinthine-architecture complex associated with King Minos and the fearsome Minotaur. One of the archaeological wonders of Crete.

💸 Crete budget/person/day: €50 – €100, cheaper than other islands due to strong internal agricultural production.
Underrated Greek Islands
Out of the so many, many islands of Greece, these ones are its lesser-known treasures, with more intimate and authentic experiences. Less tourists, less crowds, secluded beaches, great to relax in a far, far away place. A chance to explore the shores where mythical creatures once roamed and gods and goddesses walked the earth.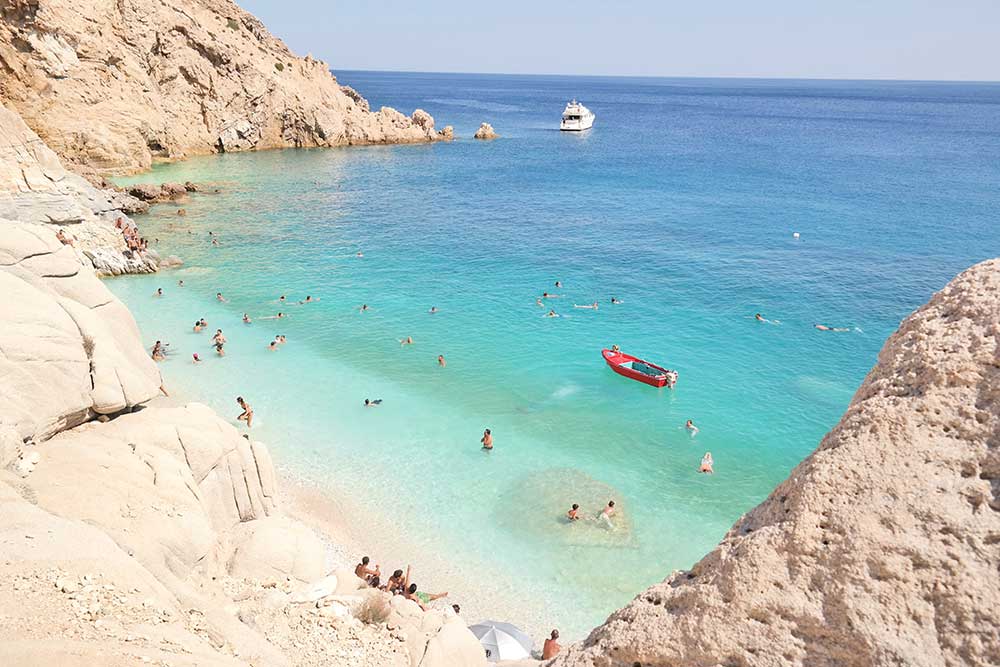 🏝️ Best Greek Island for: nature enthusiasts, wellness seekers, slow travel advocates.
Nestled in the embrace of the Aegean Sea, there is the remote and mystical Greek island of Ikaria. Its rugged landscape is dotted with white houses and red rooftops and giant cactus.
Legends whisper through the air, as locals proudly recount the famous tale of Icarus, who dared to fly too close to the sun, and the island's namesake, renowned for extraordinary longevity. They all believe that the magic of Ikaria bestows upon its people a lifespan that defies aging.
If you're there in summer, the island boasts with merry celebrations of Christian Saints. People come from afar to participate in the so called Panigiria. From May to late October, festivals unfold like a kaleidoscope of colors and melodies, with locals donning traditional costumes and swaying to the rhythm of traditional Greek music. You can find a schedule here.
Some of its hidden treasures of Ikaria are the hiking paths crossing the countryside, Seychelles beach, Therma's hot springs and the ancient site of Nas, where the remnants of a once-thriving city lie beneath the sea, telling tales of a lost civilization.
Either the Ikarian wine, the seafood or the mineral hot springs, it is all in the spirit of the same magical force said to flow around the island, breathing vitality and everlasting youth into the souls who call this place home.
💸 Ikaria budget/person/day: €50 – €100, with accommodation starting at €30 and food at €20.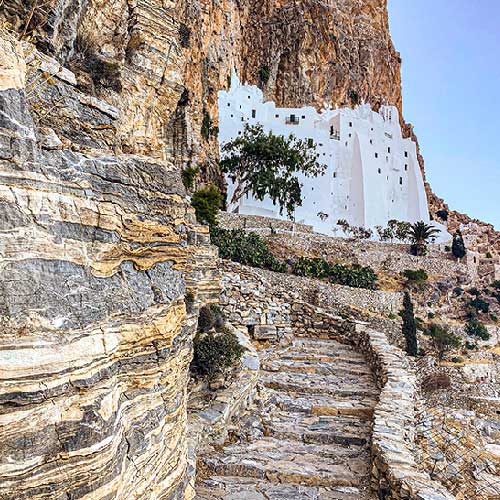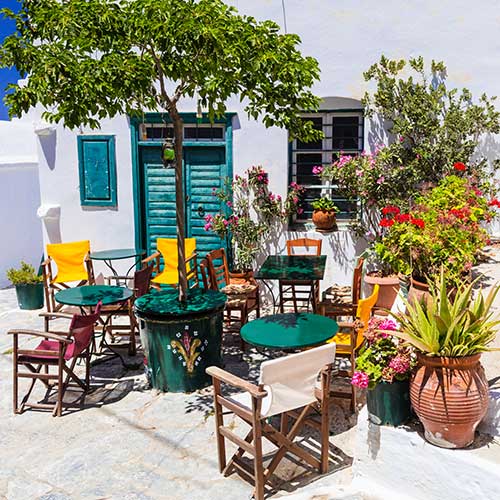 Monastery & Traditional Taverna, Amorgos, Islands of Greece
🏝️ Best for: solo travellers, hikers, those seeking a quieter, more laid-back vacation & authentic Greek experience.
Amorgos is a stunning Greek island located in the eastern part of the Cyclades group in the Aegean Sea. The island has a distinctive rugged terrain, steep, rocky coastline, and crystal-clear waters. It is harder to access than others, but one of the most picturesque boasting with countryside landscapes with goats, castles, beaches, shipwrecks and more.
The most iconic landmark on Amorgos is the Orthodox Monastery of Hozoviotissa, a 1000-year-old cliffside monastery perched over the sea. The monastery is an architectural marvel, white walls and blue dome seemingly carved into the rock face. No less than 300 stone steps are leading hikers up the rocky mountain.
As you make your way towards the Monastery of Hozoviotissa, you pass through the charming village of Chora, with its cozy winding streets and hippie vibe. It is small and intimate, with characterful shops and family-run taverns. And even a Venetian castle!
If you're searching to enjoy days at the beach, Agia Anna, located on the southeast coast, is a secluded cove surrounded by steep cliffs. It has turquoise waters and white sand, great for swimming and snorkelling. On the west coast of the island, there is Agios Pavlos, a pebble beach, with clear waters and breath-taking views of the sunset. It's also a popular spot for windsurfing.
💸 Amorgos budget/person/day: €40 – €100, best for budget-conscious travelers.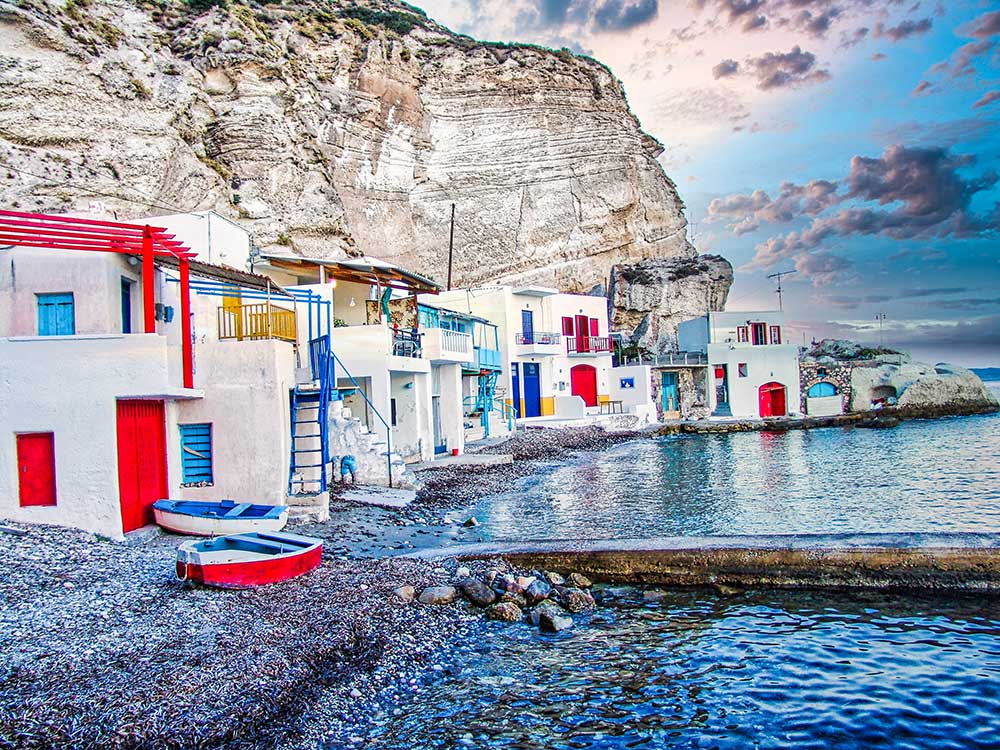 Klima Village, Milos, Cyclades Island Group
🏝️Best of the Islands in Greece for: beach & nature lovers, history & culture seekers.
While the world has been fascinated for centuries in a row by Venus de Milo, exhibited in the Louvre as the motionless embodiment of Aphrodite, the Greek goddess of love, only a handful of people are aware of the island that gifted it to the world. Milos.
Shadowed by the popular Santorini and Mykonos, Milos is an island with more than 70 beaches, of which some of the most surreal on the planet. From the famous Sarakiniko with its rolling, lunar-like landscape of white volcanic rocks to the colorful shores of Paleochori and the secluded cove of Tsigrado, Milos has one impressive coastline among all Greek Islands.
The geological marvels shaped by volcanic activity don't stop here. The island is home of some wonderful, bubbling hot springs. The mineral-rich waters are accessible by boat, near Adamas port, not far from a Mining Museum.
Beyond what nature has given, Milos is dotted with manmade charming villages that exude traditional Cycladic charm.
The main town, Plaka, is a picturesque village with narrow cobblestone streets, whitewashed houses, and stunning views over the sea. Next is Klima is a unique fishing village known for its colorful "syrmata," traditional boat garages built directly on the water's edge. And finally Trypiti, is home to the ancient catacombs of Milos, which are among the oldest Christian catacombs in the world, along with an ancient theatre.
Honestly, Milos should be your destination before it starts getting crowded.
🛎️ Milos Island Accommodation:
💸 Milos budget/person/day: €40 – €100, best for budget-conscious travelers.