The Dream of 3 Days in Hanoi & How to Make It Happen | A Jam-Packed Hanoi Itinerary
If you're wondering what to do in 3 days in Hanoi as a first timer, you've got to the right place! I could only start that by saying that this peculiar city is wrapped up in mysticism, colors, smiles and kindness. It's one of my favourite places in Vietnam, along with Ba Na Hills and Hoi An.
Hanoi is a city hard not to fall in love with. And 3 days are more than enough for that!
First of the 3 days in our Hanoi itinerary is a walk around the Hoan Kiem Lake, a place of folk tales and art. We start with a temple visit and continue by exploring the nearby quarters and most exciting attractions.
The second day is an introduction to the history, as well as political and educational system of Vietnam, while the third day in Hanoi is about the West Lake area, from Pagodas and Temples to modern-day skyscrapers.
Disclosure: This article contains affiliate links. If you make a purchase after clicking one of these links, I earn a small commission from that website at no extra cost to you. Learn more: Disclosure policy.

Planning Your Trip To Hanoi, Vietnam
🎟️ Make a reservation for a:

3 Days in Hanoi: Day 1 – Hoàn Kiếm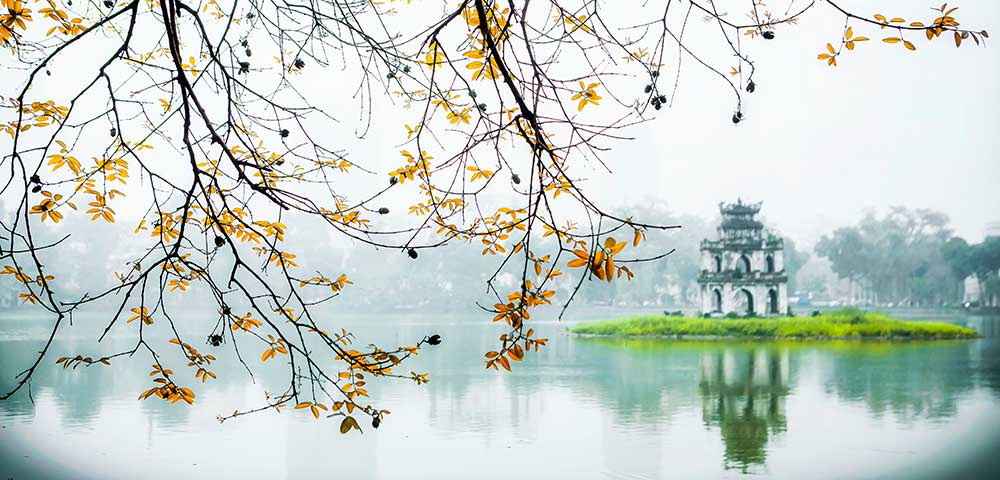 Turtle Tower & Hoan Kiem Park & Lake, Hanoi
Almost ANY 3 day visit in Hanoi should start with the captivating area of Hoàn Kiếm Lake, a place covered in mystery and legend.
Also known as the "Returned Sword Lake", this is one special landmark in the culture of the Vietnamese city of Hanoi. Its very beating heart. The old beliefs have transformed the lake into a holy site nurturing some giant turtles, the soft-shell "Rafetus leloi" tortoises, and pilgrimage place.
Its emerald waters are surrounded by an exotic park and thoroughly embraced from all sides by two overly-crowded districts.  One is the lively and colourful Old Quarter, extended on its the Northern and Western sides, while the other is the French quarter, located more to the East.
In the most peculiar ways, this magical part of the city, surrounding the body of water, is a mix of colonial buildings, ancient temples and pagodas, slim residential buildings, scattered cafes and bánh mi restaurants.
All isolated on urban islands by a completely chaotic traffic.
---
🏯

Ngoc Son Temple / The Temple of Jade Mountain
---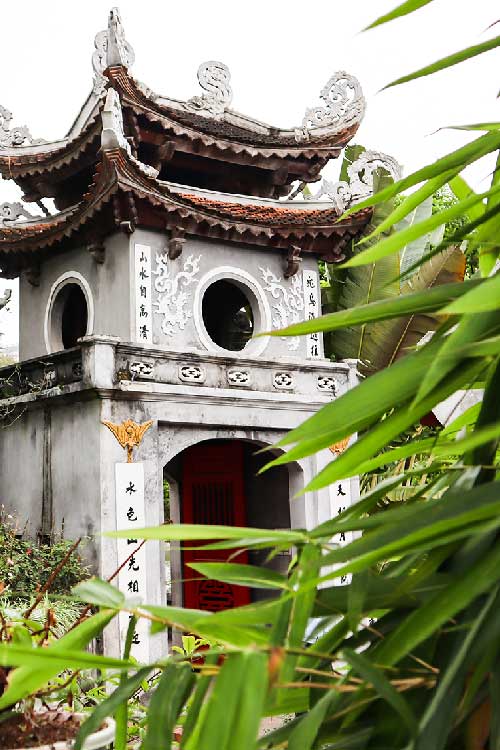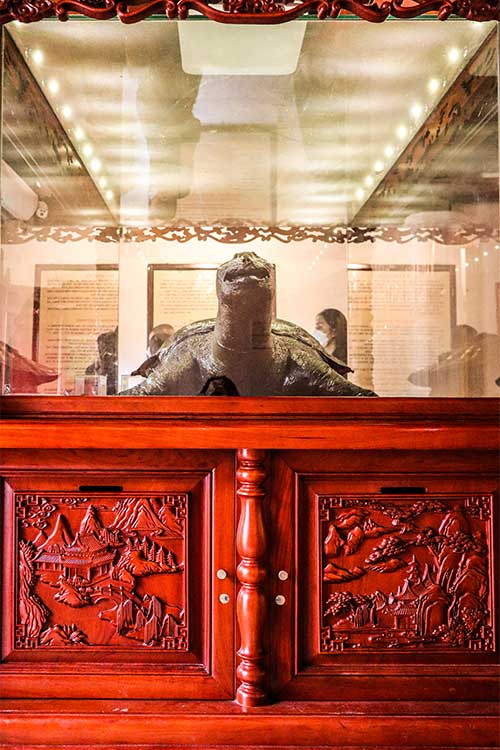 Ngoc Son Entrance Gate & Giant Turtles, Hanoi, Vietnam, Copyright © Cooltourismical.com
First thing to see early in the morning can definitely be the tiny, spiritual oasis called Ngoc Son Temple. The Chinese architectural style influenced complex is located on an islet in the middle of Hoan Kiem Lake, being accessed by the Huc Bridge.
It is a 19th century masterpiece meant to worship Tran Hung Dao, the greatest military commander of the Tran Dynasty. Which is known to have defeated the Mongols in the 13th century. The temple also pays tribute to Xuong De Quan, the God of prosperity in ancient Chinese culture and Taoist philosophy, as well as La To, the patron saint of physicians.
The gates of Ngoc Son Temple are ornated with mythical creatures, turtles, dragons and symbolic messages, while the interior features intricate pavilions, surrounded by big bonsai and exotic fruit trees gardens with mystical water fountains and floating Koi fish.
But, the most striking artefacts inside the temple complex are the two well-conserved, once alive, giant turtles: 2.10m long, 1.20m wide and 250kg in weight. They are now thoughtfully kept in glass boxes as sign of respect and veneration.
The temple on the Hoan Kiem Lake is immersed in the smoke of burnt incense, mysteriously blending at the early hours of the day with a deep fog.
📌 Address: P. Đinh Tiên Hoàng, Hàng Trống, Hoàn Kiếm, Hà Nội (Google Maps);
🕐 Opening hours: Every day | 08:00 am – 06:00 pm;
🎟️

Entrance fee:

VND 30.000 / person.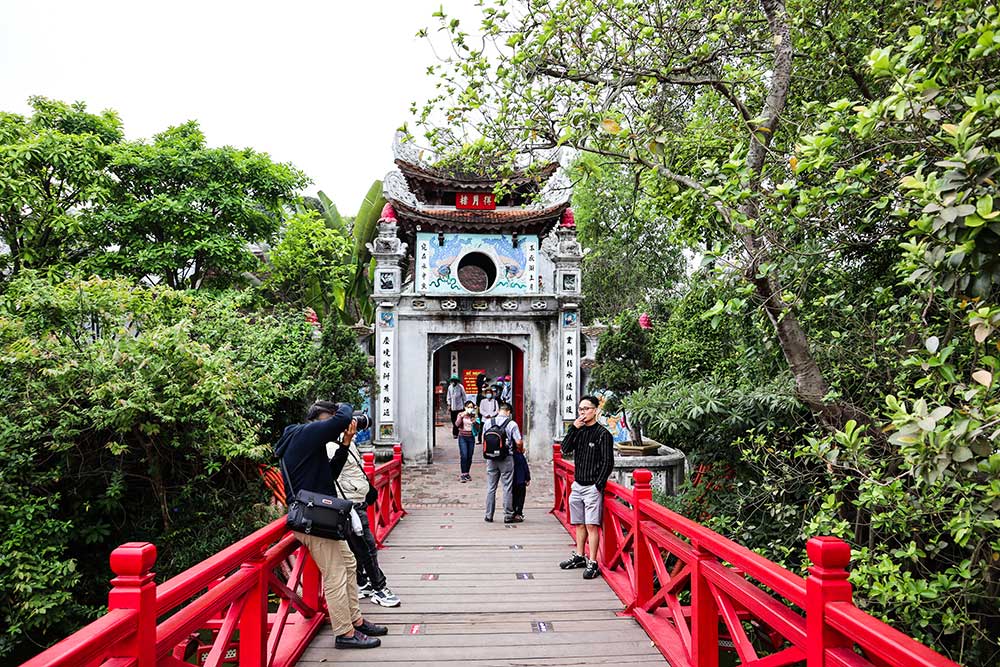 Ngoc Son Temple is connected to a park, on lake banks, through an extremely vibrant red bridge, made out of wood, the Huc Bridge, "Welcoming Morning Sunlight Bridge" or "The Bridge Where Light Is Absorbed".
The bridge itself is a jewel of Hoàn Kiếm Lake, and an outstanding example of Buddhist design. Its construction was inspired by the old wooden Vietnamese housing architecture of the Red River Delta, where  the presence of a bridge over a pond is never overlooked. Nevertheless, a symbol for wisdom and transformation.
The view at night, as the bridge lights up,  is breath-taking.
---
🧑‍🎨

Vietnamese Portrait Artists
---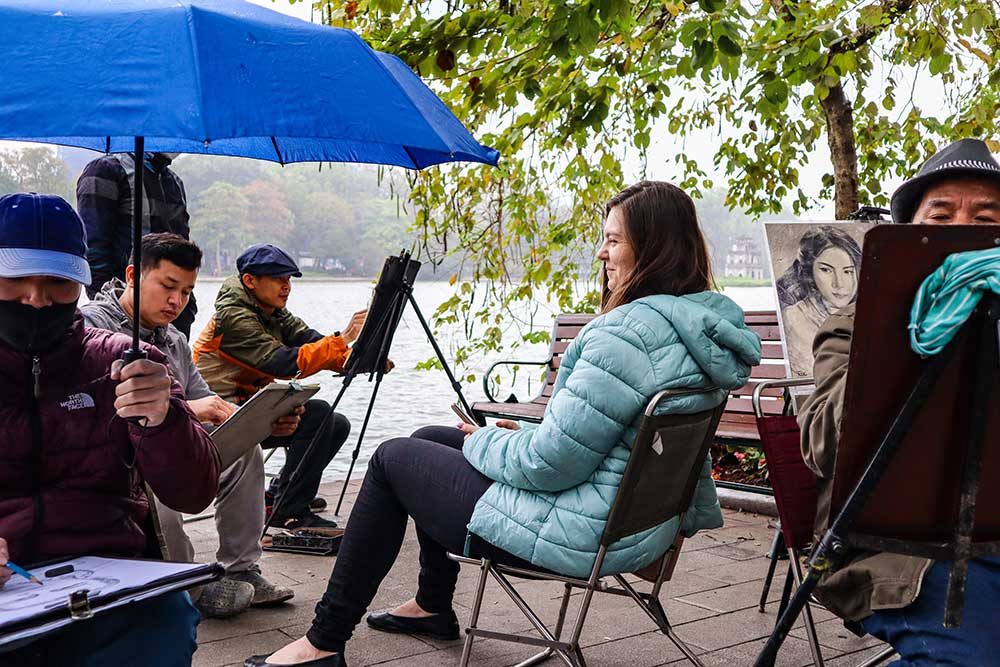 Portrait Artists in Hoan Kiem Park, Hanoi, Vietnam, Copyright © Cooltourismical.com
Having a walk in the park surrounding the Hoan Kiem Lake will take you to this magnificent place with photo exhibitions, live cultural performances and many, many portrait artists.
This is the art scene of Hanoi awaiting passers-by with wide, open arms. The vibe slightly reminds of the bohemian and charming Parisian DNA, but wearing the colourful and exotic clothes of the Vietnamese natural landscape and manmade, hundred-year-old artefacts.
Either on a misty morning or when the darkness falls, Vietnamese artists meticulously portray pedestrians for as low as VND 150,000. They don't run away even when clouds gather. Beads of water tap down their umbrellas, while they record even the tiniest wrinkle on your forehead.
You pick a lucky portrait artist. But another two or three circle you and start sketching simultaneously. At the end, it is you, but in so many instances.
Find them at the 19th-century stone Pen Tower!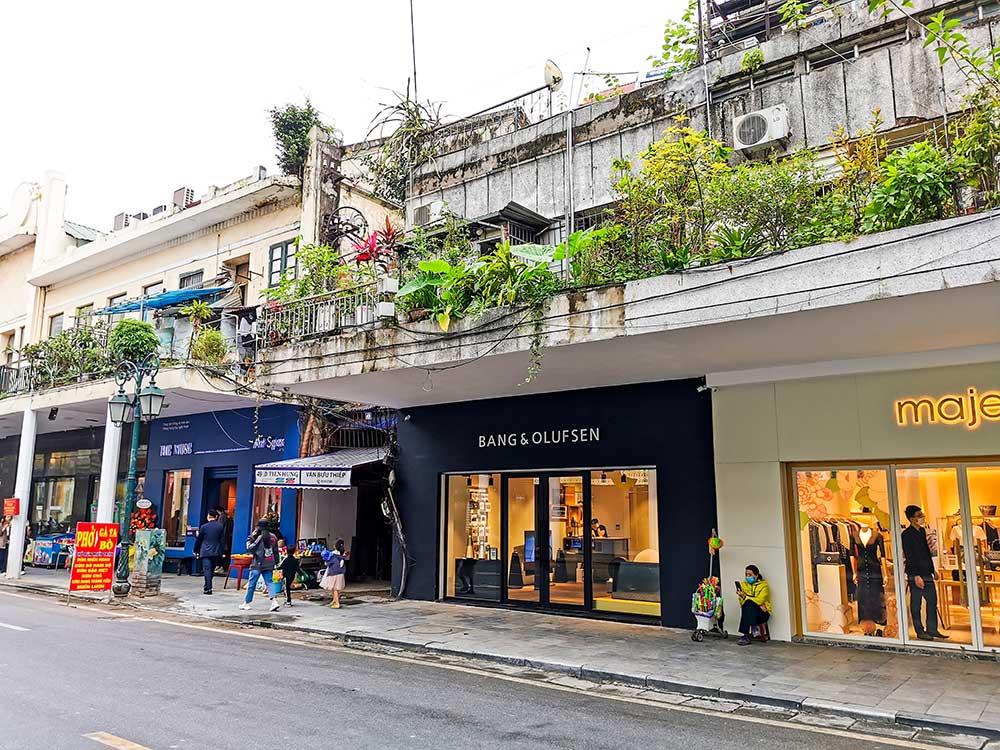 As if it were a mere coincidence, the portrait artists look towards the wide, paved streets of the French Quarter. This area, stretching towards east and south of Hoan Kiem Lake, is quite famous in Hanoi for the still-standing French legacy: neoclassical to Art Deco buildings, often embellished with Asian influences.
20th century elegant colonial houses and villas have been transformed in time in governmental buildings, museums, boutique stores and high-end restaurants. Trang Tien Street, for example, is a hub for art galleries, cultural performances venues and luxury shopping.
The most striking case of Parisian-style architecture on the Trang Tien Street is the opulent Hanoi Opera House with its fine pillars and domes,  followed by the National Museum of History, a visual mix of French villa and Vietnamese palace influences.
However, besides those two, one of the most visited attractions in the French Quarter is the notorious Hoa Lo Prison.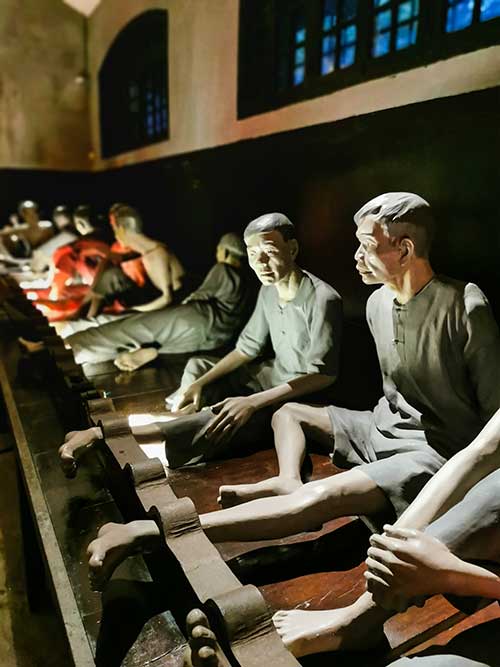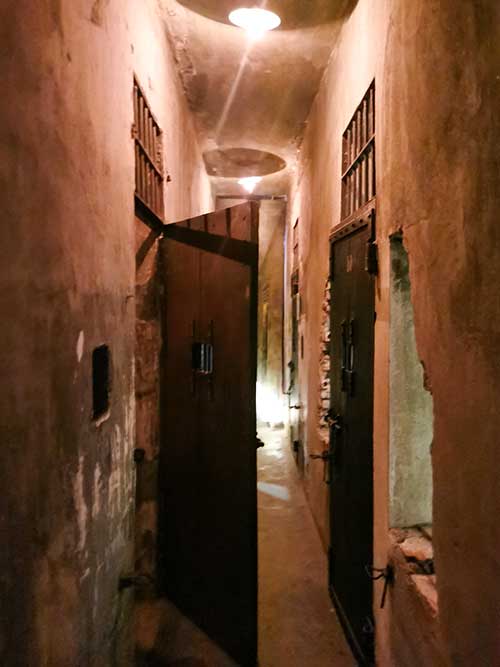 Hoa Lo Prison Relic, Hanoi, Vietnam, Copyright © Cooltourismical.com
On the other western side of Hoan Kiem Lake, just on the lip of Hanoi Old Quarter, a monument of past terror hides behind yellow walls and greenery, among ancient and modern buildings.
Maison Centrale known today as Hoa Lo prison Relic is a well-known and visited history museum in Hanoi. A former gatehouse, still standing, with a mere trace of what it used to be: one of the most inhuman and biggest prisons of Indochina. It was built by the French colonists, on the grounds of a famous pottery village, to intern Vietnamese revolutionaries.
The atmosphere inside is still dark and spooky, as it holds intact cells and torture artefacts. All silent witnesses of a horrifying history: people who suffered and died for the independence of their country.
📌 Address: 1 P. Hoả Lò, Trần Hưng Đạo, Hoàn Kiếm, Hà Nội (Google Maps);
🕐 Opening hours: Every day | 08:00 am – 05:00 pm;
🎟️

Entrance fee:

VND 30.000 / person. Audio guide is extra.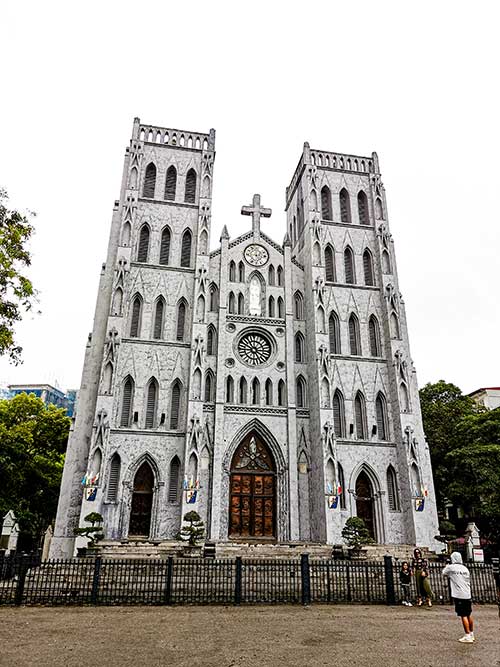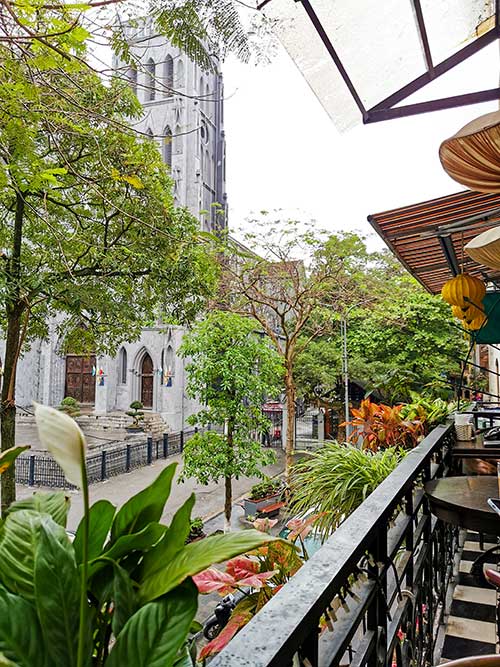 Saint Joseph's Gothic Cathedral, Hanoi, Vietnam, Copyright © Cooltourismical.com
Minutes away from Hoa Lo Prison, on the lip of the Old Quarter, the streets open up to a large plaza dominated by an impressive 19th century catholic church, raising tall above 1 or 2-storey buildings. Its medieval gothic, washed-grey appearance makes its presence even more striking for the neighbourhood.
Named after the patron saint of Vietnam, St. Joseph's Cathedral has been built under the French administration, on the grounds of a former pagoda.  Based on the model of Notre Dame Cathedral, the worship place has pointed domes, facing the sky, windows fitted with stained glass made in France and a state-of-the art, rib-vaulted interior ceiling.
The plaza is surrounded from all sides by romantic cafes and restaurants: colourful tiny houses, with hanging lampions, blossoming plants and ficus trees.
📌 Address: No.40 Nha Chung street, Hanoi (Google Maps);
🎟️

Entrance fee:

free to visit.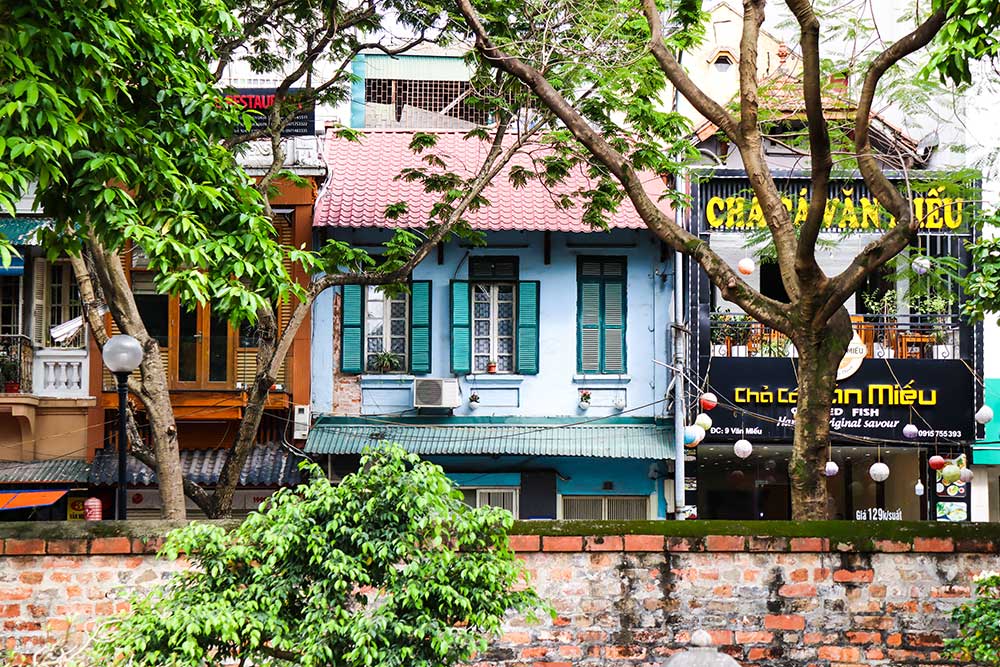 Hanoi Old Houses, Copyright © Cooltourismical.com
To the West and North of the Hoan Kiem Lake, one of the oldest and most hectic neighbourhoods in Hanoi, the Old Quarter, unfolds.
Set as a cluster of ancient, narrow streets, with no traffic rules, the old Quarter has a rare charm. These streets are home to cosy hotels and spas, worship places, street-food stalls, open-air cafes. Everything a tourist can dream of while a trip to Hanoi.
But once, they used to be inhabited by different craftsmen and merchant guilds. The tiny lanes are margined by the famous Hanoi-style, tube houses that evolved from their simple, bygone stalls into one or two-storey red-tiled roofs, shops and homes. From place to place, Buddhist pagodas and temples are carefully enclosed by the slim dwellings, like rare gems and oasis.
The facades of the buildings can be as low as 2 meters in width, but even 1o to 20 times more in length, shaping themselves, along centuries, as a series of rooms and courtyards towards the inner side of the islands.
The highlights of the Old Quarter are the Dong Xuan Market, Hang Dao Night Market, Water Puppet Theatre and the wonderful Bach Ma Temple.
🎈 You can move around the Old Quarter on foot or by hiring a 3-wheel cyclo (modern rickshaw), already used to zig-zagging in the wild Hanoi traffic.
---
🌊

Thang Long Water Puppet Theatre
---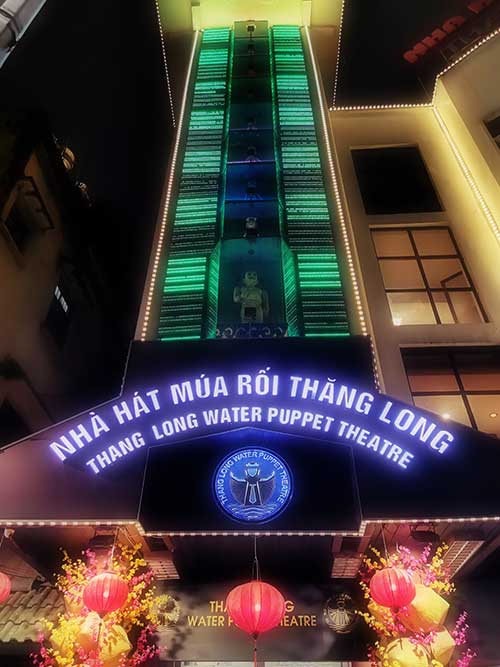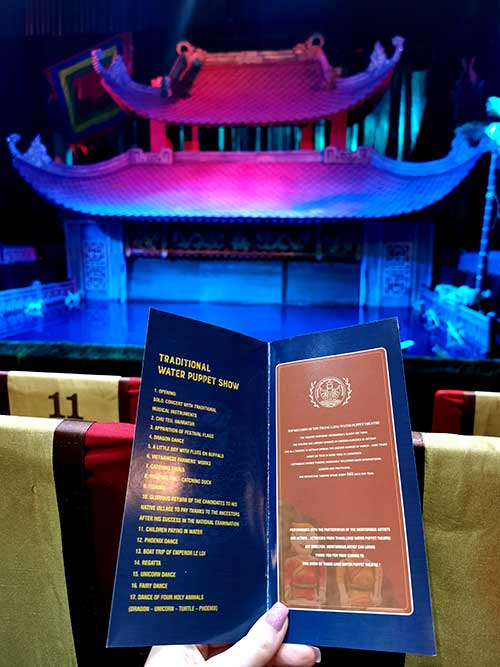 Thang Long Water Puppet Theatre, Hanoi, Vietnam, Copyright © Cooltourismical.com
Going to a Water Puppet Theatre Show is one of the most memorable and genuine cultural experiences in Hanoi. It's about stories told on the rhythms of traditional music instruments and puppets dancing over the water. But it is also about the Vietnamese kindness, life simplicity, and strength to find joy in work and nature.
The art of water puppetry goes at least one millennium back in time, in the dreamy setting of  Red River Delta and its flooded rice paddy fields. The farmers would amuse themselves by standing in a waist-deep water and telling stories with the help of improvised wooden toys. In the old days, this portrayed aspects of the daily life of the villagers.
Nowadays, water puppetry is a longing memory and an art, wrapped up in legends of dragons and unicorns and rituals of farmers and ancient warriors.
Tips & Tricks
The show is a a live 50-minute performance and it runs in Vietnamese. Read in advance about the performance or you might get bored!
Make sure to book your tickets at least one or two days in advance! The show often sells out FAST.
Don't choose the cheapest tickets and come 20 minutes earlier! The height difference between rows is negligible and if you don't find a good place in front, you might get disappointed with the view.
📌 Address: P. Đinh Tiên Hoàng, Hàng Trống, Hoàn Kiếm, Hà Nội (Google Maps);
🕐 Show hours: Every day | 04:10 pm, 05:20 pm, 06:30 pm;
🎟️

Book tickets:

You can book your tickets in advance here.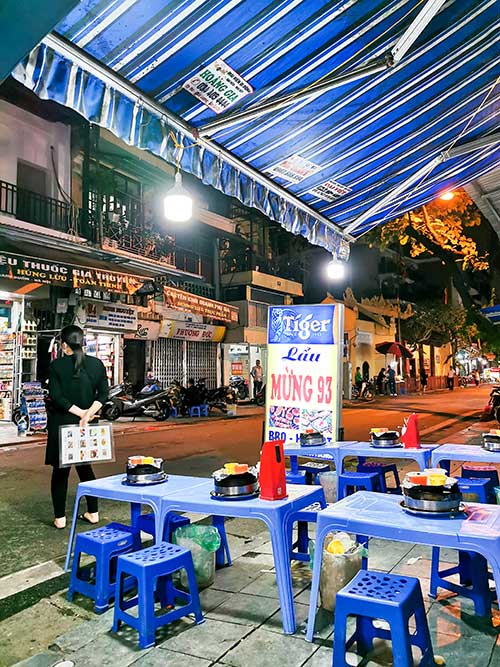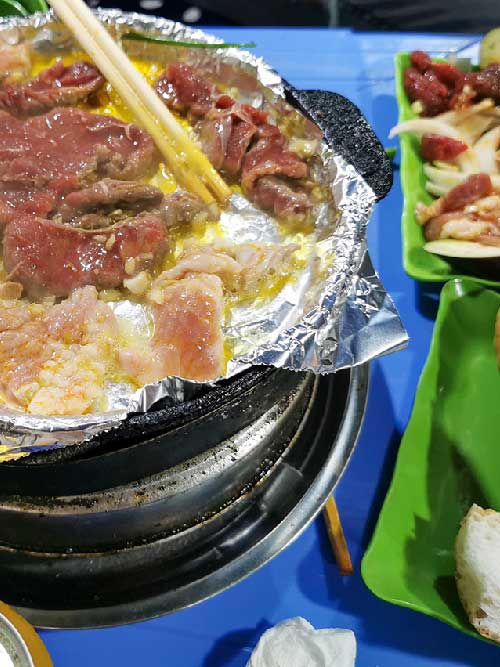 Traditional Vietnamese Street Restaurant, Hanoi, Vietnam, Copyright © Cooltourismical.com
Most famous street in the Old Quarter is Ta Hien Street. As many other lanes in the center of Hanoi, it is packed with overly-crowded restaurants and fast-food stalls.
You will see customers sitting on small stools by the side of the road, trying a Pho, the Vietnamese soup or maybe a Hanoi-style barbeque and a traditional beer.  Sometimes, there are also street performers of all ages playing local instruments.
Many of the restaurants might not look so hygienic, so do your best in choosing well: preferably fried food, popular restaurants where food is fresh. Also, before going to Hanoi, try to get the recommended vaccines. And you will definitely enjoy the most authentic Vietnamese culinary experience.
---
🎫

Guided Tour in the Old Quarter
---
Most often, no matter how much we try to understand a place, we still skip some precious insights that only locals know.
Considering two important aspects, one that the Old Quarter is a true labyrinth, with many restaurants that might not seem very clean, and two that there is not too much information about the water puppet show, you can always combine these activities into a Hanoi guided tour.
The tour is very well rated and can cover your whole afternoon. The tour guide walks you through the 1000-year-old quarter of Hanoi, on the ancient guild streets and helps you experience the tastiest (and safest) food around. You close the day at the theatre where puppets sing their stories over the water splashes. Book the tour here!

3 Days in Hanoi: Day 2 – Hanoi History, Politics & Education
To get to know a country, insights on the political, religious and artistic views are part of the experience.
One side of Vietnamese historical background is made up by imperial dynasties of either local or Chinese origins. While the other, a strong component even nowadays, is the communism. Communism in Vietnam is more than a system. Better said, is at the base of their culture, belief and daily life.
The second day itinerary in Hanoi follows Ho Chi Minh' legacy and goes on the early monarchs' steps. Ended by an evening adventure at Hanoi Train Street.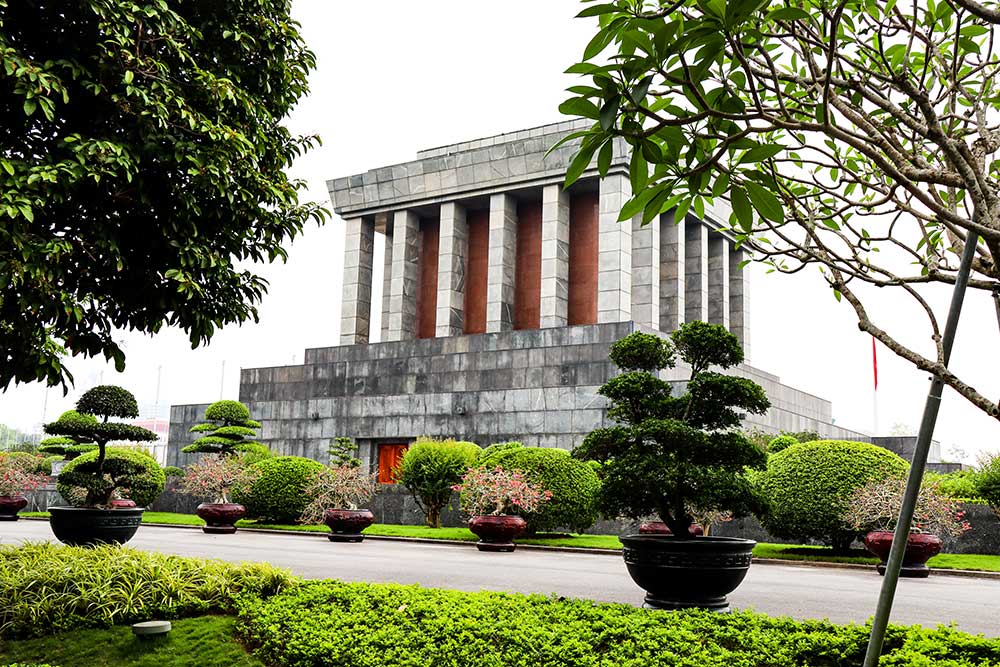 Ho  Chi Minh Mausoleum, Hanoi, Copyright © Cooltourismical.com
In this sense, the roots of Vietnamese communism are well kept in the Ho Chi Minh Complex. To be able to explore it, you must be an early riser as it opens at 7 30 and closes no later than 10:30.
The centre piece of the complex is the Ho Chi Minh Mausoleum, exhibiting a brutalist architecture. The cold and dark building serves as the resting place of the late Vietnamese revolutionary leader and President Ho Chi Minh. Once you pass the control, it takes you maximum 15 minutes to visit the chamber.
In the same courtyard, on the right side of the Mausoleum, there is a One Pillar Pagoda and the impressive museum dedicated to Ho Chi Minh and Vietnam's revolutionary struggle against foreign enemies.
🕐 Mausoleum: 07:30 am – 10.30 am; Closed on Mondays & Fridays; Time to visit: 30 minutes;
🕐 Museum: 08:00 am–12:00 pm, 02:00 pm – 04:30 pm; Time to visit: 1 – 1.5 hours;
📌 Address: 8 Hùng Vương, Điện Biên, Ba Đình, Hà Nội, Vietnam (Google Maps);
🎟️ Entrance fee: free admission.
---
🏛️ Presidential Palace & Grounds
---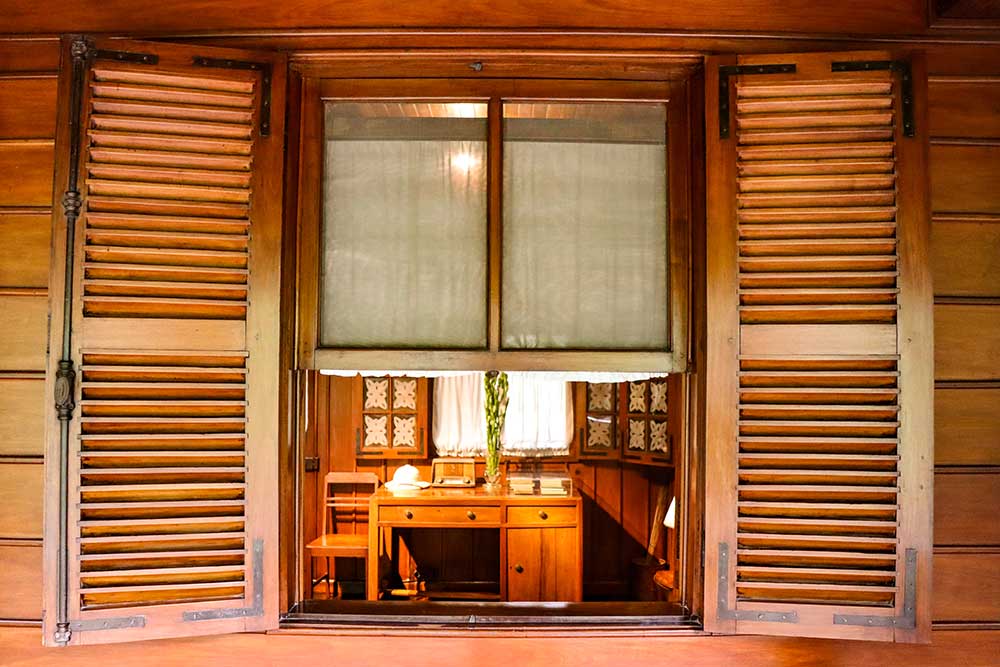 Uncle Ho's House on Stilts, Hanoi, Vietnam, Copyright © Cooltourismical.com
The huge park behind the Mausoleum surrounds an exquisite, yellow mustard palace, an example of French Renaissance and Beaux Art architecture.
Built in the 1900s, it was meant to be the home of French Governor of Indochina, and later, the official residence of President Ho Chi Minh. But an extremely simple man at heart, Uncle Ho decided to live in the traditional Vietnamese stilt house, near a carp pond, on the same grounds.
A dreamy Mango Alley leads to the stilt house of President Ho and its lush gardens.
Visitors are not allowed inside the Palace, but the wooden house where the former president spent his last days, is definitely worth the time. A platform built for them surrounds the tiny, fragile home to protect it, but without disturbing a long glimpse on the interior. Various personal relics decorate the house, making the visitors feel as Ho Chi Minh never left.
🕐 Mausoleum: 07:30 am – 10.30 am; Closed on Mondays & Fridays; Time to visit: 1 hour;
📌 Address: 8 Hùng Vương, Điện Biên, Ba Đình, Hà Nội, Vietnam (Google Maps);
🎟️ Entrance fee: VND 40,000.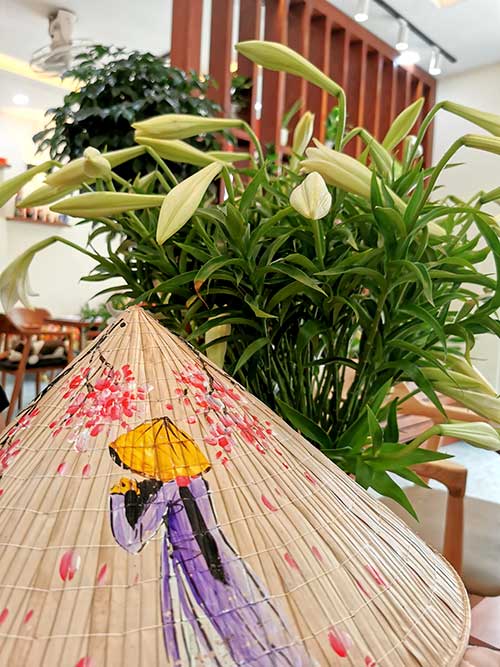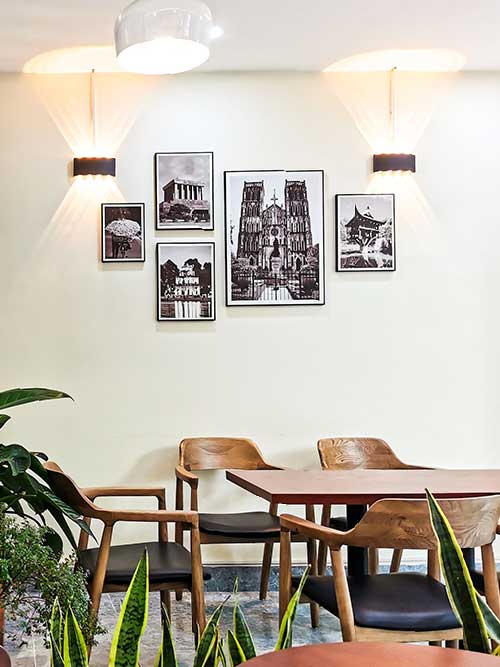 Vietnamese Coffee Shop & Restaurant, Hanoi, Vietnam, Copyright © Cooltourismical.com
On the way from Ho Chi Minh Museum to the Imperial Citadel there are plenty of cute, modern coffee shops.
Considering you're starting the tour at the Ho Chi Minh Complex a bit too early, you can stop for a coffee after the visit. And it's no prettier place in the area than MayCoffee. 
It's a small café with a very intimate setting. It is decorated with shiny Vietnamese art pieces and symbols, plus black and white pictures of the city of Hanoi. Reddish wood furniture and wall panels, surrounded by a smell of lilies and incense coming from the corner-of-the-room shrine, fill the place up.
Atmosphere is chill, food is decent. And they serve ice chocolate with jelly too!
📌 Address: 20d P.Le Hong Phong, Doi Can, Ba Dình, Hanoi, Vietnam (Google Maps);
🎟️ Cost per meal: VND 100,000 – 200,000 / person.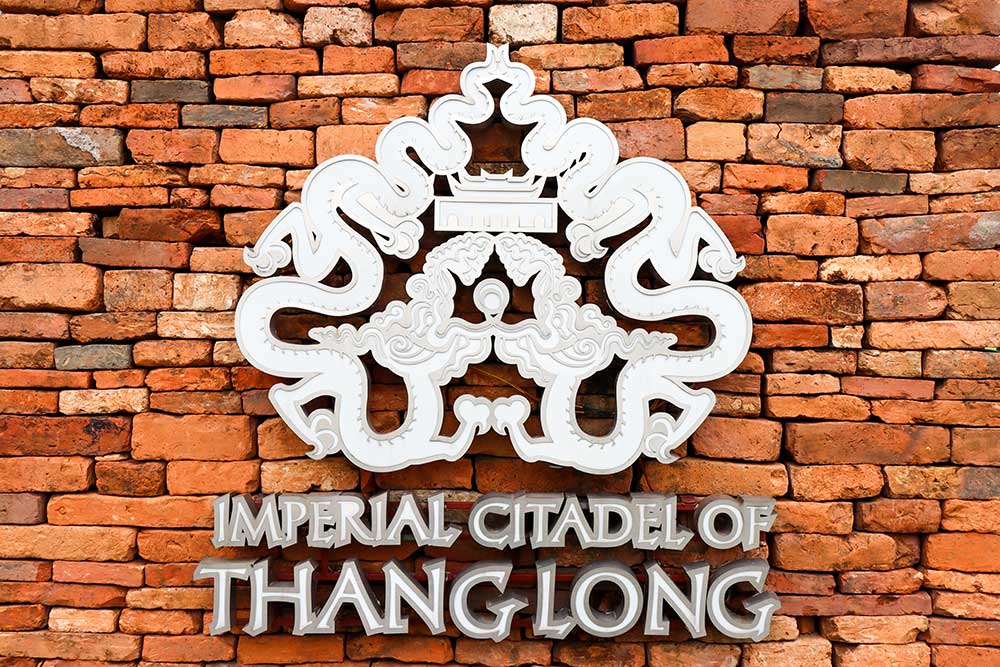 The Imperial Citadel of Thăng Long takes us even further back in time, to the fascinating era of Chinese-origin emperors and dynasties.
This is a complex made of several ruins and restored buildings, some dating as far as the 11th century. Before being moved to Hue in the 19th century, the the main seat of power of Northern Vietnam was here, at Thăng Long for generations.
Some of the most iconic landmarks of the Citadel are the Flag Tower and the South Gate, a mystical stone-beauty decorated with lotus-shaped lanterns. Open-air performance venues, the North Gate, a Pagoda for princesses and queens and various museums holding particular archaeological discoveries ( bronze coins, ceramics, ancient statues and foundations of old roads) can be found once you pass the South Gate.
🕐 Opening hours: Every day, 08:00 am – 05:00 pm; Time for visiting: 1-2 hours;
📌 Address: 19C Hoang Dieu, Dien Bien, Ba Dinh, Hanoi, Vietnam (Google Maps

);

🎟️ Entrance fee: VND 30,000.
---
🏯

The Temple of Literature – Văn Miếu
---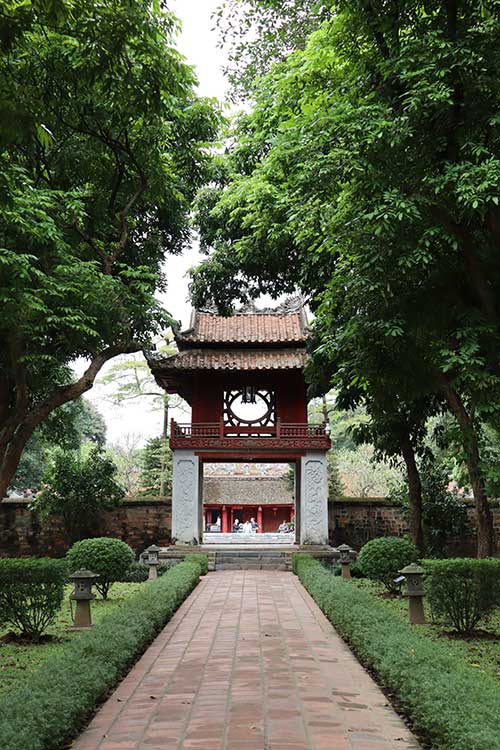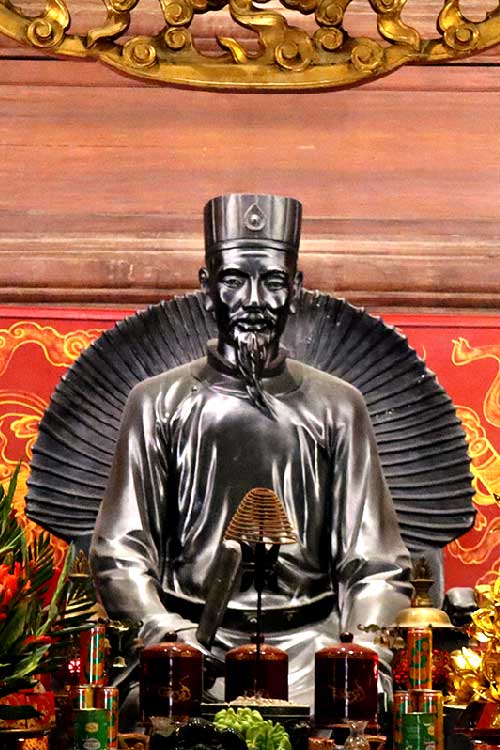 Gardens & Scholar Statue Inside the Temple of Literature Complex, Hanoi, Copyright © Cooltourismical.com
Built during King Ky Thanh Dynasty, the Temple of Literature (or Văn Miếu) has been honouring Confucius and his finest scholars for more than 1000 years. High dignitaries attached to the royal court used to come here in spring and autumn to make offerings.
It's a peaceful corner in the restless city centre of Hanoi, made up of a series of gardens and gates, an earthly representation of illumination steps. They guide the visitors towards the main temple building.
The first and largest centre of education in Vietnam, Quoc Tu Giam, known also as the Imperial Academy is also on the premises of the complex, behind the main temple. It used to operate for the Vietnamese aristocracy for more than 700 years, from 11th to 19th century.
The entrance to the complex is done through an 8-roof and 3-gate stone structure guarded by an ascending dragon and a tiger descending from a mountain. The dragon symbolises endeavour and success at study, while the tiger is strength and power of the intellect, turning to help humanity.
🕐 Opening hours: Every day| 08:00 am – 05:00 pm
📌 Address: 58 Quoc Tu Giam Street, Van Mieu Ward, Dong Da District (Google Maps

);

🎟️ Entrance fee: VND 30,000.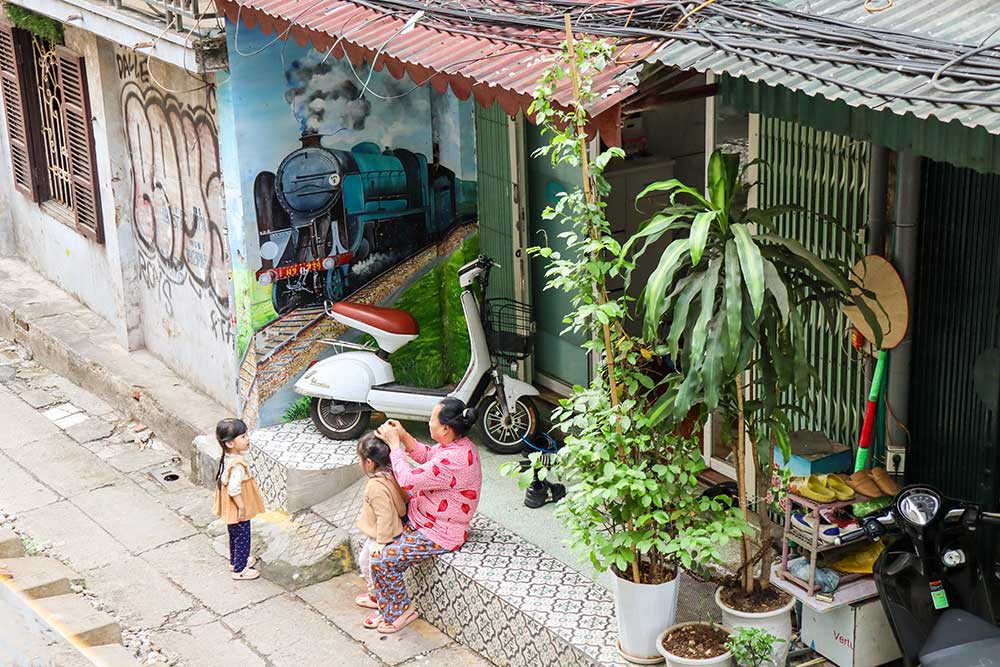 Daily Lives on the Hanoi Train Street, Vietnam, Copyright © Cooltourismical.com
Although the candid image above does not show it entirely, a railway is there. Not far from the little girl having her bun done. This is the famous Hanoi Train Street, where people live their simple daily chores, joys and shortcomings, just 1 meter away from a speedy train.
The street crosses the Hanoi slums, where locals have improvised small bars and restaurants serving fast food and allowing adventurous tourists enjoy the risky sight of the train passing close-by. Some even have its timetable displayed. The area has a certain charm with its informal architecture covered in graffities, greenery and flowers.
Once fully open, the street can now be visited only under restrictions, due to safety reasons. The rumours are that visitors must be invited by one of the local restaurant owners.
🕐  Train timetable: Mon.-Fri.: o7:00 pm – 10:00 pm; Sat. & Sun.: 08:00 am -11:30 am; 03:00 pm – 04:30 pm; 05:00 pm – 09:15 pm
📌 Address for Railway Café: 112 chắn tàu, 5 P. Trần Phú, Hoàn Kiếm, Hanoi (Google Maps

);

🍚  Cost of a meal: food & drink, VND 80,000- 100,000.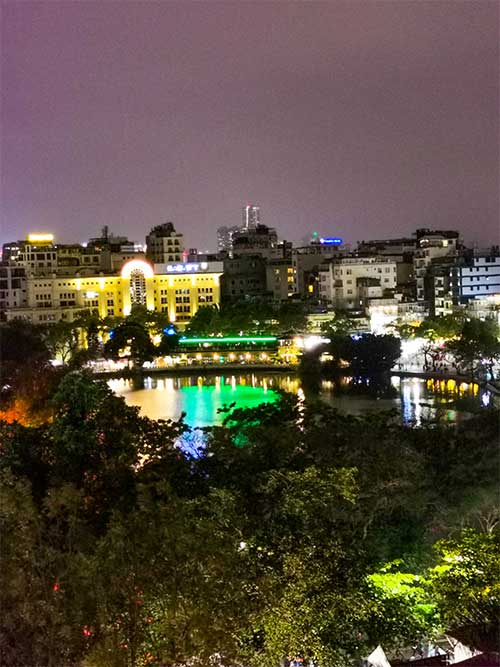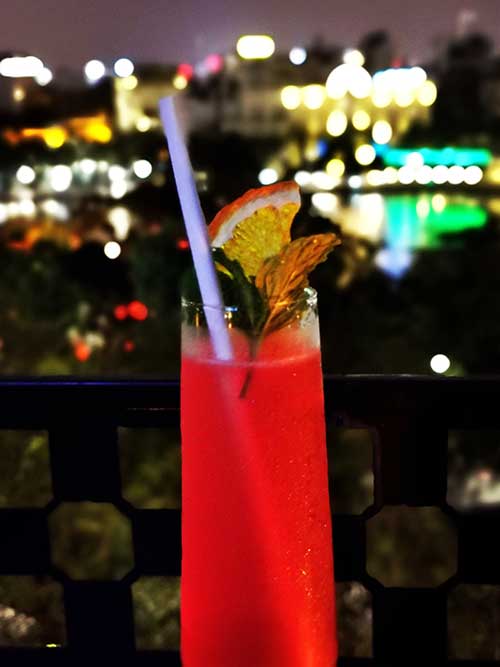 Terrazzo Bar, Vietnam, Copyright © Cooltourismical.com
You can close your evening with a cocktail at one of the many rooftop sky bars in Hanoi.
The Hanoi city centre is surrounded by modern, beautiful top-of-the-building terraces. One of them is Terraço Sky Bar, inside Sinfonia del Rey Hotel, with an enchanting view over Hoan Kiem Lake from its East side. On the West side of the lake, there is the elegant One36 Bar on the top of Apricot Hotel, with an even more wider view.
For an all-inclusive, bird's-eye over Hanoi, there is always the SkyL Lounge Bar at Lotte Tower, on the 65th floor.
---
🎫

Hanoi Tour by Motorbike
---
Being part of Hanoi street traffic is an adventure. And a madness!
But this is one wonderful tour with women as drivers and it can be a nice alternative for how to spend your evening in Hanoi. And it's all about food: " Banh Cuon (steamed roll cake), Bun Cha (grilled pork with vermicelli noodles), Banh ran Ngot (salty and sweet donuts)" and other Vietnamese goodies.
Book in advance here.

3 Days in Hanoi: Day 3 – West Lake
West Lake is another interesting spot in Hanoi. It is the largest freshwater lake out of the 20 scattered around the city. Moreover, it is surrounded by gardens, shops, modern buildings, cafes and memorable Buddhist pagodas and Taoist temples.
The lake itself is very close to city centre, at about only 40 minutes walking from Hoan Kiem lake. But the area around the West Lake is much more peaceful and poshy than the bustling Old Quarter.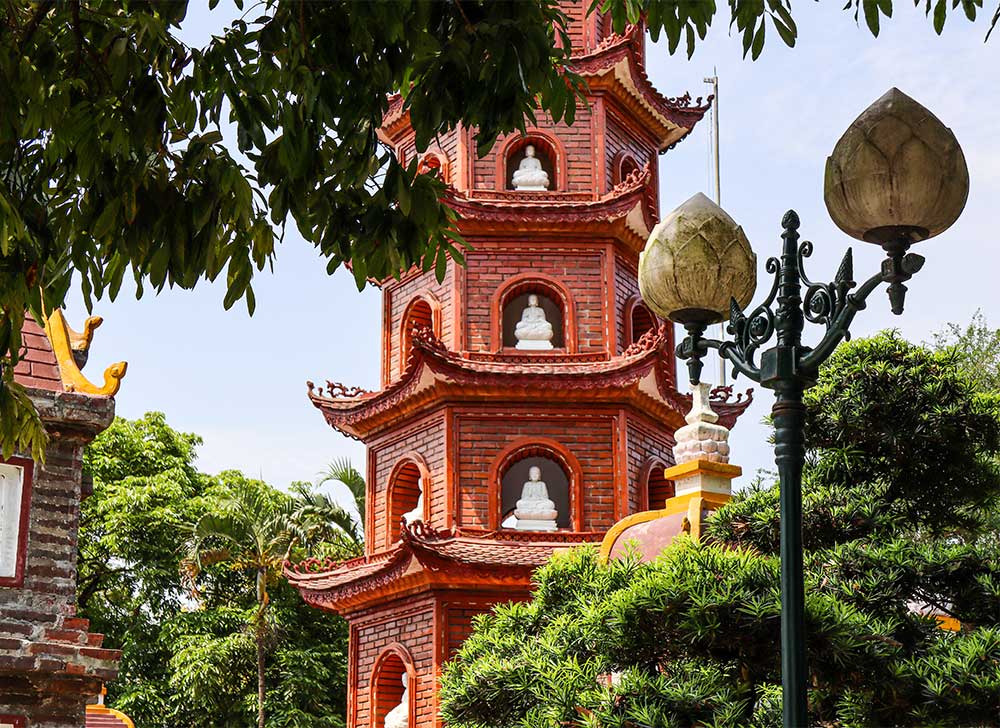 Tran Quoc Pagoda, West Lake, Hanoi Copyright © Cooltourismical.com
This is one of the most beautiful pagodas I have ever seen. And the oldest spiritual setting of its kind in Vietnam.
The Tran Quoc pagoda sits on a small, kidney-like island, hooked to the Thanh Nien Street by a large, curvy bridge.
In the front garden, there is an 11-floor stupa made of red bricks, surrounded by pink stone lotus flowers and sunk in greenery. Bonsai and orange trees are everywhere you look. On every floor of the stupa 6 alcoves shelter each a meditating Buddha Amitabha statue made of snow white marble.
Symmetrically positioned in the back garden, a huge Bodhi tree throws a deep shade, while wind chimes gently cling clang to attract peaceful spirits and purify. Its origins seem to be in a branch of the sacred Indian bodhi tree where Buddha attained enlightened more than 2500 year ago.
🕐 Opening hours: Every day | 07:00 – 11:30 am;  01:30 pm – 05:30 pm;
📌 Address: Kim Ngu (Golden Fish) Islet, West Lake, Vietnam (Google Maps);
🎟️

Admission fee:

free to visit.
---
☕

Highlands Coffee Boat – West Lake, Hanoi
---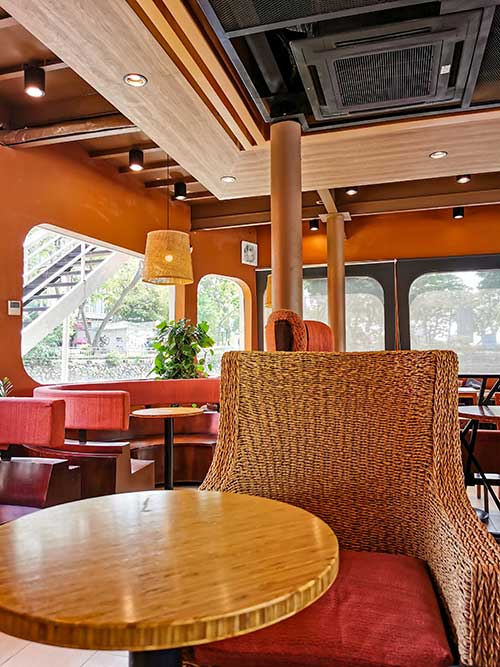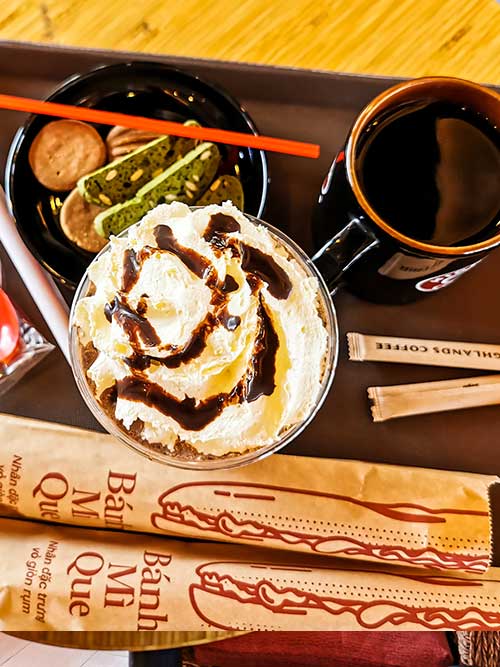 Highlands Café Boat – West Lake, Hanoi, Copyright © Cooltourismical.com
When you're longing for a Starbucks, this is its closest Vietnamese version in town. With a chic, natural design interior, for me at least, the Highlands Cafe is quite a special place. A pretty cute designed 2-deck boat that floats on Truc Bach Lake, anchored next to the southern shoreline.
It is ideally located just between Tran Quoc Pagoda and the Quan Thanh Temple.
While enjoying the breeze, you can sip some traditional coffee and tea. Sunk-in jelly and red beans are the quite unusual add-ons of the Vietnamese. I had a weirdly, witchy-green, iced drink! With a thick, thick layer of cream on top. Can't say I'm a fan of the jelly thing!
Food options are a bit scarce, but even so, the chocolate cake and the Bahn Mi are still a must-try.
The view overt he lake is spectacular during the day. But the boat comes to life at night when the huge lanterns on the ceiling light up, just in time for dreaming.
🕐 Opening hours: Every day | 07:00 am – 11:00 pm;
📌 Address: 9 Đ. Thanh Niên, Quán Thánh, Ba Đình, Hà Nội, Vietnam (Google Maps);
🎟️

Costs:

VND 100,000–200,000 / person.
---
🦢

Swan Boats on Truc Bach Lake
---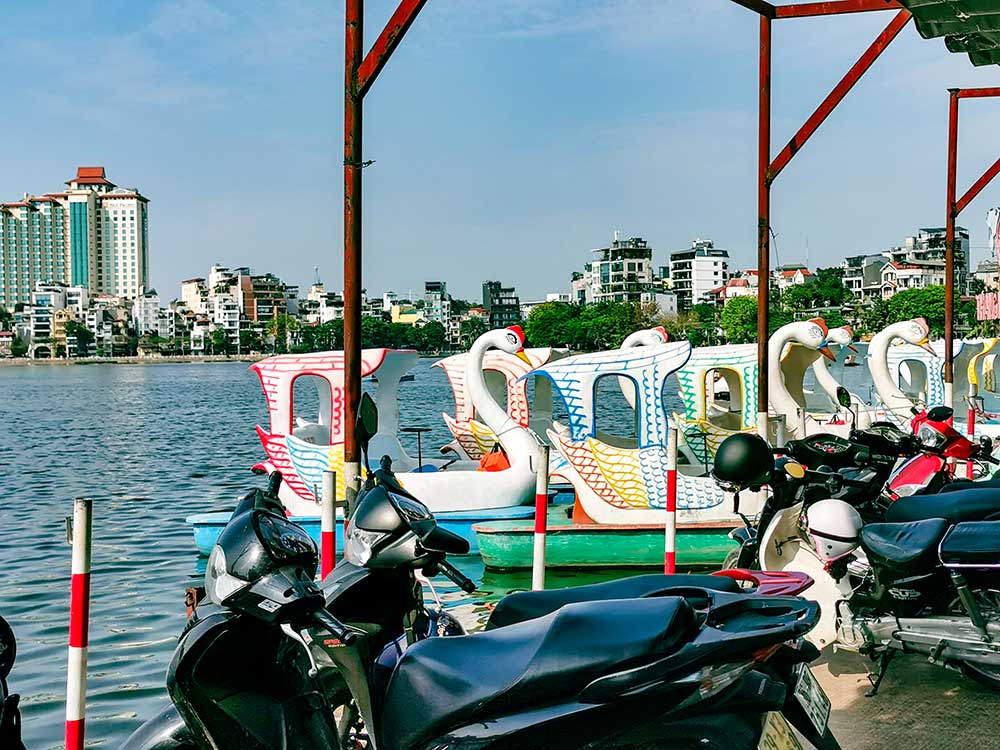 Pedal Boats – West Lake, Hanoi, Copyright © Cooltourismical.com
In front of the Café, on the water, not hard to notice, are the gigantic floating duck (or swan?!?!) pedal boats. Big as they are, they are still small for my long feet. 60 minutes slightly uncomfortable because of this, but otherwise the view is gorgeous.
The lake is silent, which makes the experience a great change of pace from the bustling streets of Hanoi.
📌 Address: 1 P. Trấn Vũ, Quán Thánh, Ba Đình, Hà Nội, Vietnam (Google Maps);
🎟️ Rental fee

:

VND 50,000 / person / hour.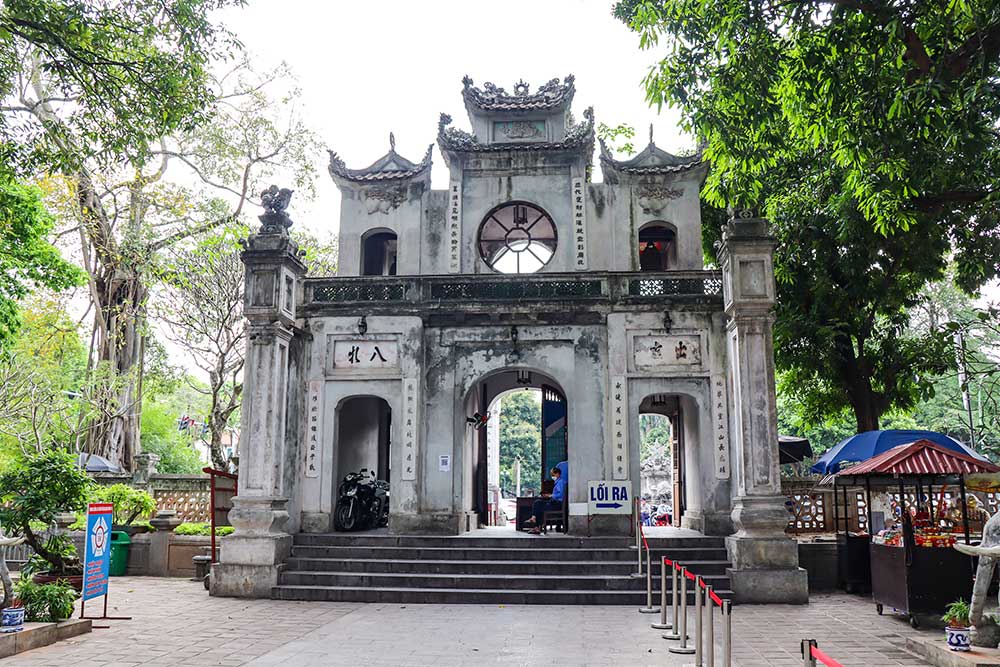 Pedal Boats – West Lake, Hanoi, Copyright © Cooltourismical.com
Quan Thanh Temple is a place that encloses different architecture styles of the imperial era and more than 1000 years of civilisation and beliefs.
As one of the Four Sacred Guards of the ancient capital of Thang Long, each corresponding to a cardinal point, the 11th-century Temple is dedicated to the Taoist God reining over the North: Huyen Thien Tran Vo.
Behind the imposing entrance gate, there are fruit trees and elephant statues welcoming the visitors. Dragon heads come out of the walls. Further away, a lovely pond with Koi fish and miniature statues hiding among stones stays in the shadow of a huge banyan tree.
The main building hosts a 4m statue of Tran Vo, made of black bronze, contrasting with the red and gold interior design. Outside, on the sharp edge of the tiled rooftop, decorative serpents line up in stone flowers, and fish statues seem ready to dive down.
🕐 Opening hours: Every day | 08:00 am – 05:00 pm;
📌 Address: Thanh Nien Street, Quan Thanh Ward, Ba Dinh District, Hanoi, Vietnam (Google Maps);
🎟️

Admission fee:

VND 10,000 / person.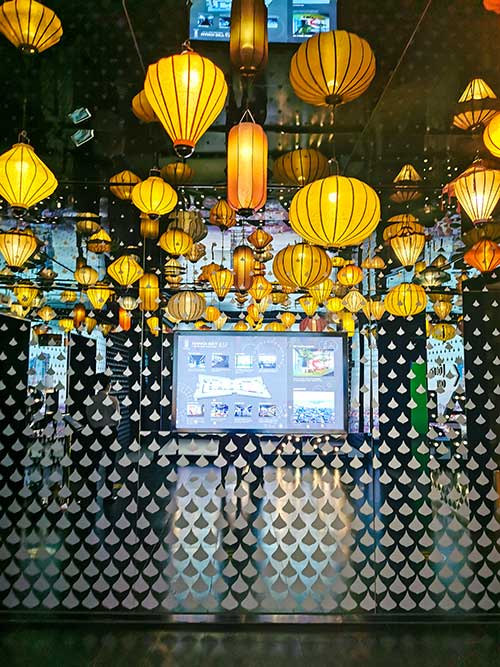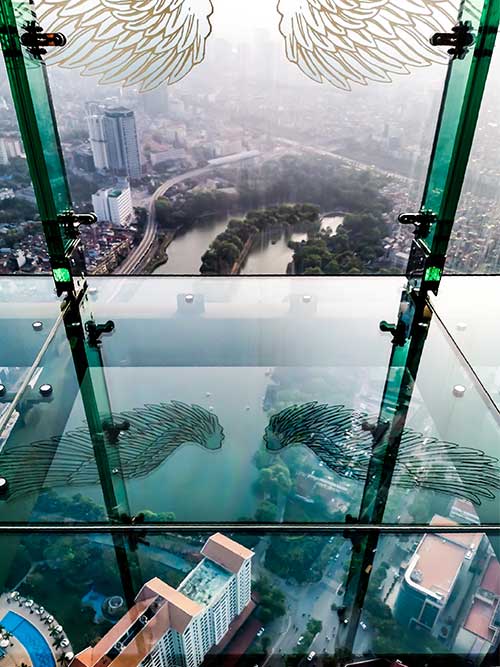 Lotte Tower, Hanoi, Copyright © Cooltourismical.com
Lotte Tower is the third building in Vietnam in height and its modern architecture has been inspired by the Ao Dai national Vietnamese costume.
If you want to see the West Lake from above and check the urban matrix of Hanoi, you can go to the 65th floor of Lotte center. From there you can notice quite a unique panorama patched up from rooftops of tiny building and countless bodies of water and greenery.
And so, at the top of the top, Lotte has one of the most amazing observation decks in Asia.
Inside, there are: a high-tech elevator, photo zones, two skywalks, a timeline and an Ao Dai exhibition, coffee shops and fast food restaurants. Tickets can be bought in advance here.
🕐 Opening hours: Every day | 09:00 am – 11:00 pm;
📌 Address: No. 54, Lieu Giai St. Cong Vi Ward. Ba Dinh, Hanoi (Google Maps);
🎟️

Admission fee:

VND 230,000 / person; 50% discount 9:00 am- 10:00 am; 10:00pm – 11:00 pm;
---
🍜 Cooking Class in Hanoi (Vegetarians fit)
---
You can fabulously end your 3 days in Hanoi trip by cooking some delicious Vietnamese dishes.
There are classes also in the afternoon or evening, and last generally 3 or 4 hours. You have a stroll through the market choosing fresh ingredients and play the chef role: Pho, bun cha, spring rolls, papaya salad and egg coffee. This cooking class in Hanoi is also perfect for vegetarians, as they can easily adjust the menu.
It's THE hands-on culinary experience in Hanoi where you learn how to choose ingredient, how to use them, you even receive a cookbook. And be ready to eat a lot. You will love every minute of it!

What & Where to Eat in Hanoi
Hanoi is the paradise of Asian food and, in particular, of street food.  The most iconic dish is Pho, a must try for all Hanoi visitors. The famous beef or chicken noodle soup. Followed by the Banh Mi, the Vietnamese baguette with pate.
Added to that, Old Quarter streets are filled with terraces offering barbeques and traditional beer. Special attention should go towards the tasty egg coffee and ice-cream sandwich.
Recommendations:
Pho Gia Truyen Bat Dan – number one locals' choice for Pho;
Tung's Kitchen – one of the best rated Vietnamese food restaurants in Hoan Kiem area;
Lotteria – Korean McDonald's, food is tasty but services is a bit slow;
Banhmi LongHoi – a nice place to enjoy the famous Bahn Mi;
MET Vietnamese Restaurant– a great choice for vegetarians.
If this is your first time in this part of the world, you can read a more inclusive guide for first timers in Vietnam. Also, if you're heading for Ho Chi Minh City, I have put together a guide of really, really nice international restaurants in Saigon's famous Quarter 1.

Nice Boutique Hotels in Hanoi
If you're searching for a place to spend the 3-4 night in Hanoi, there is no need to compromise. Lots of 4 or 5-star boutique hotels spread around the Hoan Kiem Lake, even really elegant ones, have very affordable prices compared to any place in Europe or US.
Prices start somewhere at 50 eur / night for double room.
The only inconvenient is that some of them are set up in old, tube style buildings and lack proper windows. I stayed in such a room, at Sinfonia del Rey. It was really elegant room and extremely clean. The only minus was that could not differentiate day from night. It did have a window towards an air-well type courtyard.
Recommendations:

Budget for the 3 Day Itinerary in Hanoi
This is just to give an idea of how to handle your budget. Of course, it can be lower or higher, depending on your eating habits, what you would love to visit, if you prefer organized tours or not. I am generally careful about spending, but I a small splurge is worth in every trip. For me, this happens when it comes about food or accommodation.
Museum entrance fees in Hanoi: some are free, some are 30,000 – 40,000 VND / person;
A boutique hotel around Hoan Kiem Lake can have prices that start around 1.200.000 VND / double room;
Organized tours and experiences in Hanoi, cooking classes, a day at the spa or walks in the old centre, cost around 800 000 VND / activity;
Vietnamese Food can cost you as low as 20 000 – 35 000 VND for a traditional Bahn Mi sandwich,  a street barbeque can range anywhere between 100 000 and 150 000 and a decent meal in a normal restaurant can be anywhere between 100 000 – 350 000 VND. In hotel restaurants, unexpectedly more. A cheese platter can go up to 400 000 VND and a steak can pass 1.000.000 VND.
Drawing a line, for 3 days, with 8.000.000 VND / person, which is a bit more than $300, you can enjoy two tours or activities, visit all the temples above, plus Lotte Tower, eat plenty of good meals in average restaurants and sleep in a 4-star hotel for 3 nights.
Like this article? Pin it!