Best Ice Cream Shops in Bratislava's Old Town, Staré Mesto
These are the coolest & prettiest places where you can eat the best ice cream in Bratislava's Staré Mesto! Indulging in delicious ice cream while exploring the charming and well preserved centre of the Danubian city of Bratislava is a double delight. Welcome to Slovakia!
During my first evening ever in Bratislava, which happened to be a rainy one in early June, the quest of finding a spot to watch the UEFA Champions League final turned out to be a challenge. The few restaurants in the city center that had TVs were already overflowing with people.
Still, from all that darkness and rain, so many of Bratislava's ice cream parlors were shinning so cute an bright. Those winding cobblestone streets proved themselves to be the perfect backdrop for another kind of adventure:  a hunt for the best scoops of creamy goodness!

So many gelaterias are tucked away in historic buildings that is hard to choose. They offer hundreds of some quite unique ice cream creations inspired by Slovakian or Italian traditions, some of the ingredients coming from as far as India, some others 100% prepared from locally sourced ones.
Everything blends perfectly in a fusion of old-world charm and frozen dessert bliss.
Disclosure: This article contains affiliate links. If you make a purchase after clicking one of these links, I earn a small commission from that website at no extra cost to you. Learn more: Disclosure policy.
Luculus Ice Saloon | Slovakian Ice Cream

Luculus Ice Cream Parlor in Bratislava, Copyright © Cooltourismical.com
If you're looking for the top-notch, Slovakian ice cream while in Bratislava, Luculus Ice Saloon is the place to be!
They truly prioritize quality ingredients and are constantly experimenting with new and exciting flavors. Getting closer to almost 200!!
Whether you have a sweet tooth or prefer a plant-based treat, they have you covered with their delicious vegan ice cream options. For those watching their calorie intake, their stevia-sweetened ice creams are a guilt-free delight. Don't miss out on their honest milk ice cream, a classic that's crafted with great attention to detail. And if you're in the mood for a refreshing and fruity experience, their sorbets are simply heavenly.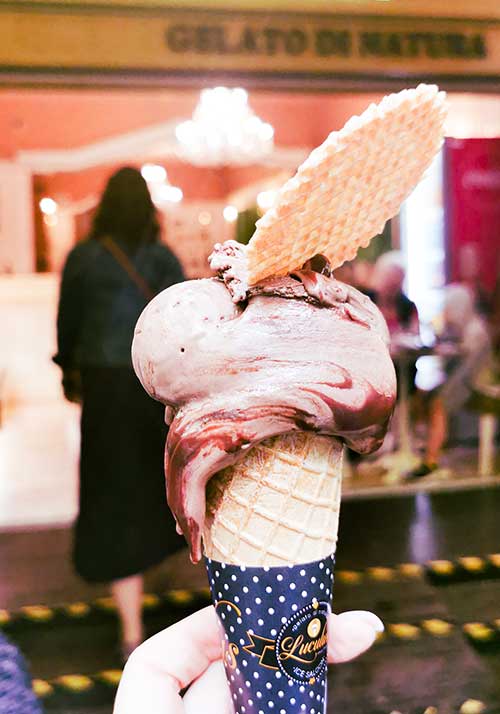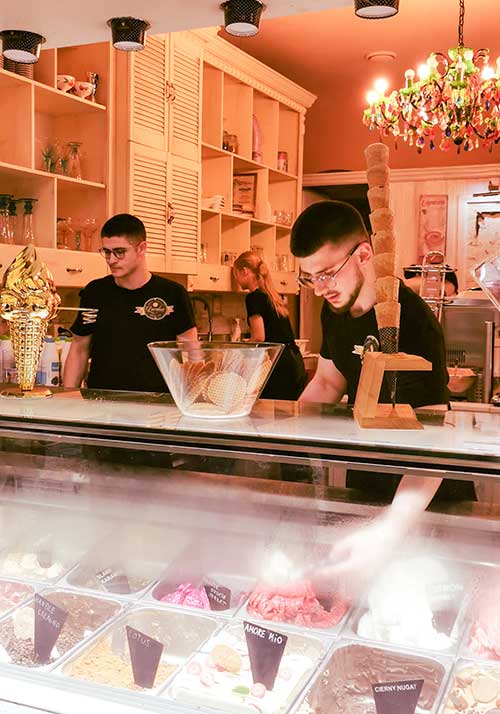 Luculus Chocolate Ice Cream & other flavors, Copyright © Cooltourismical.com
The scoop is huge and the texture is so soft. But one thing I noticed is that my ice cream melted really fast. And the weather was not hot at all.
Luculus Ice Saloon is a must-visit in Bratislava for all ice cream lovers. They've been open since since 1954 and now the parlor is run by the fifth generation of traditional ice cream makers.
They have about three locations for Luculus around Stare Mesto, but the one on Hviezdoslavovo Námestie has such a dreamy and homey setting, with fancy chairs and chandeliers.
📌 Address:  Hviezdoslavovo námestie 173/16, 811 02 Staré Mesto, Slovakia (Google Maps)
⭐ Menu highlights: over 170 varieties, vegan ice cream, 
🪙 Cost: 2 euro / scoop, plus cone.
Arthur Gelato | Italian Gluten-Free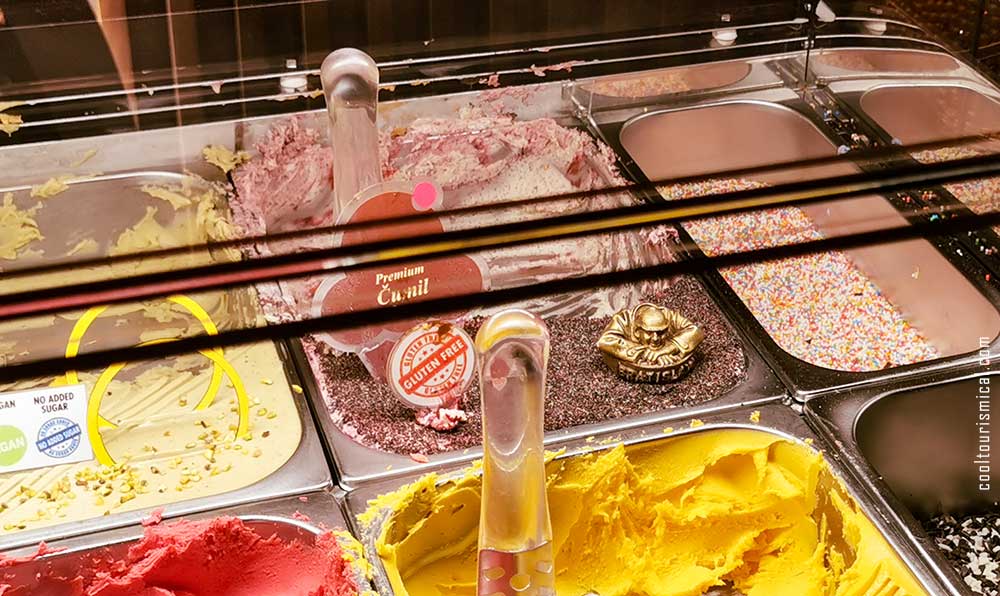 Cumil-Themed Ice Cream at Arthur Gelato in Bratislava, Copyright © Cooltourismical.com
The best part about these ice cream shops in Bratislava's Stare Mesto is they are open until very late. So does Arthur Gelato that shines brighter than all the others. It's all gold and lights. Like the jewel of the neighbourhood. 24-carat edible gold chandeliers, handmade all the way in London, are hung above the counter. Its whimsical design sets it apart as one of the most elegant places in Bratislava to eat a gelato.
Their gelato is so creamy! The base contains no eggs, is currently gluten-free, and comes in many flavours made from ingredients brought from all over Europe. And Asia. Dressed up cones in salty caramel or Belgian chocolate hold the precious gelato: pistachio, lavender, mango, sorbets.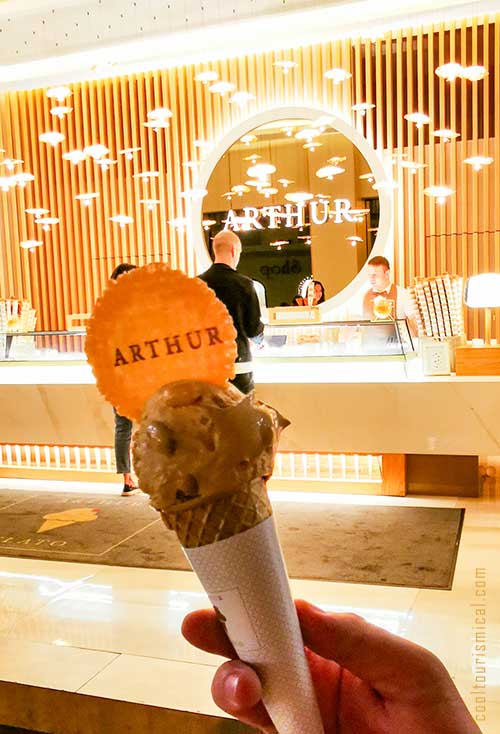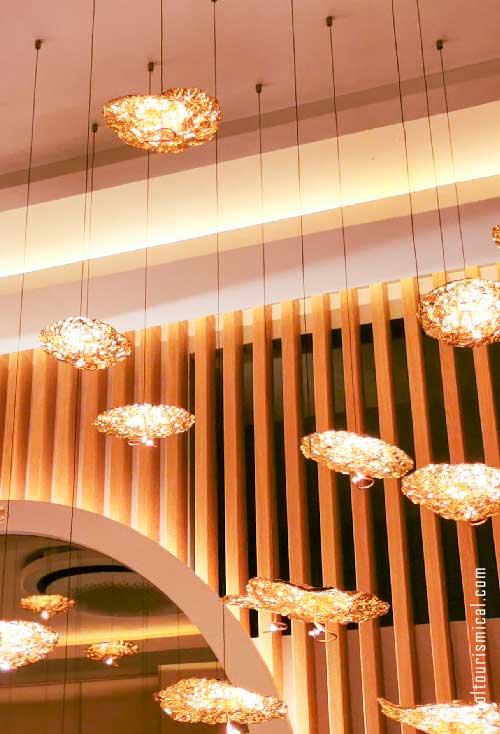 Chocolate With Nuts & interior Gold Décor at Arthur Gelato, Copyright © Cooltourismical.com
The family behind this ice cream legacy has been perfecting their craft for over a century. This particular ice cream parlor is owned by Julijana and Cuneyt Memeti, coming from the Yugoslav city of Novo Mesto. They studied in Italy all about gelato, but the ice cream craft runs deep in their family, being inherited from their great-grandparents, from former Czechoslovakia.
Make sure to visit before they close for the season in September.
📌 Address:  Rybárska brána 9, 811 01 Bratislava, Slovakia (Google Maps)
⭐ Menu highlights: Mango Sorbet from India. Mini pancakes made of dinkel wheat with frosting.
🪙 Cost: 2- 3 euro / scoop, plus cone (depending on the cone).
Chimney Friends | Ice Cream-Filled Trdelník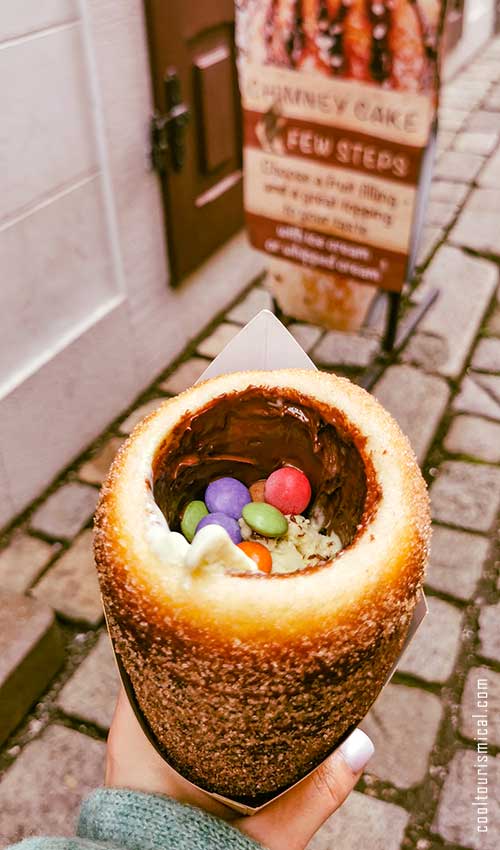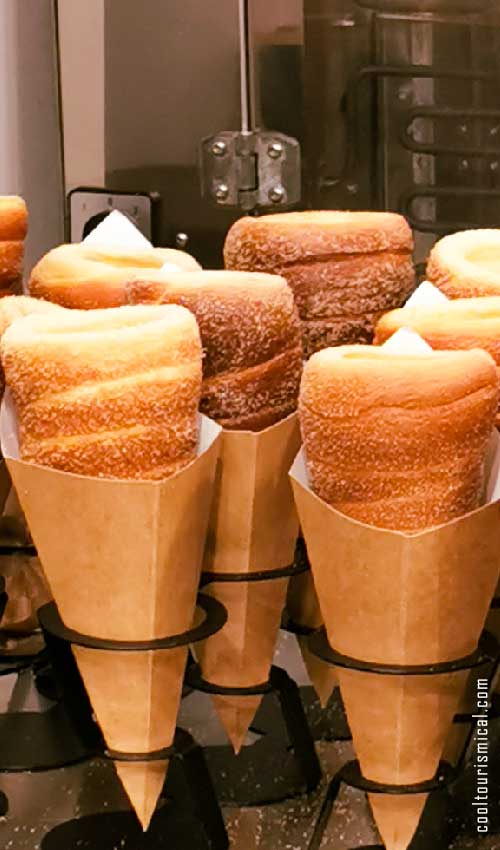 Ice Cream Trdelník at Chimney Friends, Copyright © Cooltourismical.com
Just on the narrow, cobblestone street near the historical Michael's Gate, you can build your own chimney cake at Chimney Friends. The smell draws you in easily. They are making a super-tasty Trdelník in the center of Bratislava. This chimney cake is the cone-shaped, Slovak version of the Kürtőskalács, the traditional Hungarian pastry made from sourdough cake, wrapped around a stick, then baked and topped with sugar and walnut mix.
You can choose the filling, as well as the cake flavor that comes as vanilla, coconut, cinnamon, cocoa or almond.
I had the cinnamon-flavoured chimney cake, coated with Nutella on the inside, and sugary on the outside. It was a warm, fluffy and overly-sweet. And big enough to be split with a friend! Filled with pistachio ice cream and M&M candies. But you can always add much more: fresh fruits such as strawberries, lots of candies, whipped cream to make it even bigger. At the bottom, it comes with a surprise: a marshmallow!
Some people do complain on the internet about the freshness, but I really had one of the best chimney cakes ever. I visited at lunch time, around 1.30 pm, before participating in an organized tour of the city. And I could see live how the Trdelníks were prepared.
📌 Address: Zámočnícka 389/2, Bratislava 81101 Slovakia (Google Maps)
⭐ Menu highlights: cinnamon cake with Nutella, pistachio ice cream, and M&M. Plus marshmallow.
🪙 Cost: 8 euro, for the combination described above.
Marinela | Fruity Popsicles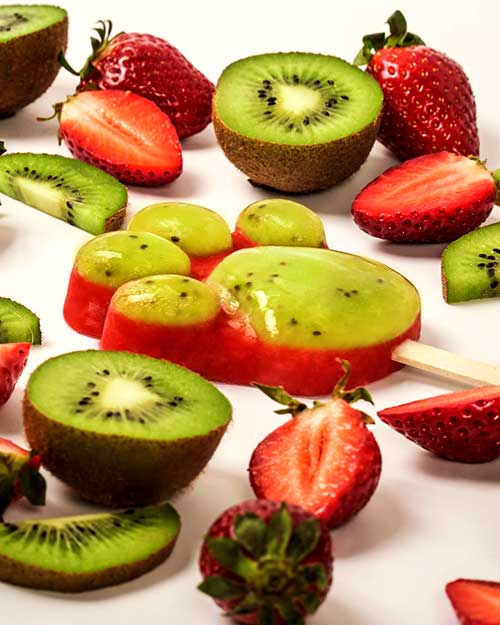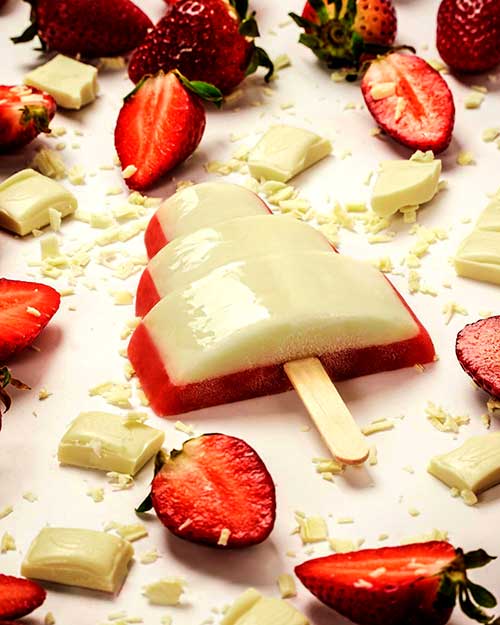 Kiwi Popsicle & White Chocolate Popsicle, Image courtesy: Marinela
Marinela is an unique ice cream shop in Bratislava's city center, where you can treat yourself to a frozen, quirky-shaped and guilt-free delight.
Instead of cones, the couple running the parlour offers ice cream bars on sticks, shiny and fruity popsicles with whimsical designs such as hearts, paws, and smileys, all made with love for fruits. They started making the treats themselves, after having studied all about gelato in Italy. The flavours change daily, depending on the availability of fresh fruits, and include strawberries, mangoes, pears, kiwis, pistachios, pineapples, coconuts, and black cherries.
Their ice cream popsicles are perfect for vegans or those with lactose intolerance. It's safe to say that Marinela serves the finest fruit ice lollies in town. And the cutest!!!
📌 Address: Panenská 34, 811 03 Bratislava, Slovakia (Google Maps);
⭐ Menu highlights: heart-shaped, raspberry popsicle;
🪙 Cost: 3-7 euro, depending on the size.
Koun | Always Surprising Menu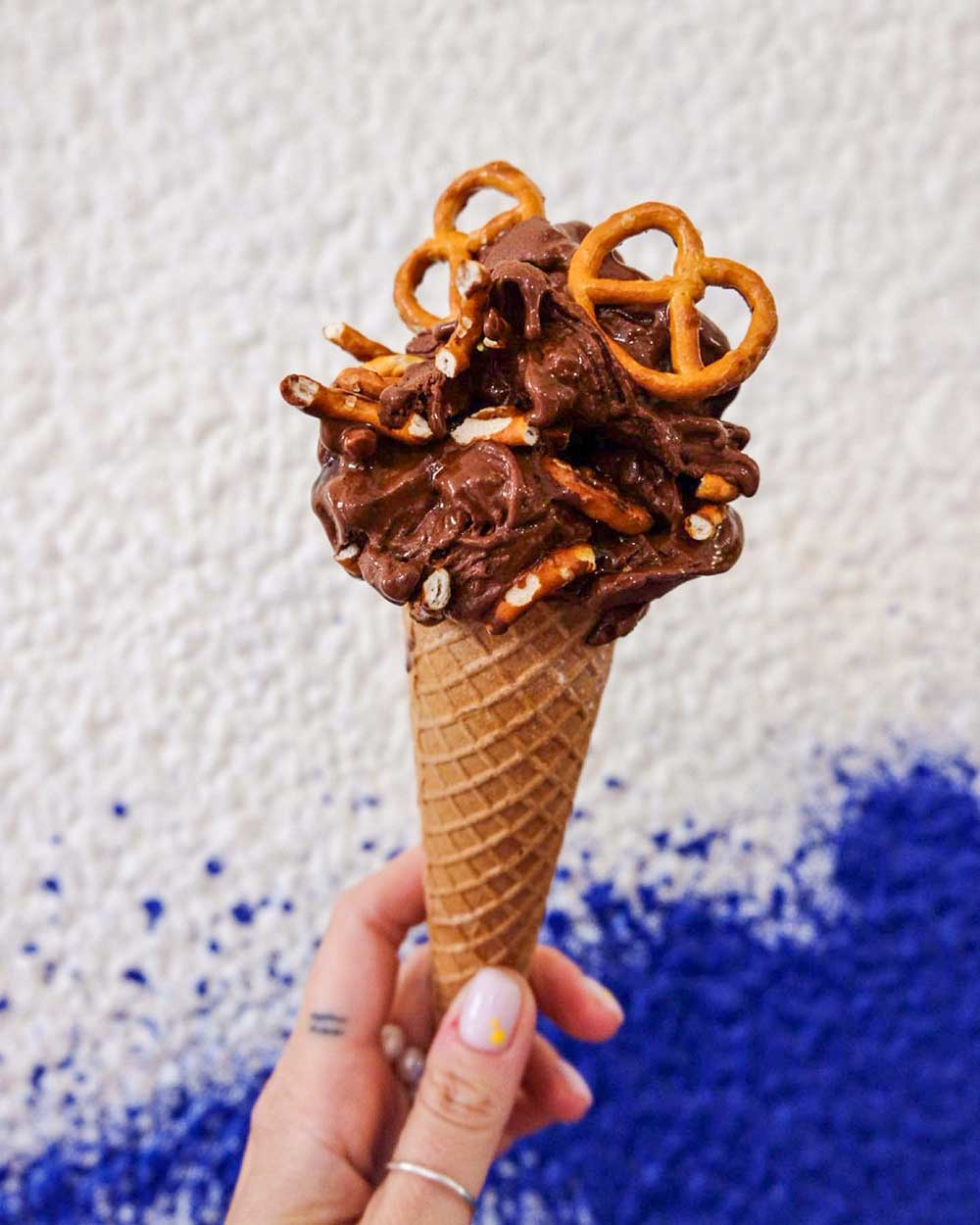 Although their cones are ordinary, the ice cream Koun drops inside them is out of this world. Playful, delicious, and always surprising, the ice cream selection at Koun changes every day. Their website provides the daily gelato menu for reference.
From time to time, you can enjoy a variety of ice cream types, including vegan cotton candy, pear and elderberry seeds, Bacardi rum and raisins, buttery biscuits, cream and cereals, nougat, poppy seeds, and ricotta with caramelized figs.
Definitely, some of the finest frozen desserts you can have in the center of Bratislava! They are creamy, smooth, and richly flavored. The portions are generous, and the taste is truly wonderful. You even have the option to order one ice cream, but choose two different flavors, combining them half-half.
Add to that a coffee and happy vibes. Due to its popularity, this place is often bustling with people.
📌 Address: inside Radisson Blu Carlton Hotel, Bratislava (Google Maps);
⭐ Menu highlights: vegan cotton candy ice cream;
🪙 Cost: approx. 2-3 euro / cone.
I Nonni Cremeria | Experimental Gelato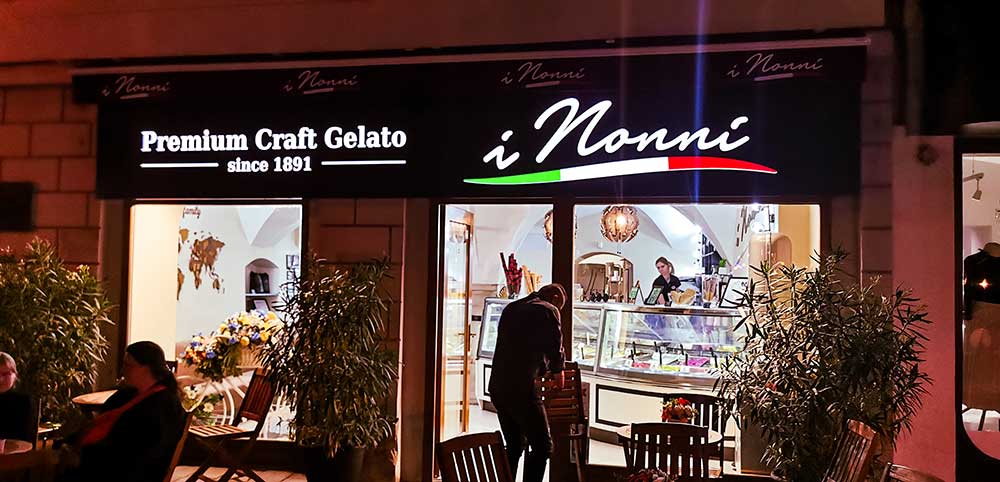 I Nonni Cremeria Bratislava, Copyright © Cooltourismical.com
I Nonni Cremeria is something you can't skip while visiting Bratislava. It is not only one of the best rated Italian ice cream shops in Stare Mesto, but also the most creative of them all. They have plenty of daily, experimental, limited editions from the classical to the weirdest frozen ingredient combinations.
You can find pana cota and raspberry ice creams, but also Bloody Mary (yep, with tomatoes!), shells, peas and mint, prosecco ice cream, hay ice cream, olive oil, mascarpone and cucumber, avocado and coconut. They even have blue ice cream coloured with natural blue tea from Southeast Asia. A high variety of cones also: bug sweet waffle cone, red one colored with red beets, sprinkles one, black charcoal, gluten free.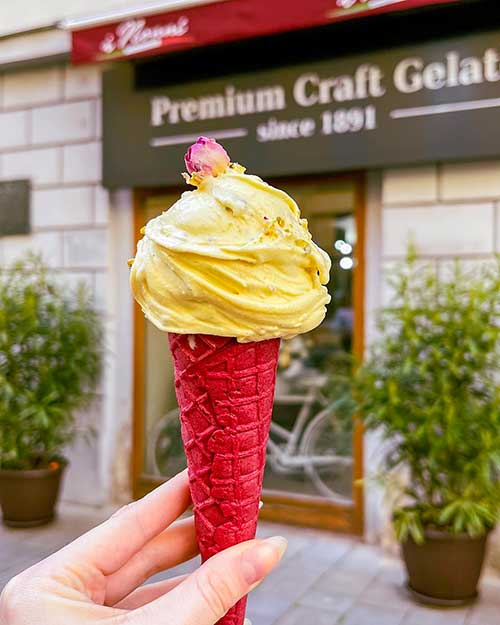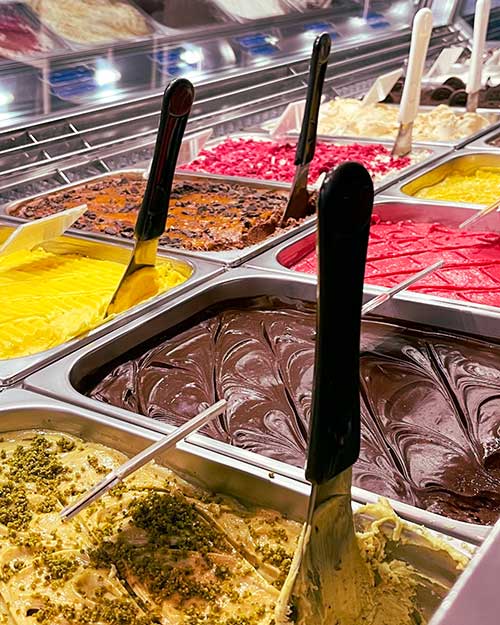 Recipes from Persia 400 aC, rose water, saffron and pistachio. Their instagram is filled with stories about the benefits of the ingredients, short reels on how they prepare the fresh ice cream. Worth following by any gelato freak!
Andersen | Rare Ice Cream Flavors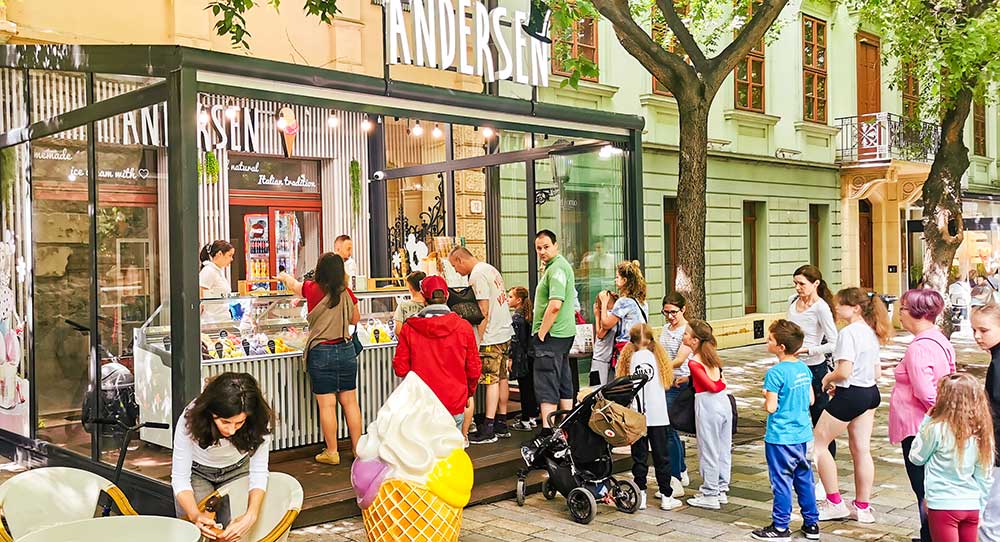 Andersen Ice Cream Shop in Bratislava, Copyright © Cooltourismical.com
In Bratislava, on Hviezdoslavovo Street, there is a bronze statue of the famous Danish writer Hans Christian Andersen, surrounded by characters taken out of his stories. A huge snail is gazing towards its creator.
Behind this almost magical, frozen image, just meters away, there is Andersen Ice Cream with its different kind of fairy tales: colourful & rare tastes of ice cream and sorbets. Locals say it's the best ice cream shop in Bratislava. From black sesame, dragon fruit, kiwi, hazelnut, mint and chocolate chips to raspberry, grape, lotus and lavender, all creamy and smooth with actual pieces of fruits or nuts inside.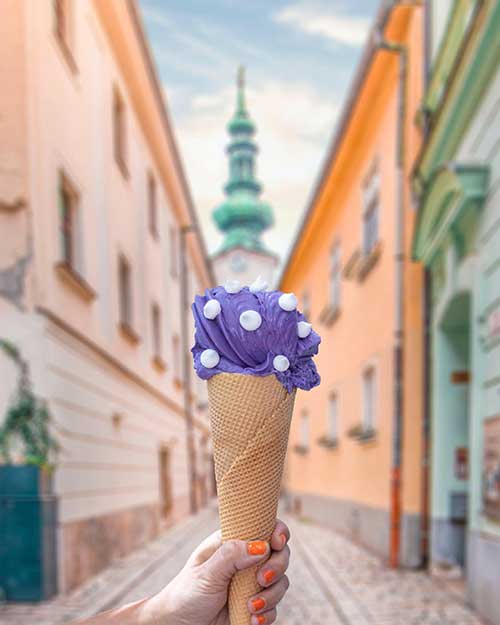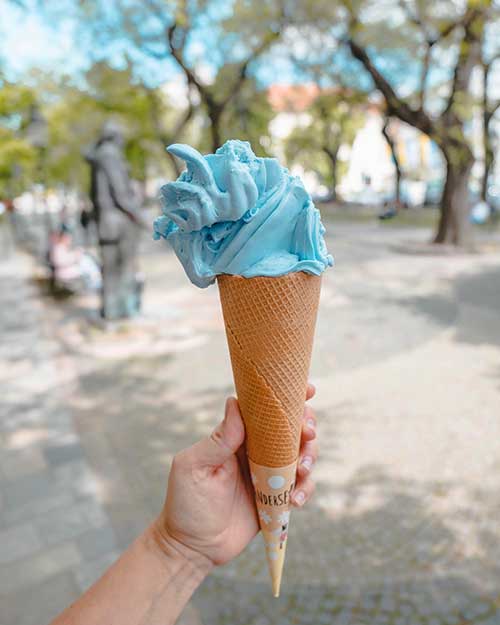 When winter comes, a new chapter unfurls at Andersen Ice Cream. The ice cream shop becomes the source for best mulled wines and punches.
If you see any ice cream fairy at Andersen's, just let me know!!
📌 Address: Hviezdoslavovo námestie 169, 811 02 Bratislava, Slovakia (Google Maps);
⭐ Menu highlights: giant ice cream cones!!
🪙 Cost: 2.5 – 3.5 euro.
Zmrzlina Special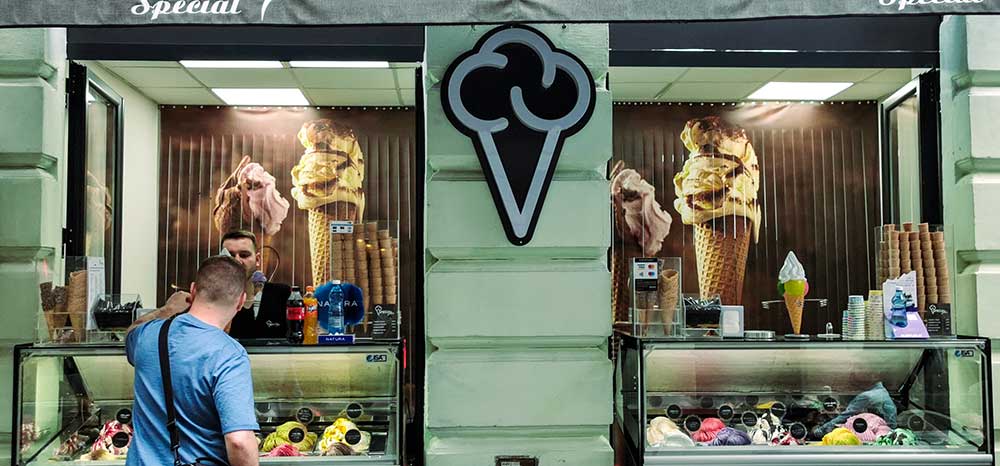 Zmrzlina Special, Ice Cream Shops in Bratislava, Copyright © Cooltourismical.com
Probably, like all the other ice cream shops in Bratislava's Stare Mesto that I've already mentioned, this one has its own story too. I just don't know it. What I know is that they do have really tasty ice cream.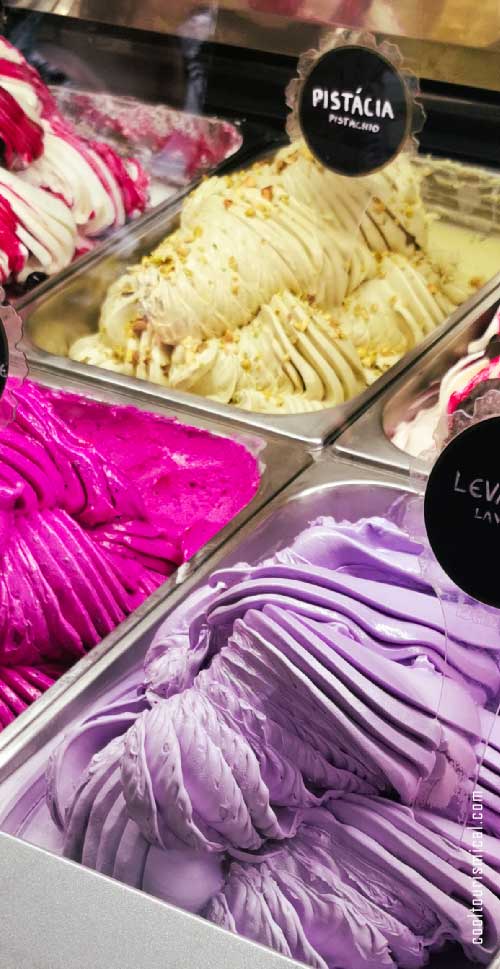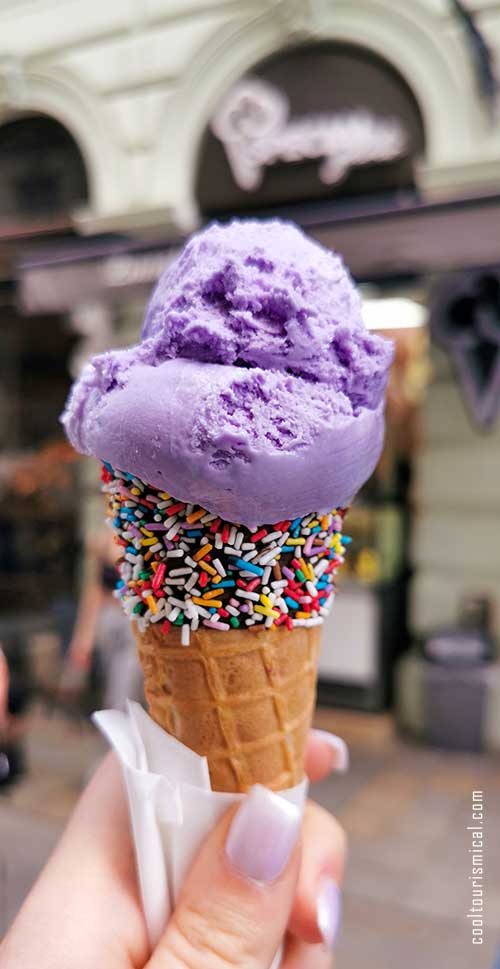 Lavender Ice Cream from Zmrzlina Special, Copyright © Cooltourismical.com
It is at a crossroads in a small plaza in the center, inside a Baroque-style palace, just meters away from Cumil statue.
After taking pictures, we stopped for an ice cream. Lavender looked pretty! Although they have so many flavours, lavender and pistachio ones taste heavenly. The ice cream is good quality, not very sweet. Delicious, but not pretentious.
📌 Address: Panská 23, 811 01 Bratislava, Slovakia (Google Maps);
⭐ Menu highlights: lavender & pistachio;
🪙 Cost: 2 euro / cone.
Mondieu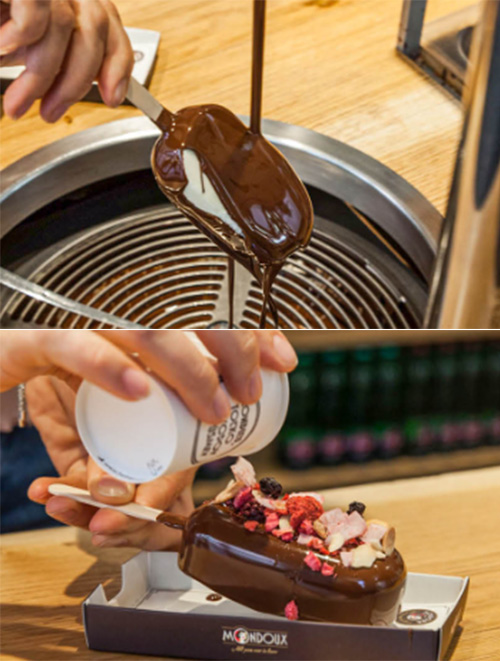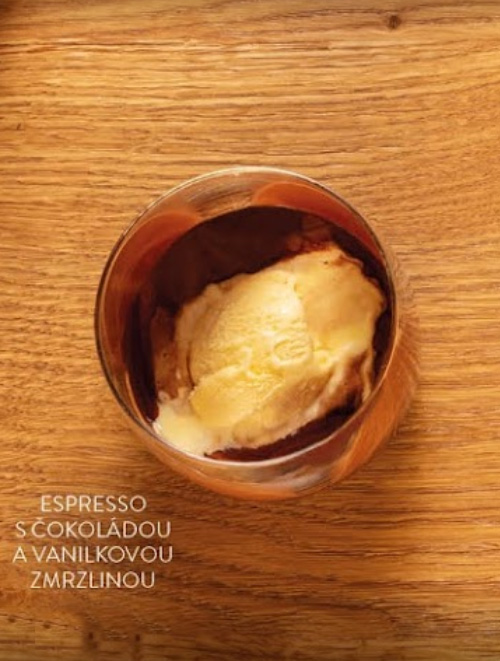 Mondieu is an international chain of classic cafes, ideal for breakfast or brunch. There are multiple locations inside the old center of Bratislava. And the menu varies.
For a long time, they were selling vegan ice cream brought from Austria. They probably still do.
Honestly, I haven't stopped lately, but they are always interesting in terms of ice creams and coffee. I can remember that some years ago you could build your own popsicle by pouring chocolate coating and adding dried fruits on top on Laurinská 7. And they have an espresso with ice cream to die for on Panská 27.
Pay them a visit, they might surprise you pleasantly this summer.
📌 Address: Laurinská 7, Panská 27;
⭐ Menu highlights: ice cream espresso.
Konditorei Kormuth | Sweets & Art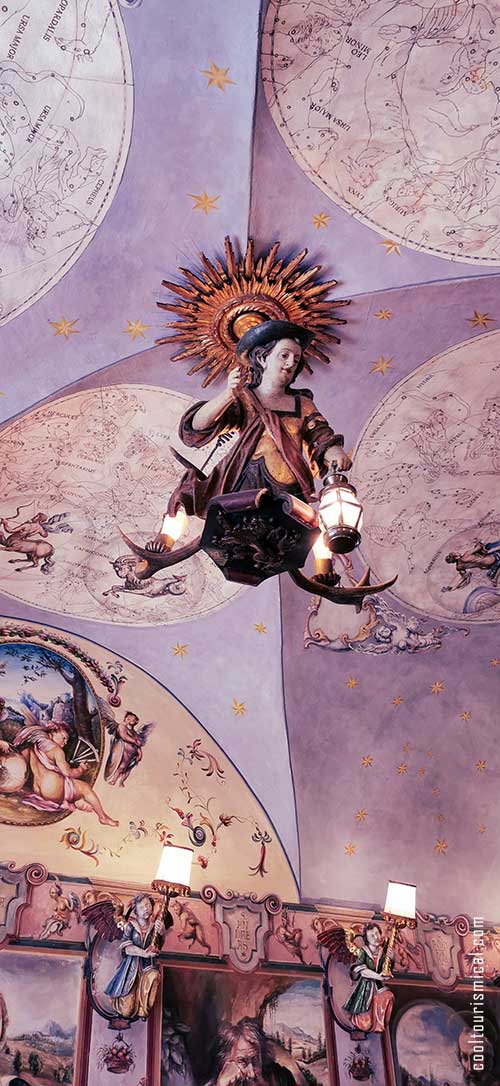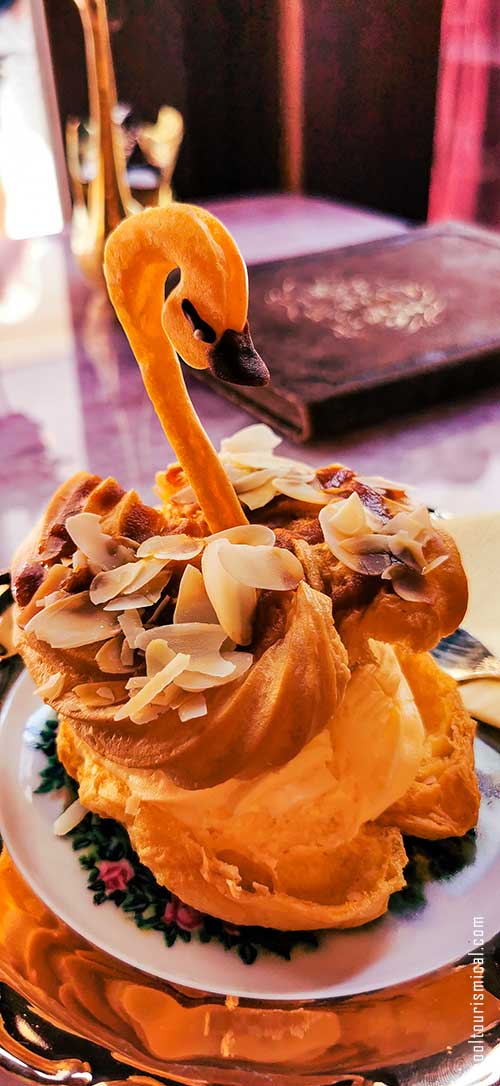 Konditorei Kormuth Interior & Swan Éclair, Copyright © Cooltourismical.com
This is one magical patisserie in Bratislava's Stare Mesto. And it goes beyond being a simple cake shop. It's more like a museum serving tea, coffee and sweets, cakes and ice cream. The interior is covered in paintings and sculptures in the Renaissance style, with heavy wooden furniture and original antiques with a history going back to 16th century.
Their ice cream is homemade from fruits and pure premium chocolate and no added colors.  And everything is served using vintage porcelain and crystal cups.
If you're in for ice cream at Konditorei Kormuth, try the dark chocolate one. If you want a cake, the swan éclair is light and not so sweet. And looks lovely.
📌 Address:  Sedlárska 363, 811 01 Bratislava, Slovakia (Google Maps);
⭐ Menu highlights: Homemade strudel with vanilla ice cream;
🪙 Cost: 12 euro / person minimum spending, but you actually spend around 15 for a sweet and a drink.