Top Saigon Restaurants in 2023: International Dishes Made in Vietnam
Some of the best Saigon restaurants, often scattered in and around District 1, are preciously kept, well hidden and waiting to be discovered gems. In this sense, to be able to taste something extremely delicious, you have to make your pathway through rows and rows of parked motorcycles or climb not the most beautiful interior stairs. But it's worth the effort. Each time.
From fast food to fine dining, Ho Chi Minh City restaurants are worth to be explored. Especially when we are talking about a large cuisine of international dishes, heavenly-cooked by the Vietnamese.
It was a real delight to hop from restaurant to restaurant together with my special one in search for the best meals in Saigon.
Disclosure: This article contains affiliate links. If you make a purchase after clicking one of these links, I earn a small commission from that website at no extra cost to you. Learn more: Disclosure policy.
Best Restaurants in Saigon Summary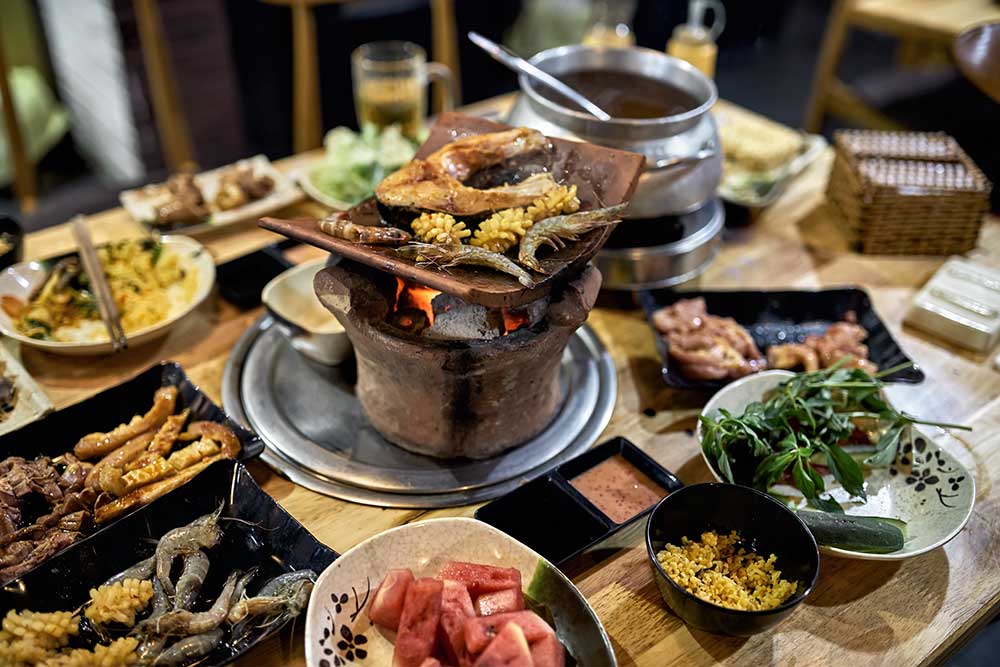 Vietnamese Food in District 1, Ho Chi Minh Restaurants, Copyright © Cooltourismical.com
🍜 Best hot pot in Ho Chi Minh City:
Haidilao, Bitexco Tower | 4.5 out of 5⭐;
Haidilao, Crescent Mall | 4.7 out of 5⭐;
Motsunabe Rakutenchi HotPot |

4.8 / 5⭐.
🍤 Best Vietnamese food in Ho Chi Minh City:
Secret Garden | 4.6 out of 5⭐;
Viet Kitchen | 5  out of 5⭐;
Den Long | 4.5  out of 5⭐.
🦪 Fine dining Ho Chi Minh City:
The Lounge, Sheraton Hotel| 5 out of 5⭐;
Kabin, Renaissance Riverside | 5 out of 5⭐;
Le Corto, French Restaurant | 5

out of

5⭐.
🍺 Best pubs in Ho Chi Minh City:
Poke Saigon Ly Tu Trong, Hawaiian Cuisine
I love Poke restaurants. Poke means raw fish. Surrounded by lots and lots of fresh vegetables. Such a salad grows under your eyes in a coconut wooden bowl, while you pick the ingredients. Quite an experience!
As all the other secret, culinary city gems, this tiny Poke restaurant is tucked away in Saigon's Quan 1, on the first floor of a low-rise building, behind a delightfully decorated little patio. You'll see a small round sign at the entrance of the building and inside two rows of motorbikes defining a path to the stairs that go up, straight to magic.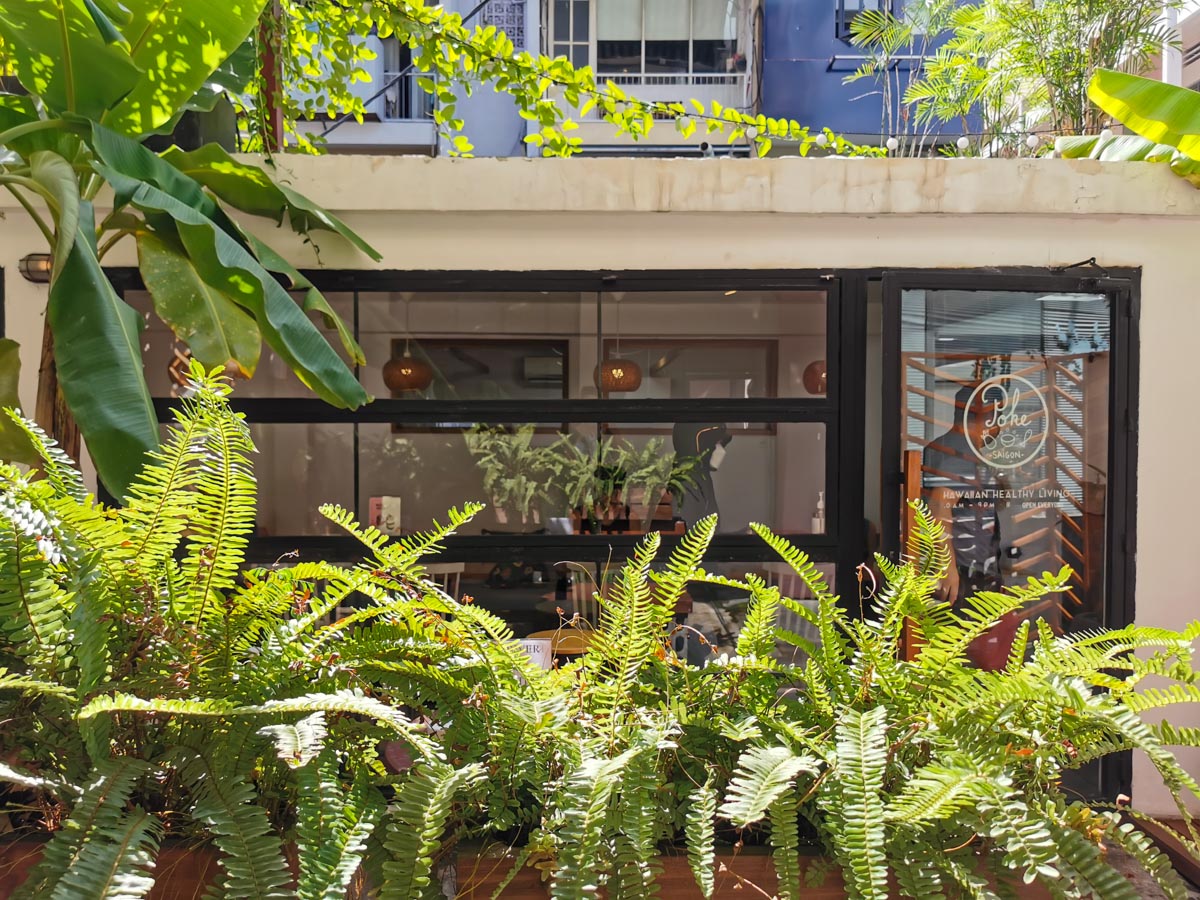 Poke Restaurant Saigon, Copyright © Cooltourismical.com
🥗 In here, you start crafting your own salad by choosing a base.
My favorite is quinoa, plus green salad. It could always be some kind of rice. Still, for me quinoa has the edge in Poke mix in terms of calories, fiber content and, above all, taste.
The next step is to choose your kind of Poke (two scoops, each of a different type of seafood). Normally, I do not eat raw fish, but these salad bowls are heaven made. At some Poke restaurants, they sometimes accept to cook the fish for you. Which is not the case here.
So, I chose spicy tuna and octopus (which was the only one cooked), with a bit of mix-in onion and cucumber.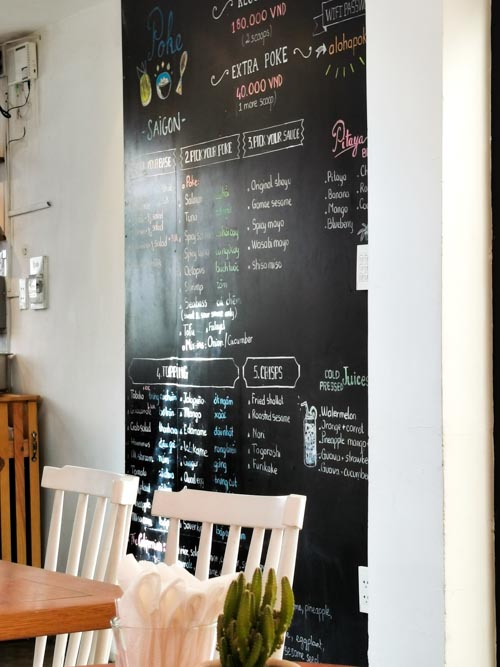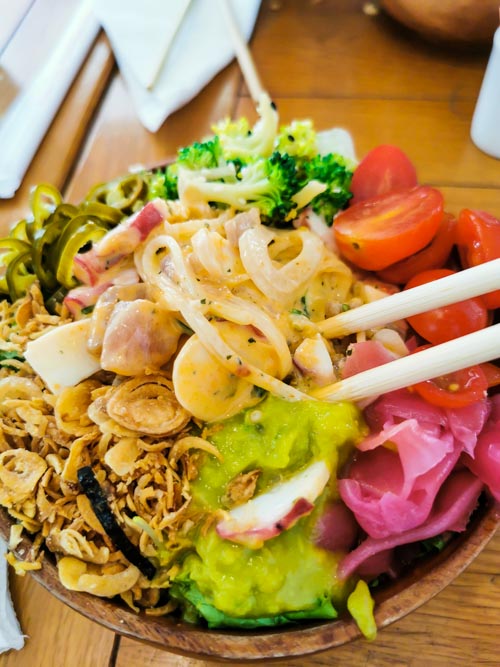 Poke Restaurant Saigon Menu & Salad Bowl, Copyright © Cooltourismical.com
You add a sauce. For me, whatever starts with Wasabi is extremely hot. Less than extremely hot, it's the sesame sauce. Just a bit spicy and gives such a nice flavor to the salad.
And the topping. Toping is made of as many vegetables you can fit in the bowl until it's full. To explain, you have around 20 options to choose from, and add as many as you want.  I chose around 8 types among which my favorite: avocado and ginger.
All ornated with a bit of touch of crisps, fried shallot (onion).
🥗 Why I love Poke restaurants
Each Poke bowl is colorful, lovely textured and EXTREMELY delicious.
The price is less than $10 / bowl, which is beyond reasonable for the quantity and fresh ingredients.
In case you're lost, they have recommendations too!
🪴 Address: 1st floor, 42 Bis Lý Tự Trọng, Bến Nghé, Quận 1, Hồ Chí Minh, Vietnam (Google Maps Location)
Agave Saigon, 100% Mexican Bistro
Around 7 pm, we decided to have dinner in a well rated Malaysian restaurant in Saigon's District 1, which was easy to find on Google maps. But reality proved tougher than that. After 10 minutes of hopeless search around the area, we gave in.
Altogether, showing to local people images or address on Google did not help. However, their fingers pointed towards the higher levels of a building housing two restaurants, Agave, a Mexican Bistro and an Italian eatery. So, driven by hunger, we decided to follow the local recommendations.
This is how we ended up at Agave.

Agave Saigon Mexican Restaurant, Copyright © Cooltourismical.com
Agave belongs to two Mexicans, out of which one is Carlos Bravo, former Chef de Cuisine of the JW Marriot Phu Quoc. Therefore, everything in this place is 100% authentic and more than delicious.
That being said, they serve flame grilled Mexican food, tacos, stakes, burritos, along with salads and churros. Plus a selection of Tequila and Mezcal.
We chose some North of Mexico style starter with melted cheese, chorizo and tortillas on the side. The one and only, Queso Flameado.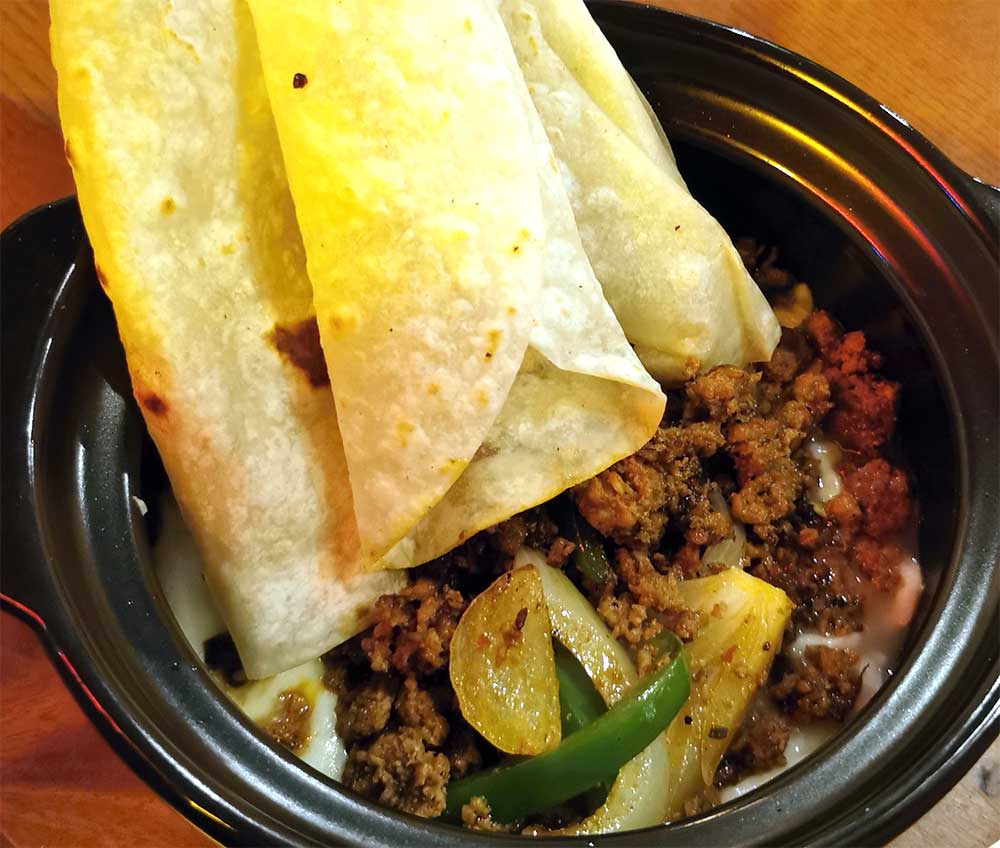 Queso Flameado, Mexican Restaurant in District 1 Saigon, Copyright © Cooltourismical.com
Followed by one absolutely huge burrito. Really huge and tasty.
Monster super Burrito Steak A 50 cm long, more than satisfying, soft and warm tortilla filled with all juicy ingredients among which Wagyu steak, guacamole, beans, rice, pico de gallo, cheese, sour cream. And all skilfully wrapped-up in bacon.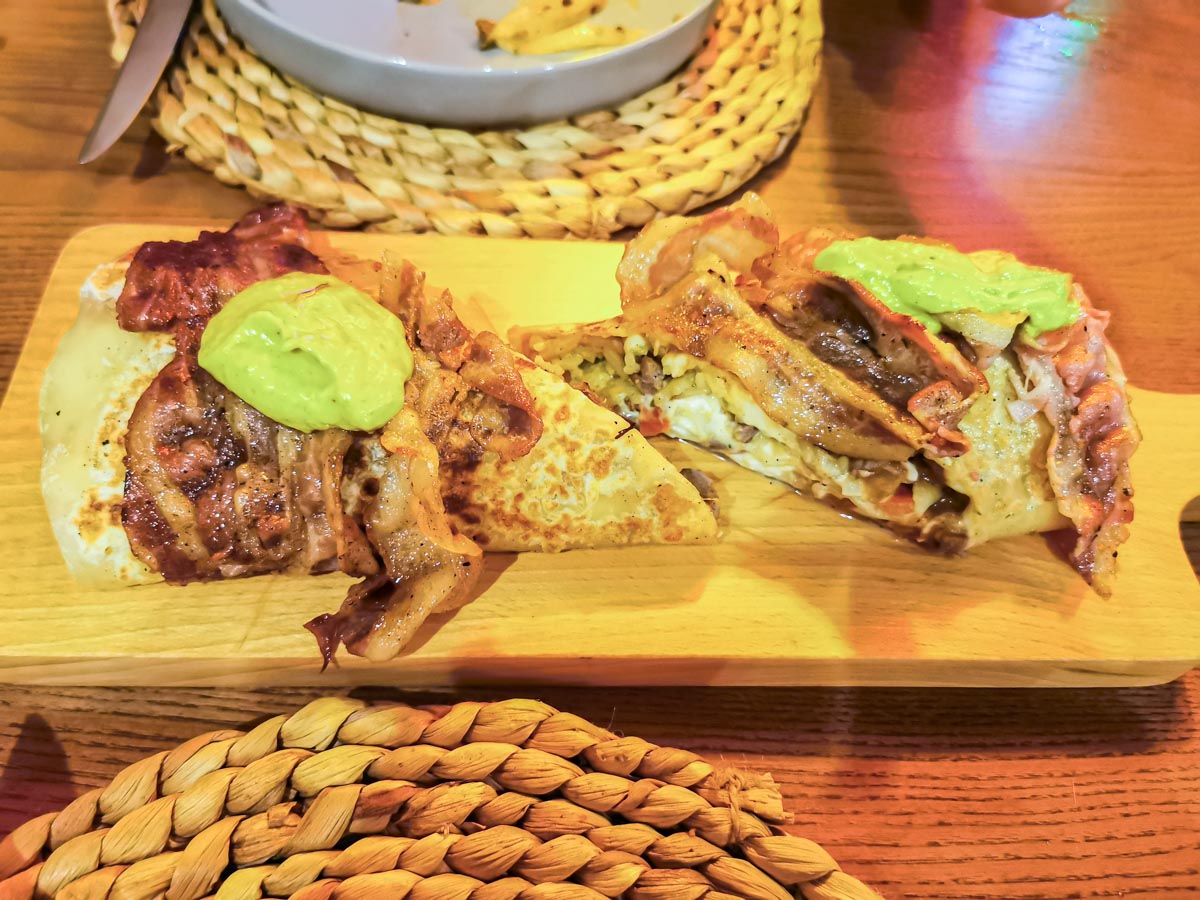 Monster Super Burrito Steak at Agave Saigon Restaurant, Copyright © Cooltourismical.com
Later, we finished our beer on the outside terrace. Agave's cozy terrace is not only overlooking the lively street but has a wonderful view towards Bitexco Financial Tower.
🌯 What I liked about the Mexican Restaurant in Saigon
The taste of the food is AMAZING. Tortillas melt in your moth, and the meat is very well cooked.
The prices are more than decent for a famous chef-cooked meal.
The outside cozy terrace is perfect for having some late evening drinks with friends.
The two different dishes, plus 3 beers, cost us about VND 550 000, approximately $24 at the time.
🌯

Address:

13 Pasteur, Phường Nguyễn Thái Bình, Quận 1, Hồ Chí Minh, Vietnam (

Location

).

🔍

How to find:

spot the Mexican hats hung on the first floor!

⏰

Opening times:

open for lunch (12 pm to 2 pm) and evening until 10 pm.
Jade Palace Saigon, Cantonese Fine Dining
While living close by for almost 2 weeks, I passed next to this restaurant in Saigon many, MANY times. But accustomed to going through a small hassle on my way to finding cute, intimate restaurants, I obviously almost ignored it.
In the last day, just few hours before heading to the airport, we had a late dinner there.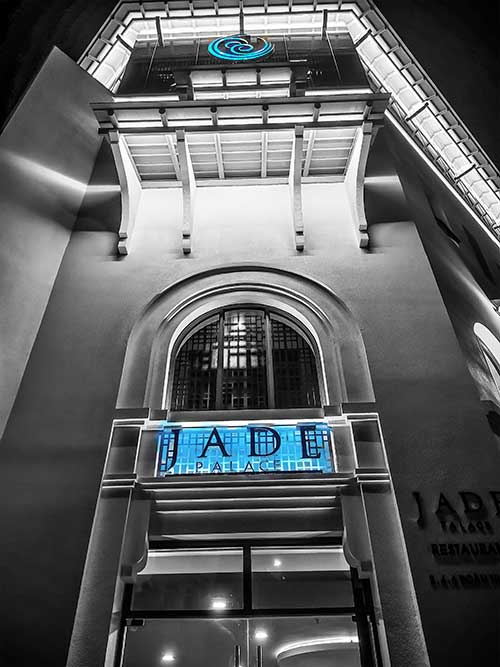 Jade Palace Saigon Restaurant First Floor, Copyright © Cooltourismical.com
Jade Palace is in fact quite a big and beautiful restaurant. Seems somehow new and very elegant. And it is also strategically placed at the limit of Quarter 4 with Quarter 1, right in the central area of Ho Chi Minh City. I honestly thought it's a hotel. But it's a gourmet jewel in plain sight.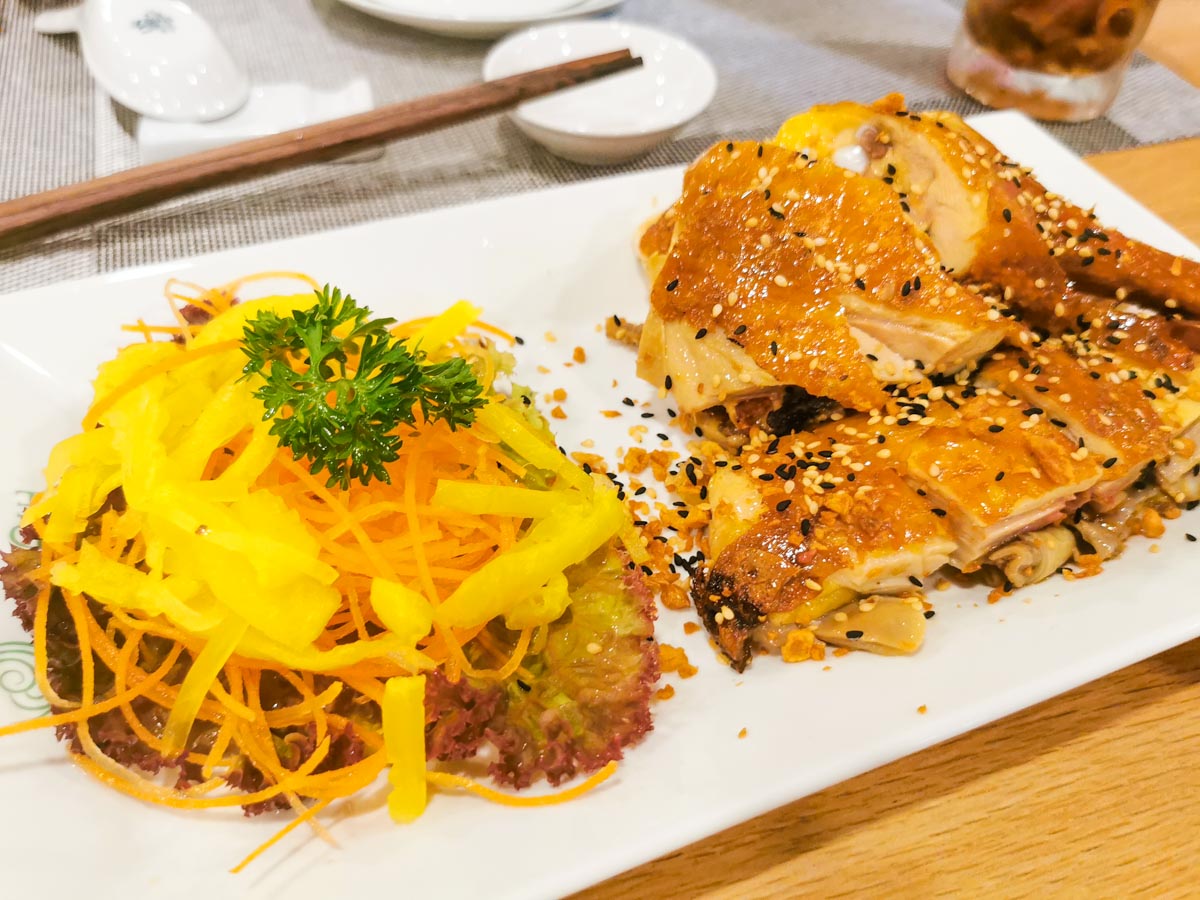 Jade Palace Saigon Restaurant First Floor, Copyright © Cooltourismical.com
Inside, in a happy ambiance, they serve just premium Chinese dishes belonging specifically to the Cantonese cuisine.
If it's your first time having Cantonese cuisine, this refers to food from the Canton area of Southern China. Particularly Guangzhou and Hong Kong regions.
You will find here lots of Dim Sum options and the traditional rice pudding, the Congee. Along with appetizers, soups and all kinds of meats. These especially range from beef and chicken barbeques to most exquisite seafood dishes. I can recall the butter and garlic prawns or lobsters baked with ginger. Yummy!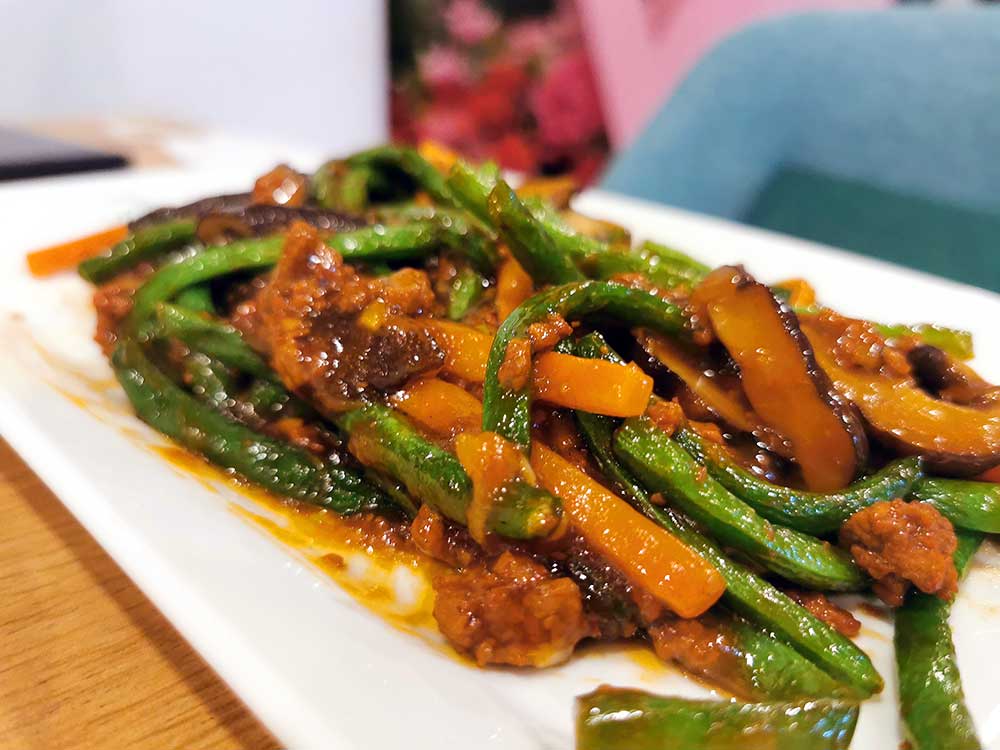 Sauteed Green Beans with Beef, Copyright © Cooltourismical.com
Of course, the menu does not disregard the Vietnamese cuisine. This means that local specialties like exotic drinks and desert recipes based on the lotus and coconut are present. As well as the popular milk tea.
Playing that day, in the background:
Sautéed green beans with spicy shrimp paste. We came before closing and there was no shrimp left for the day. Hence, they replaced the missing ingredient with beef. Even so, it had a heavenly taste.
Choy sum double boiled with cordyceps flowers, the very tasty Chinese cabbage, another nice vegetable addition to the meats that we ordered.
Roasted duck with noodles, and some very tasty side soup. A perfectly made dish. The duck literally melts in the mouth, while the noodles are just slightly spicy. A totally new flavour for me. I really recommend this.
BBQ chicken lemongrass, plus sesame sauce. Crunchy crust, surrounded by vegetables, in a perfect blend with the textured sauce.
Tropical ice tea, way too sweet for my taste, at least in the beginning, but refreshing. However, the sweetness degree decreased in combination with the food.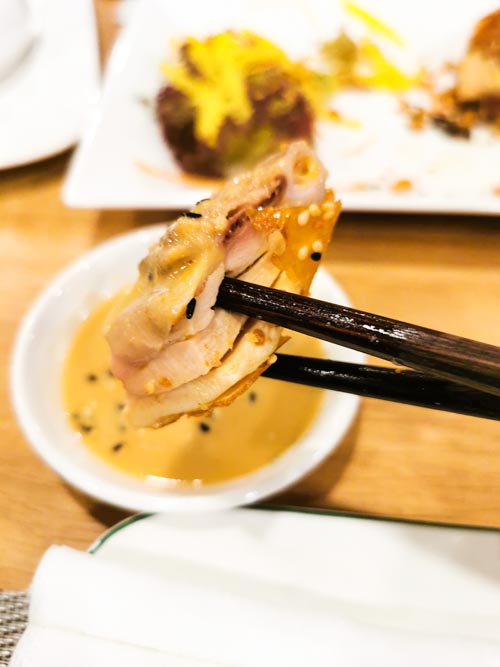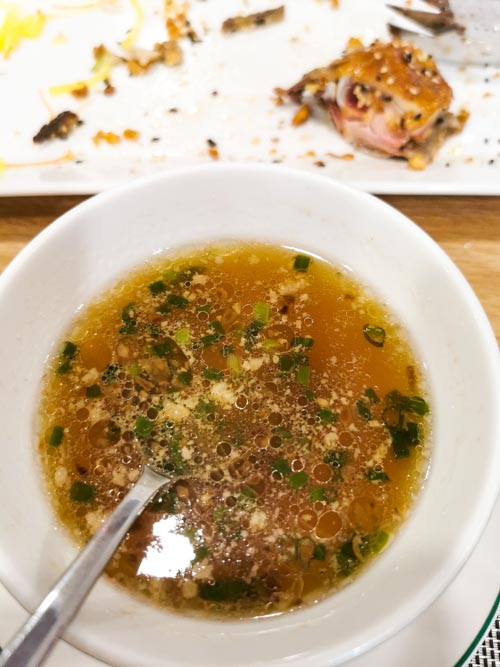 Roasted Duck with Noodles at Jade Palace Saigon, Copyright © Cooltourismical.com
For me this experience meant fancy food, well balanced spices and gentle flavors, at very acceptable price.
With around VND 300 000 / person we enjoyed an elegant restaurant, 2 different dishes each, plus one drink each. To add to that, portions are huge!!
Comparing with Secret Garden, for example, we had double portions of food for half of the price.
Still, they are completely different restaurants, different cuisines. 
📌

Address:

2 Đường Đoàn Như Hài, Phường 12, Quận 4, Hồ Chí Minh, Vietnam (

Google Maps Location

).

🔍

How to find it:

tall, fancy, corner building.

⏰

Opening times:

daily, from 7 am  – 10 pm.
Mulligans Saigon, American Gastropub
Centrally located on a small street in Saigon's Quarter 1, Mulligans has the wonderful air of a cosy, Western-style gastropub. Either it is lunch or dinner time, lots of jolly foreigners, mostly Australians, are having a beer or enjoying some of the food specialties of Mulligans.
Extremely close by to some of the most important Saigon landmarks such the Fine Arts Museum, for me this was the perfect stop for a delicious lunch. And for the first time in a month in Vietnam, I felt like I was back home.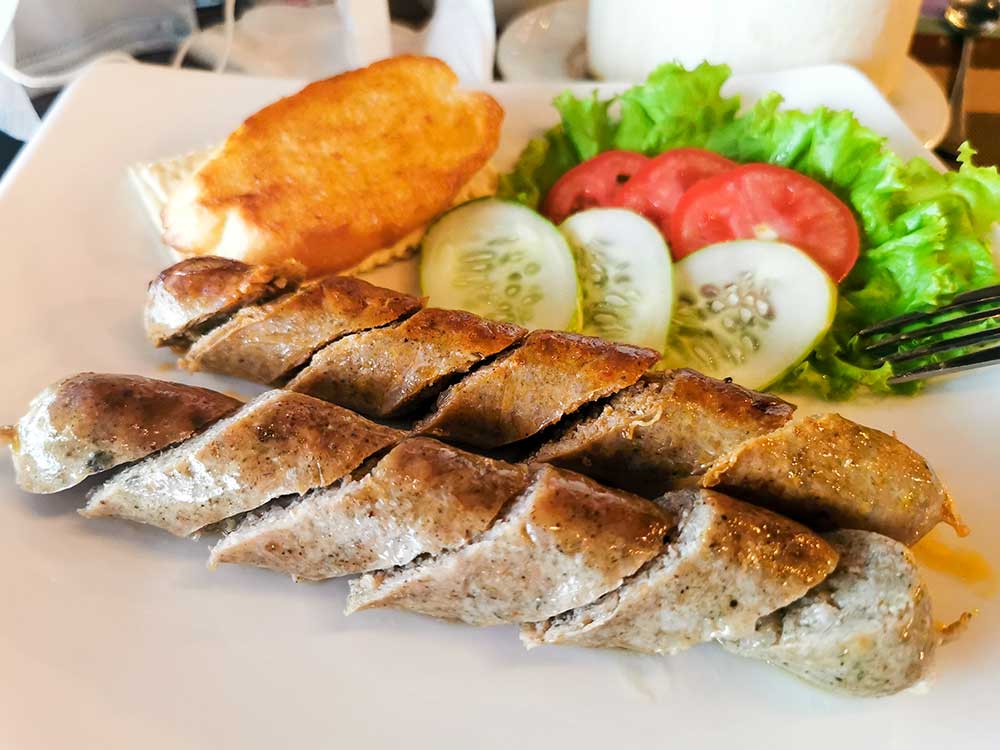 Mulligans Saigon Restaurant In-house Made Sausages, Copyright © Cooltourismical.com
The lively bar is on the first floor. And it's so crowded and over-filled with loud laughter and beer bottles clinging that you might feel you have just popped into someone's private party. The owner is English-speaker and very friendly, making you fit in pretty fast.
The theme of this Saigon bar is golf. The few images on the walls and the live sports on TV, slightly betray the sporty side. However, the interior design has nothing spectacular. But the food does.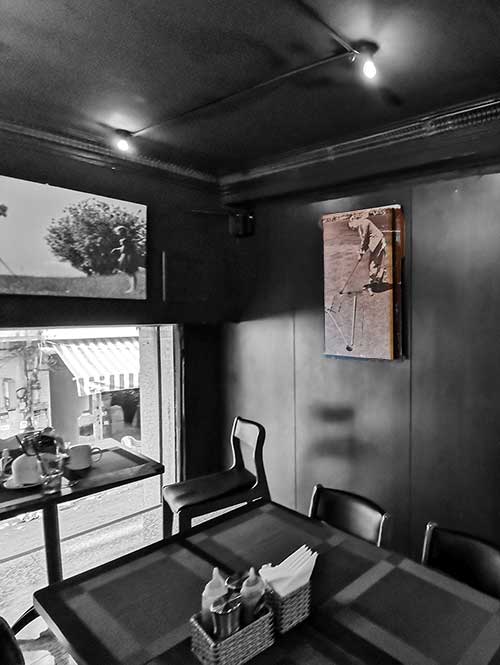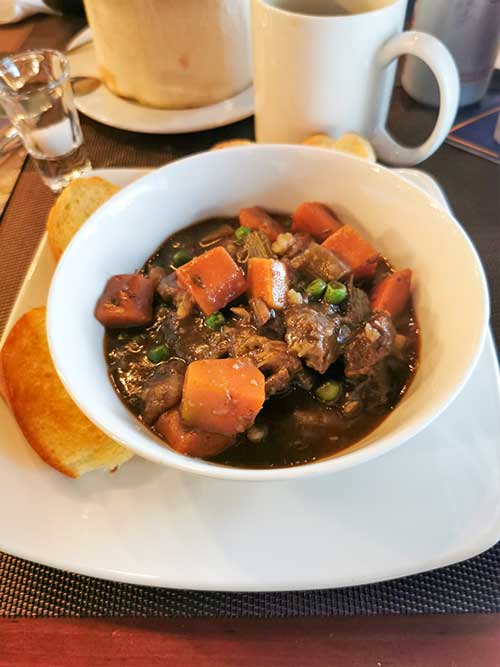 Mulligans Saigon Restaurant Second Floor & Beef Stew, Copyright © Cooltourismical.com
Upstairs, it's more quiet and you can easily dine there. The menu includes tasty BBQs, pizza, soups everything you can sometimes only dream when you are so far away from Europe. Or US.
The wonderful thing is that most of the meats on the menu are cured and smoked on the premises and, on your way out, you can also buy some for home from their retail shop in the back.
Eat or just chill out this is one fantastic bar. And one of the best restaurants in Ho Chi Minh City where you could have your lunch.
🥩 Why I  would go back to Mulligans?
For the extremely good mood on the premises.
Because they cook food that makes you feel like home!
Plus, if you're on a solo trip, this is the perfect spot to connect.
We had Minestrone soup, beef stew and in-house made sausages, along with coffee, coconut and one Coke which cost us around VND 700.000, about $30 at that time.
📌

Address:

7A Lê Công Kiều, Phường Nguyễn Thái Bình, Quận 1, Hồ Chí Minh, Vietnam (

Location

).

⏰

Opening times:

daily, from 10 am  – 9 pm.
Heart of Darkness, Vietnamese Craft Brewery
At Heart of Darkness, which is not so dark place, but quite enjoyable, the burgers look as big and juicy as in the pictures. And the the craft beer menu is set to tantalize your taste buds with some of the quirkiest flavours you've ever heard of.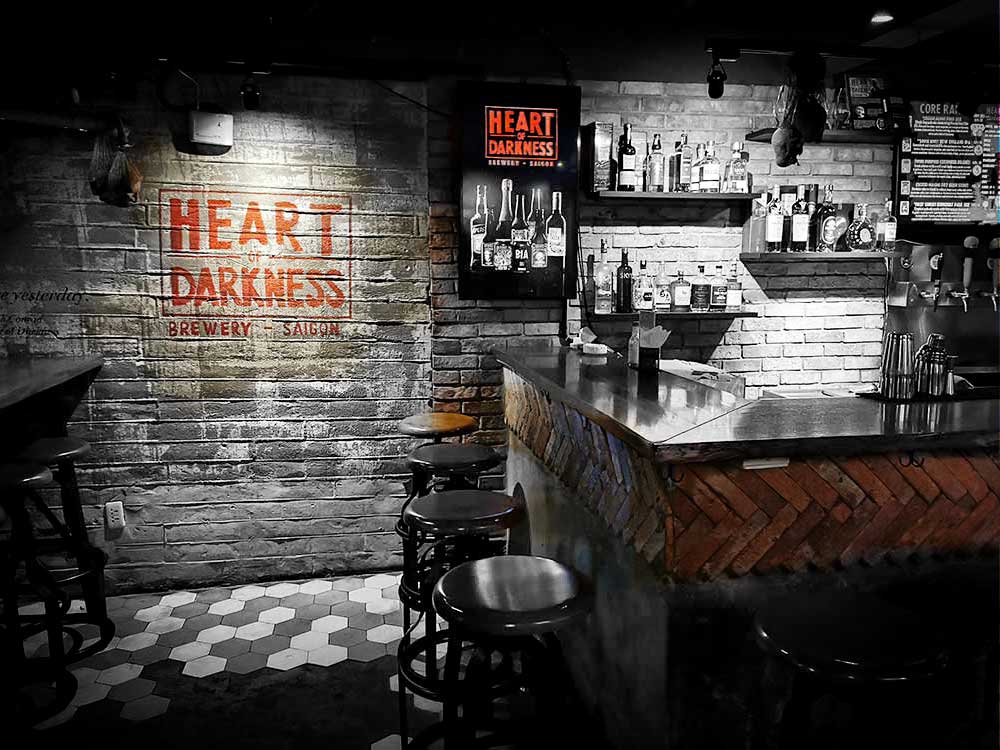 Heart of Darkness Saigon, Copyright © Cooltourismical.com
We got there just a bit after 12 pm, when they were just opening. Not being so crowded, fully allowed me to appreciate all details of their apocalyptic graffities. And to have the food on the table pretty fast.
Rock music started softly pouring in the background while we were waiting for our beers, a burger, some chicken wings and salads. Even more than enough for 2 people as plates were pretty big.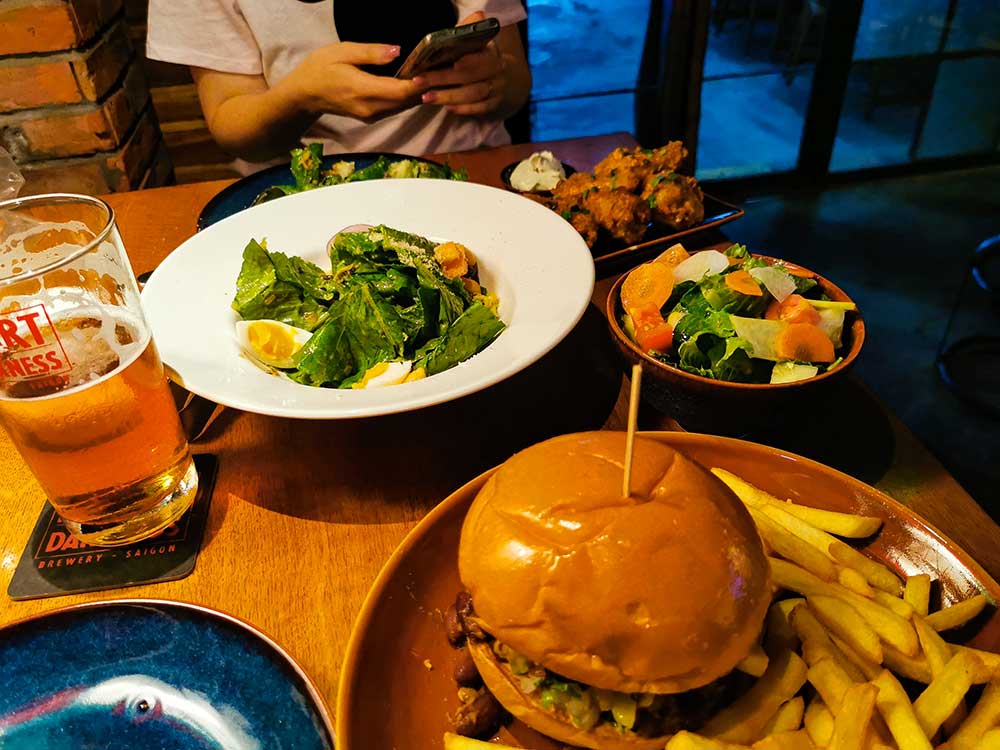 Lunch time at Heart of Darkness Saigon, Copyright © Cooltourismical.com
Many come here for the premium craft beer which is famous around Asian countries, especially in Singapore. Multi-award winners like Dream Alone Pale Ale and the Futile Purpose Cucumber Pilsner are a must try. I had a tiny glass of the second one and it's over the top.
🍺

"Big, bold, craft beers that will challenge the way you think about beer."
Along with that, the menu includes a very good Western food selection: a full range of salads and red meats, pork ribs, chicken wings, hamburgers and vegetarian tacos among others.
In truth, very hard to choose from so many goodies.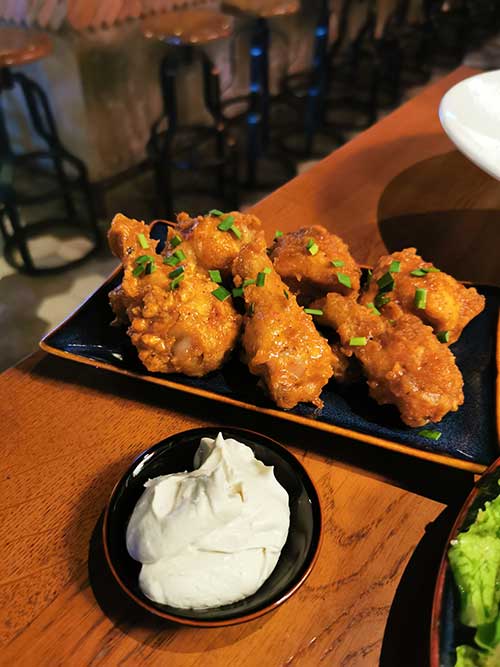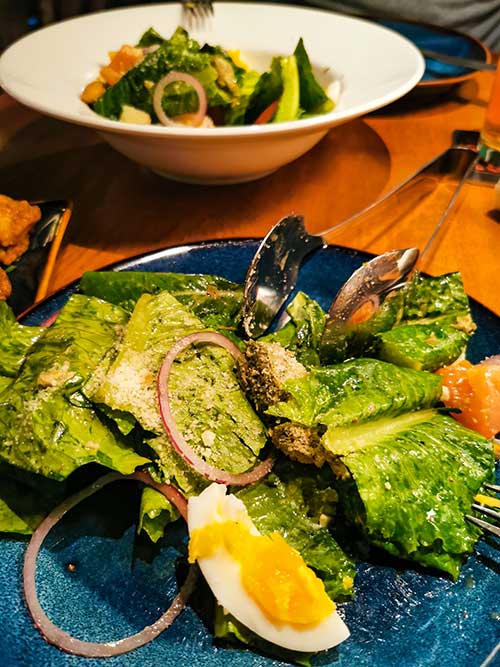 Wicked Wings and Burger at Heart of Darkness in Ho Chi Minh City, Copyright © Cooltourismical.com
Wicked Wings with sweet chili sauce;
Nicoise Salad, including tuna, eggs, black olives all sprinkled with a dust of cheese and thyme vinaigrette dressing, that looked and tasted divine;
Pepe el Toro burger, a juicy chargrilled Australian beef patty covered in soft guacamole, with a bit of chili, pico de gallo and spicy chipotle sour cream on top.
Plus the beers: Futile purpose Cucumber Pilsner (an unusual combination of peeled cucumber and toasted biscuit that still tastes like beer)  & Dream Alone Pale Ale ( a tropical mix of tangerine, mango, peach citrus, plus a hint of blueberry).
For 2 people, we paid around 1 100 000 VND (including service and VAT, plus a tip), which was approximately $50 at the time.
📌

Address:

31D Lý Tự Trọng, Bến Nghé, Quận 1, Thành phố Hồ Chí Minh, Vietnam (

Location

).

⏰

Opening times:

daily, from 12 pm  – 12 am.
Secret Garden Saigon
Everyone recommends this central Ho Chi Minh restaurant. In YouTube videos, on blogs, even word of mouth. My friends, who've already been to Vietnam, were saying YOU HAVE TO. You have to go to Secret Garden in Saigon. Therefore, I was kind of pushed by behind to not skip it.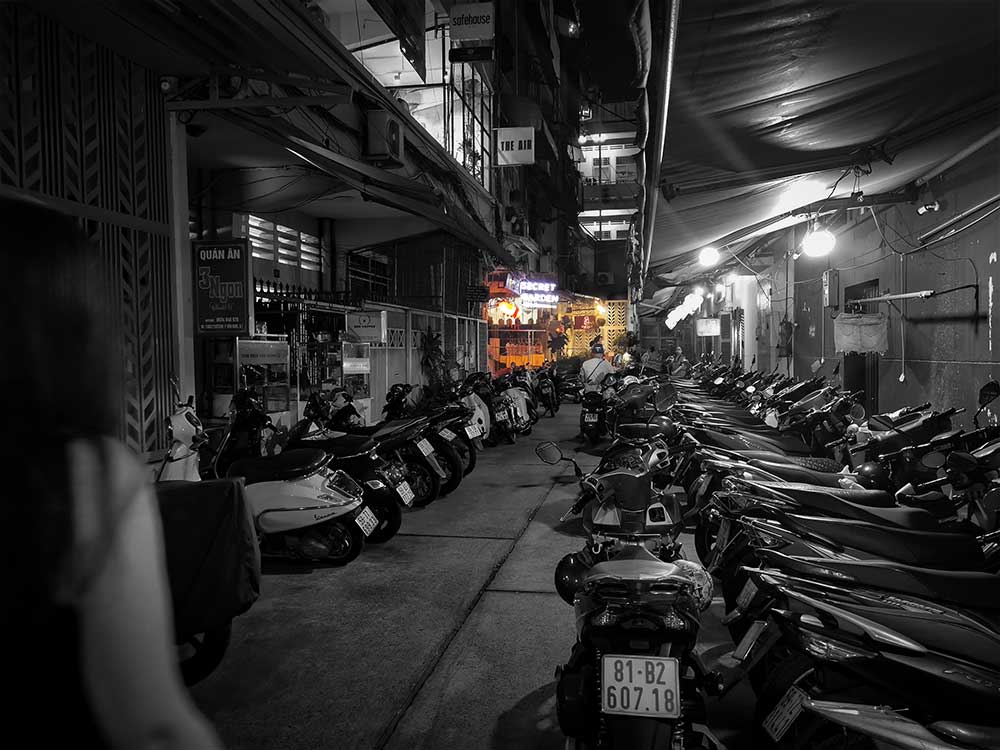 Secret Garden Saigon Alleyway, Copyright © Cooltourismical.com
As usual, hidden on a narrow street, filled with motorbikes, a small neon sign marks the entrance.
To start with, you have to climb a lot of stairs. Till the last floor. So, getting there is like conquering some high peak in the Himalayas. Plus, considering the fact you are passing floor by floor of an old building, where people live their ordinary life, surroundings might not the friendliest for the eyesight of a tourist in his search for food.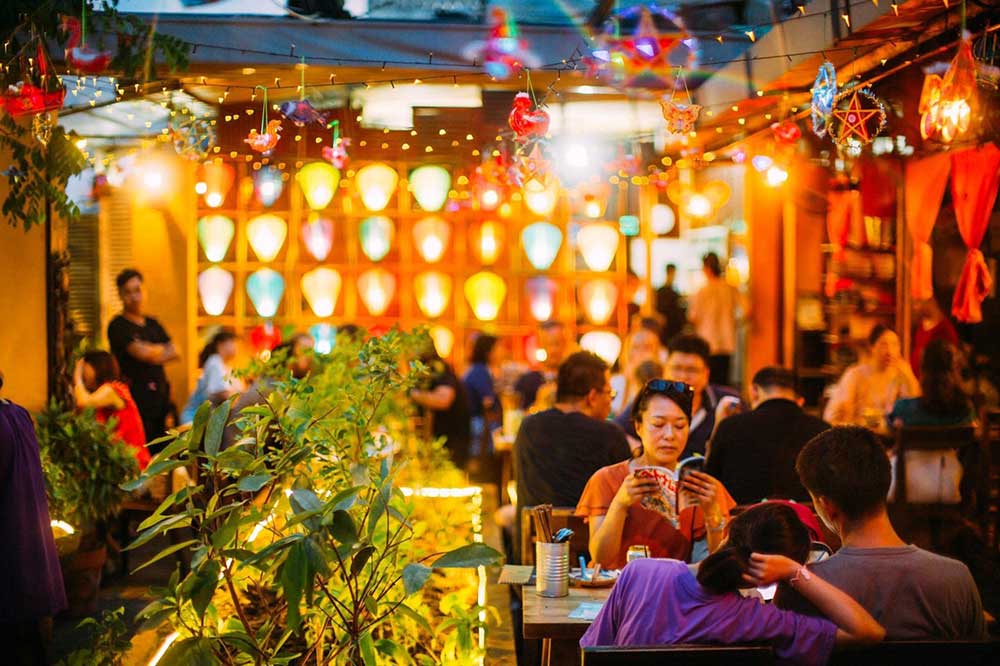 But somehow, as soon as you land on the rooftop terrace, the ambience gets better. Pretty rustic, with colorful lanterns that shed a pale light on the tables, and exotic, big-leafy plants that try to conquer the tables.
Cocktails at Secret Garden are as strong as they can be and food leaves you breathless!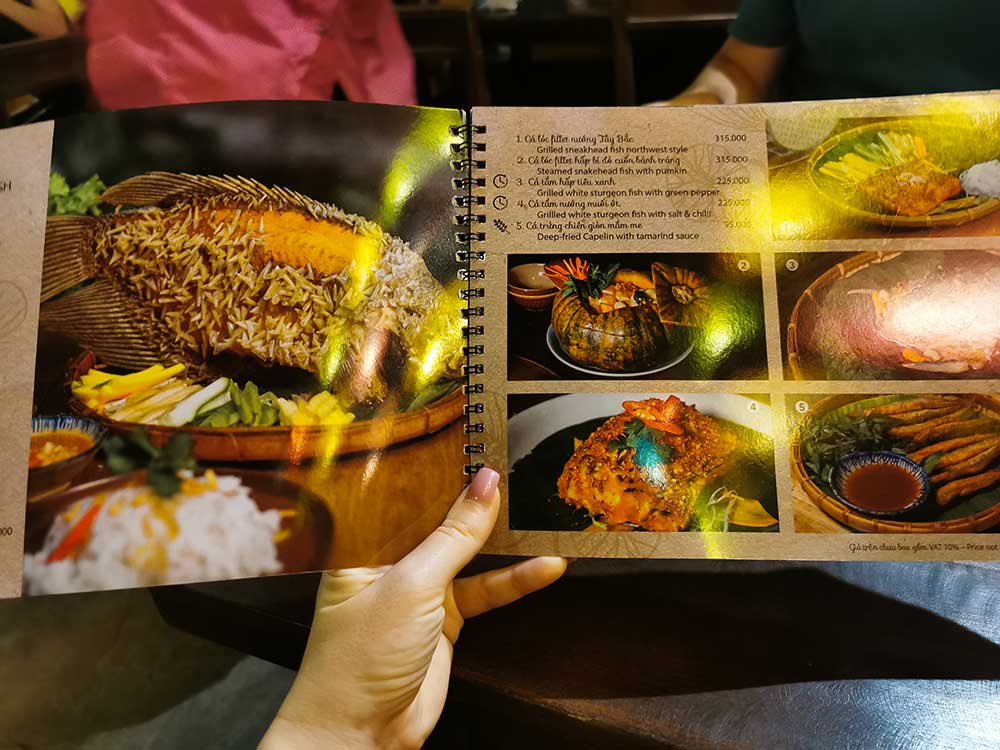 Secret Garden Saigon Menu, Copyright © Cooltourismical.com
Sadly, I could not take pictures further than the menu, because my phone was dead soon after. But my memories last enough to write about it. And longer.
Even if the portion is kind of small for the price, compared to other meals in Saigon, (a palm-long piece of fish, sprinkled with shiny salt and surrounded by a few vegetables), food looks and tastes fabulous. The fish was moist and tender and it really felt like a Vietnamese home-cooked delicacy.
We ordered grilled white sturgeon fish with salt and chili, grilled snakehead fish northwest style, two beers and a cocktail with a bit more than 1 000 000 VND, around $43.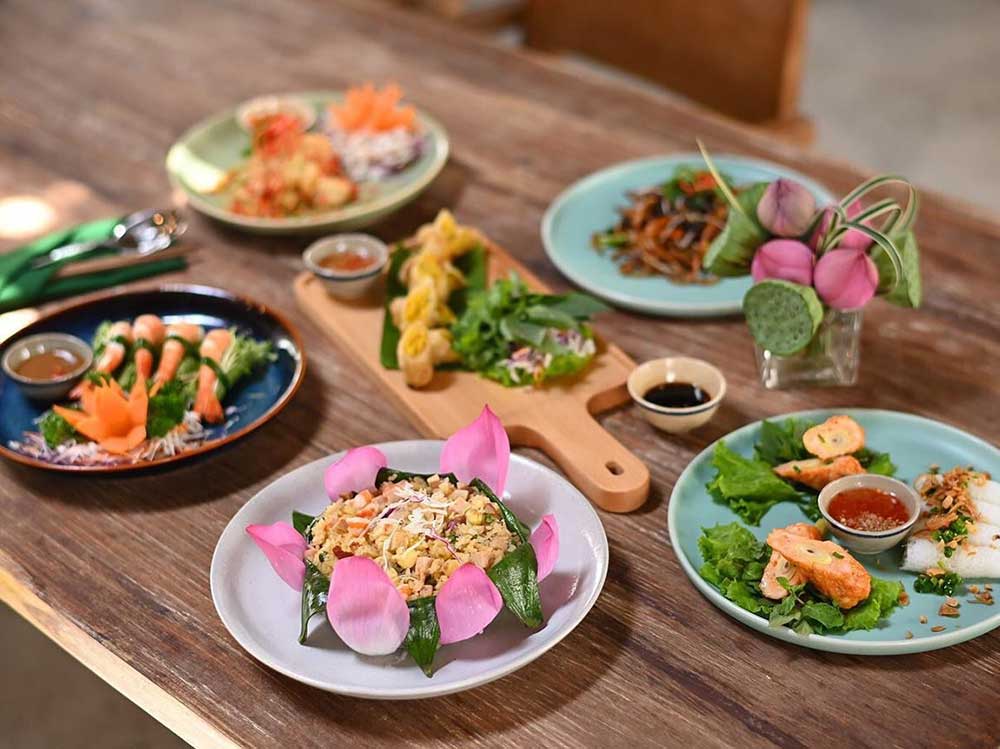 Definitely worth paying a visit at the Secret Garden. Especially now, when I noticed they have a new branch, even better rated (probably due to its prettier location) at 131 Calmetter Street, also in Ho Chi Minh City.
📌

Address:

158 Pasteur, Bến Nghé, Quận 1, Thành phố Hồ Chí Minh, Vietnam (

Location

).

⏰

Opening times:

daily, from 11 am  – 10 pm.
📌

Address:

131 Calmette, Phường Nguyễn Thái Bình, Quận 1, Thành phố Hồ Chí Minh, Vietnam(

Location

).

⏰

Opening times:

daily, from 10 am  – 10 pm.
Haidilao, Chinese Hot Pot inside Bitexco
Haidilao is a pretty entertaining Chinese restaurant, occupying a slightly big portion of the second floor of Bitexco Financial Tower. 
"Have you been to Bitexco yet?"
Vietnamese pride and landmark, Bitexco reveals itself as one of those highest skyscrapers trying to touch the skies of Vietnam and kind of a very touristic spot. An aspect which, obviously, makes also the restaurant very crowded at peak hours. Trying to avoid such a situation, we showed up in front of Haidilao around 16:00, and we still had to wait for around 15 minutes.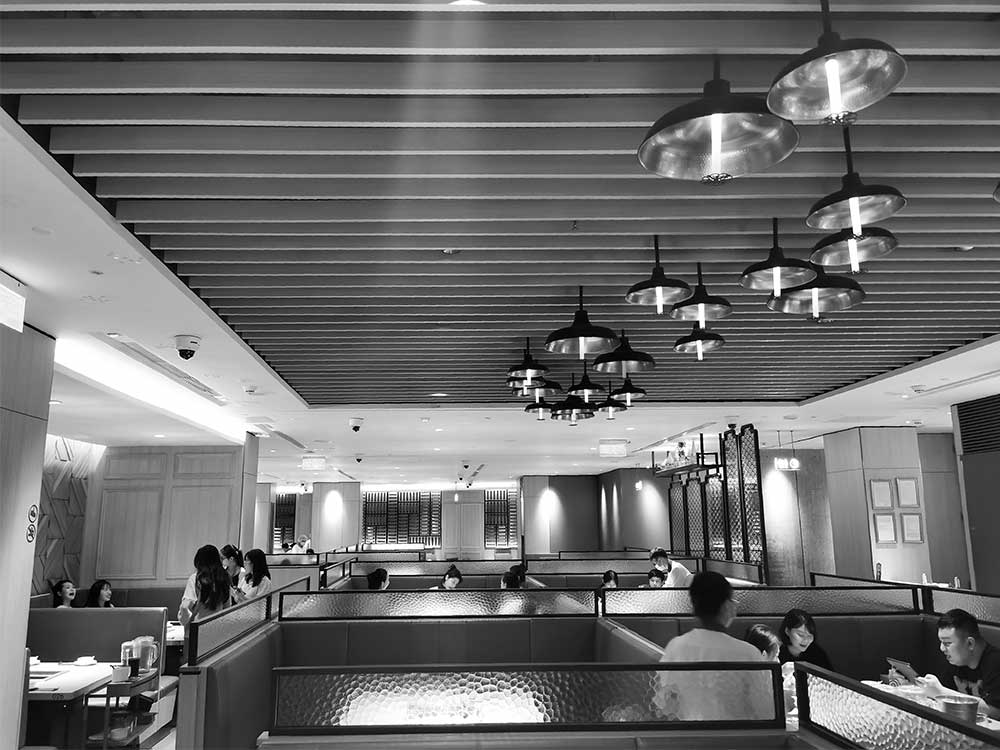 Haidilao Hot Pot Restaurant Quan 1 Saigon, Copyright © Cooltourismical.com
Therefore, you must go there armed with a lot pf patience. And not extremely hungry. And, as patience is often considered a virtue, you might receive at the entrance, for free, while you wait to be seated, ice cream, fruits, juice. Even a manicure!! That's also part of the fun of Haidilao.
But I think it's worth. For me, they have the best hot pot in Ho Chi Minh City!
🍜

Inside Haidilao, where the magic happens
At Haidilao, you can cook your own food, the famous Sichuan hot pot, by adding ingredients from a Chinese-Vietnamse fusion mix, as well as watch the famous, so called "Noodle dance".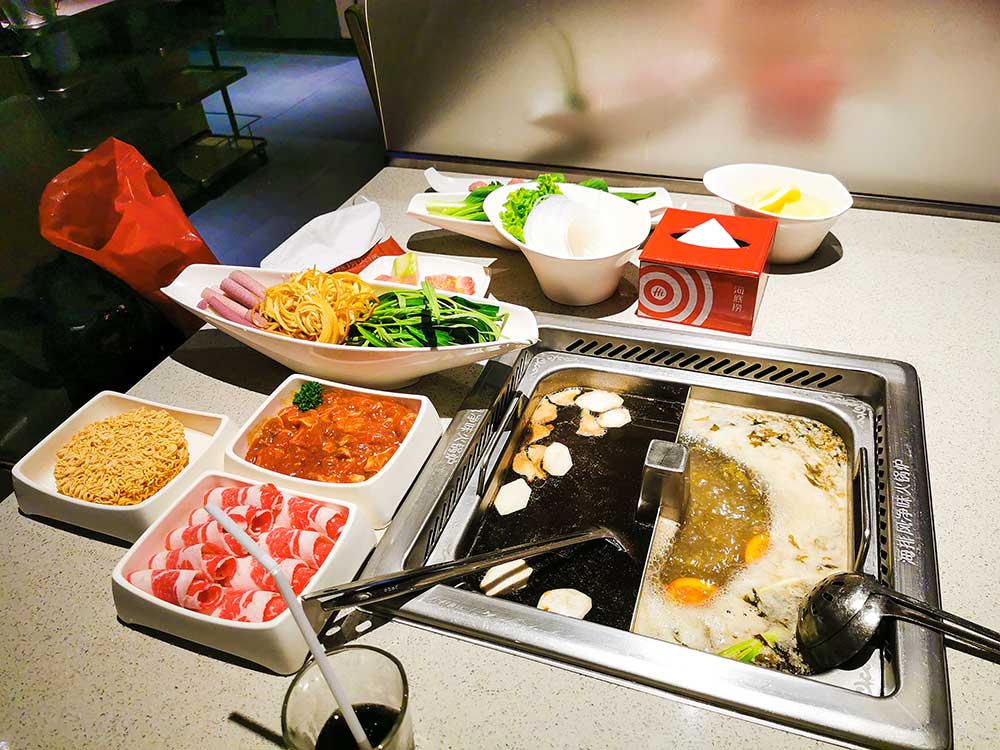 Haidilao Hot Pot Experience, Copyright © Cooltourismical.com
Cooking is a very intimate experience as it happens, for each group of visitors, in a private partition of the restaurant. This semi-private dining experience, specific to Chinese restaurants, made me feel very comfortable despite my complete lack of skills in cooking.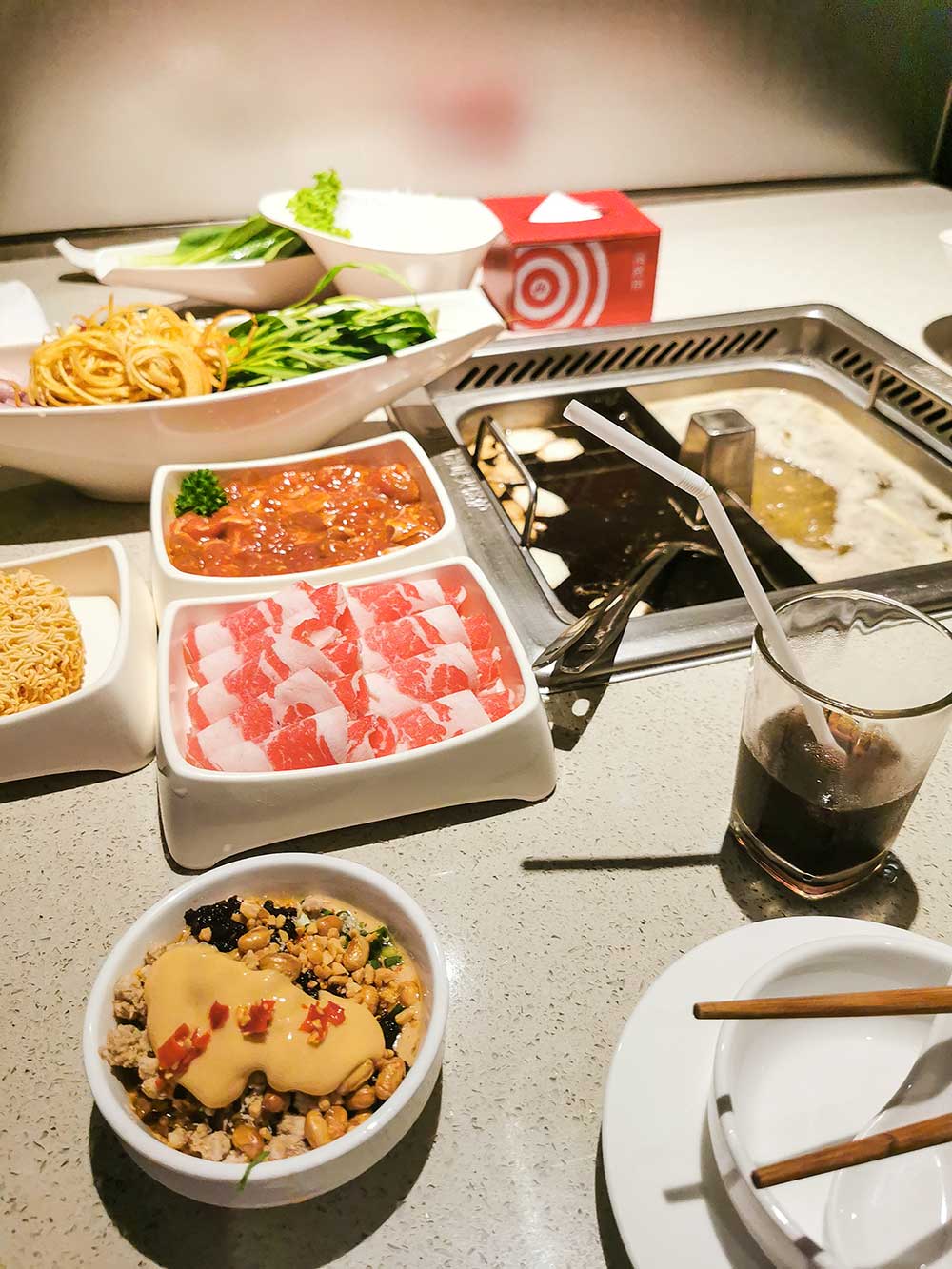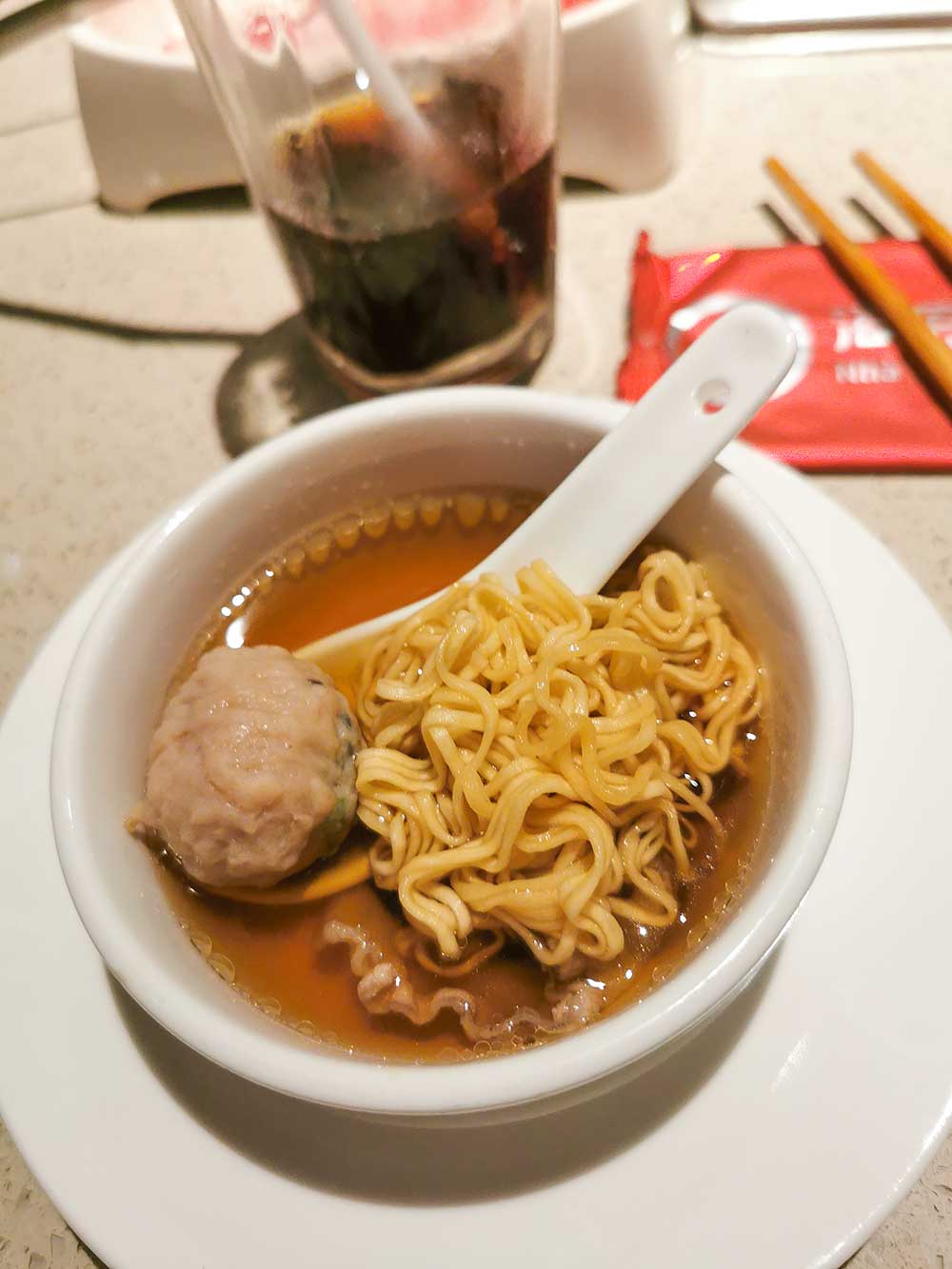 Haidilao Hot Pot Experience, Copyright © Cooltourismical.com
For two people, we chose,  from a digital menu, two different types of soups: tomato soup and mushrooms soups as a boiling base. Although you can always choose up to four.
And added about 11 types of ingredients: 3 types of meat, 2 types of noodles, plus many, many vegetables. Plus dumplings on the side.
And, as it wasn't enough, I went and prepared my own condiments bowl at the self-services bar. The dipping sauce that came out was heavenly. I do recommend it although it is not cheap.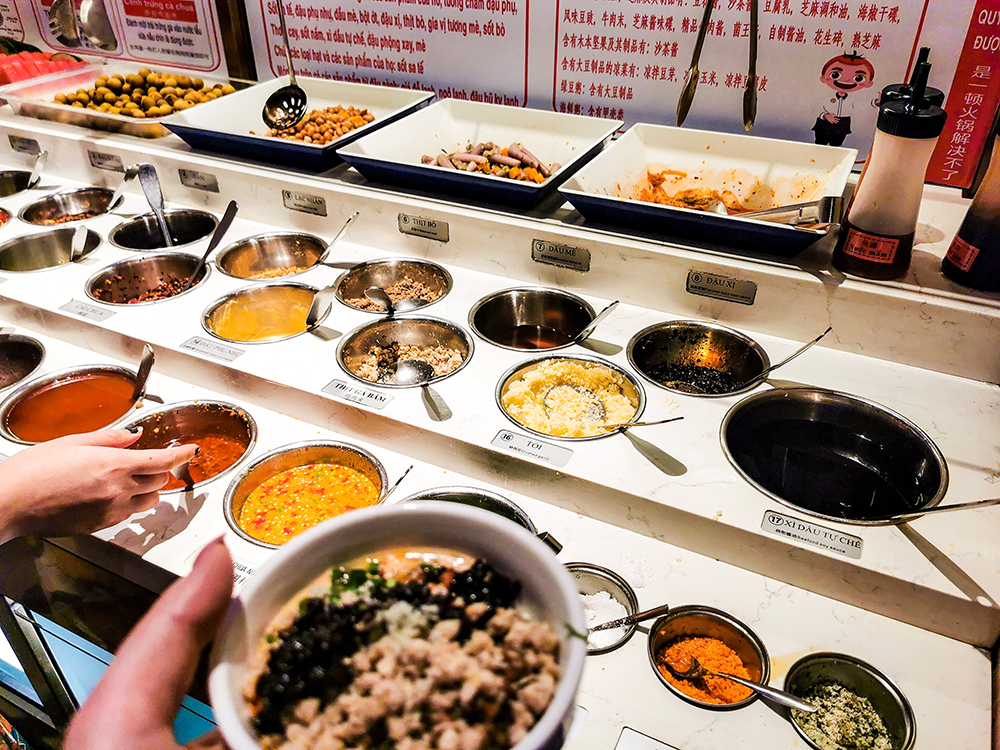 Haidilao Hot Pot Experience, Copyright © Cooltourismical.com
Honestly, the food was way too much for 2 people. So I do recommend choosing 3-4 different plates for the beginning, and continue ordering as you eat.
The total cost for 2 people meal at Haidilao, with everything included, was a bit more than 700 000 VND, 30 USD.
🍜

Probably people go to Haidilao because…
it's very accessible, located inside the commercial & office centre;
of the fun experience of creating your own unique hot pot, with your favourite flavours;
they heard about the "Noodle Dance";
your glass gets filled up with tasty, all-you-can-drink plum juice as soon as it empties;
of the magical dipping sauce bar;
they give you caramel popcorn on your way out;
they haven't done their manicure yet?!?!
📌

Address:

Inside Bitexco Tower, 2 Hải Triều, Bến Nghé, Thành phố Hồ Chí Minh (

Location

).

⏰

Opening times:

daily, from 10 am  – 4 am.
Lotteria, Korean-style Fast Food
Well, amid such a variety of new local dishes, one might be dreaming for the good, old McDonalds. Or KFC. Or Burger King. But worry no more, as Vietnam has its own Asian delicious version.
Although, Lotteria is Korean at its origins, I didn't skip it in Vietnam either.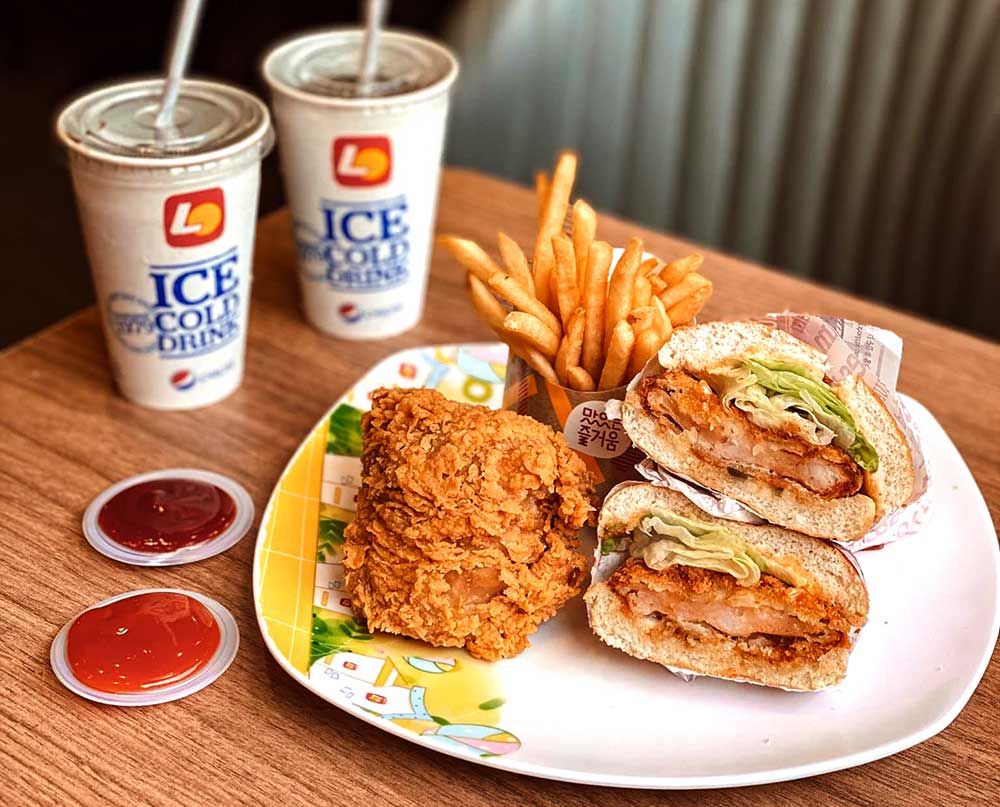 Lotteria Korean Fast Food, Copyright © Lotteria
Even if I ate there 2-3 times, I honestly did not take any pictures in Lotteria, because I never thought I would write about it. But even if the service is slow and English lacks completely. The service is doubtful, but I really, really like their Buffalo Chicken and the view over the the nearby intersection.
So, it's worth at least mentioning.
This is not the best restaurant in the world, and far from being one of the best restaurants in Saigon, but it's very nice replacement for what we know as fast food in the West.
📌

Address:

95A Đ. Trần Hưng Đạo, Phường Cầu Ông Lãnh, Quận 1, Hồ Chí Minh, Vietnam (

Location

).

⏰

Opening times:

daily, from 7 am  – 10:30 pm.
Little Hanoi Café – Vietnamese Egg Coffee
There is no other more delicious and nostalgic way of starting your day in Saigon than having a toast and a Vietnamese egg coffee at Little Hanoi Café.
As many other urban gems, Little Hanoi Café is hidden in Saigon's Quan 1, not far from the Independence Palace or the Modern Art Museum. The building margins a tiny, unmarked alleyway that quietly opens up from the busy Yersin road. For us it was a bit hard to spot because the path was completely camouflaged by a street food stall overcrowded with people.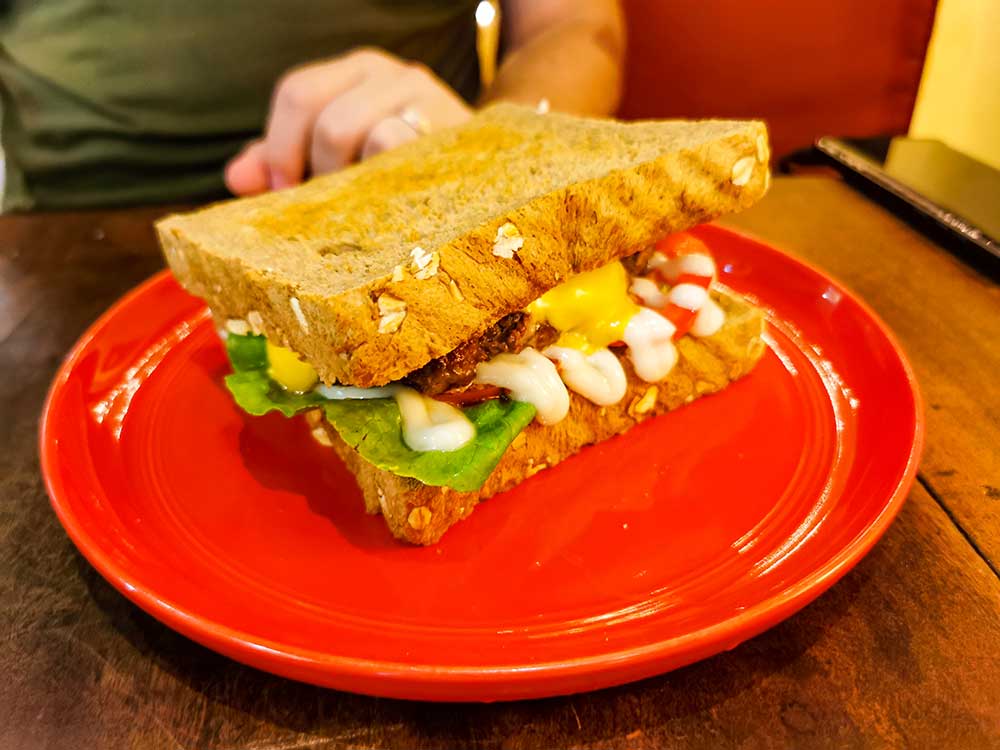 Beef Toast at Little Hanoi in Saigon, Copyright © Cooltourismical.com
From all the pretty places that I've visited, this cute, colonial-air café and restaurant seems taken out of a story. The vintage décor and furniture, from the old couch to the Buddha statue and photos on the walls, give a sense of tranquility and coziness, right in the middle of a very noisy city center.
All these, along with the chill music of E.story filling the space, take you back to a world that Vietnamese have not forgotten.
🥪 Vietnamese Egg Coffee & Brunch
We had:
A beef toast with lots of melted cheese and mayo pouring gently over the fried meat and vegetables;
A salmon & freshly cut avocado toast, and some egg on top;
2 extra fried, sunny side up eggs;
One normal coffee;
One super creamy and sweet Vietnamese egg cacao!
And now, that I am writing about all of these, I realize there was a lot of egg…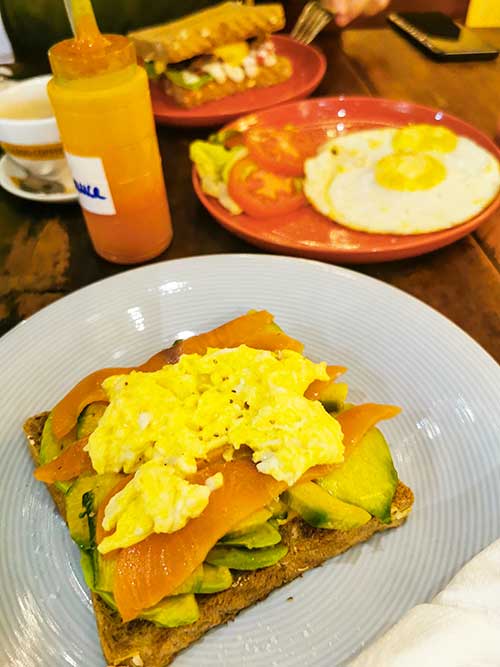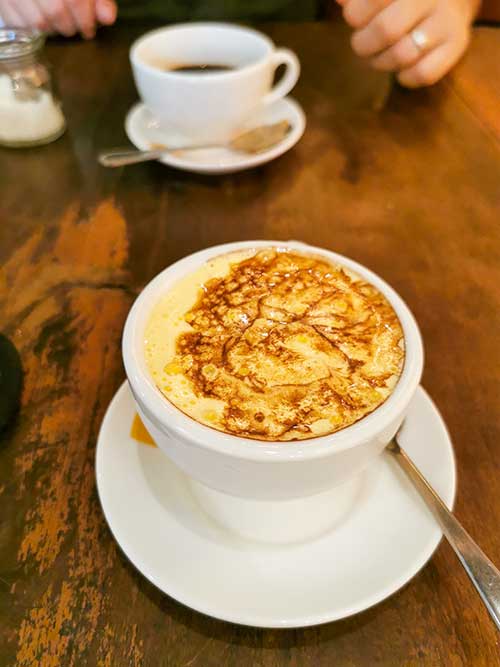 Salmon & Avocado Toast, plus Vietnamese Egg Chocolate, Copyright © Cooltourismical.com
We paid, as a couple, around VND300 000 / approximately $13 for a consistent breakfast at Little Hanoi in Saigon. And it was a lovely experience. I would always go back.
📌

Address:

119/5 Yersin, Phường Phạm Ngũ Lão, Quận 1, Thành phố Hồ Chí Minh, Vietnam (

Location

).

⏰

Opening times:

daily, from 8 am  – 10:00 pm.
Extra: Cooking Experience in Saigon
Disclaimer: All the pictures, text, ideas written above reflect my own experience, that I have gladly paid for. None of the restaurants above have sponsored this article in any way. It reflects just my random experience with Ho Chi Minh restaurants.
Hope this helps you in choosing what fits you best during your trip to Vietnam!
Meanwhile, if you want to know which is the best city to visit in Vietnam, you can read: Vietnam for First-Timers.
And, in case South East Asia is not on your travel list this year, then Southern Europe and its very tasty cuisine might be. When in Sicily, you can always try these lovely Palermo restaurants.