Visiting Oslo on a Pass | Is the City Pass Worth the Money?
Oslo is so beautiful! Still, a rather expensive city to visit, explore and fully enjoy. But, thankfully, magical fjords sightseeing, delicious Norwegian food and art museums can all come with a discount when using Oslo Pass.
---
I visited Oslo during November, with my husband. We love winter trips! So Oslo was a great destination despite the cold weather. We were there for 4 full days, from Friday to Monday. But the 4 days in Oslo passed so fast that it seemed more like a weekend getaway.
Considering that on Mondays most museums are closed, we used the Oslo pass at the beginning of our trip. More specifically, from Friday to Sunday. And kept a bunch of free things to do and see in Oslo (without a pass) for a Monday morning.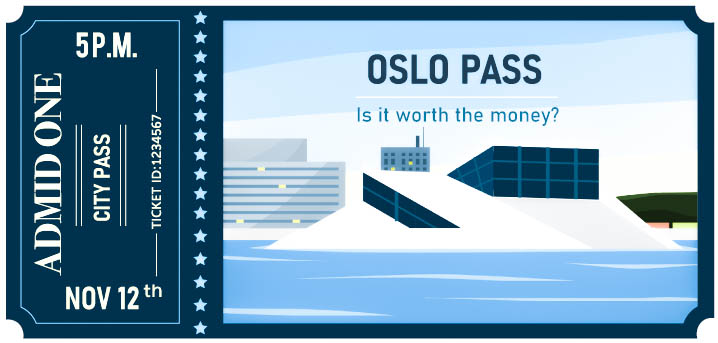 In order to give you an insight and help you plan your trip to Oslo based on the city card, I tried to point out below its most important aspects. But not without drawing a parallel with my personal experience of exploring the capital of Norway using the 72-hour Oslo pass option.
You will find in the article replies to all your questions about prices, where to get the Oslo Pass and what's included. But most important, you will get an idea on the worth of buying the Oslo Pass, the consistency of the discounts. Plus some tips and tricks on how to maximize the benefits of the card.
🎟️ I bought a digital Oslo Pass through phone app. The pass was not offered for free, this is not a paid article and it is based entirely on my 3-day experience in Oslo.
Disclosure: This article might contain affiliate links. If you make a purchase after clicking one of these links, I earn a small commission from that website at no extra cost to you. Learn more: Disclosure policy.
What is Oslo City Pass?
The Oslo Pass is a paid-in-advance, city exploration card. Nowadays, it can come as physical or digital. I bought the digital one. But I would honestly recommend buying a printed one, especially if your internet connection is limited during your stay.
Like many other city passes, it can be an essential tool for weekend getaways or city breaks in Oslo. It gives you free admission to about 30 of the top visitor attractions in the capital of Norway, museums and activities and access to free public transport. And, of course, various discounts on sightseeing tours, traditional cuisine or shopping.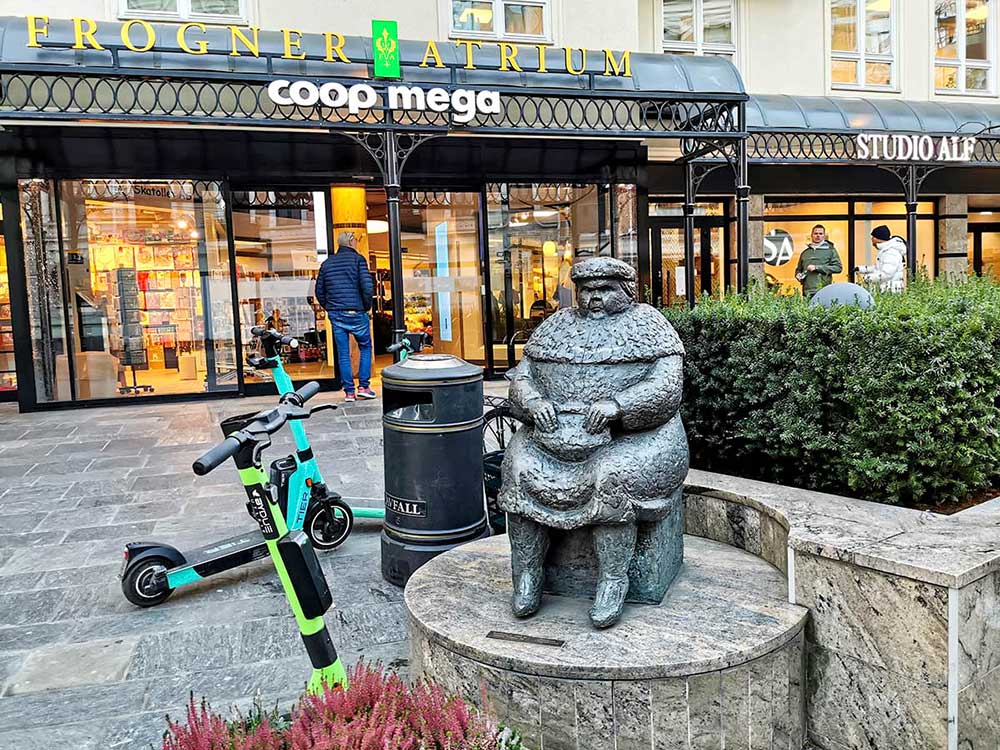 How much does the Oslo Pass cost?
Basically, Oslo pass prices vary depending on the timeframe: 24 hours, 48 hours or 72 hours. Accordingly, the more days you spend in Oslo, the more profitable the pass is. Considering the entrance to a museum is ~€15, a Norwegian beer is around ~€10 and a steak starts around ~€30, the Oslo pass is not so highly priced. Also compared to other city cards in Europe, it is less expensive.
OSLO PASS PRICES FOR 2022
24h
48h
72h
Adult
NOK445 | €45 | $50
NOK655 | €65 | $74
NOK820 | €82 | $93
Child (ages 6 - 17)
NOK235
NOK325
NOK410
Senior (over 67)
NOK355
NOK520
NOK655
Students (uo to 30)
20% discount
Currency parity is subject to change
The budget for our whole 4-day trip to Oslo, as a couple, except the airplane tickets, was €1100 (€530 central hotel, including breakfast; €160 Oslo passes; €410: restaurants & bars, one extra paid museum, Christmas market, gifts and souvenirs). So, the passes represented more than 10% out of this sum.
I bought two Oslo Passes for a 72-hour period:
🏛️ visited 14 attractions,

🎯 applied 2 discounts,

🚍 fully used urban transport in the city center and Bygdøy island (Ferries were closed for the season),

💰 In total, €164 was paid and the passes saved us, as a couple, €160.
What is included in the Oslo Pass?
One thing that's for sure is that Oslo Pass includes the most searched for attractions in the city. The pass takes you from art to maritime museums, through castles, parks and islands, while facilitating the transport between all these locations.
---
🎟️  Free admission to 30 attractions
---
More or less, depending on the day or time of the year.  That is why you have to carefully check  the opening hours and availability. Even so, the attractions list includes mostly museums connected to Norwegian art, maritime history and Viking legacy.
Vigeland is their most famous sculptor, who gave his life work to the city of Oslo. His statues are completely naked and, therefore, timeless. Nonetheless, frozen in their emotions, feelings, gestures, expressing human nature beyond a certain era. In brief, the museums gives a deeper insight on the way the sculptor lives and his creative process. A visit to his former home is a must.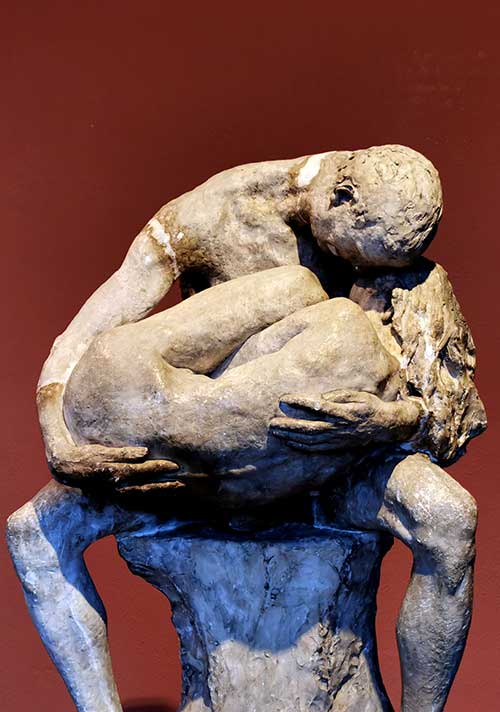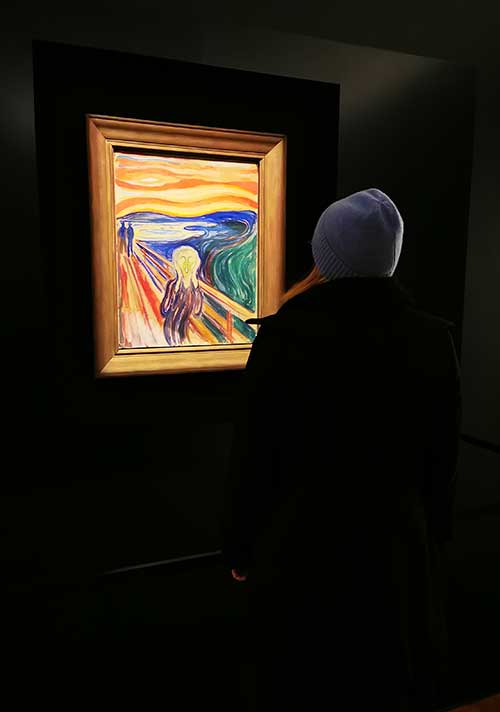 Nonetheless, you should not miss the Scream of Munch. Even if it is iconic, I've never associated this painting with Norway. But it is an awkward feeling watching it like that, placed on a dark wall. Most compelling evidence of anxiety that controls and surrounds, a silent scream  penetrating the nature. And if you think about it the first version of the scream, the 1895 one, is just a pastel on a cardboard.
And last, but not least, one my favorites, the Kon-Tiki Museum, the remaining proof of one of the craziest 2oth century expeditions: a raft of balsa wood belonging to the Norwegian adventurer Thor Heyerdahl. He used this improvised raft to cross the Pacific Ocean, from Peru to Polynesia, in 1947. He wanted to prove a theory according to which Native South Americans were early inhabitants of Polynesia. Unquestionably, it is really worth and fun exploring it, as well as many other museums from the list below.
Oslo Pass museums list:
Akershus Castle
Armed Forces Museum
Astrup Fearnley Museet
Fram Museum
Kon-Tiki Museum
Oslo Transport Museum
Intercultural Museum
MUNCH Museum
Museum of Oslo
Holocaust Museum
Jewish Museum
Viking Ships museum -2026
Nobel Peace Center
Norwegian Museum of Cultural History - Norsk Folkemuseum
The Vigeland Museum
Natural History Museum
Nordic Bible Museum
Norway's Resistance Museum
Norwegian Maritime Museum
Norwegian museum of Science & Technology
Oslo Reptile Park
The Historical Museum
Holmenkollen Ski Museum & Tower
Popsenteret
.
Ekebergparken Sculpture Park
National Museum - 2022
Labour Museum
Kunstnernes Hus
International Museum of Children's Art
Henie Onstad Kunstsenter
🎟️ Oslo Pass also includes a series of free guided tours from Oslo Guidebureau – Oslo City walks.
There are four available Oslo themed tours that let you explore a different face of the city.  A first one guides you though the amazing central area and offers insights on the must-see attractions (Nobel Peace Center, The Cathedral, Karl Johan gate and more). A second tour takes you on Akerselva river banks and unravels the history of industrialization (parks and natural trails). A third tour of Oslo is about the rapid urban development and shows you the old and the new architecture (the Barcode area is impressive). Last but not least, a tour of the famous Vigeland sculpture park.
Otherwise, these guided tours would cost 200 NOK (~€20 | $23) /tour.
Lovely places that I would always go back to, also included in the Oslo pass:
🏠 the house and workshop of Gustav Vigeland;
😱the impressive building hosting The Scream by Edvard Munch. And The Scream itself;
🚢 the Kon Tiki Museum, memories of an unbelievable expedition.
To be honest, I used very little the discounts part, as I was more keen on visiting the museums. But up to 30% discounts are available for various activities like guided city tours or fjord sightseeing cruises, for various themed parks or cultural institutions, for a series of restaurants, and from time to time, for shops.
| SIGHTSEEING | Discount | Normal price |
| --- | --- | --- |
| Fjord sightseeing | 15% discount | - |
| Norwegian evening on the fjord | 15% discount | - |
| OsloWay - e-scooter sightseeing tour | 30% discount on guided tours | - |
| RESTAURANTS | Location | Discount |
| --- | --- | --- |
| The Scotsman (biggest pub in Oslo) | Karl Johans gate 17 | 20% discount |
| Johnny Rockets (American Burgers) | Storgata 31 & Vitaminveien 29 | 20% on food |
| Kaffistova (Old café, Norwegian food) | Rosenkrantz' gate 8 | 20% on food |
| Rorbua (Northern Norway cuisine) | Aker Brygge, Stranden 71 | 20% on food |
| Den Glade Gris | St. Olavs Gate 33 | 20% on food |
One place where we had the opportunity to use the discounts of Oslo Pass was Den Glade Gris, a cute and tiny, rustic-style, Norwegian restaurant. We entered there by chance and we were lucky enough to get a table without without reservation. Firstly, the food is extraordinary and drinks are affordable. Secondly, the atmosphere is warm and welcoming. So, the Oslo Pass discount comes as a much appreciated bonus. Book in advance! (Full price of a 3-course menu: 465 NOK | ~ €46 | $53; With pass: 20% discount)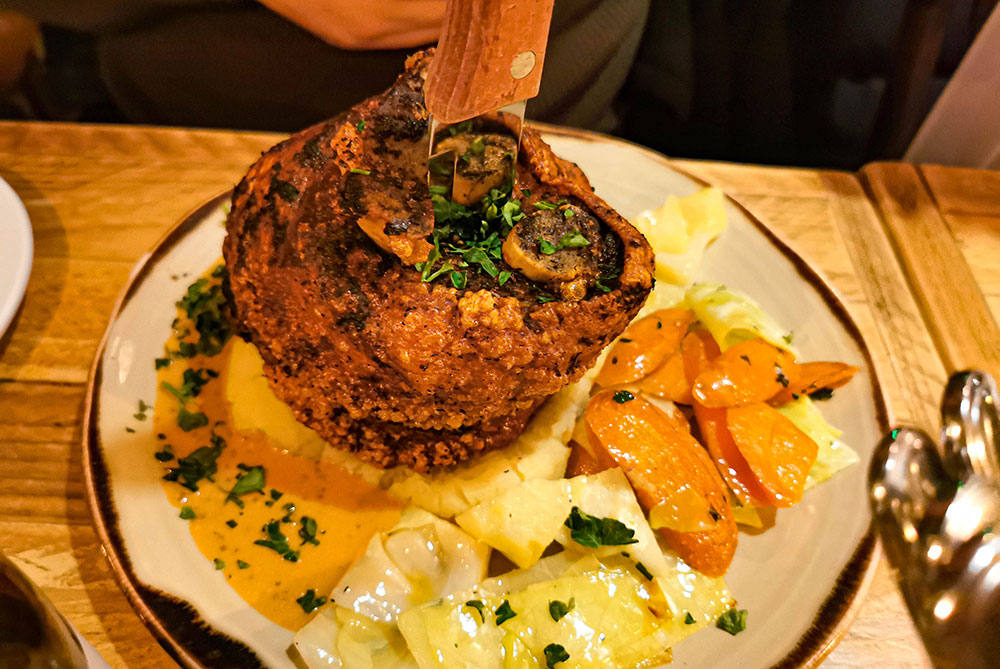 In the picture, their specialty: "Grilled pork knuckle, mashed potato, rustic vegetables & mustard sauce"
| CULTURE & FUN | Discount |
| --- | --- |
| The Norwegian National Opera & Ballet | 20% discount on guided tours and most items in the shop |
| Skimore Oslo - Ski resort | 15% discount on ski rental |
| The Oslo Philharmonic | 20% discount on tickets purchased at the Oslo Concert Hall Box Office |
| The Viking Planet | 15% discount on admission |
| TusenFryd Amusement Park | 20% discount on entrance ticket |
| Tregaarden's Christmas House - Shop | 10% discount |
| Solve a Mystery Game | 15% discount |
| Båtservice Sightseeing | 15% discount on various boat sightseeing tours |
| Oslo Climbing Park | 20% discount on climbing passes for drop-ins |
A second place was the Viking Planet. Not to be confused with Viking Ship Museum. The Viking Planet is a fully-digitalized entertainment space, with a lot of information (maybe too much) about the Vikings and their heritage presented through VR, holograms or interactive displays. You can see the way they dressed, read about the fights, play games connected to their gods. A bit boring for me, but overall, it is an interesting experience. I admit I fell asleep during their famous VR movie, but at least I woke up in time to take some nice Viking selfies before closing. (Price without Pass: 229 NOK |~ €23 | $26; With pass: 15% discount).
The Oslo Pass gives access to unlimited travel by metro, bus, tram and local trains in the Oslo area, covering Zones 1 & 2 (Oslo, Lillestrøm, Nittedal, Asker, Ski, Nesodden and Drøbak). And additionally, it covers the ferry boats that head to the islands inside Oslo fjord. Sadly, some ferry routes do not work in winter. The ferry heading to Bygdøy Island is included and it leaves from City Hall Pier 3 every 30 minutes startting 9:55 AM until 5:25 PM. A second ferry Ferry leaves from MUNCH to Bygdøy, every hour, from10:00 AM to 5:00 PM.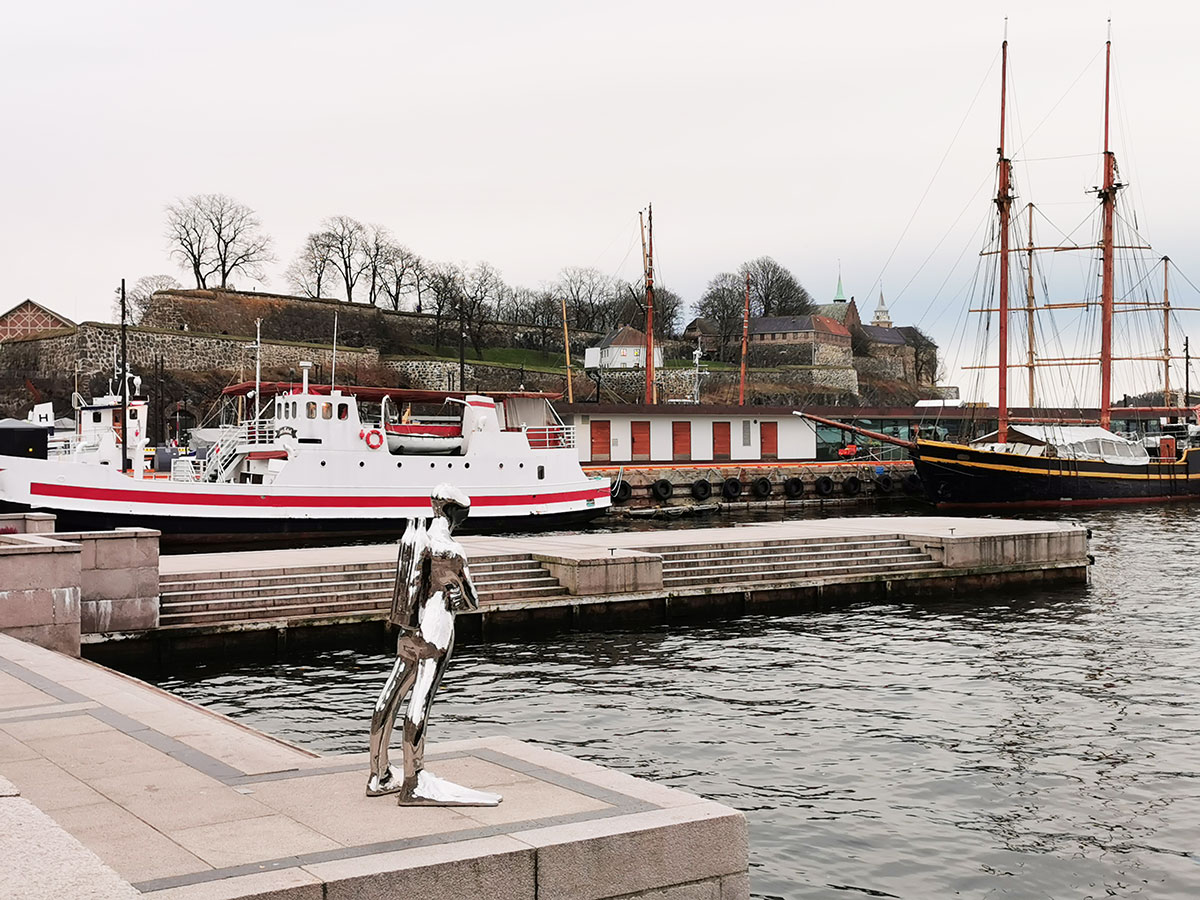 Without the pass, the price / day for urban transport is 114 NOK | €11 | $13 for 1 zone, and 186 NOK | €19| $21 for 2 zones. The ferry ride is separate and costs 92 NOK / | €9 | $11  / day. Or 68 NOK | €7 | $8 for one way, paid on board.
It is not working for regional routes such long-distance buses. Therefore, the trip from the airport and back is not covered.
Where can you get your pass?
Getting your Oslo pass is very accessible and time saving as there are multiple options to choose from.
One of the easiest ways is to buy your Oslo pass through their phone app (Android | Iphone).
I did this. As an EU citizen, I have access to Oslo phone network providers at the same rates as in my native country. And the connection was perfect at all times. I activated the pass the first morning when I got into the tram. And first attraction was Oslo Museum in Frogner Park.
This is completely digital pass and no physical pass will be given. But you should consider that the app might not always work (as it happens at the time when I am writing this) or you might not have access to the internet the whole time.
Therefore, another option is to pre-order online the physical card. In this way, you will be given a voucher, by email, and with that voucher you go and get your actual paper pass from Oslo Visitor Centre. The Visitor Centre is the official tourist information point, located in Østbanehallen, right next to Oslo Central station, Jernbanetorget 1 (Google Maps Location) . Here, you can get your pass and receive a handbook, maps and everything you need for a perfect exploration of Oslo
A final option is to buy the pass at various selling points thorough out the city. Although I find this time consuming, especially considering the fact that some of the selling points are open just a few months per year. Finding the right one might take time.
But here you have the map of the selling points for 2022.
Is Oslo Pass worth the money?
Well, that depends on what you are thinking on using Oslo Pass for.
If you your holiday plans include at least 2-4 days in Oslo, lots of sightseeing, museum visits combined with island hopping by ferry, Oslo Pass is 100% worth. This is because it gives you access to many, many museums and tours, while making easier and wider the transport options.
But, if you are buying it for one day only or just for the bus & tram transport or the discounts, then the Oslo Pass is not worth much. Discounts are consistent, but it would be really hard to cover even a 24h pass just with them. Hence, even harder to save anything. Likewise, the urban transport is around €11 / day taken separately.
---
📏 

Short distances, but limited opening hours
---
Compared to the operating hours of most cultural attractions in Europe, Oslo timeframe is a bit different. For example, in Paris, museums like Louvre open at 09:00 am and close at 06:00 pm giving the visitors a lot of time to explore. While most museums in Oslo open at 11:00 am or 12:00 am and close at 04:00 pm or 05.00 pm.
That being said, the timespan you have for visiting the cultural spots is rather limited.
Luckily, distances between attractions are not so considerable, which can be helpful at times. Most of the attractions are in the pretty compact central area: Nobel Peace Center, Munch Museum, the Opera House and many others. Another area with notable things to see is west of the city center, Frogner park with Oslo Museum and Vigeland House. Lower to the west there is Bygdøy Island , the home of the Norwegian maritime and polar exploration museums and the wonderful open air Folk Museum. East of the central area you can find parks and everything connected: the Botanical Garden, Ekeberg Park, Natural History Museum.
The distances in the central area can be covered with 5 to 15 minutes walks from one attraction to another. While getting from the center to Bygdøy Island, walking + tram, can take up to 30 minutes. If the ferry is available (it was closed for the season when I visited), crossing within the fjords takes from 10 to 20 minutes.
Grouping attractions based on the area you are visiting, and not on primary interests is probably the best solution, in order to get the best out of your pass.
---
🌊 

One day on the Bygdøy Island covers up to 90% of a 3-day Oslo Pass
---
And adding the the Munch Museum which is on the other side of the city center, but open until 09:00 PM (a rare case for Oslo), you can cover even more of the 72h Oslo Pass value.
On the Island there are 6 museums covered by the Pass (plus others not included): Kon Tiki, Maritime Museum, Fram, Norwegian Museum of Cultural History, Viking ship museum (closed until 2026) and Holocaust Studies Center. I managed to visit only 4 out of the 6 on the island, in one day, but only this, single-day trip, with transport and admissions, as I previously mentioned, covered almost the whole value of my 3-day Oslo pass.
Later in the evening, we went to Munch by bus. Still, getting to Munch museum is easier and faster by ferry, if available.
| ATTRACTIONS | DIY 1-day experience | With Oslo 72-hours valid Pass |
| --- | --- | --- |
| Uprfront cost | 0 | NOK820 | €82 | $93 |
| Fram Polar Ship Museum | NOK140 | €14 | $16 | 0 |
| Kon-Tiki Museum | NOK140 | €14 | $16 | 0 |
| Norwegian Maritime Museum | NOK140 | €14 | $16 | 0 |
| The Norwegian Museum of Cultural History | NOK180 | €18 | $20 | 0 |
| Bus to / inside Bygdøy | NOK114 | €11 | $13 | 0 |
| Ferry from Bygdøy to Munch | NOK68 | €7 | $8 | 0 |
| Munch Museum | NOK160 | €16 | $18 | 0 |
| TOTAL | NOK942 | €94 | $108 | NOK820 | €82 | $93 |
If the ferry would have been available, the transport costs would have been a bit different. Bus fro our location (Frogner apartments), bus inside the Island plus a ferry to return (68 NOK).
Buying Oslo pass is really worth if:
🖼️ you are planning a museum marathon;
🎯

your intention is to use it as

a combo of sightseeing, transport and discounts;
🚀 there is less room left for too much flexibility;
🏙️ at least 3 days are spent in the city.
Optimizing Oslo Pass Efficiency
In order to fully enjoy the experience as well as take full advantage of your free admisions and dscounts, there are a few tips & Tricks on increasing the performance / efficiency of Oslo Pass.
---
📌

Plan visits based on location
---
Oslo pass can be highly efficient if you visit a certain area in a day.
Or better said if you group your objectives depending on their location. For example, you can reserve one day for Bygdøy Island museums (map).
The Norwegian Museum of Cultural History is also a MUST-visit Oslo attraction. It is an open air museum with architectural examples from all over Norway and it takes quite a lot of time to explore. Even so, Kon-Tiki, Fram and Maritime Museums are smaller and allow less time spent inside.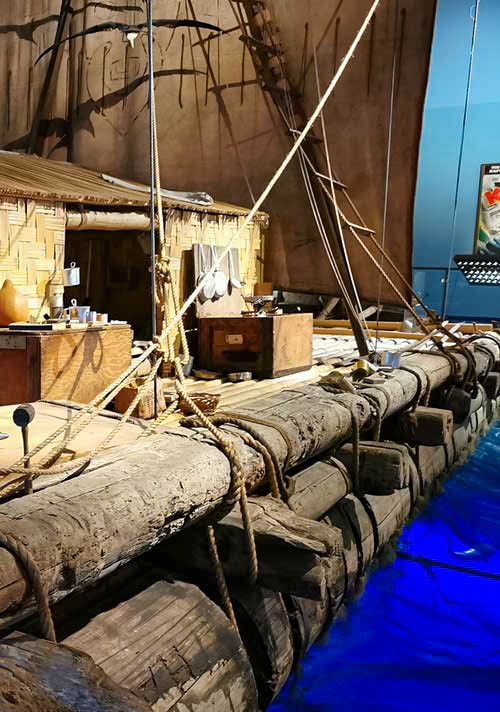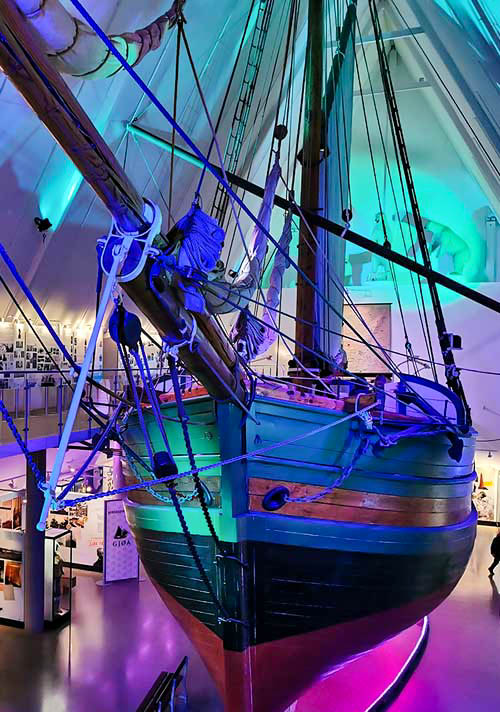 A second day can be dedicated to Frogner Park and surroundings (Vigeland and Oslo city Museum) in the morning, plus Aker Brygge in the afternoon (Astrup Fearnley Museum of Modern Art, Nobel Peace Center). And one the last day can be used to explore the eastern part of the city center and Barcode Area.
---
📌 Remember, NO fast track
---
Keep in mind, at all times, that you are not offered a fast track. Sometimes the cue for Oslo pass holders is marked. But in most cases, no. You still have to pass the ticket counter to scan your pass for free admission.
So, remember the pass will not always save you from the cues, if any. I visited museums during weekend and there were no big cues. At 90% of the attractions I visited, I spent less than 4-5  minutes to enter.
---
🍕 Pair discounts with attractions
---
Try to choose restaurants for which the Oslo Pass offer discounts depending the area of the museums you are visiting. If you're Visiting Astrup Fearnley Museum you have Rorbua just around the corner. Eat well and with a discount. Johnny Rockets next to Munch Museum
---
📌 Free attractions, left for later
---
Even if it's on your way, leave the absolutely free stuff to do for a 4th day. Or visit before Oslo Pass museums open. And by absolutely free stuff I mean places and Oslo experiences where you don't need the pass and there is no admission fee: Oslo City Hall, Opera House, Vigeland Workshop (full list of free things to do in Oslo).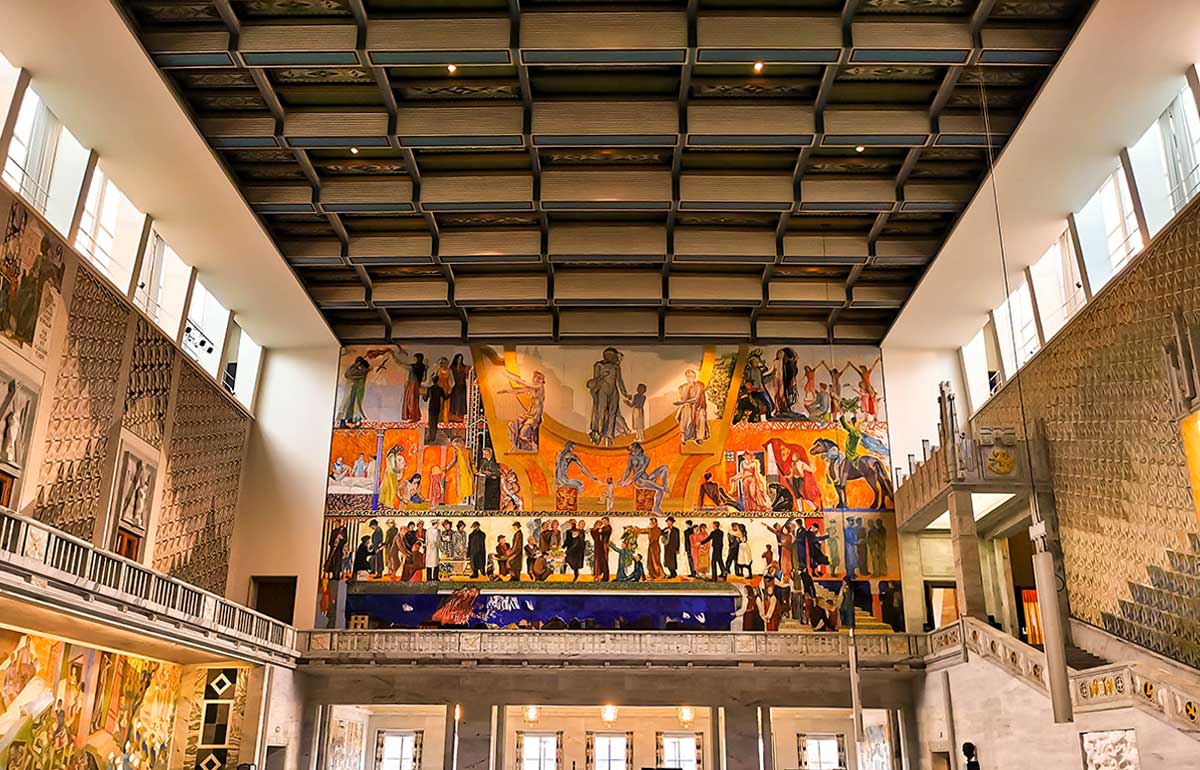 For example, if you plan to visit museums in Frogner Park, you can start early in the morning, around 9:00 am or 10:00 am with the Vigeland open-air installation. And at 11:00 am when the museums start operating (City of Oslo Museum which is inside the park or Vigeland which is 4 minutes away) go there.
Another example would be to go and visit The Opera house at sunrise before the other attractions open (for example Munch Museum opens at 10) or at sunset. Plus you will get the best out of the views of the fjord at that time. If you plan to visit the Nobel Prize Center, this opens right after Oslo City Hall which opens at 9 and it is free to visit without the pass.
Plan your trip wit the help of Ruter, their main app and website for transportation services in and around Oslo. Choose and read beforehand. Most important are: tram 12, that takes you almost everywhere in the central area; bus 30 from city center (Wessels Plass or Nationaltheatret) to Bygdøy.
As hint, calculate 5-20 minutes of waiting for the bus (especially on the island area). And choose the bus instead of ferry if the weather is rainy or windy, for more comfort.
To plan your inland journey, you can download Ruter's app RuterReise and use the journey planner on Ruter's website . For some extra help, you can visit Ruter's customer service centre at Jernbanetorget. Route maps.
---
📱 

Digital is not always perfect
---
Oslo Pass is useful. It saves time when all the other apps that you might need, do not work.
On the 4th day of my trip, the pass had already expired. So I tried to buy a tram ticket on my phone. But Oslo transportation app did not accept my Visa card. Or my Revolut card. I tried for more than half an hour to pay. And it did not work! So I had to go and find a 7-Eleven store to buy a one-day transportation card. Almost 1.5 hours lost trying to get a ticket.
And, based on my experience, Oslo Pass is even more useful when it's printed. Yes, you have to go and get it from the Visitor Centre, but it's worth the trip. Because the app does not always function properly. Sometimes your connection might be bad. Or you might have limited connection. I know we live in a digital era, but trust the print!
Conclusions on Oslo Pass
If you carefully plan your itinerary in advance, Oslo Pass can save time and money in visiting museums and sightseeing. As it guides you to the most important attractions, and gives you the opportunity to experience the best the city has to offer.
Additionally, it motivates you to discover as much as you can of Oslo in a limited time. In the photo below, there is Oslo seen from the last floor of Munch Museum. Being open until 9:00 PM, we took advantage and put it last on our visiting list. And it was absolutely wonderful to see not only The Scream, but also the city of Oslo shining bright in the dark.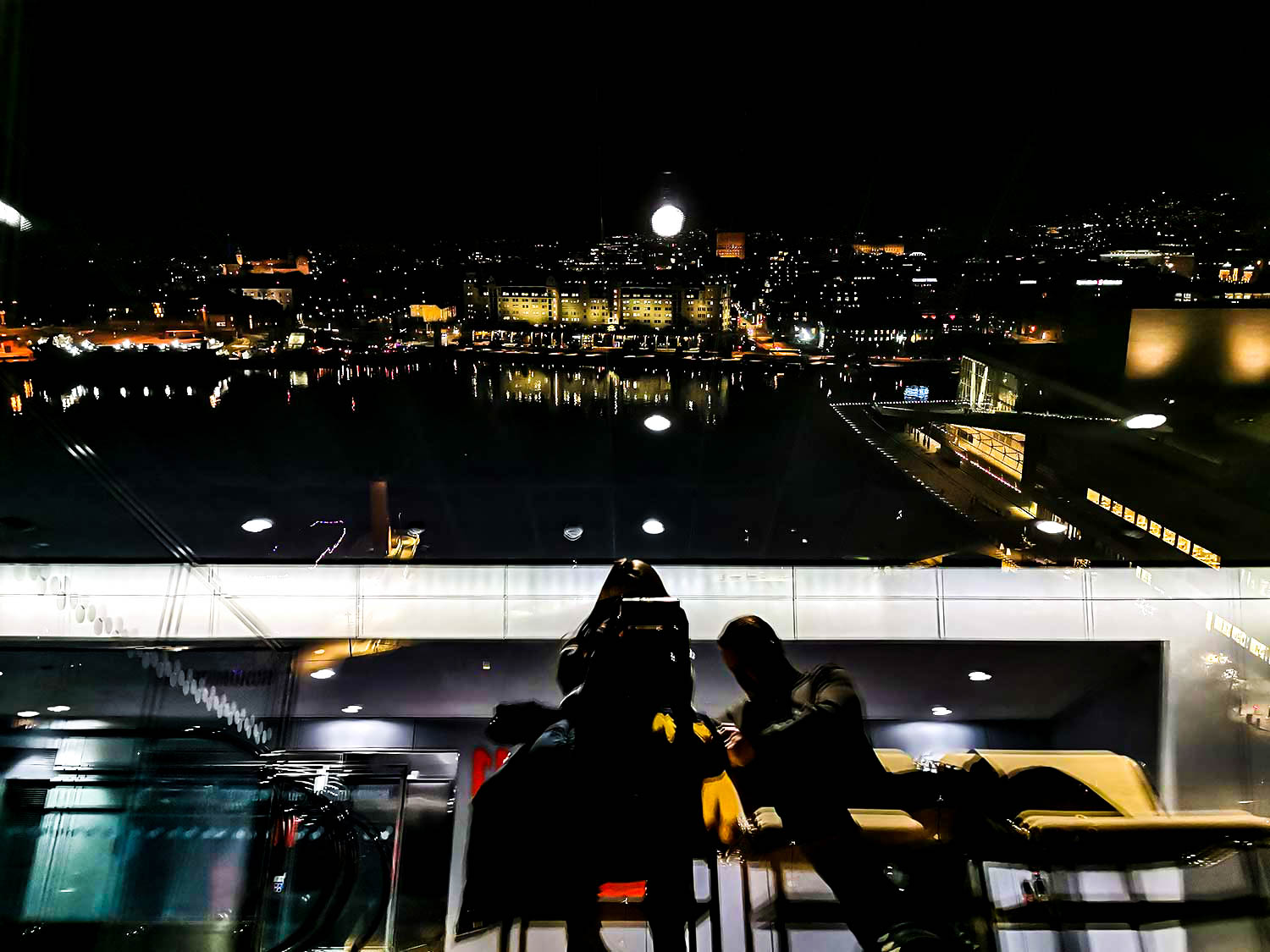 Unlimited access to Oslo transportation and ferries is a benefit only if you plan to visit more than the city center. Or if you're museum hopping freak. Otherwise, the pass is not worth the money just for the transport. We visited Munch Museum that evening after visiting Bygdøy Island, two locations that are quite far from each other. We took the bus, but the ferry (which taken separately from the pass is not cheap at all) would have saved a lot of time.
Additionally, discounts are a few, but only eating or skiing or visiting a park in a day will not save you too much money, and will not even cover the 24h pass. And, maybe sometimes, you really want to try a restaurant on your own. Even us, while leaving hungry from Munch, we bumped into Vaaghals, a cozy traditional restaurant. And reading a lot of good things about it, I really wanted to try their food. And no one cared anymore about the discounts on the list.
The Oslo pass is worth the money as a combination of its features, but primarily for the free admission attractions.
Oslo fun without Oslo Pass