Best Day Trips from Da Nang, Vietnam in 2023
Best day trips from Da Nang, an idyllic coastal city in Central Vietnam, to other top tourist spots in the area.
Da Nang is a bustling coastal city located in central Vietnam, known for its beautiful beaches, delicious local cuisine, and rich culture. However, there is so much more to explore beyond the city limits.
If you're ready for some epic day trip adventures from Da Nang, Vietnam, I've got some amazing destinations lined up for you, including Ba Na Hills, Marble Mountains, Hue, and Hoi An.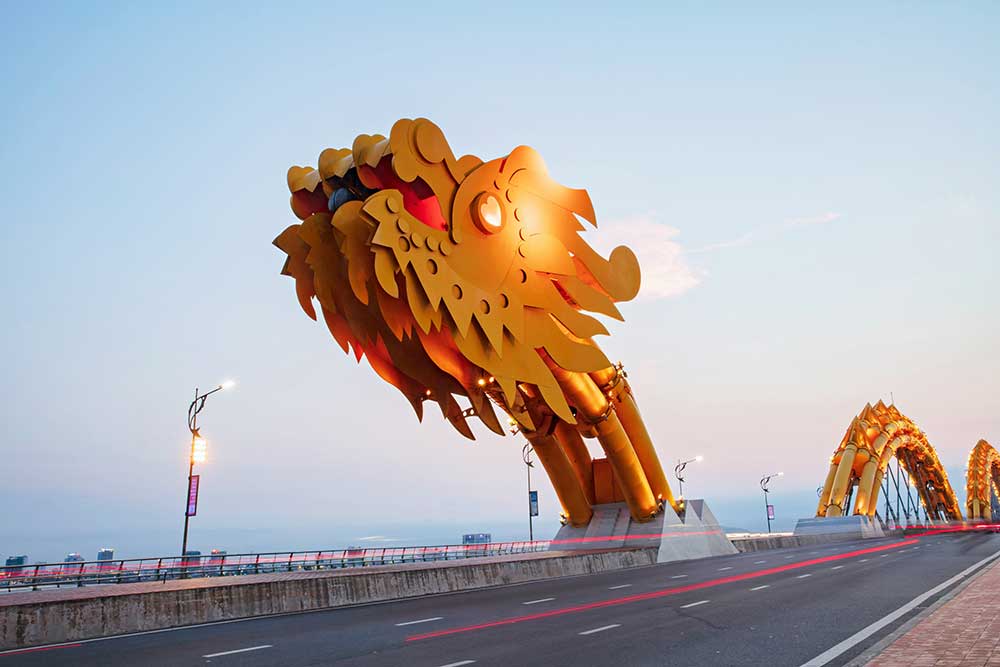 Dragon Bridge, Da Nang, Vietnam
These are some of the most enchanting places to visit in the near vicinity of Da Nang, which can also be extremely fun! From exploring ancient temples and climbing towering hills, to strolling through charming old towns and soaking up the old culture of generations and generations of dynasties, these day trips will give you a taste of everything Vietnam has to offer.
Disclosure: This article contains affiliate links. If you make a purchase after clicking one of these links, I earn a small commission from that website at no extra cost to you. Learn more: Disclosure policy.
Day Trips From Da Nang Summary & Map
The coolest part about all these destinations scattered around Da Nang is that each one has its unique vibe.
First up, we've got the old port of Hoi An, a quaint little town with charming tiny, Chinese-heritage houses and a lantern-filled skyline. Next, there is the walled citadel of Hue, a former royal city keeping the of the Nguyen dynasty.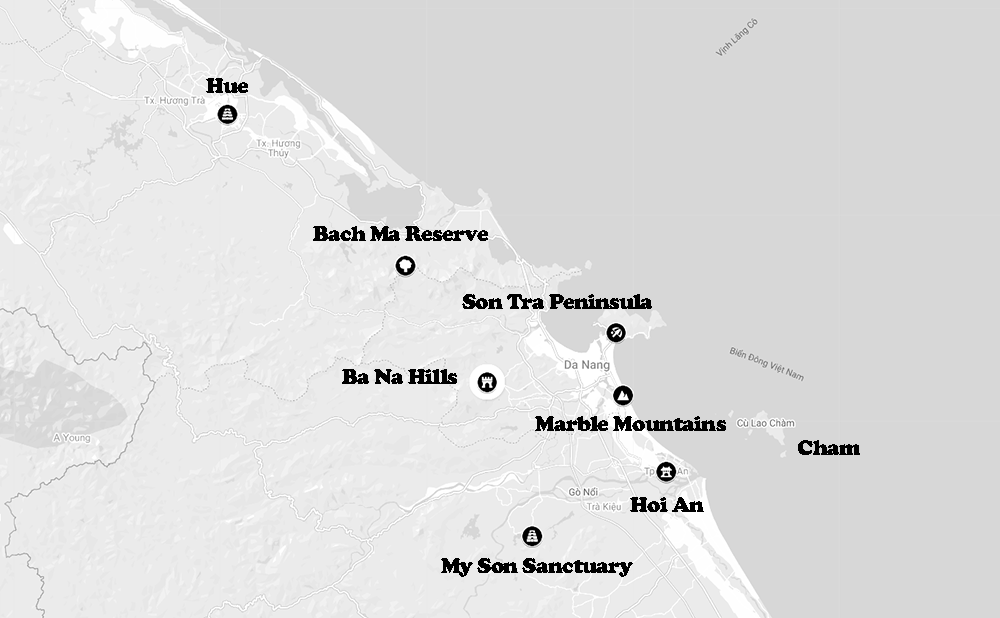 And even more. If you're into ancient ruins, you can easily head over to My Son Sanctuary, once the religious and political center of the Champa Kingdom. For a dose of nature and much-needed relaxation, there are the lush forests of Bach Ma Reserve or Son Tra Peninsula's beaches.
Finally, the not easy to forget, magnificent Marble Mountains, steep hills filled with hidden caves, secret passageways, and Buddhist temples.
These, plus others!! So, grab your sunglasses and let's choose together your one day adventure!
Marble Mountains, 11KM From Da Nang Center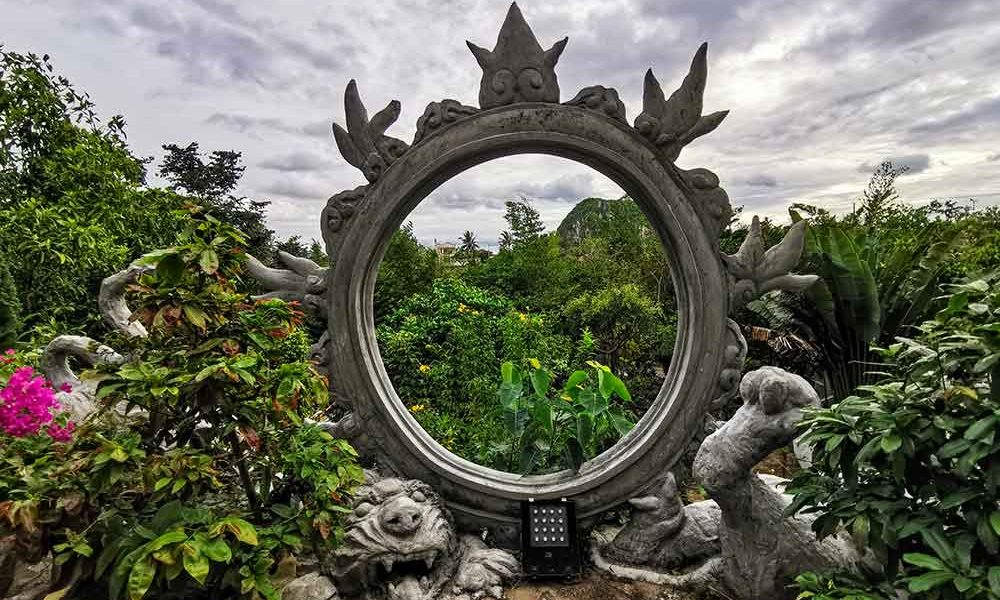 Marble Mountains Natural Setting, Vietnam, Copyright © Cooltourismical.com
A day trip to Marble Mountains is an awe-inspiring, spiritual and nature-escape, mixed kind of adventure. Located a mere 11 km south of Da Nang.
The Marble Mountains raise as a cluster of five unusual limestone and marble mountain peaks in a completely plain coastal region. They are all in all towering over the fascinating, 200-year-old Non Nuoc Stone Craft Village, renowned for the stone carving skills since the oldest times.
Each mountain is named after one of the 5 elements: after the five elements of metal, wood, water, fire, and earth, but in Vietnamese.
Most known of them all is the Water Mountain.
⏰ O

pening hours:

every day, from 07:00 am to 05:30 pm;

🎟️

Entrance fee:

VND 40,000 + VND 15,000 (for the elevator).
---
🪨

Is Marble Mountain worth visiting?
---
Actually, yes. These five beautiful hills are more than just a bunch of rocks. They boast with hidden grottos open to the sky, with lush vegetation dramatically crawling in, Buddhist shrines and pagodas. All in a tranquil atmosphere with a backdrop of clouds.
At the very top, you can enjoy a 360-degree view of the whole area, city and sea.
The combination of natural beauty, spiritual significance, and architectural marvels make Marble Mountains a perfect escape for those seeking peace and breath-taking views outside the bustling Da Nang.
This is really a one day trip you don't want to miss, especially if you want to snap some killer photos!
⭐ Marble Mountains Highlights:
Am Phu Cave – a depiction of the Buddhist realms of hell and purgatory;
Huyen Khong Cave – home to a massive stone Buddha;
Linh Ung Pagoda – one of the largest and most beautiful pagodas in the region;
Highest Peak.
🚕 How to get there:
Take a taxi or the bus (from Da Nang's Central Bus Station towards Hoi An, a 20 minutes ride) to the base of the hills;
To get to the top of Thuy Son (Water) peak, take the elevator or the 156 stone-carved stairs;
If you wouldn't like to explore Marble Mountains on your own, there are plenty of organized day or half-day tours to take you out of Da Nang. These tours focus on one or combine multiple destinations from the Da Nang day trips mentioned above.
Ba Na Hills, 20KM From Da Nang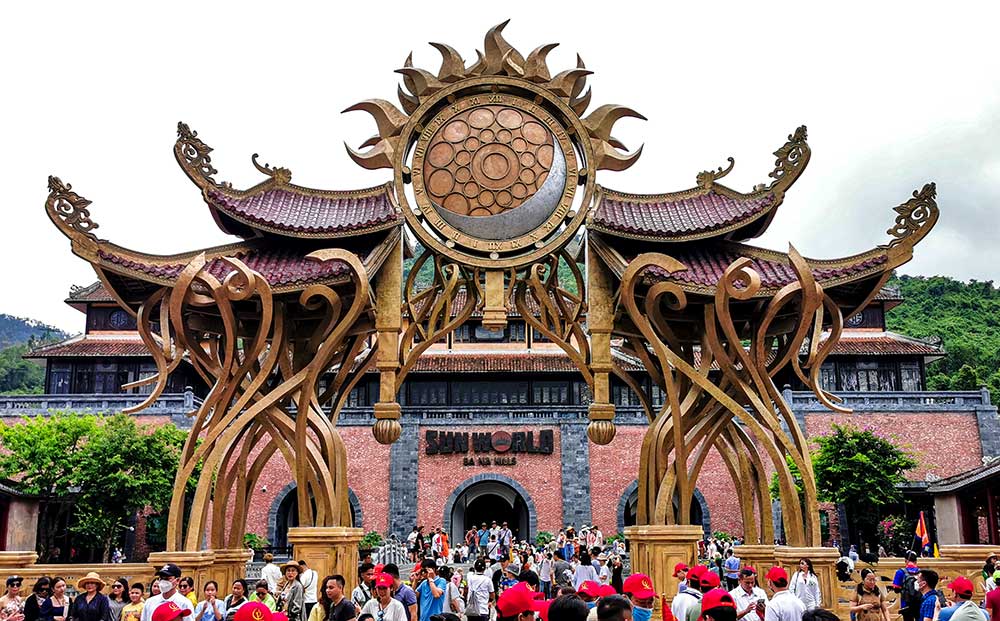 Ba Na Hills Entrance, Vietnam, Copyright © Cooltourismical.com
A visit to Ba Na Hills, a French-inspired tourist destination, part resort, part theme park, and all magic, is definitely a perfect day trip from Da Nang.
Built by the French colonists back in 1910 as a mountain retreat spot, Ba Na Hills stands at a whopping 1500 meters above sea level. Right on the on the peak of Truong Son Mountains. The charming village is accessible through one of the world's longest and most intricate cable car systems.
---
🚡 What's Inside Ba Na Hills Resort?
---
Set in an otherworldly natural landscape and surrounded by a mystical atmosphere, Ba Na Hills offers visitors a chance to explore three levels. Each with its own unique charm.
The ground level features lush gardens and open air hallways that lead to the cable car departure stations.
The middle level of Ba Na Hills is the home for exquisitely manicured flower gardens, an old wine cellar and the famous Golden Bridge, lifted by two giant stone hands. And a recently build grand, Middle Ages Castle.
The top level looks like a colonial French village, complete with cobblestone streets, old inns, and even a Gothic-style cathedral! There's also a tiny Buddhist temple complex, just in case you need a little peace and quiet.
In the heart of it all, there is a delicate dome hiding an underground amusement park. Actually, this made me feel like I'd just stepped into Jules Verne's "Journey to the Center of the Earth".
For some, especially for Europeans, Ba Na Hills architectural environment might feel a bit fake. But the views from above the clouds, the flora, the whimsical weather are SPECTACULAR! I do thing Ba Na Hills is a must-visit destination while in Da Nang. And lots of fun, moreover if you're visiting with kids.
⭐ Ba Na Hills Highlights:
French village replica – chic cafes, bakeries preparing steamy bread;
Underground theme park – and a wild ride through the forests with Alpine Coaster;
Linh Phong Zen Monastery & Stupa – one of the many spiritual attractions on site;
Golden Bridge, high above the clouds;
the newly built Moon Castle – resembling a majestic fortresses from the Middle Ages.
🚕🚡 How to get there:
By taxi (Vinasun or Malinh Group) or Grab, from Da Nang to the gates of Ba Na Hills. From here, you have to buy your ticket to the cable car.
Riding the shuttle from Da Nang to the gates. You can book your roundtrip ticket here.
Finding a guided tour with a local company that includes car transport and cable car ticket.
Hoi An, 40KM From Da Nang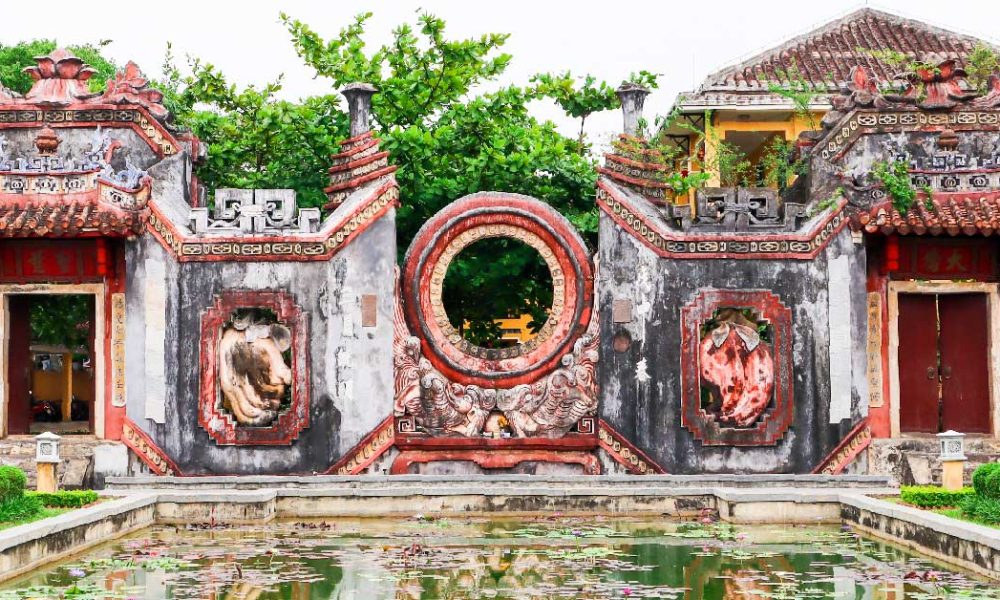 Hoi An Monumental Entrance in the Old Town, Vietnam, Copyright © Cooltourismical.com
If you're heading for the brilliantly colorful and historic town of Hoi An for a day trip, get ready to be completely amazed. This lively museum-like little town, found just a hop away from Da Nang, was once a bustling port for merchants in Southeast Asia.
The interesting fact is that Hoi An still keeps its old urban fabric and buildings, as a reminder of these many cultures crossing its territory. The old part of the town sits by the estuary of Thu Bon River and is crossed by dreamy canals, while its newer part is  and has many exotic, wild beaches.
⏰ 

Old Town opening hours:

 can be visited at any hour, plenty of evening activities;

📌 

Hoi An map:

 Google Maps;
🎟️ 

Lantern Making workshop: 

you keep the lantern!

 Book now;
🎟️ 

Evening Walking Food Tour: 

 

Book now.
---
🏮

What makes Hoi An unique?
---
What makes Hoi An unique is its Old Town: winding waterways, cobbled courtyards, ancient markets and wooden buildings. This is where Chinese and Japanese traders left their mark. And you can still see their vestiges in the diverse architectural patterns.
The Ancient Town of Hoi An remains well-preserved, almost in its original state, giving you a true taste of oriental medieval style settlement.
And well, the cherry on top, is Hoi An by night! Picture a river scene lit up by lanterns, with riverside bars and restaurants all around. Boats floating on the river, around candles, and cyclos, timeless carriages, riding the bumpy streets. This town is truly a romantic destination, with its unmatched vibes and heritage.
To fully explore the Old Town, you'll need a ticket that grants you access to the area for multiple days and 5 main objectives. With the coupons you receive, you can choose to visit old houses, temples, and museums. Or even attend some artistic performances.
Separately, there are plenty of things to do in Hoian, from making your own lantern to Vietnamese specialities cooking classes.
⭐ Hoi An Highlights:
Old Chinese wooden houses – such as Quang Thang house, a merchant's residence, and Duc An, an old home and pharmacy;
The Japanese covered bridge;
Shamanic performances at Luna Center – a bamboo theatre;
White Rose Restaurant – traditional shrimp dumplings, made after an old family recipe;
An Bang Beach – towards the East Vietnam Sea.
🚕 Getting from Da Nang to Hoi An:
By bus, but the last bus returns to Da Nang at 05:30 pm, so you will lose the sight of Hoi An after the nightfall;
By motorcycle. Renting a motorcycle for a day costs around VND150.000;
By taxi or Grab. Which is the most convenient as you can come and go at what hour you wish.

or

Hire a local tour guide

who will take care of your transport and itinerary.
Cham Island, 50KM & a Boat Trip From Da Nang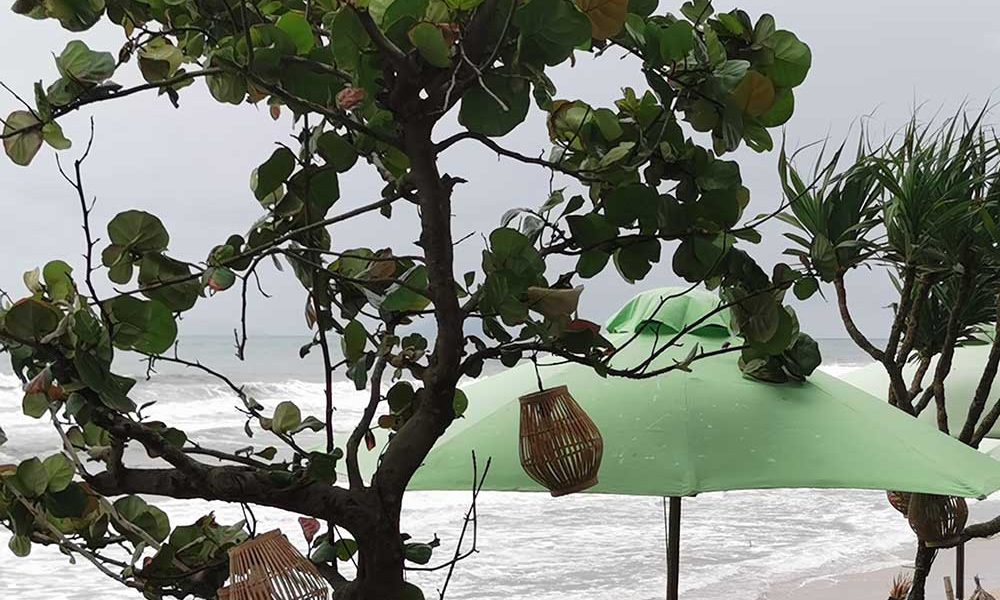 Cham Island, Vietnam, Copyright © Cooltourismical.com
Cham Islands, also known as Cu Lao Cham, is a must-visit destination for any nature lover. It is actually a small, 8-island archipelago located off the coast of central Vietnam, near the city of Hoi An. And is easily accessible by boat.
Each island has its own unique character, with lush, tropical forests and beaches.
The best time to visit Cham Islands is from March to August, when the weather is sunny and the sea is calm.
⏰

Best visiting hours:

08:00 am to 01:00 pm;

📌

Departure point:

Cua Dai Pier

;

🎟️

Island visiting fee:

VND 70,000 paid in the  port.
---
🌴

What to do on the island?
---
The main attraction used to be snorkelling and diving. Some of the island's most popular beaches include Bai Lang, Bai Huong, and Bai Bac. But its crystal-clear waters letting colorful coral reefs and marine life open for observation are not always so crystal-clear. Especially in the last years.
Another popular activity is hiking through the dense forests covering the towering mountains that offer a perfect setting for exploring on foot.
And luckily, the islands are also home to a number of historical and cultural sites, temples and shrines, including the ruins of ancient Cham temples, traditional Vietnamese fishing villages, and stunning landscapes that provide the perfect backdrop for a scenic escape from the mainland.
⭐ Cham Island Highlights:
Bai Lang Village – main village / port on the island, with restaurants, homestays etc;
Hai Tang Pagoda – at the feet of Hon Lao Island's west mountain;
Tan Hiep Market – biggest market for sea food and souvenirs;
Ancient Well Of Cham People – a still-functioning 200 years well;
Po Nagar Cham Towers – Cham temple tower from the 8th century.
🚕 How to get there:
By bus to Hoi An ( 25,000VND / way) at 5:30 am, from there to Cua Dai Pier by taxi (150,000VND) to finally get the ferry towards the islands (last bus returns to Da Nang at 05:30 pm, need to cross check with the ferry schedule);
By taxi or Grab directly to Cua Dai Pier. And from here with the ferry.  Ferry trip (Cua Dai Pier – Cham Islands – 150,000 VND) takes approx. 1.5 hours. Or fast boat.
Book a snorkelling tour

– pickup in Da Nang.
Hue, 150KM From Da Nang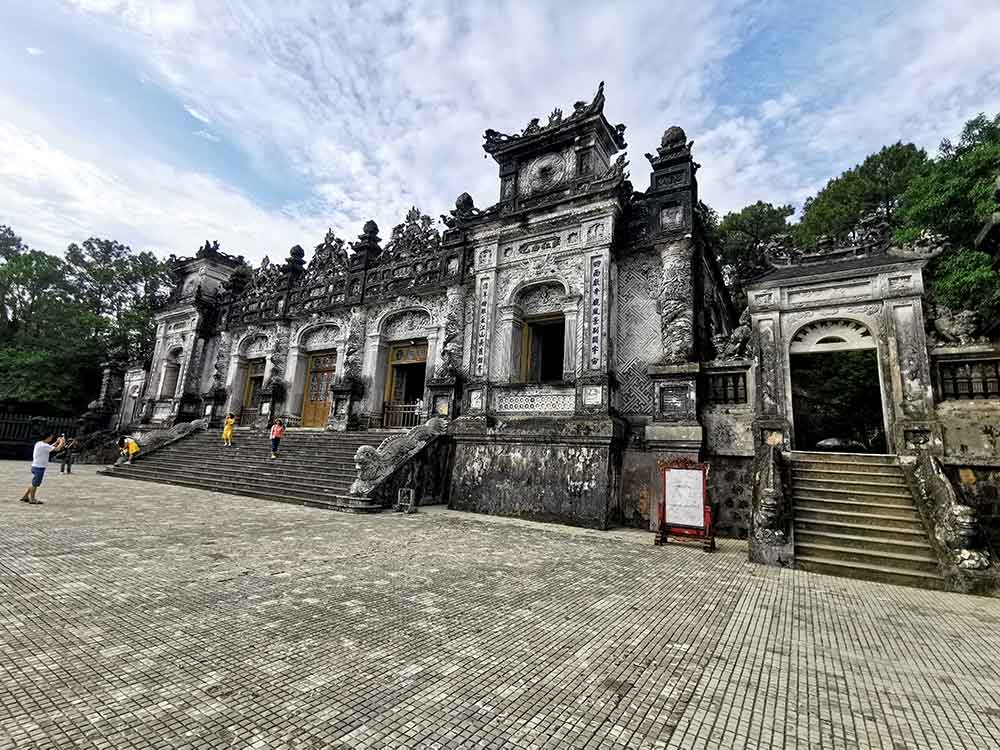 Khai Dinh Tomb in Hue, Vietnam, Copyright © Cooltourismical.com
If you're in Da Nang and looking for a change of scenery, then a day trip to the city of Hue is definitely worth considering.
Located along the Perfume River, Hue has a rich cultural and historical heritage as former imperial capital. But even the journey itself is an experience as it takes you through lush green landscapes and over the picturesque Hai Van Pass, offering stunning views of the East Vietnam Sea.
⏰ O

pening hours for Hue Imperial City:

every day, from 07:00 am to 06:00 pm; 

🎟️

Entrance fee:

Combo of 3 Attractions: Hue Imperial Palace – Minh Mang Tomb – Khai Dinh Tomb 420,000 VND per person.
Once you arrive in Hue, you'll be struck by its rich cultural legacy.
The city served as the capital of Vietnam from 1802 to 1945 and is renowned for its historical landmarks, including the magnificent Hue Citadel, Imperial City and the stunning royal tombs of former emperors such as Tu Duc and Khai Dinh. The Imperial City, in particular, is a must-visit as it takes you back in time to the days of the Nguyen Dynasty.
Within the Citadel walls, you'll find a vast complex of palaces, temples, and museums, offering a glimpse into Vietnam's royal history.
The Perfume River, named for the sweet scent of the flowers that bloom along its banks, adds to the picturesque scenery of Hue. One popular way to experience the river is by taking a cute dragon boat for a tour.
⭐ Hue Day Trip Highlights:
The Citadel – former imperial capital;
The Imperial City – walled enclosure within the citadel, residence of the Nguyen emperors;
Thien Mu Pagoda –  iconic seven-story pagoda;
The Royal Tombs – mausoleums and temples dedicated to past Nguyen emperors.
My Son Sanctuary, 50KM From Da Nang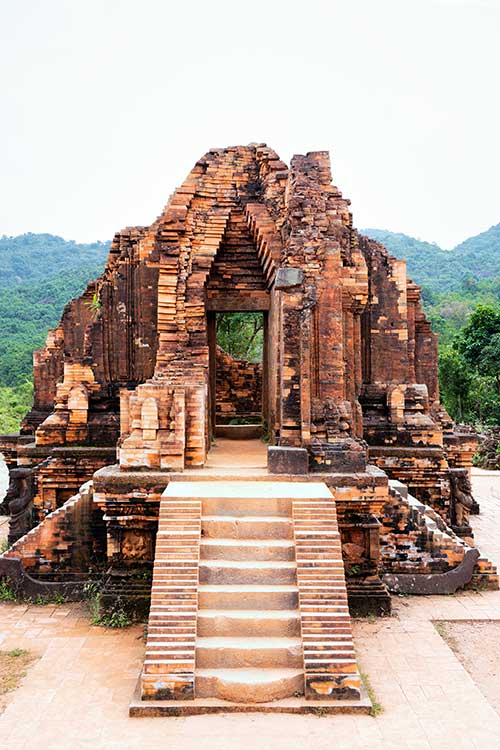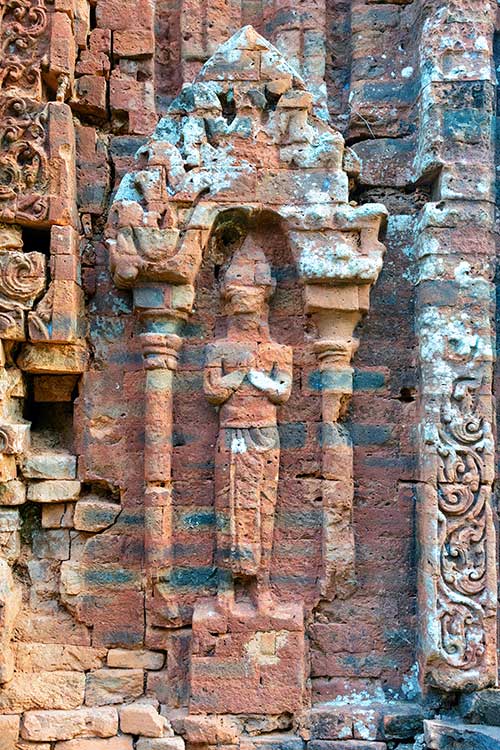 My Son Sanctuary, Copyright © Roman Babakin
My Son is an UNESCO archaeological site located in the Duy Xuyen district of Quang Nam province, Vietnam. Just a drive of one and a half hours from Da Nang.  The site brings together multiple Hindu temples built by the old Champa Kingdom, some time between the 4th and 14th centuries.
The purpose of the complex was to worship Lord Shiva and other Hindu deities.
⏰

Best visiting hours:

06:00 am to 05:00 pm; Time to visit: ~3 hours;

📌 Waiting area for My Son Shuttle

:

maps location.
🎟️

Admission fee:

VND 150,000.
This Hindu Sanctuary is a breath-taking display of the ancient Champa civilization's architecture and skills. In the past, My Son was not only a spiritual center, but also served as a political hub and royal burial ground. The complex features more than 70 red bricks and sandstone tower structures, temples and sculptures that date back over a thousand years, all set in the midst of a jungle.
The tower temples inside boast a range of architectural designs symbolizing the greatness and purity of Mount Meru, the sacred mountain and home of gods in the Hindu mythology.
It is not very well maintained. It was bombed during the Vietnam War. And the ruins continue to deteriorate under the severe weather conditions, flooding and high humidity in the area.
Leave Da Nang early, so you can get there in time for the 9 am Cham performances.
⭐ Highlights:
My Son Relic – Series of grouped temples distributed along a valley;
My Son Museum – situated at 2 km distance from the relics; to be visited before the archaeological site;
Quang Nam Festival – annual cultural heritage festival.
Son Tra Peninsula, 10KM From Da Nang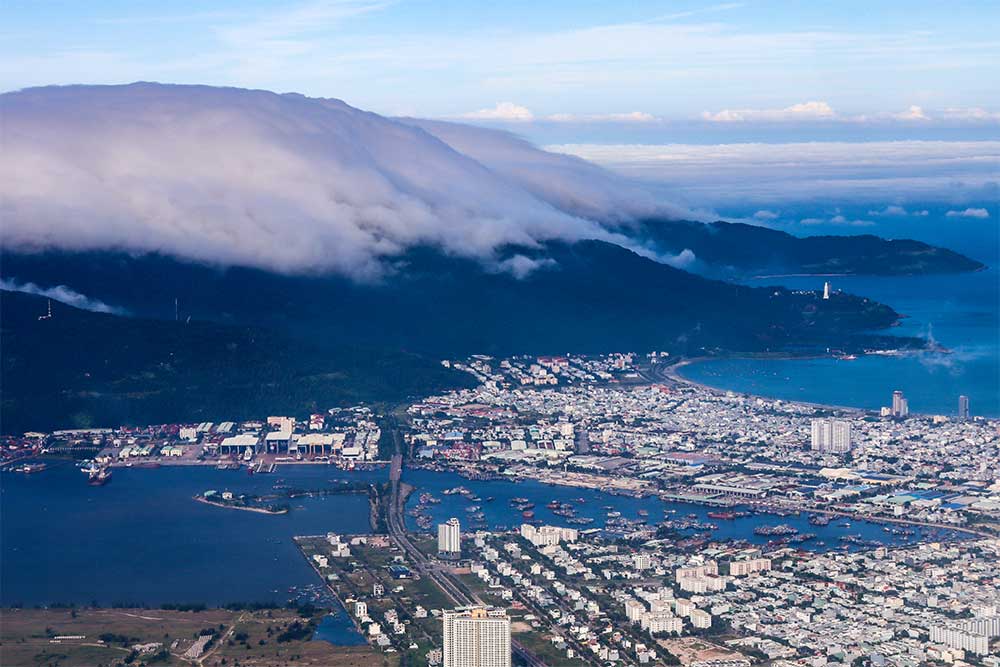 Son Tra Peninsula, Da Nang outskirts, Copyright © Cooltourismical.com
Son Tra Peninsula is this lovely mountainous peninsula located north of Da Nang. And it is pretty well known for its beautiful beaches and hiking trails.
One of the main attractions on the peninsula is the Son Tra Mountain, also known as Monkey Mountain, which offers panoramic views of Da Nang and the surrounding area. At the very top of the mountain, on the Ban Co Peak, Confucius has set his chess table and thinks about his next move. Beautiful spot for meditation.
At the foot of the mountain, there is a genuine Vietnamese fishermen's village still using their old fishing tools and traditional boats at sea. Added to that are a huge Buddha statue, a ceramics museum, and many pristine beaches such as Bai Nam and Bai Da waiting for water sports enthusiasts.
Son Tra has everything: hiking trails in the jungle of Monkey mountains and beautiful beaches towards the East Vietnam Sea. Spending a day out of Da Nang's crowded city center while choosing this paradise peninsula is bliss.
⭐ Top attractions on Son Tra:
Monkey Mountain – Confucius waiting at the top for a game of chess;
Linh Ung Pagoda – with its huge Lady Buddha statue;
Dong Dinh Museums – ceramics workshop;
Alter Park – themed park on a small lake.
🚕 How to get there:
By taxi – however, the taxis can't access all points on the map (except Banyan tree, the pagoda, ceramics museum and beaches) due to bad roads;
By motorcycle – offering much more flexibility to accessing more remote locations on the mountain. 
Bach Ma National Park, 60KM From Da Nang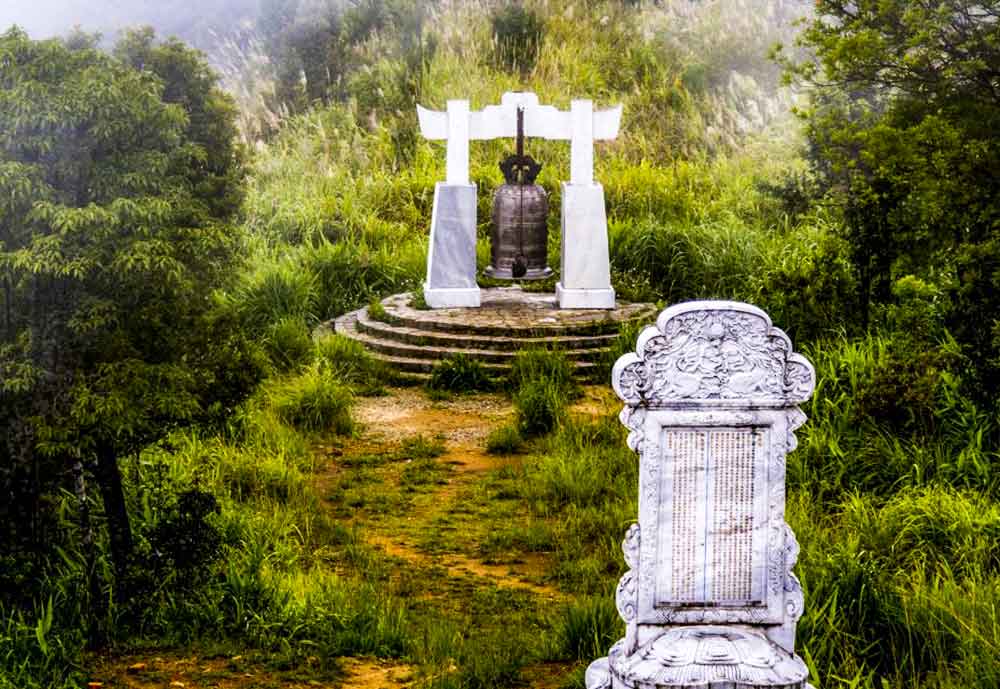 Bach Ma National Park is a haven for nature enthusiasts. And an ideal destination for day trips, as it's just one hour away from Da Nang.
The absolutely stunning protected area of Bach Ma boasts an array of flora and fauna, including over 300 species of birds. Right place if you want to spend some time in the wilderness discovering waterfalls, temples, abandoned hotels and war tunnels, well hidden in the mountain forests.
⏰

Opening hours:

07:30 am – 05:00 om;

📌 

Best time to visit:

from December to April (dry season);

🎟️

Bach Ma entrance fee:

60,000 VND.
---
🌴 Things to experience during day trips
---
One of the most popular attractions in the park is the Bach Ma Peak with its observation tower which stands at 1,450 meters above sea level. The peak offers spectacular views of the surrounding countryside and is a great place to take photos.
The park features several hiking trails of different levels of difficulty, so you can choose the one that best suits your fitness level. But the preferred and most beautiful is the Five Lake Trail. With its well-maintained path and various obstacles, such as hiking along the water stream and crossing it in several points via boulders and ropes, the trail presents a thrilling adventure.
The trail winds through stunning waterfalls, serene ponds with sparkling, ice-cold water, and a verdant tropical forest as backdrop.
Visitors can also learn about the history of the park and the local culture by visiting the Bach Ma National Park Museum, which is located inside the park.
⭐ Highlights:
Vong Hai Dai

– lookout tower at the summit;

Five Lakes Trail

–

30-min trail, next to dreamy blue lakes;

Do Quyen Waterfall

–

300m drop waterfall;

Truc Lam Zen Monastery

–

wonderful complex of Buddhist architecture;
🚕 How to get there:
By bus from Da Nang Central Bus Station (route Da Nang – Hue, with stop in Bach Ma);
Organized tour: book here.
Rent a car with a private driver for the whole day. It can get you to the location, plus drive you inside the park to some of the landmarks or trail start. Around 2,000,000 VND.
Organized Tours & Day Trips from Da Nang