Travel Puzzles That Make You Forget You Are Home Alone
'A list of fun, beautifully-colored, medium-difficulty travel puzzles for adults, mostly jigsaw puzzles inspired by famous tourist destinations, landmarks or cultural diversity.'
If there is something that we've learned in the past years is that traveling is not always easy, not always an option, not always a possibility no matter how much we want or how available we are. But solving a travel-themed puzzle is still a nice way for keeping creativity and traveling passion alive while experiencing just a bit of a foreign culture.
Me and my husband had a lot of spare time these days. Therefore, the kitchen table became the proper environment for putting together quite a few beautiful jigsaw puzzles for adults. After we finished building up Hagia Sion from Jerusalem, I rushed online with high hopes.. Even so, I got pretty fast to the conclusion that is very hard to find some decent travel-themed jigsaw puzzles for those grown-ups which are still children at heart.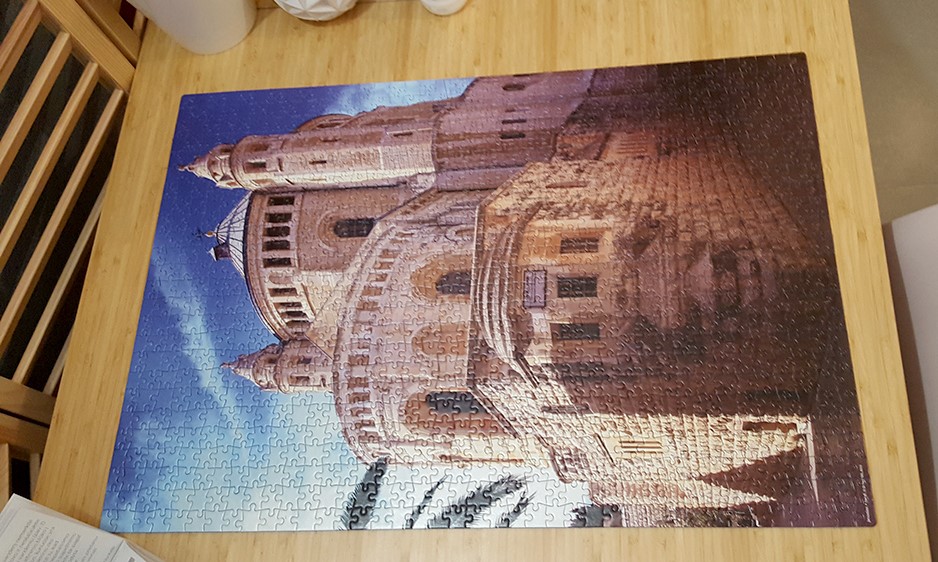 There are literally thousands of patterns out there. But not quite what I had in mind. And I'm talking about non-aggressive colors, large number of pieces and, most of all, quality. 
My thoughts? A puzzle with good reviews, that is BIG and intricate and no one complains about it by saying that pieces are missing or that the puzzle is a little shifted, oh well, not much, but enough to ruin your mood. I must confess that it took me a while to find a few jigsaw puzzles that I really, really like and they do look promising to the globetrotter hidden inside me. Here they are. Architecture, art, crowded streets, everything we can't get lost into just for being stuck at home. So relax and enjoy!! ♥♥♥
---
Retro America Puzzles
USA Classic Jigsaw Puzzles For Us, The Adults!  1000 pieces, 20 x 30 inches, Difficulty: Medium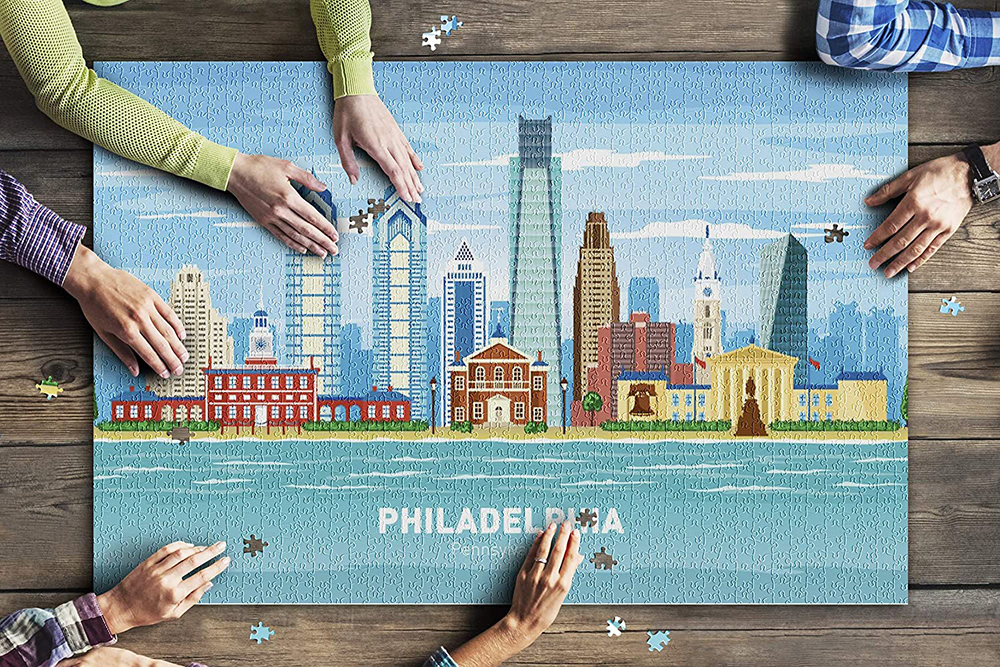 I totally fell in love with the jigsaw puzzles from Lantern Press

. Maybe they are not entirely specialized in puzzles, but their reviews are rather good. They use  vintage color palette and pale tones illustrations. The reason for their games being so SPECTACULAR!  It was extremely hard to choose which ones to list here. Some of their puzzles have 1000 pieces, others just 500, but nonetheless magical.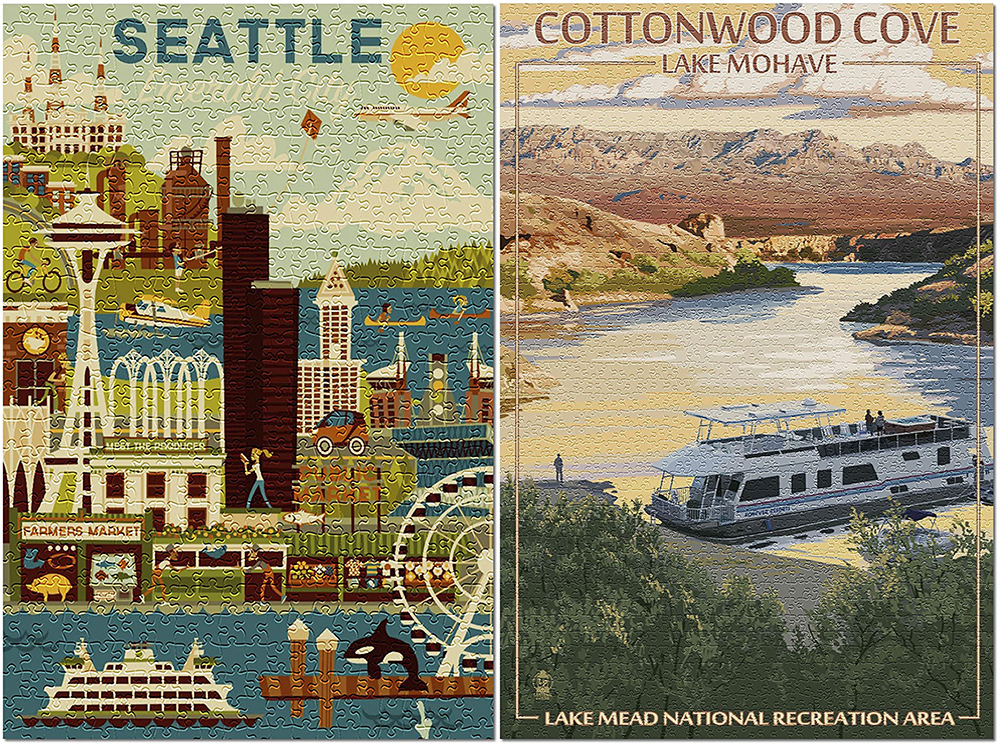 Buy now: Mount Rainier


, Seattle

, Chicago

, San Francisco

,
Philly

And the list can continue, but these are my all time favorites – one hell of a trip through out USA!
---
The Lovely Mt. Fuji Panorama Puzzle
From USA to Japan, 3000 pieces, 56.5 x 26.75 inches/144 x 68 cm, Difficulty: Very High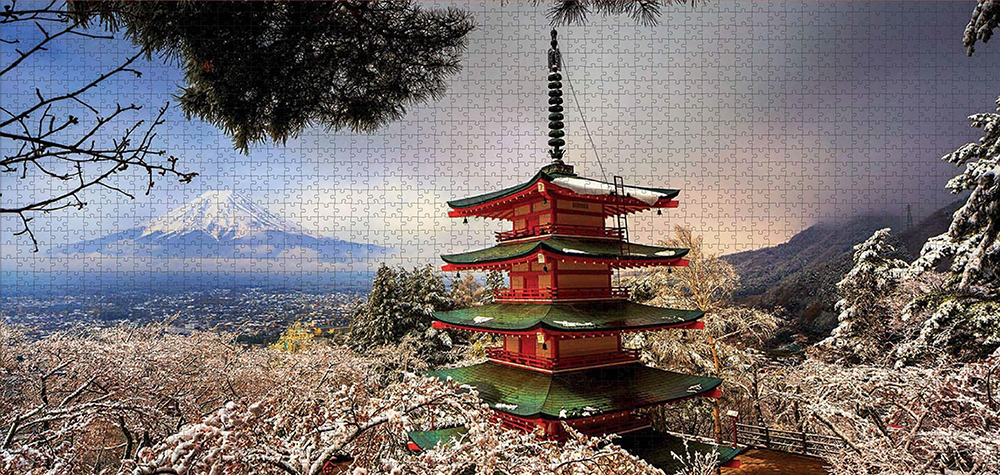 Buy now: Mt. Fuji and Chureito Pagoda Panorama Puzzle
I noticed many love this puzzle because:

it has a very good price for a big sized puzzle,

panorama is breathtaking

and the printed image is high-quality…

Sometimes, it is shipped sooner than expected!!! ❤
This is what I was talking about: a travel-themed puzzle that's so big it can't fit any room inside the house. And you need to buy a new one, bigger. I'm talking about the house, of course. In the end, it is a 3000 piece puzzle… Which means enjoying the beautiful panorama of Mt. Fuji for many days to come. 
Buy now: Mt. Fuji 2000 piece puzzle

Japan, as a travel destination, is a dream in reality and in pictures ❤. But what makes the puzzle more addictive is not just the idea of the Land of the Rising Sun, but also its high complexity of the sky area, as well as the intricate trees surrounding the pagoda. Above, a time lapse of the 2000 piece puzzle version. Both of them are so pretty and lively colored!!
---
Barcelona's Garden In a Puzzle
Park Güell, Gaudi's Garden System 1000 piece puzzle,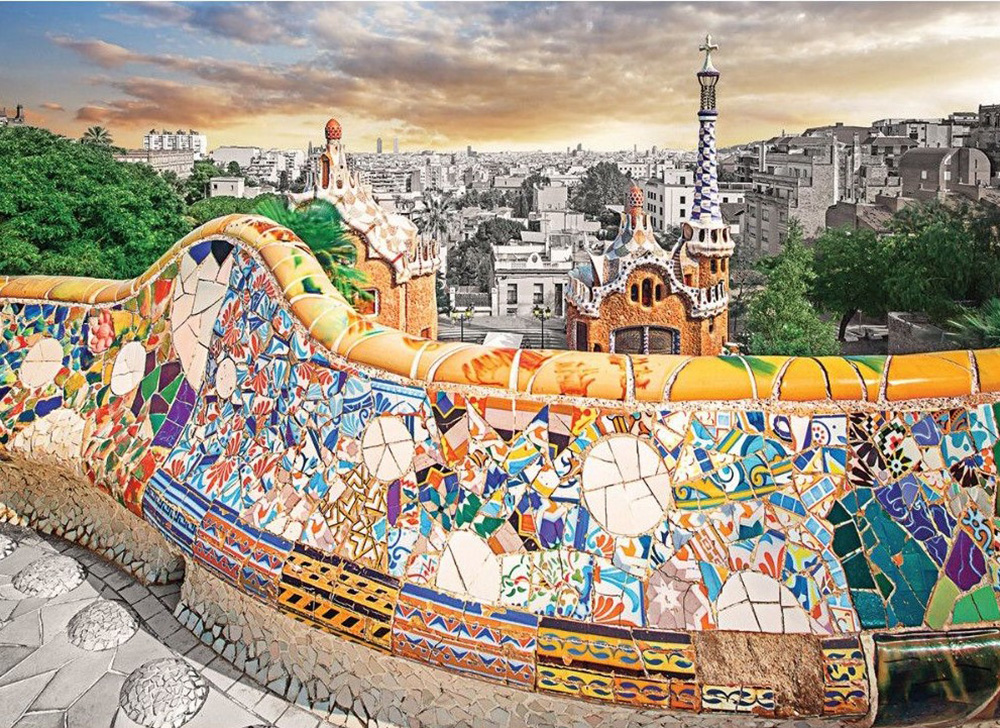 Buy now: EuroGraphics

Breathtaking views and mosaic covered buildings, the work of Antonio Gaudi, an architect with a highly individualized style, exponent of the Catalan Modernism. If you haven't yet visited Barcelona, you could be the new Alice in Wonderland. Unexpected shapes and striking material combinations in colorful, natural settings. A little bit difficult 1000-piece puzzle, but not boring at all.
---
Puzzled by the Wonders of MET 
The crowded rooms of MET, 500 pieces, 26 5/8 x 19 1/4 inches, Difficulty: High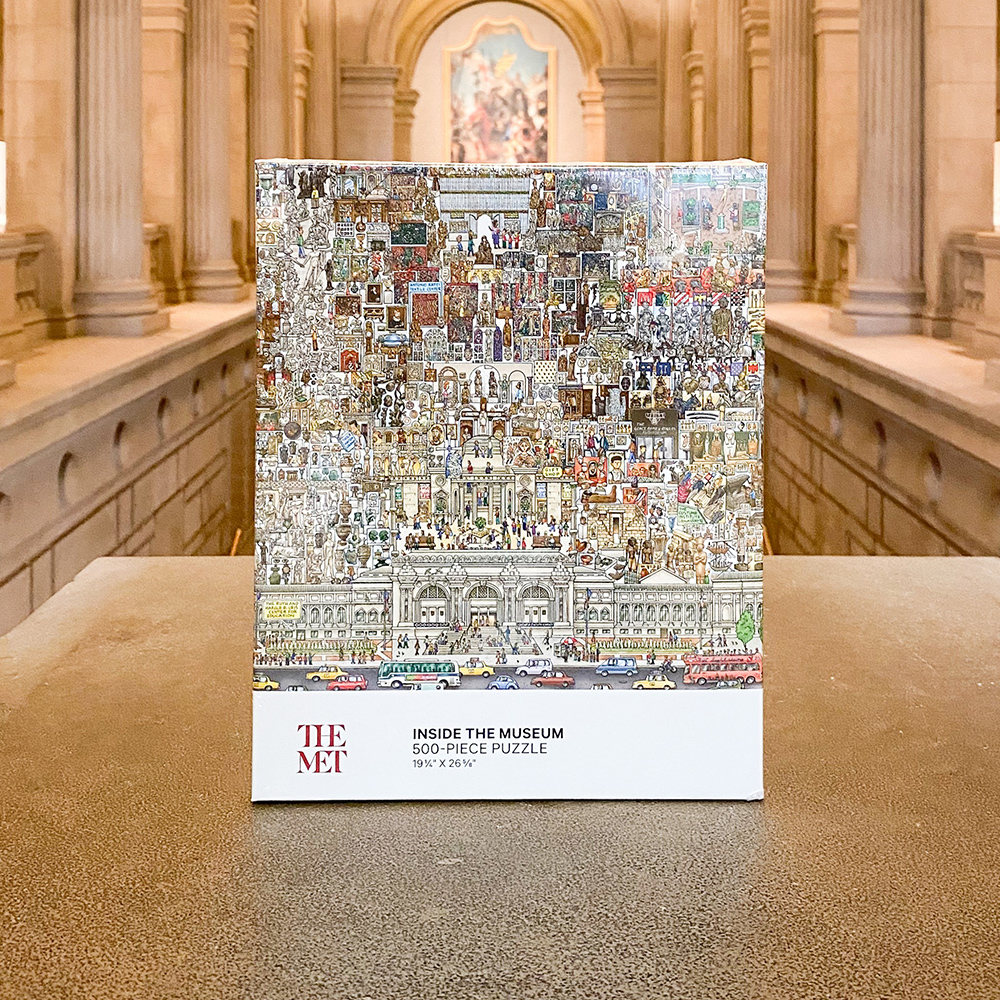 Buy now: MET Store
It is an extremely CUTE puzzle!!

It makes you miss the city,

you can recognize the artworks from the museum,

it helps in planning your next museum visit.

Bonus: pieces are high quality and have oddly shaped edges.
A 500-piece puzzle only, but extremely detailed and cute map illustration!! Allows us to take a dreamy walk through the galleries of the Metropolitan Museum of Art and enjoy part of the many exhibits. I so miss NY. I found it now and it reminded me of my Big Apple winter adventures. Need to go back soon. Until then, I will just move the puzzle on the top of my shopping list!!! ❤❤❤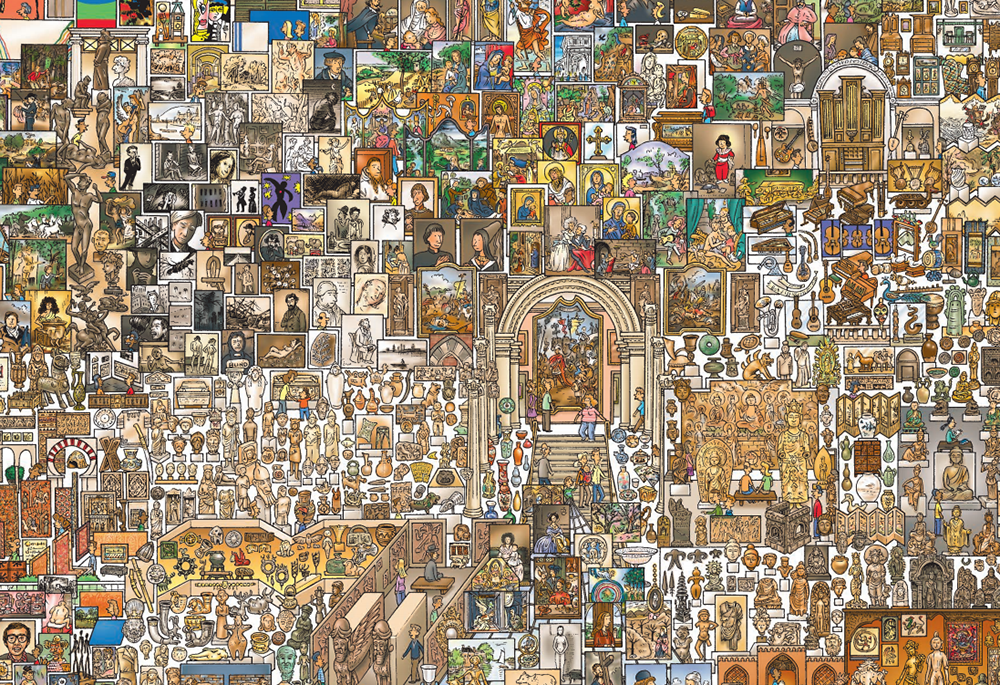 The MET map was illustrated by John Kerschbaum, who spent many years documenting and sketching inside the galleries of the museum. The image below is one of his extremely funny drawings. Because we should never forget the amazingly talented people behind the things that make us happy. For more lovely comics, you can go visit the website, or follow John on twitter!!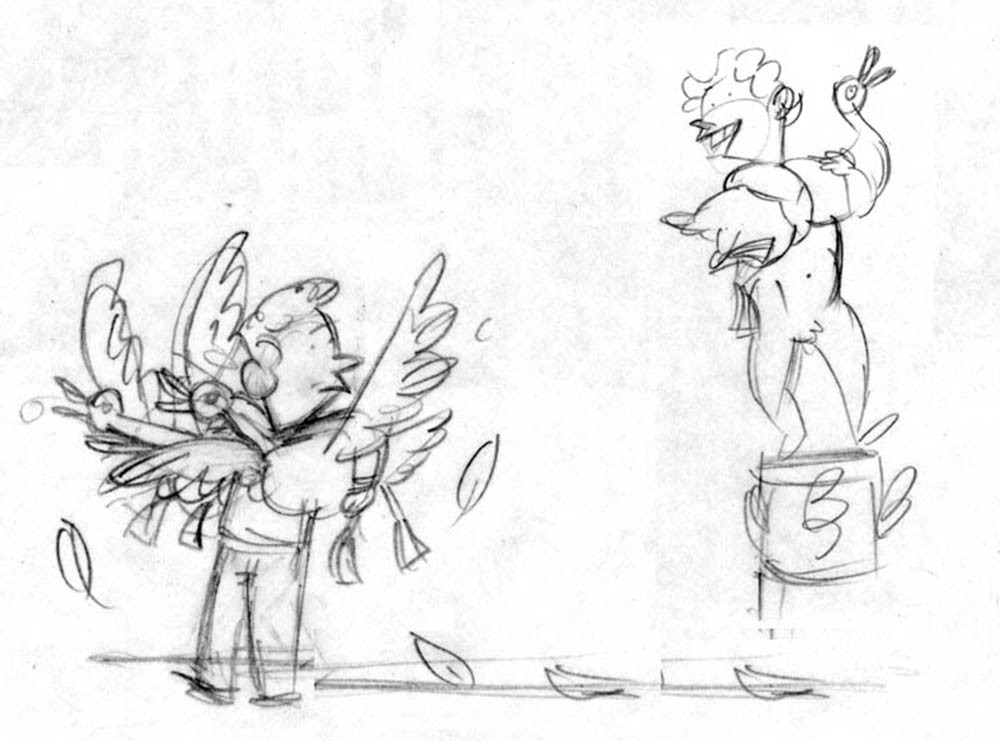 ---
Antique World Map Puzzles
Educa Antique Map Puzzle, 1000 pieces, approx. 27 x 19 inches / 68 x 48 cm, Difficulty: High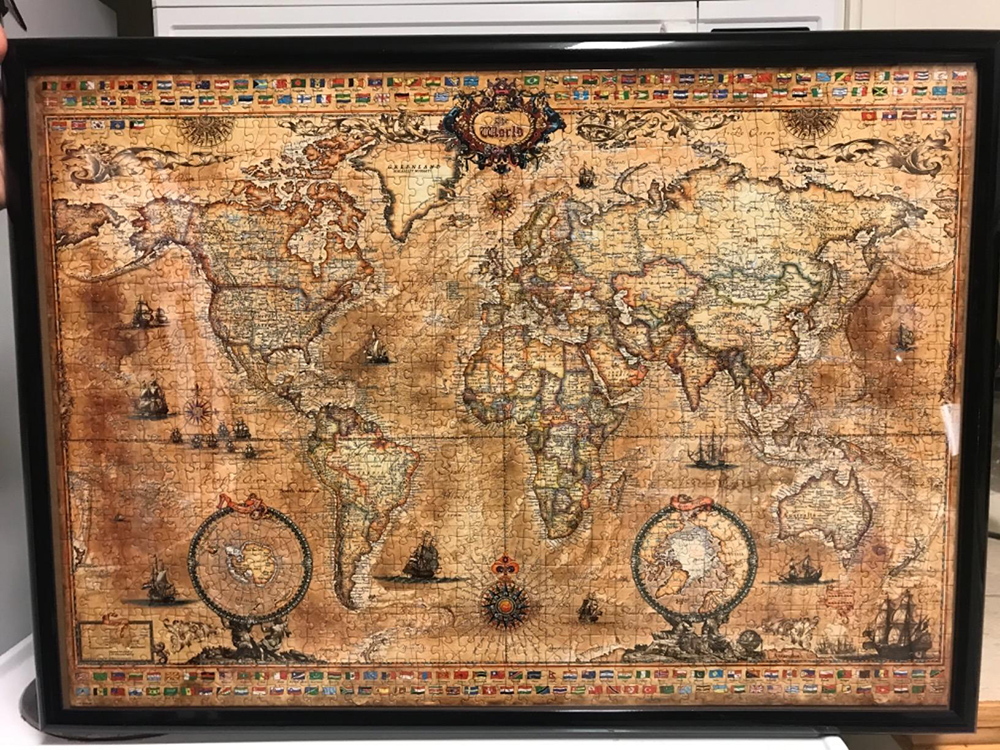 Buy now: Educa Antique World Map

This puzzle is highly appreciated by other people for:

the 18th century fancy appearance,

making the process a bit challenging, even overwhelming,

very good quality, strong and well cut puzzle pieces…

and having glue included!!!
Educa Antique Map Puzzle is gorgeous and the pieces are high-quality. It is one of the two vintage map puzzles I found to be rather acceptable for the experienced puzzle solver, after a long search in the online puzzle world.
With little exceptions, better said unlucky people, the reviews are extremely good. And the odds of getting all the game pieces are high.  More than that, being a monochrome jigsaw puzzle is a real challenge. The color scheme makes it a bit more difficult to solve than other 1000 pieces puzzles. The Educa map puzzle is shipped only to US. 
Old Map with Hemispheres Jigsaw Puzzle, 6000 pieces, 165.3 x 114.3 cm / 65 x 45 inch, Difficulty: Very High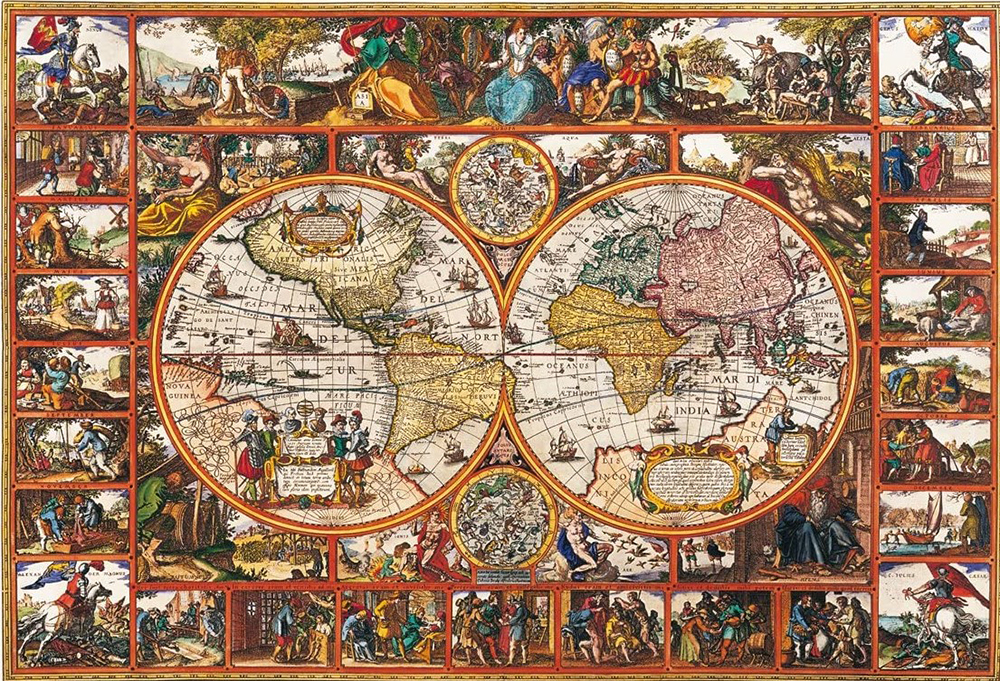 Buy from: Rare Puzzles
Comes from Clementoni and it's a colorful, artsy, magnificent puzzle belonging to forgotten times of conquest and colonization when people were travelling and exploring the seas to discover new lands and cultures. A time of no satellites or wazers. Just calculated drawings and voyagers. Intricate and educational – a way to follow up on the old methods of mapping and how they used to imagine the planet.
A puzzle as Italian as Christopher Columbus!
---
My Hometown Custom Puzzle
A fancy map of the place where you live, 400 pieces, 12¼ x 18½ inches, Difficulty: Medium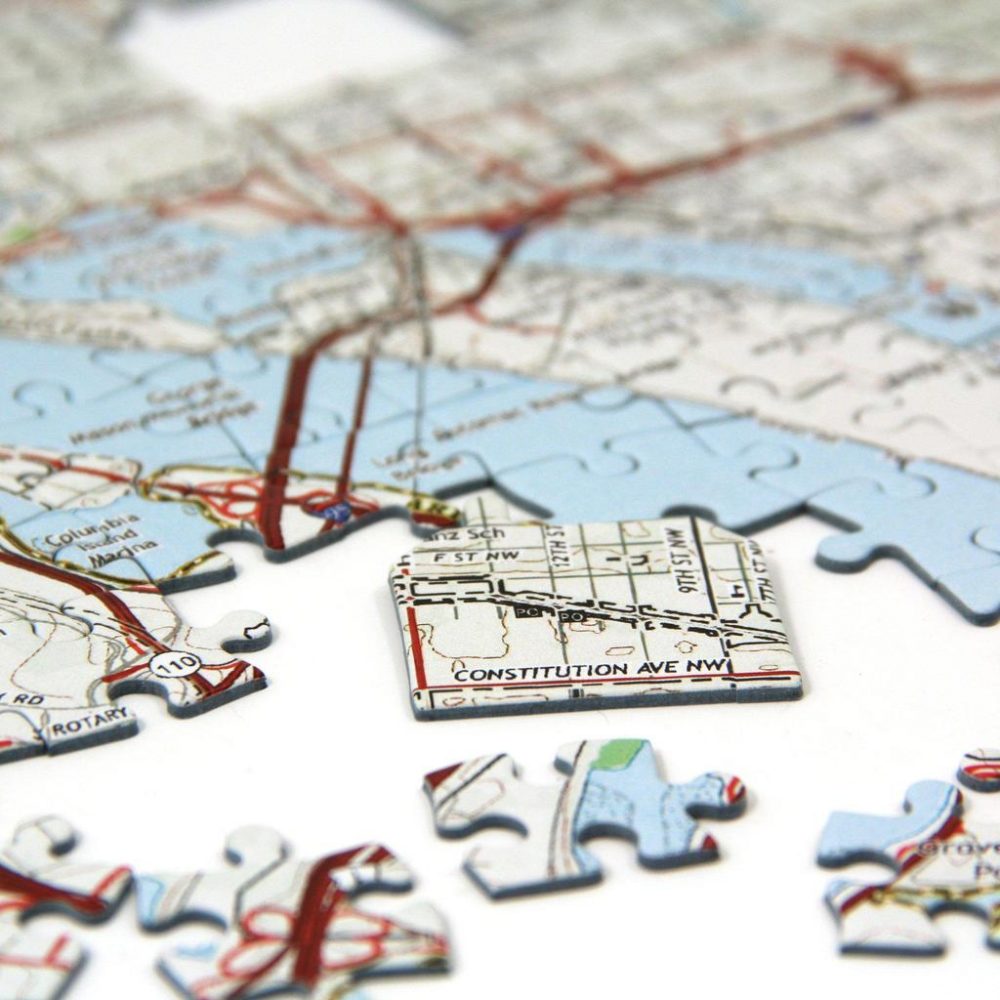 Buy from: Butler & Hill
Pretty nice to see your home from above and recognize the streets you pass daily on your way to work or school. Even if it's just a 400 piece puzzle, still makes a good gift for a new house or a good source of solitude fun.  
These puzzles are made to order. So be very careful to their specifications and pay attention when filling up the form on their website.  Or you might not get what you expect as it looks like an automatically generated puzzle.
---
MicroPuzzles
Tiniest puzzles ever made, 150 pieces, 4 x 5 inches, 10 x 15 cm, Difficulty: Low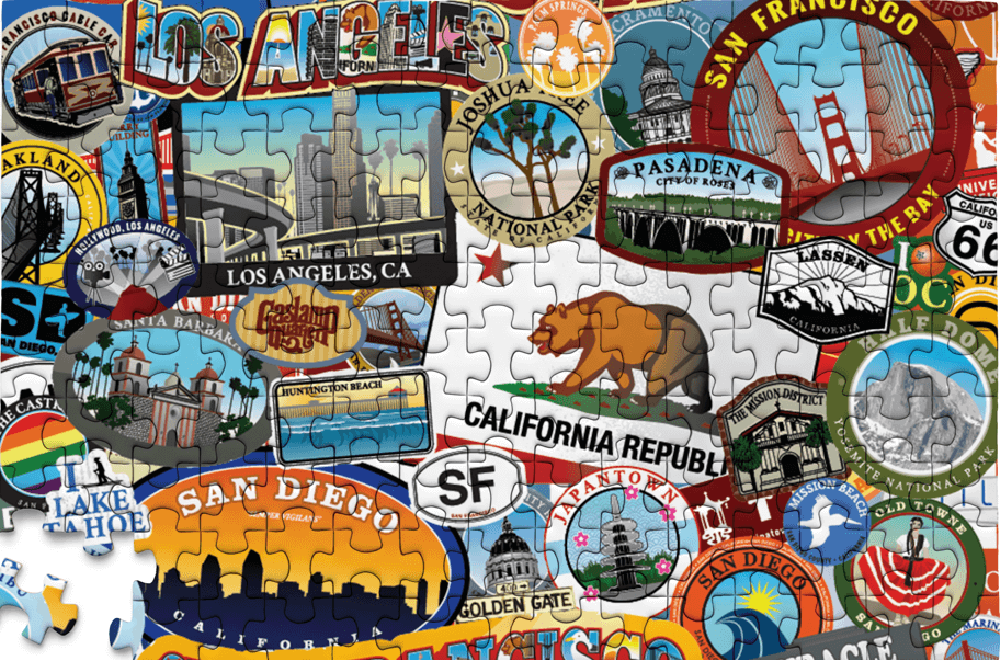 Buy now: California
Some of the people who already have it think:

it is extremely easy to carry around,

it is giftable,

and children love it!
True. The puzzles from MicroPuzzles are very, very small. But also very well rated due to their portability and color palette. My favorite is the New York panorama one with Manhattan and Central Park area, but California Road Trip is not bad either.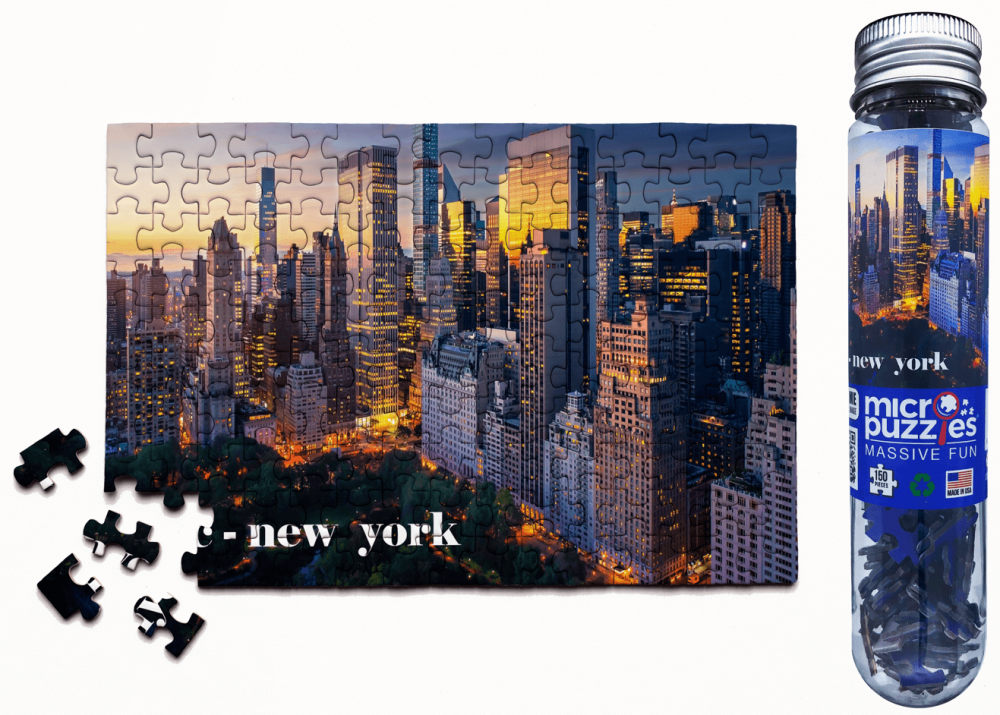 Buy now: New York
---
Art Striken
When maps aren't your thing, but you're a stuck-at-home museum art devourer – A Starry Night – Vincent Van Gogh, 1000 pieces, 19.25 x 26.5 inches, Difficulty: Extremely high
Buy now: Eurographics

An extremely challenging artwork:

the puzzle is fit for family gatherings,

for art lovers and explorers,

and for fearless, strong headed, obsessive puzzlers.
Sturdy cardboard, great colors, premium museum quality and a well known work of art of the famous Dutch post-impressionist painter, Van Gogh. The painting depicts the summer sky of 1889, just before the sunrise, as seen from a window of the asylum of Saint-Paul-de-Mausole near Saint-Rémy-de-Provence. Under the beautiful stars lays a village of dreams.
The level of difficulty of the beautiful puzzle is rather high due to the blue color tones, the circular brush strokes and the hills that blend into the sky.
---
Matisse

Studio in Collioure Puzzle
A painting of a painter's studio by Damian Elwes, 483 pieces, 14.75 X 14.75 inches, Difficulty: Low-Medium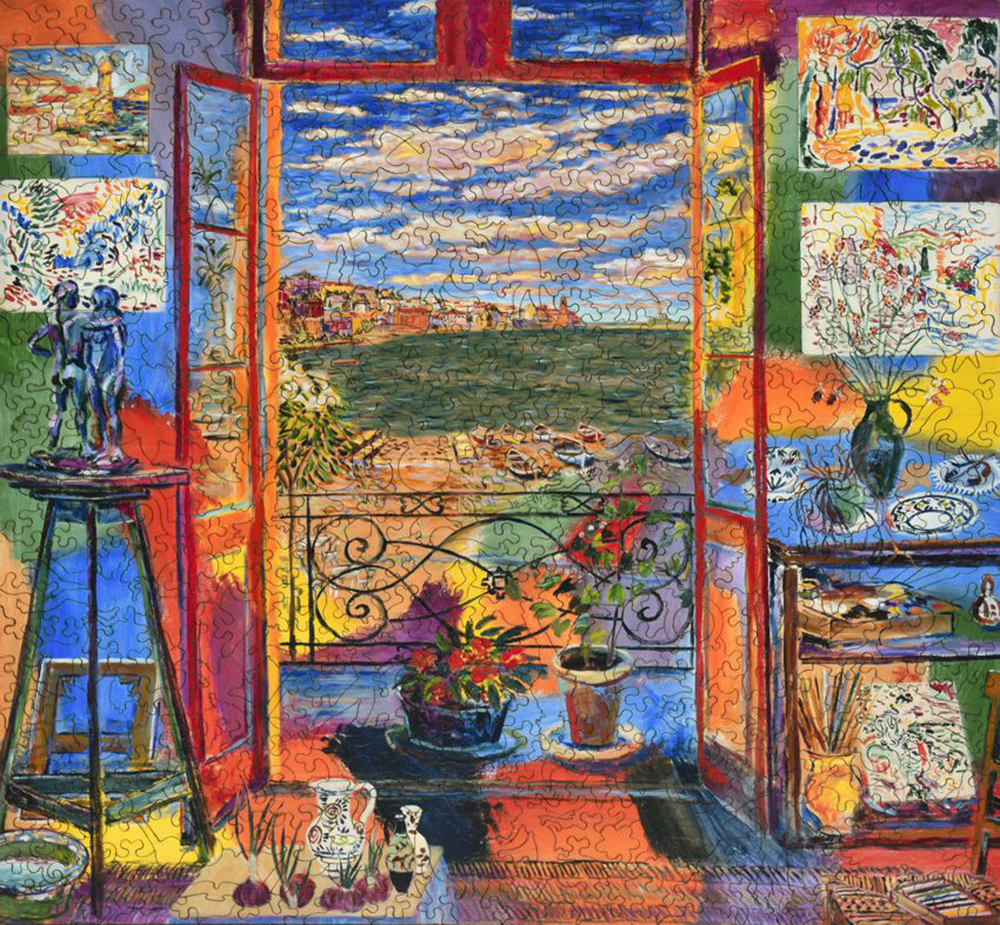 Buy now: Liberty Puzzles
Even if it's a smaller puzzle, it has some special features that make it out of the ordinary. It is fabricated by Liberty Puzzles and it's entirely cut out of wood. No piece resembles another.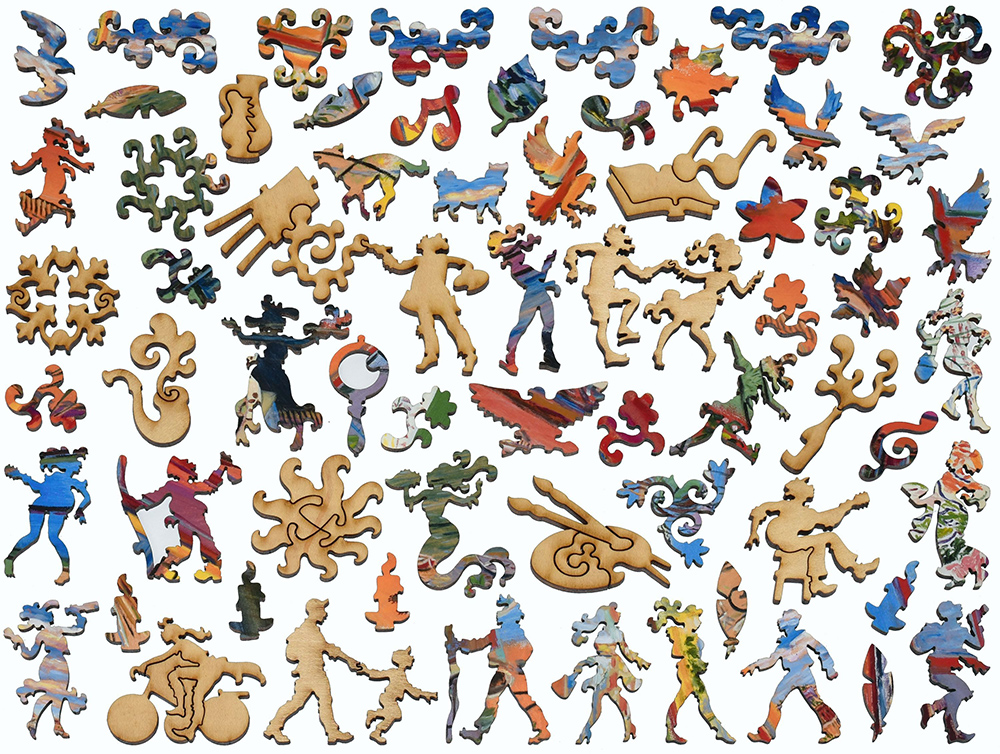 It was a nice opportunity to find out not only a bit more about where Matisse used to spend his summers painting, but also about Damian Elwes, a contemporary artist, born in London, dividing his existence between Los Angeles and Colombian forests. He has made a series of paintings depicting the studios of famous artists. These are not puzzles, but worth seeing: Modern Studios.
---
The Babel Tower Jigsaw Puzzle
A statement for all the dream places we can never travel to.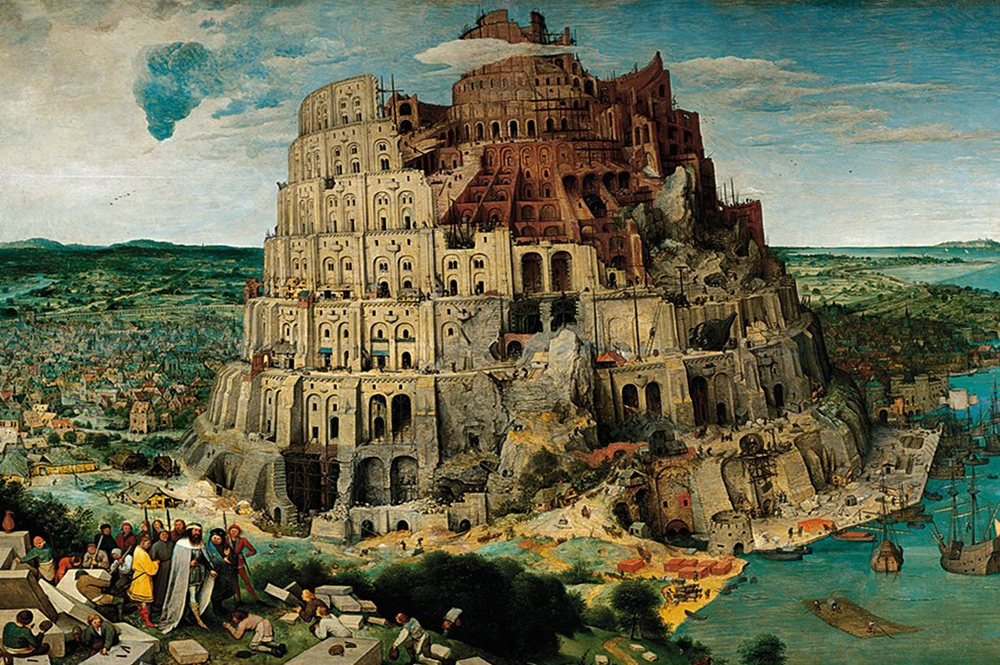 Buy from: Amazon
A Ravensburger puzzle means:

high-quality print image,

beautifully variations of colors,

unique cuts so two pieces don't fit in the same place.

Tons of fun!
I remembered I gave this as a gift a few years ago – the Ravensburger puzzle featuring the Tower of Babel, a painting by Pieter Bruegel the Elder – 5000 pieces!!! It was quite a masterpiece. Even if two of the many, many pieces got lost, almost nothing can compare to that puzzle. And IT WAS a puzzle for grown-ups, huge and highly complex, with fairly good quality of the print and cut – every piece fit perfectly. But they do have a long history in puzzle making, as far as I know.
I tried to search if it's still available for sale. And I found it

, but obviously today is out of stock. Maybe tomorrow…
Useful Accessories to Go With the Puzzles