Two Istanbul Sultanahmet Hotels: Review On Epic Ottoman Architecture
"Traditional Turkish wooden buildings I've enjoyed staying in while visiting Istanbul, that are also affordable."
Oh, my lovely Istanbul!! I've written before about the so many fun things to do in Istanbul, and I did not forget to briefly mention my favorite, top-rated cultural Istanbul attractions. So, this is the time for sharing some accommodation experience. Some say that, when you visit a city, accommodation is less important as you are out all day exploring. For me, accommodation is the pavement of my trip. By choosing a historical location I feel I can have the full cultural experience. Especially in a such location bursting with history.

I've been staying a few times around Taksim Square, but the atmosphere is completely different from Sultanahmet area. The whole old city area reflects a mix of cultural influences of the many empires that once had a word to say: Romans, Byzatines, Ecyptians, Muslims and Christians.
Moreover, virtually all Ottoman-era houses built in Istanbul at that time were made of wood; until the 20th century Istanbul was still predominantly a "wooden city". There remained four fairly large quarters with traditional wooden houses. Süleymaniye, Zeyrek, both sides of the Bosporus in the form of wooden villas dotting the shoreline, and as summer residences houses on the Princes' Islands.
Where to stay in Istanbul Sultanahmet area
When talking about Istanbul, it's a bit hard to choose your accommodation, as there are so many hotels in Sultan Ahmet area. And most of them with such beautiful architecture reminding of the traditional Ottoman wooden architecture / building style.

Last year, I travelled to Istanbul two times and I chose two very beautiful hotels, two gems, I could say, one just next to Topkapi Palace and another one very close to the Blue Mosque. I also added to this post the hotel that I will not miss during my next visit to Istanbul.
Most of these centrally-located hotels are a bit crowded as probably they came to life by some old housing restoring, but the atmosphere inside gives a sense of comfort, protection, luxury. I felt like I was living in a doll house. Small stairs, intricate corridors, luxurious, strong colors, elegant terraces almost perfect for day dreaming. Sometimes these pretty houses are not so well isolated, and they might make you feel part of the busy and noisy life of the crowded streets. But that's the charm and beauty of Turkey!!!
Premist Hotels Sultanahmet
Location: 1-minute away hotel from Topkapi Palace – Cankurtaran Districh, İshakpaşa Street. No: 12, 14, 16
I decided to travel during my Easter holiday to Turkey, in April, and… guess what! My idea wasn't original at all! Half of the planet was probably doing the same as Istanbul lodging was almost fully booked. The only Istanbul accommodation in Sultanahmet area with a decent price and look left was Premist Hotels. I didn't exactly like the pictures I saw on Booking, but as I had already planned meeting some friends from abroad, it was not a good moment to make a fuss about this and comment on the design. I closed my eyes and I went with it.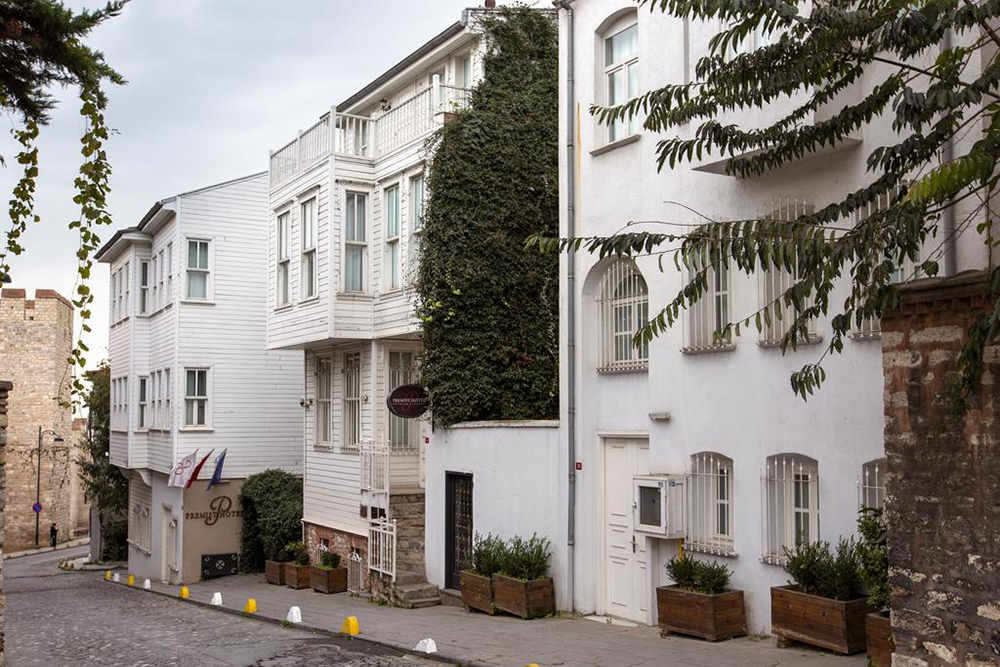 I mainly chose the hotel because of its lower price at that time. In April, in a full Istanbul, for me it was a bit over affordable hotels, but this depends on your travelling budget.  Moreover, the hotel looked unexpectedly interesting in the reality, compared to the pictures I saw online.
Most important, I traveled by car so the amazing thing about the hotel is that it had a parking with surveillance and everything very, very close, just down the street, and at a very, very low price. My car stayed there with no problem for 3 days, as all streets are very small in the historical center and the traffic is a mess. If you travel to Istanbul by car, this hotel is an amazing choice because you don't have to worry on where to park your car in Sultanahmet area. 

The entrance to the hotel is on one side, through a gate "all dressed up" in vegetation and a small courtyard beautifully decorated in Greek style, a subtle note to the old Constantinople. Hermes and Poseidon are looking at you from afar and a stone bench is waiting to welcome you after a long trip. All these lead to an elegantly furnished and colorful interior with carefully chosen details: heavy furniture, huge mirrors, strong shades, animal and floral motifs.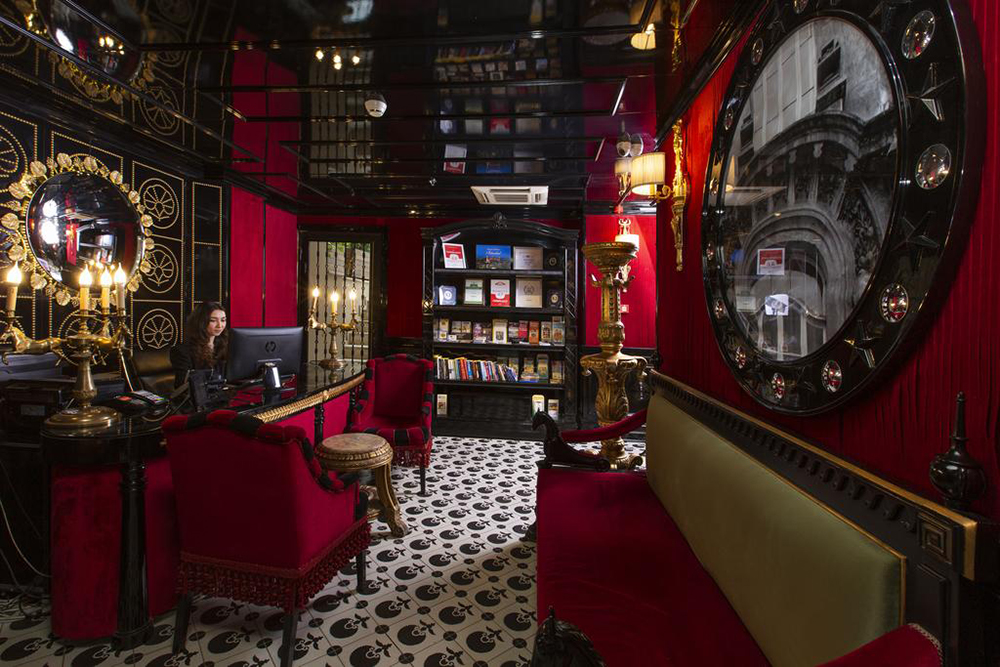 To get to the restaurant, there is a door just opposite the entrance door, well hidden next to the reception, that leads you to an interior courtyard, where you can have breakfast. Or just hide for a while from the crowded streets of Istanbul and enjoy quiet. And in the courtyard you can find the entrance that gets you back inside the hotel, but just another building, where the restaurant is located.
'Getting to Your Room'
Be ready! The hotel does not have an elevator so a big luggage could be a problem on the small stairs, but they are nice enough to help you.
The rooms look so elegant, completely different from what you can see on the internet. Heavy ottoman style, contrasting colors, black wooden furniture and metal details. Plus a nice red sofa, inspired by the traditional Turkish seating style, low to the ground and so comfortable. I was there for 2 nights and extended with one more.
Pros:
location

Close by parking

Architectural style

Food

Good Wi-fi connection

Helpful staff

Airport shuttle, if needed

LOOKS BETTER THAN THE PICTURES
Cons:
Stairs were narrow and hard to climb with a luggage

Loved it for: The cute, small garden with Greek paintings, at the entrance. When my friends came to visit me at the hotel we filled that bench with laugh and plans and memories to last.
---
Darussaade Hotel Sultanahmet
Location: 1 minute away hotel from Blue Mosque – Cankurtaran Districh, İshakpaşa Street. No: 12, 14, 16
I got to Darussaade, this time in June, by following a recommendation from the tutors of an Islamic art course that I was going to take in Istanbul. The Sultanahmet accommodation / Darussaade Hotel was only 10 minutes walking distance from the Istanbul Design Centre where the Islamic patterns class was going to be held for 5 days. Since a long time, I had this wish to visit Istanbul and also draw the houses, the streets, the busy life. The course and the traditional architecture hotel were exactly what I was looking for in terms of experiencing Islamic culture and tradition.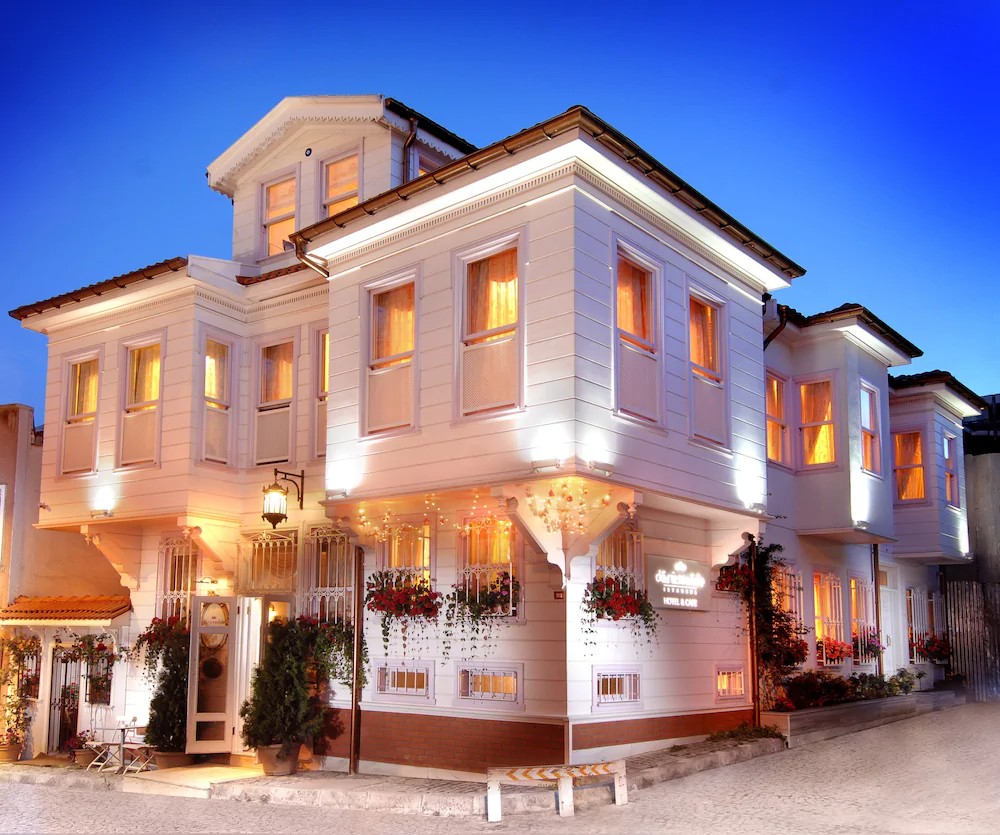 Hotel Darussaade proved itself to be a lovely hotel built in the traditional Turkish wooden style / Ottoman architecture. What I noticed, is that the real rooms look almost exactly as the ones in the pictures in terms of interior decoration. Which is pretty great. With one exception – they are much smaller than they appear on the internet, a hardly noticeable fish eye effect. But even so the tiny tidy rooms give a sense of privacy and protection. I chose a double room for my 5 nights stay as all single rooms were all occupied. The only thing missing was a nightstand as the bed was really close to the window and the closet.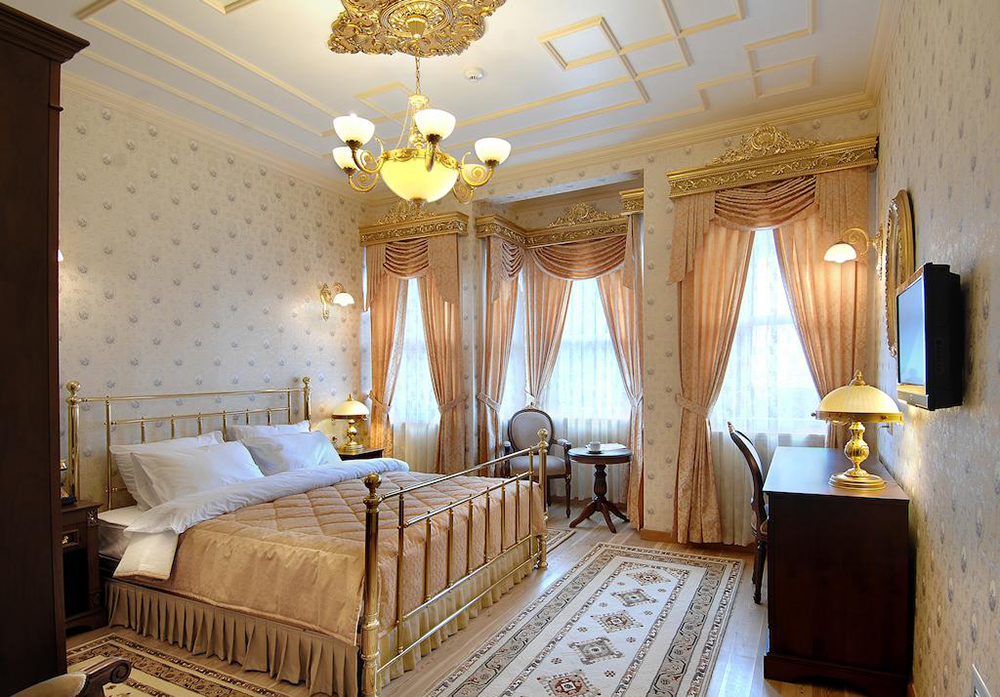 The rooms from first floor have a small console area, which is a bit shifted so all have a view of the busy street. When you look out the window you feel part of the lively Istanbul – lots of people walking, trying to sell their services or products. Love that buzz!!
'Darussaade Hotel Breakfast'
For the breakfast, this Sultanahmet hotel has a pretty famous terrace on the top of the building, with a view to the Blue Mosque and Bosphorus. Saade Kahvalti, as the restaurant is called, is one of the best rated venues where you can have a traditional Turkish breakfast experience. They prepare each morning an open buffet with seasonal, fresh food, from local farmers. The selection is not big, but enough. Breakfast can be bought separately, if you plan to invite your friends from outside the hotel. The terrace is lovely also at night. The staff lets you go up as long you bring your own drink and food.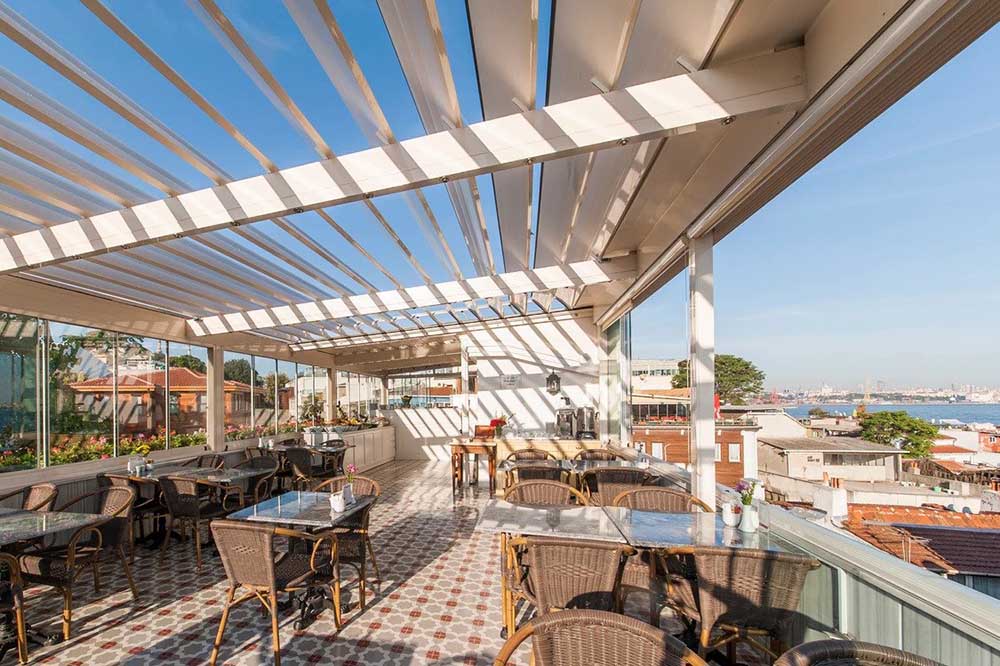 Pros:
Located in the heart of the city, just a few minutes away all cultural attractions.

Elevator for my huge luggage.

It has a beautiful terrace for breakfast, at the last floor. 

Free airport shuttle at arrival – a whole bus just for me!! And a very low charge for the same bus when heading back to the airport (around 20 TL).
"What-might-seem" Cons:
Tiny rooms

The view out of my window was to main street and people looked so close.  The street is a bit noisy, but, for me, this is the charm of Istanbul. 

The fact that you can't eat any other meal in the hotel, except the breakfast, is not very comforting. However, the hotel is surrounded by other restaurants and not the cheapest ones in Istanbul. Good part is that there are also many small stores where you can buy what you need.

Loved it for: The upper terrace from where, in the morning, you can watch the whole Istanbul shining in the sun while enjoying a Turkish traditional breakfast.
---
My Next Stop:

Hagia Sofia Mansions Istanbul, Curio Collection by Hilton
Location: Soğuk Çeşme Sk. No:6
This is one of the highest rated Istanbul Sultanahmet hotels, right in the heart of the old city, but also a bit more expensive than the first two.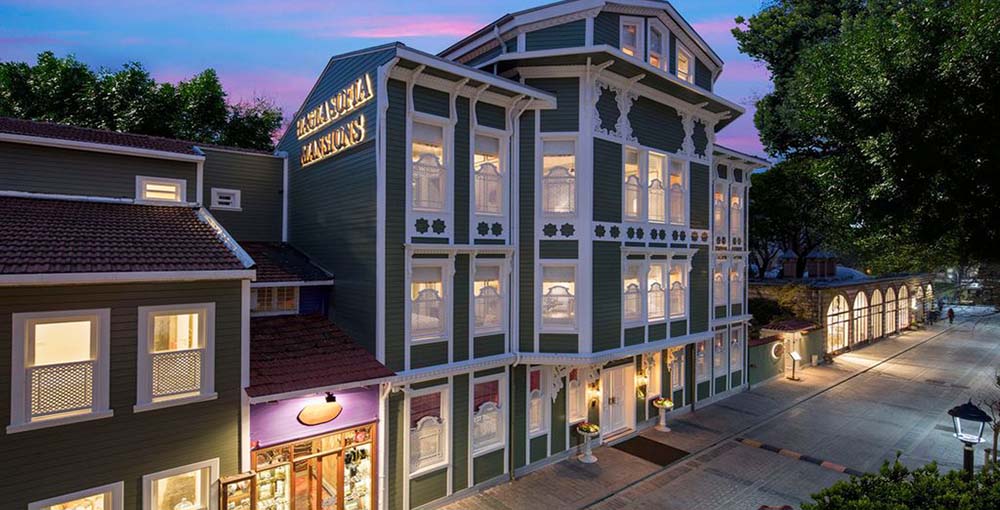 I spotted this hotel on a small, but crowded stone-paved street, that I used daily during my stay in Istanbul as a shortcut between the Topkapi Palace area and the Gülhane Park. From the outside, the hotel looked split into a few green buildings with separate entrances. And in front of each fairy tale house there was a smiling Turkish concierge. It is said that all these mansions were once used by high ranked officials of the ottoman empire.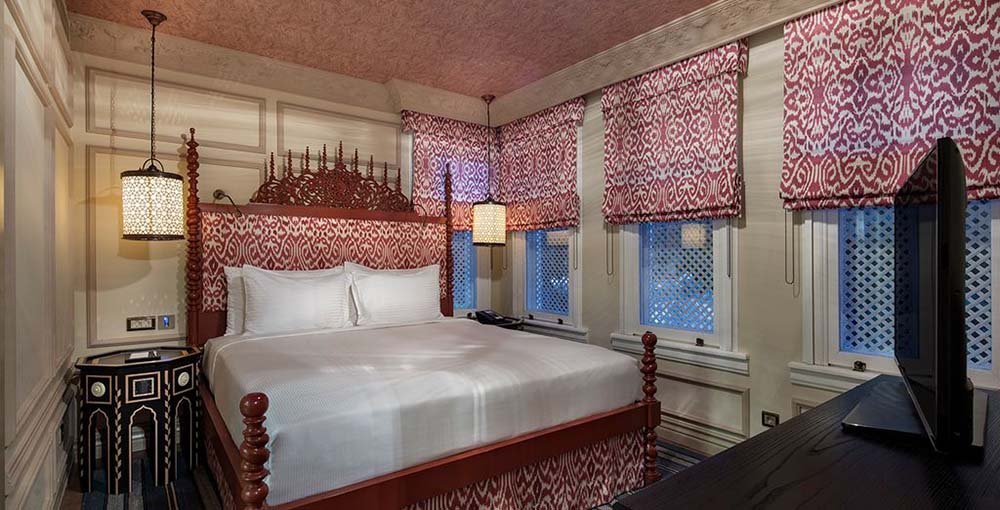 '

Why would I go there?' 
Because I've been reading all reviews and 99.9% are good. Especially since they renovated.
Because of the amazing location. Only a few-minutes walk from Topkapi and Hagia Sphia.
Because, every time I passed by, there was a concierge at the entrance of each small building. And that felt inviting.
Because of the design of the hotel which is absolutely spectacular, the ottoman style without any kitschy touch. Even the bathrooms are beautifully decorated to the smallest details.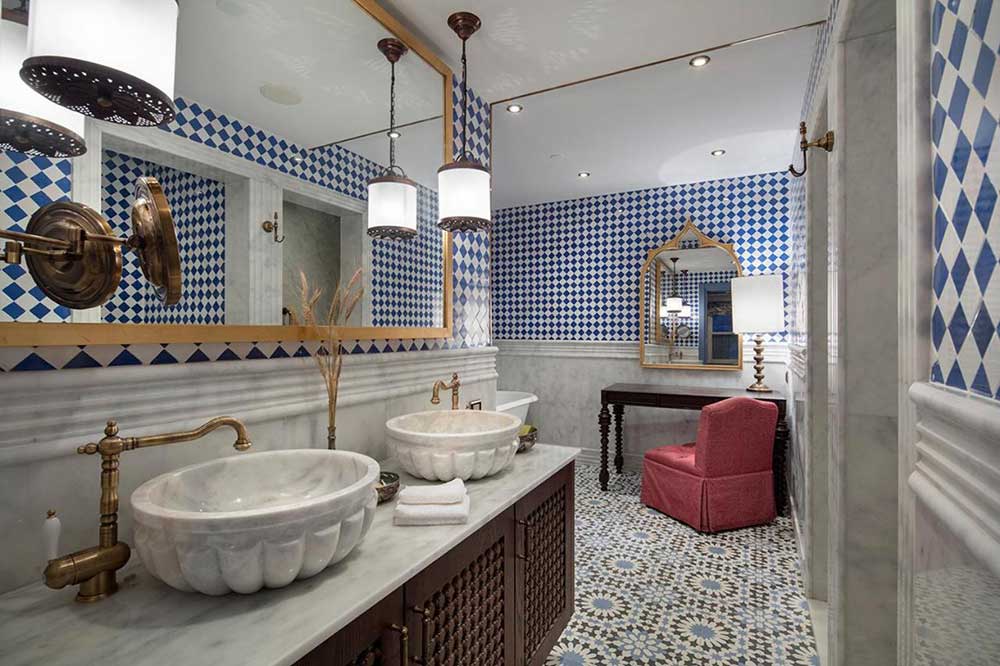 Because they have this wonderful spa and a restaurant inside a 1500-year old cistern.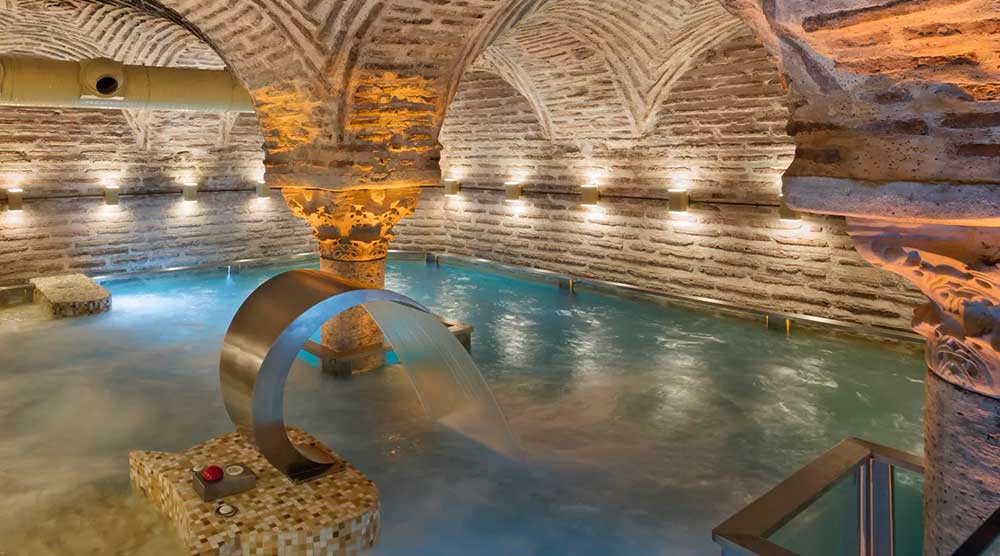 Because even if is is luxurious, the hotel still has accessible prices per night.
Because my purpose is to upgrade the level of the accommodation each time I go. And have a new, possibly better experience compared to the previous ones.

This is not a paid article. None of the hotels above have sponsored any piece of this content. It describes accurately my experience. And I am honestly enthusiastic about Hagia Sofia Mansions (if you have been there, it would be nice to know more). Instead, I am using affiliate links from which I might earn a small percentage if you make a purchase (without any extra fee from your side). I do hope you enjoy Istanbul as much as I do, each time.
Tips & Tricks: If you've already booked a hotel for 2-3 days in the middle of all this cultural richness and you have no idea where to start from with your sightseeing, you can either take a Hop-on Hop-off buss that will give you a sense of the city, enjoy a private tour to the most important architectural masterpieces or go directly to the marvelous and well-known Hagia Sophia.