French Riviera Luxury: THE Candy Shop in Nice That Makes Your Eyes Pop Out
Going for some luxury shopping in the French Riviera this year? In your place, I would stop thinking about fashion and skip directly to the best of sweets & fragrances that Nice area has to offer: Fragonard perfumes and the exotic flower petals chocolate.
---
Welcome to the real glitz and glamour of Côte d'Azur: the French candy shops!
Sweet Postcards from Nice
I was sitting at my desk today and saw on my inspiration panel some EXTREMELY SWEET postcards, reminding me of a visit to a lovely little confiserie in Nice. Never wrote about it. But now my eyes sparkle at the sight of that rose & raspberry flavor macaroni terrine. And I am almost drooling. So maybe this is the time to FINALLY do it! Speak about probably the best French candy variety ever!!
Disclosure: This article might contain affiliate links. If you make a purchase after clicking one of these links, I earn a small commission from that website at no extra cost to you. Learn more: Disclosure policy.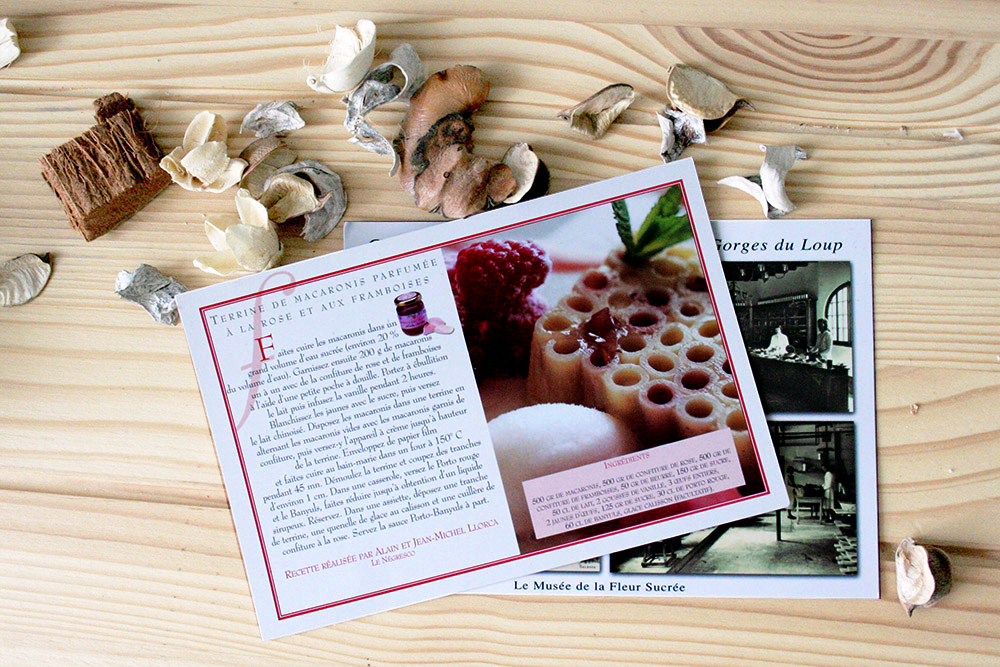 I am not a "des bonbons" person. I rarely buy a really, really small, milk chocolate when I start feeling I can't breath without something sweet. Most likely when the sugar level of my interior monster is probably so low that awakens my forgotten human senses. But this place I am going to talk about is one-of-a-kind French Riviera gem – one of those not so over commented landmarks, but more like an intimate, soul touching space setting an irreversible mark on your memory. And stomach, let's not forget it!
Confiserie Florian
Famous for their rose petals sweets (confits de pétales de roses), Confiserie Florian act as a lovely little candy shop in Nice, France and an amazing factory in Pont-du-Loup. For almost one century, they have been giving an exotic taste to chocolate. ONE HUNDRED YEARS!! One hundred years in which they developed a huge variety of traditionally made sweets and chocolates of so so many exquisite flavors: chocolate coated candied ginger, lemon jam, vervene dark chocolate (might keep some creepy creatures away, if we think about Vampire Diaries!!!), crystallized flower petals, fig confiture and so much more. If you like violets, they have something for you too.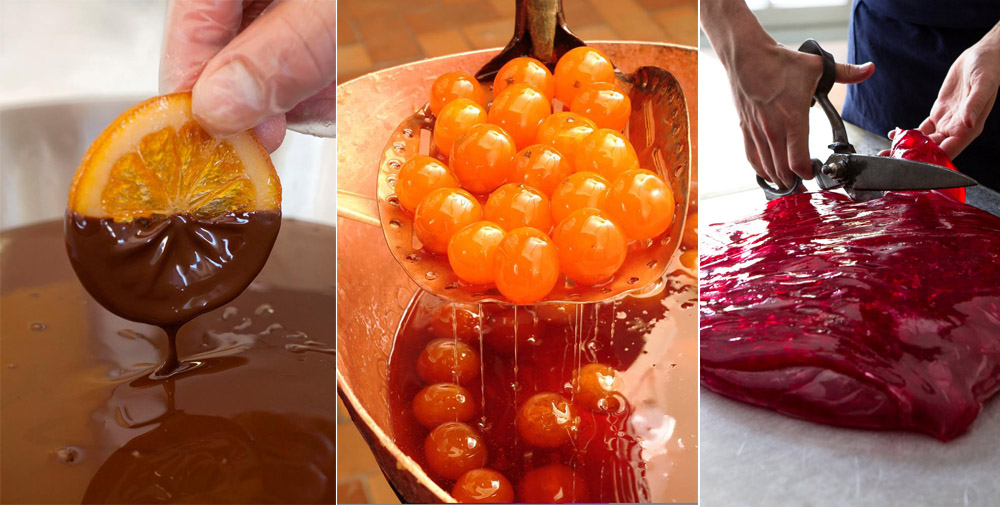 Their sugary goodies offer varies depending on the season. Summer is for the delicious crystallized flowers and syrups, while winter is dedicated to citrus jams, oranges covered in chocolate and candied fruits. All year round, you can watch them preparing homemade chocolates and caramels.
They magically transform all kinds of flowers and fruits: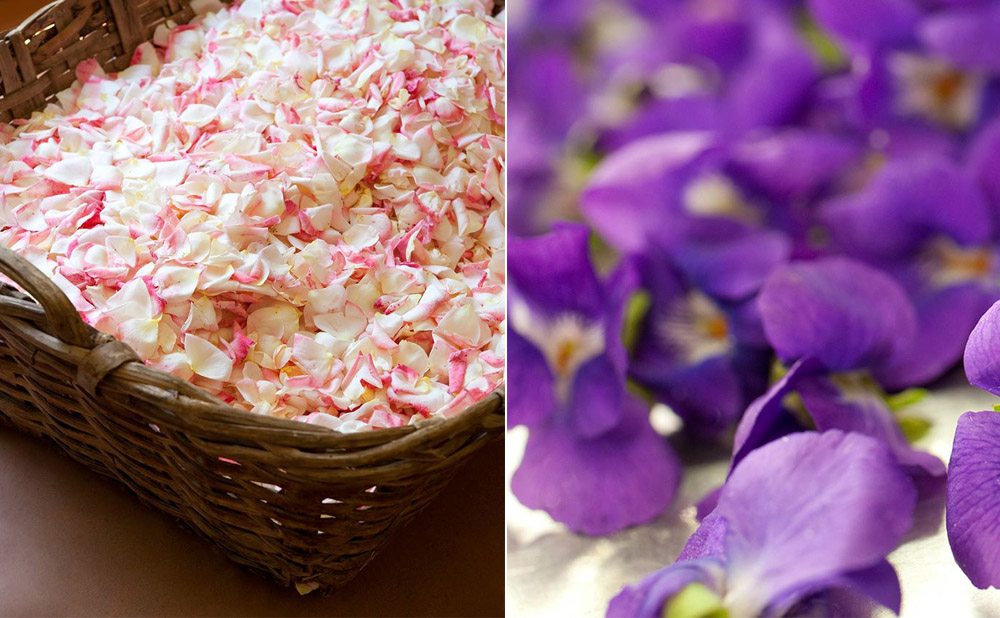 into such beautiful confectionery products: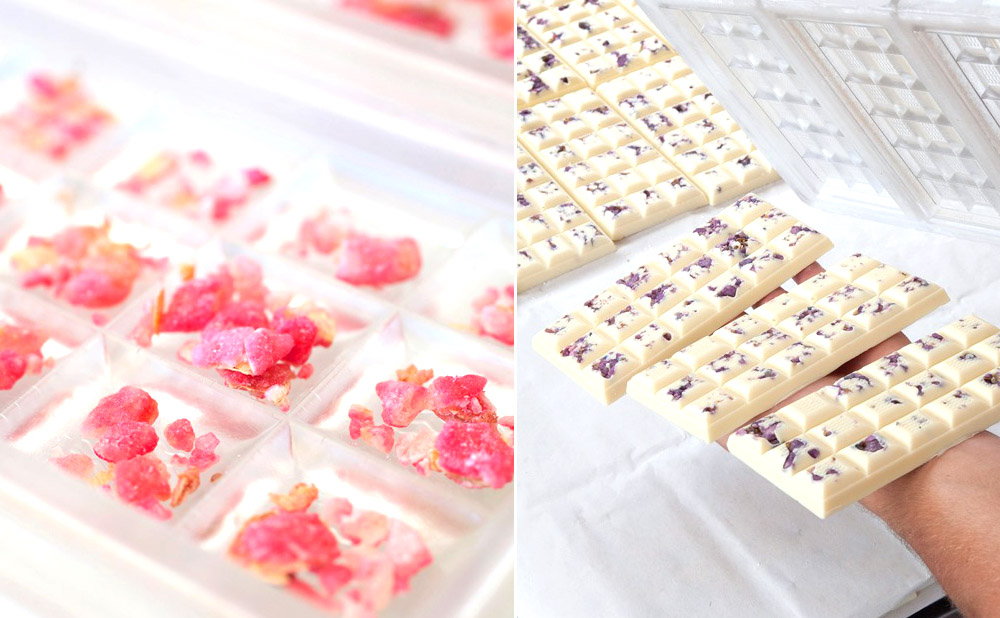 Origins of the French Candy Store
The origins of these extremely delicate sweets are rooted in the world of the extravagant French fragrances.
It all begins in 1918, with Eugène Fuchs, the president of Perfumers Union & founder of Fragonard perfumes company (one of the oldest in Grasse – Côte d'Azur) and a 19th century flour mill in Pont-du-Loup. Apparently without connection.
In 1921, a Chocolaterie Florian was being opened in Nice harbor, having the famous Matisse as on of their most enthusiastic customers, while an ancient Pont-du-Loup building was ready to become a perfume factory no later than six years. Both of them, secretly preparing to charm many generations of gourmets. In 1949, Georges, son of Eugene, a truly visionary, transformed Pont-du-Loup building in "Confiserie des Gorges du Loup" – a workshop for candied fruit and jam with a store up front. And in 1974, the old Chocolate Store Florian became "Confiserie de Vieux Nice".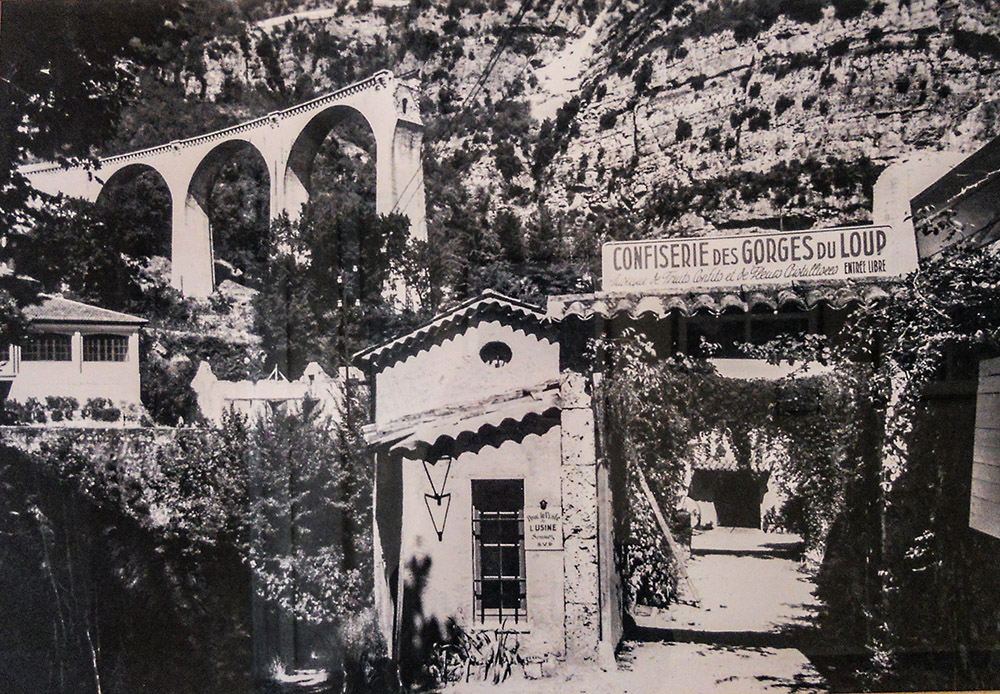 Today, the two belong to Frederic and Sandrine Fuchs, great-grandchildren of Eugène and I must admit that their Confiserie Florian and the sweets factory are like a culinary paradise for the gourmet and non-gourmet, to the same extent:
plenty of candy and chocolate samples to help you decide what you to take home with you;
tasty syrups ideal for flavoring your cocktails with rose, mimosa, violet or even poppy;
different jams to prepare some of the most famous cake recipies & spectacular dishes;
exclusive tours into the world of candy makers and candied specialties. Tour hours.
One Sweet Recipe
This is the recipe from my beautiful postcard (to be used with their jams):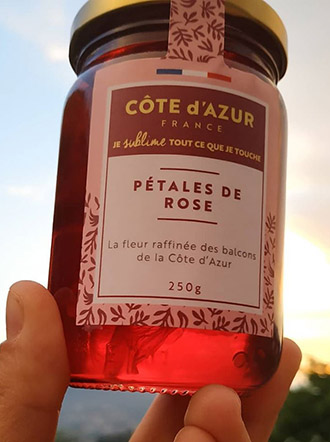 Confiserie Florian Recipe:
Macaroni Terrine With Rose and Raspberry Flavor
– belonging to Alain & Jean-Michel Llorca / Le Negresco –
Ingredients: 500 grams macaroni, 500 grams rose jam, 50 grams butter, 150 grams sugar, 500 grams raspberry jam, 50 ml milk, 2 pods of vanilla, 3 whole eggs, 2 yolks, 125 grams sugar, 30 ml of wine / porto rouge, 60 ml of wine / banyuls, Calisson ice-cream (optional)
Cook the macaroni in a large volume of water with 20% sugar content. Then garnish 200 g of macaroni, one by one, with rose and raspberry jam using a small pastry bag. Boil the milk & infuse the vanilla for 2 hours in it.
Mix the yolks and the sugar and then pour the milk. Place the macaroni in a terrine by alternating the empty ones with the garnished ones. Then pour the cream into it until you fill the terrine. Wrap it up with food paper and cook in a bain marie in an oven heated at 150 °C / 302°F for 45 minutes. Unmold the terrine and cut 1 cm slices. Pour the both wines in a pan and reduce until you get a syrupy liquid. Set aside. On a plate, put a slice from the terrine, one ice cream dumpling and a spoon of rose jam. Serve it with Porto-Banyuls on the side.
Sadly, I did not get too many pictures on my own, because at that time I visited I wasn't enjoying sharing. Keeping a secret of all my steps… So most of the pictures come from Confiserie Florian website and Facebook page. I couldn't help stealing the ones taken by Mark Pelissier. ♡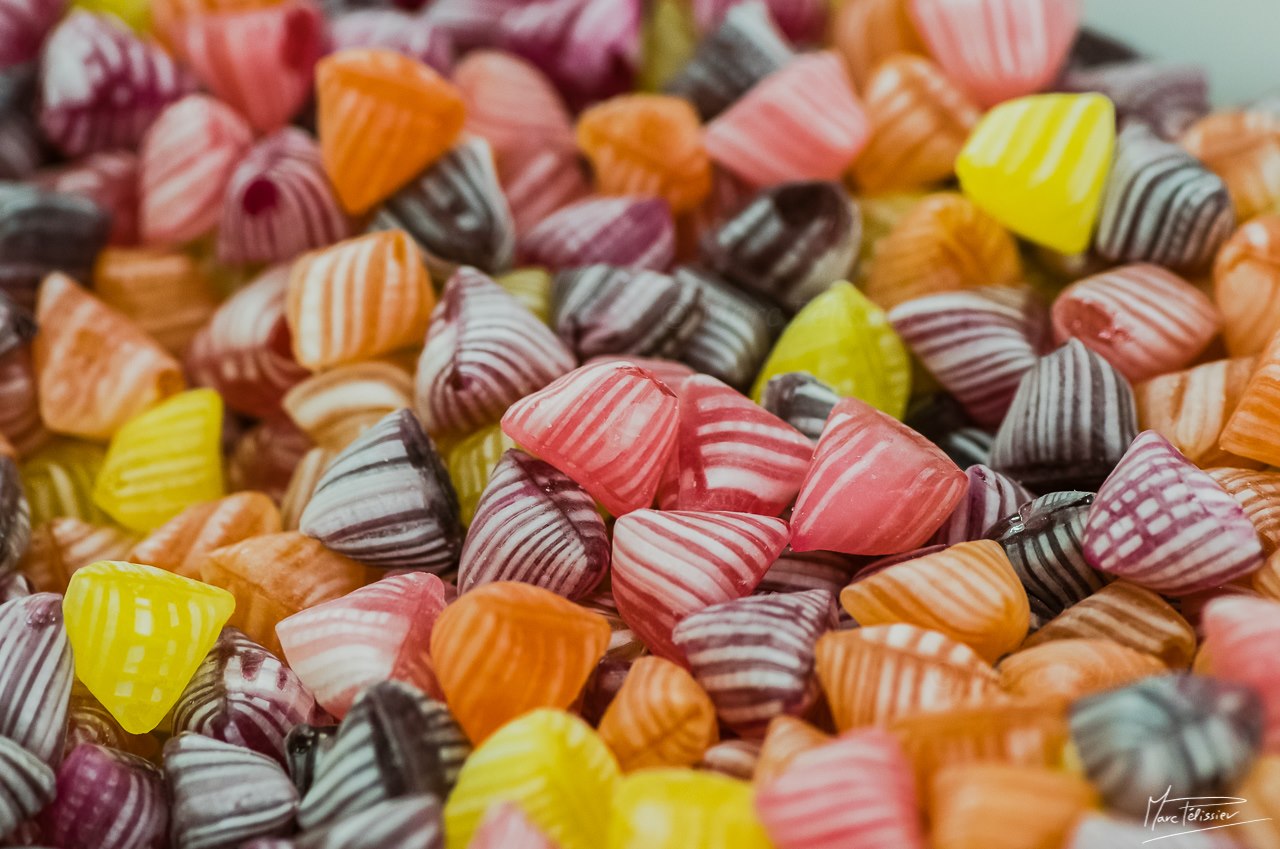 But all my beautiful memories still belong to me.
The smell, the colorful sight, those postcards. The true luxury of the French Riviera lies in the traditions and its power to charm your senses with authentic stores, food and scents.
Location of the Sweets Store in Nice
I could look at their pictures all day long and never get tired. I could get into their store, dip heavily my hands in their colorful sweets and be taken out only by force. Sleep with my head on their candies maybe?!?! This is too much, even for me… I know!
If you plan to visit Cote d'Azur, DO NOT SKIP THIS charming French candy store! We are talking about tradition and sweets and history floating all around, in and out the most refined chocolate.
Find Confiserie Florian here:
Do More of Nice
If you're in Nice and have plenty of time left after visiting the lovely French candy shop, you can always combine your experience with other amazing workshops or tours. You can craft your own perfume at Maison Molinard in Nice. They are around since 1849!  Or experience the Old Nice with a gourmet tour, 4 hours filled with local goodies: wine, cheese, pastries, candies.
There is also the Old Town and Castle Hill Guided Cultural Walking Tour with a stop at a flower market where you can get even deeper into local culture and French delicacies! Or get out of Nice to the scenic Provence and enjoy a tasting session at Saint Jeannet winery.
Nice is definitely the gate to most exquisite things French Riviera has to offer!