THE Marble Mountains Day Trip Guide No One Should Miss
A guide to exploring the magnificent peaks and lush forests of the Marble Mountains. From ancient Buddhist temples and secret caves brimming with Vietnamese art to extraordinary hikes in one of the most unusual natural settings, Marble Mountains is a must-do day trip.
Actually, the story of visiting Marble Mountains goes like this.
You find yourself standing before these solid-stone cut stairs nestled in a quaint, little village in the heart of Vietnam. Seems like a pretty steep hike. And you have actually no idea where that will lead you. Or how far.
You've probably read countless guides about the Marble Mountains while preparing what is supposed to be an epic trip to Vietnam. And you obviously suspect you will sneak into a cave or two, checklist some temples and local art. And you've heard there will be great views form the top. But you can't actually understand what above the clouds of Da Nang feels like.
Reality of this Vietnamese iconic place is far greater than the pictures. Or words.
Disclosure: This article contains affiliate links. If you make a purchase after clicking one of these links, I earn a small commission from that website at no extra cost to you. Learn more: Disclosure policy.
Planning a Day Trip to Marble Mountains
📌

Gate 1 Access:

Hòn Thủy Sơn, Hoà Hải, Ngũ Hành Sơn, Đà Nẵng 550000, Vietnam (Google Maps);
📌

Gate 2 Access (recommended):

2737+7QJ, Hoà Hải, Ngũ Hành Sơn  (Google Maps);
🎟️

Marble Mountains Entrance Fee:

40,000 VND / person

; plus

15,000 VND for elevator service

; 

🎟️

Am Phu Cave Entrance Fee:

20,000 VND / person;

⏰

Opening Hours:

Mon.-Sun.: 07:00 am to 05:00pm

🛑

Know before you go:

Not accessible for people with walking difficulties or wheelchairs.
Why Visit?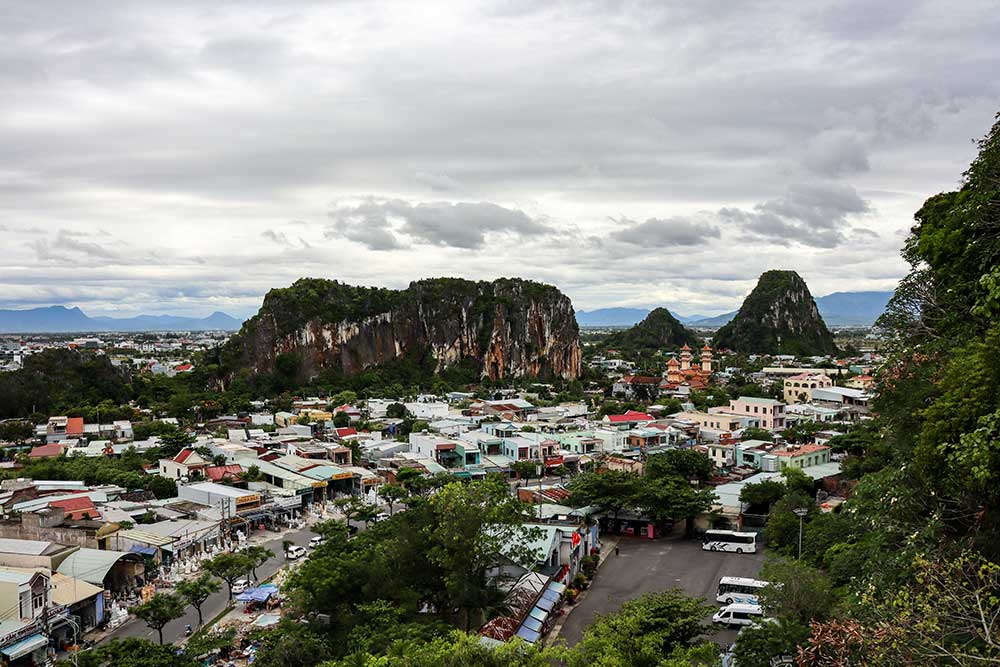 Marble Mountains & Non Nuoc Stone Craft Village, Copyright © Cooltourismical.com
Marble Mountains (Ngu Hanh Son) is a cluster of five unusual limestone and marble green peaks, dramatically rising from the flat landscape of a 200-year-old settlement. Completely surrounded by the Non Nuoc Stone craft village, home of ancient stone factories and marble sculptures shops, the hills dominate from afar the coastal area of East Vietnam Sea.
This is one of the most popular day trips from Da Nang, as the Marble Mountains can be found only 9 km away. And they are not just a tourist destination, but also a pilgrimage site.
Marble Mountains unravel themselves as a combination of natural wonders, spiritual setting and architectural masterpieces, Buddhist shrines and pagodas that blend in harmony with the an over-the-clouds backdrop. Perfect environment to spend a day out of Da Nang looking for peace and views at the top or searching for mysteries hidden inside the deepest grottos.
Hiking on Thuy Son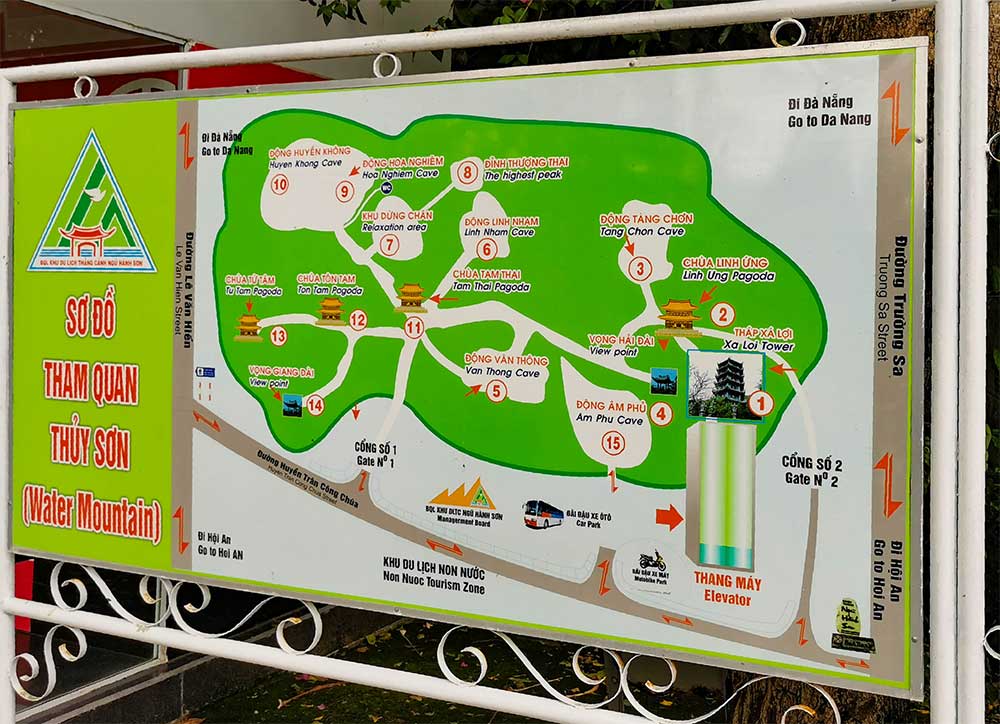 Thuy Son / Marble Mountains Map, Copyright © Cooltourismical.com
Each of the 5 hills has been named after one of the 5 elements. Thuy Son (water), Moc Son (wood), Hoa Son (fire), Kim Son (metal) and Tho Son (earth). Out of the five, the most visited and easiest to access is the Water Mountain.
The best place to start hiking on Thuy Son (Water Mountain) is at Gate 2. This entry point is conveniently located in close proximity to the parking area for motorbikes and cars. And from here you can take the elevator to reach the first landmark. From the upper platform, you can follow the wooden signs to guide you further.
If you want to climb the stairs rather than getting on the elevator, then head over to Gate 1.  Still, I suggest the first option, because there's a lot more climbing to do after the first 108 stone steps.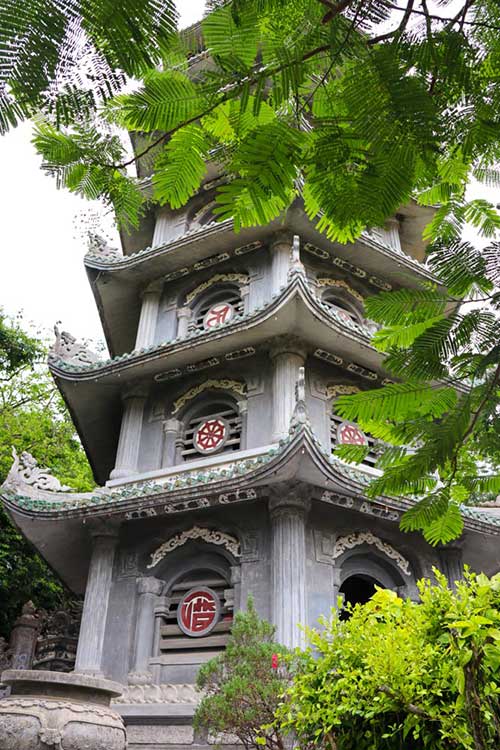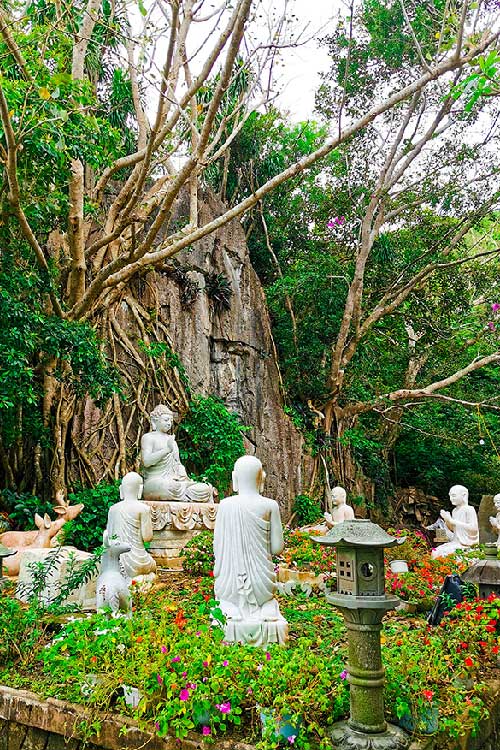 Xa Loi Tower & Garden, Copyright © Cooltourismical.com
When you've already reached the first level of Marble Mountains, as you turn your eyes from the stunning panorama, you will find yourself standing in front of the beautiful Xa Loi Pagoda. A greyish tower, 28-meter high, surrounded by greenery and Buddha statues.
Its architecture embodies the core spiritual beliefs and values of Buddhism.
The structure, with seven floors covered in green tiles and guarded at the edges by small, white dragons, serves as an expression of basic human emotions, namely happiness, anger, love, resentment, greediness, hatred, and delusion. In addition, the six sides of the tower represent the five human senses of taste, smell, vision, hearing, touch, plus a sixth one, the intuition.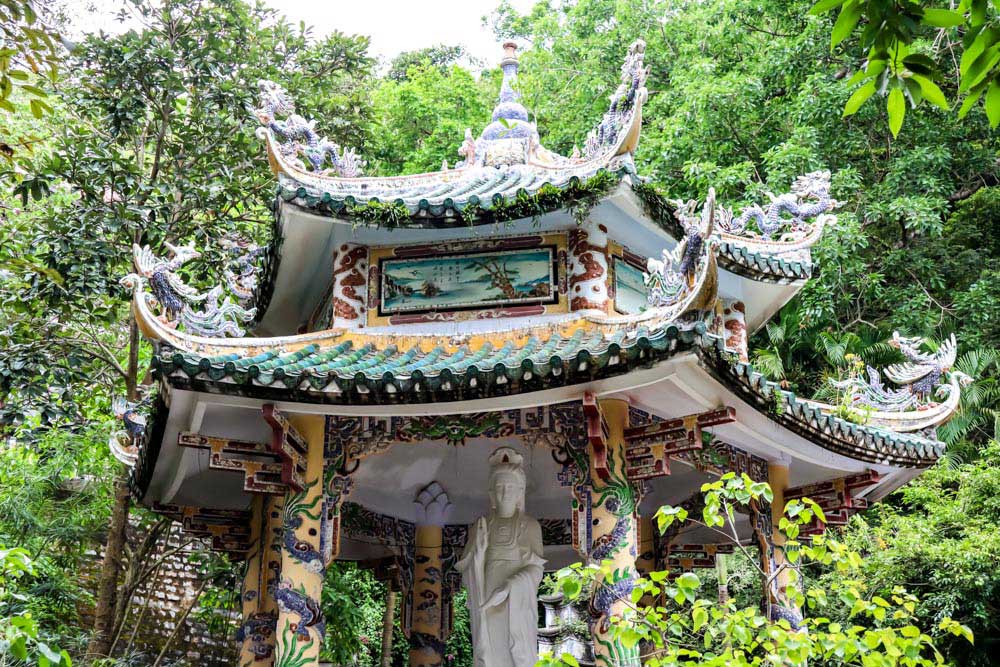 Lady Buddha Pavilion, Copyright © Cooltourismical.com
A short walk down the stairs nearby will take you to Linh Ung ("wishes answered miraculously") Pagoda, one of the three holiest in Da Nang. And the oldest of them, dating back to the 19th century.  First place on this mountain to have ever had a Buddhist practicing monk. The name of the pagoda was given by the the 10th king of the Nguyen Dynasty, Thanh Thai.
Brightly-painted and decorated in the indisputable Nguyen-style, the two shrines, a main prayer hall (where Buddhas of the Three Times are worshiped) and a lovely Lady Buddha pavilion, stand on a terrace overlooking the sea. They are surrounded by a carp pond, ancient monk stupas, blossoming peach and orange trees. A dream-like scene in the shadow a 600 year old Banyan Tree.
From the roof, stone dragons and phoenixes try, with no chance at all, to take flight.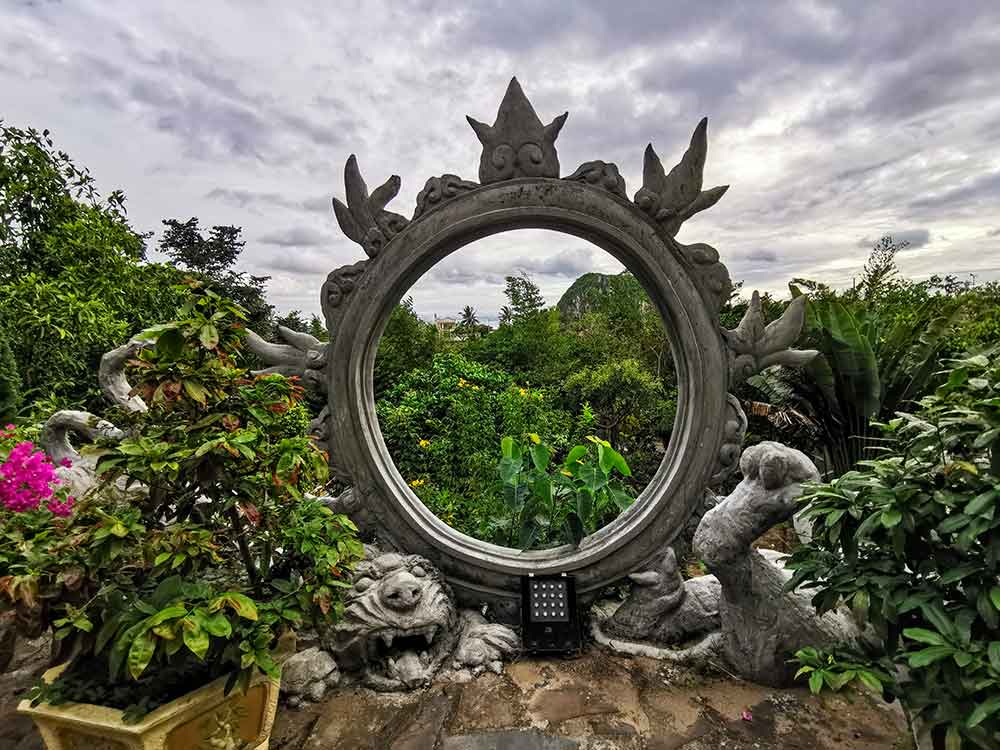 Unmarked Marble Mountains Observation Point (Location), Copyright © Cooltourismical.com
Now let me tell you about the breathtaking viewpoints in the Marble Mountains. While the map only marks two of them, there are actually multiple spots to catch stunning views.
Personally, my favorite spot is the one in the picture and it does not show on the map. It's a hidden gem that you can only find by going down the mountains through the almost secret stairs of Tu Tam Pagoda, which is the last landmark on the western side of the mountain.
Additionally, the two viewpoints marked on the map are also worth checking. One of them is located near Linh Ung Pagoda on the eastern side of Thuy Son Mountains, offering a spectacular view of the sea. While the other one is on the southwestern side and overlooks the charming artisan village nearby. Both have beautifully decorated pavilions.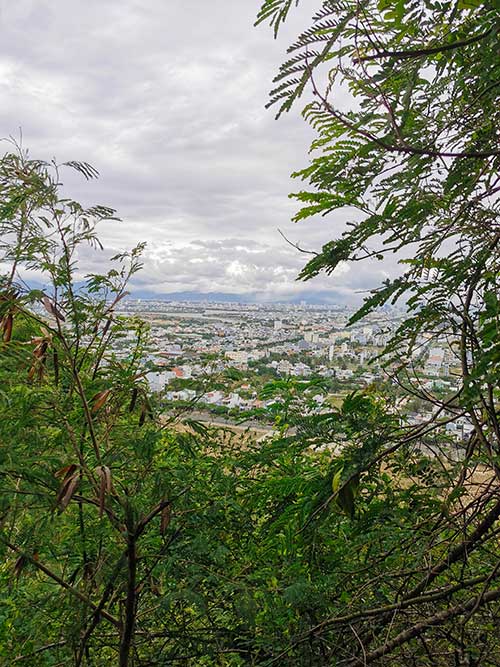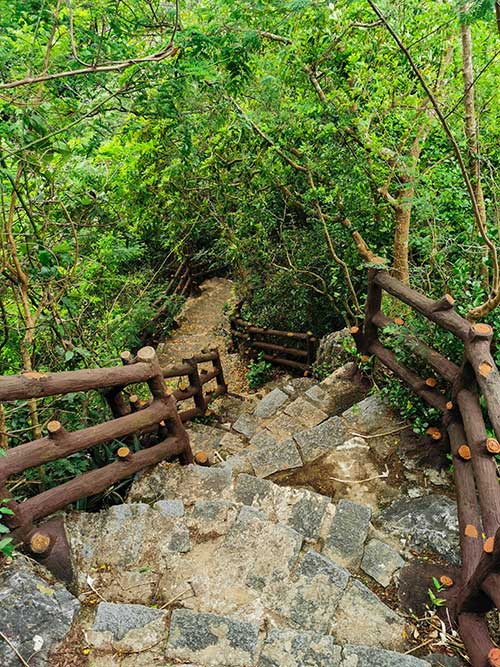 Highest Peak of Marble Mountains, Copyright © Cooltourismical.com
Well, there is a top of Thuy Son, right above the clouds, with these completely marvellous views.
Some 300 stairs, sculpted in stone, are going up through the lush forest, making this feel like an endless hike. Everything around is green and it's hard to get a peek of anything outside the forest. The last 30 stairs or so are even harder to climb. But, most probably, you will have the whole peak for yourself only, as not many have the courage and the strength to venture that high.
A must-do for any first-time visitor to Vietnams' Da Nang is climbing the steps to the top of the Marble Mountains, where they can enjoy spectacular views across Non Nuoc Beach or My Khe Beach.
Exploring the Grotto Temples
Considering all its spiritual hidden spots, the Marble Mountains, and especially Thuy Son, are literally a paradise for small caves. There are ancient statues of deities, kings, and guardians from both Nguyen Dynasty and Cham Pa civilization, all nestled inside marble and limestone grottoes. Natural wonders filled with sunlight pouring in from the top amidst greenery, building up a completely rare sight. Theatrical and mystical.
And this whole scenography makes you, the visitor, feel small, humble, curious. In the bare hands of Mother Nature.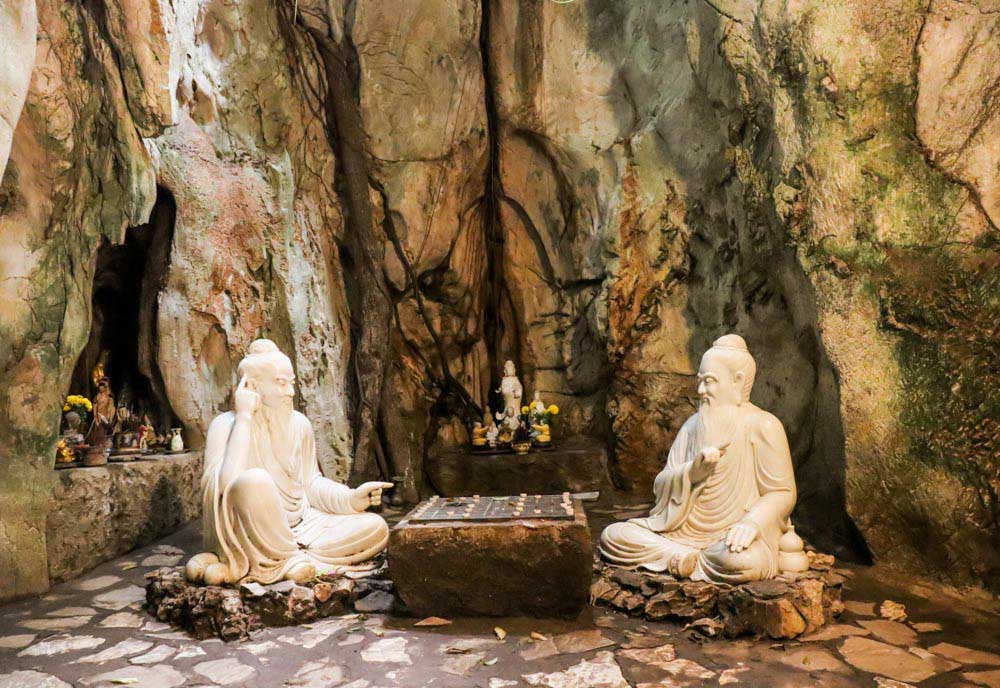 Ban Co Grotto inside Tang Chon Cave, Marble Mountains, Copyright © Cooltourismical.com
This is the first one of a series of mysterious, cool cave temples, covered in moss and hanging jungle plants. In fact, Tang Chon itself is made up of multiple interconnected grottoes, all reminding of the 12th century Cham people and the immortal Gods they used to venerate.
Right behind the Linh Ung Pagoda, the labyrinthic road directs you through under naturally-formed stone arches, into the heart of the mountain. There, inside the Tang Chon Cave, two marble mandarins are frozen into a game of chess. Just meters away from them, a Shakyamuni Buddha which has replaced the old Cham Pa Gods, is thoroughly guarded by lively coloured, monstrous deities.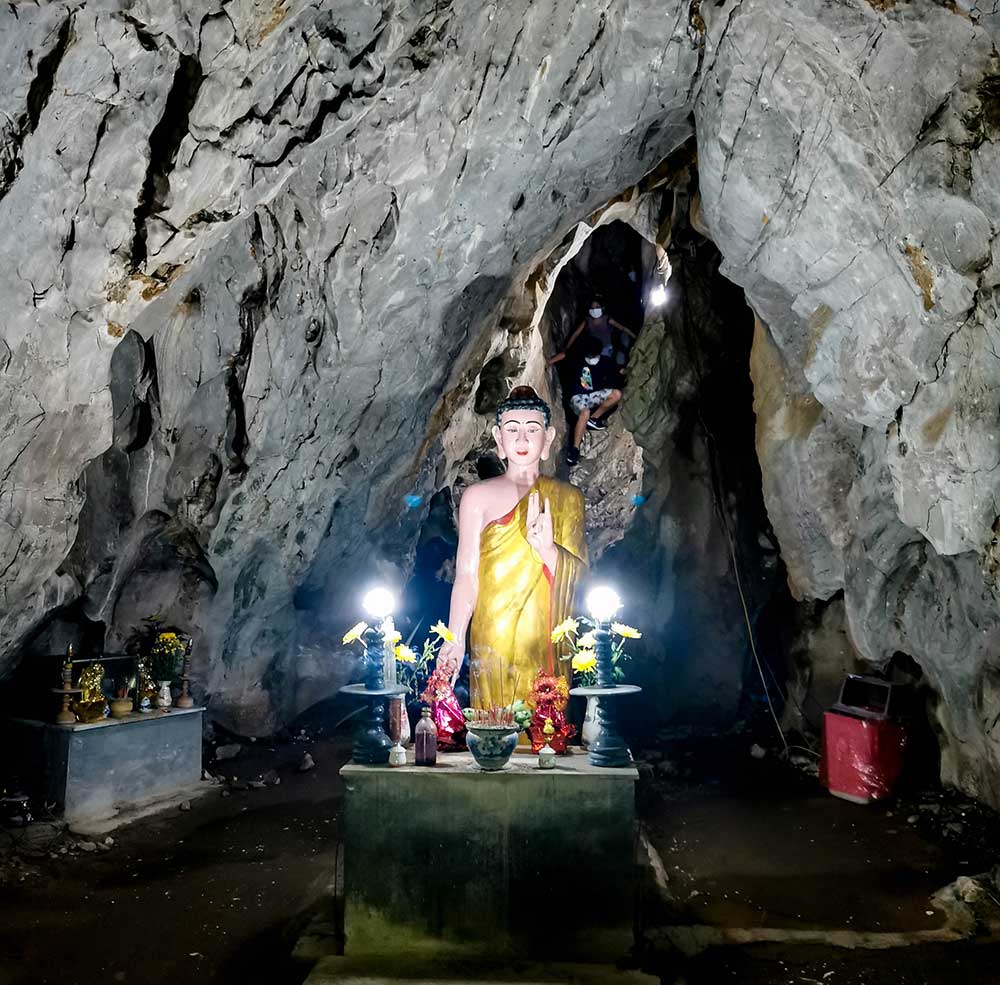 Buddha Shrine inside Van Thong Cave, Marble Mountains, Copyright © Cooltourismical.com
Van Thong Cave sits atop a tall cliff and it's quite unique due to the marble path at the back, just behind the shiny Buddha statue. This path goes up to the so called Heaven Gate, an opening in the mountain offering a breathtaking and picturesque view of the Non Nuoc sea and the surrounding area. It is quite challenging, but still worth it.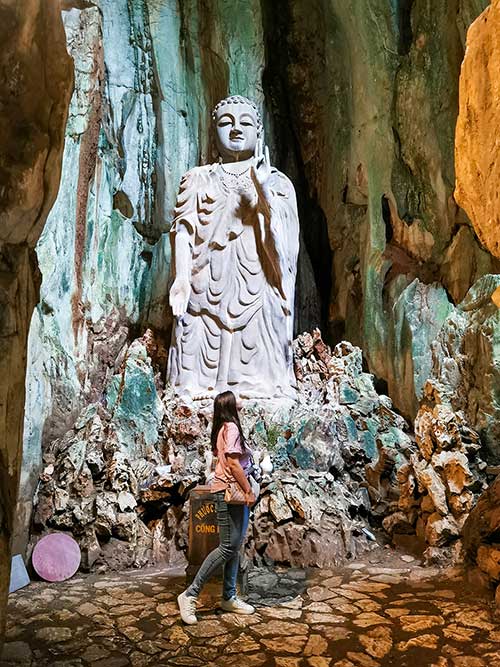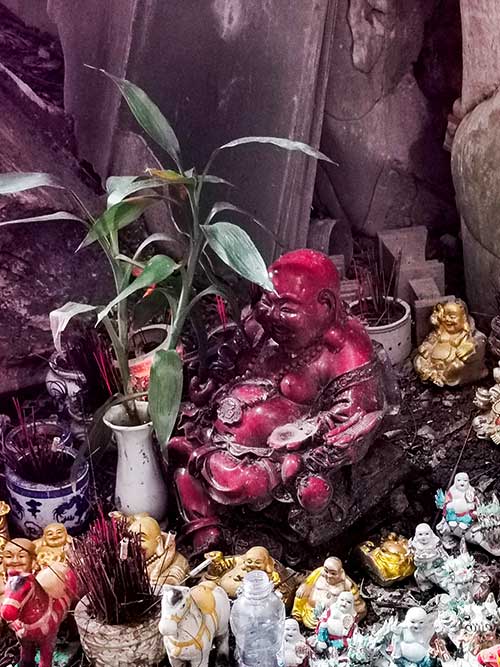 Linh Nham Cave – God of Heaven Sculpture, Copyright © Cooltourismical.com
The small Linh Nham Cave is home to an altar made for the God of Heaven. Not much to see around. Still, in one corner of the cave, among stones, you'll find numerous tiny horse-shaped and Buddha statues, all tightly clustered together. A bright and vivid detail contrasting against the stone.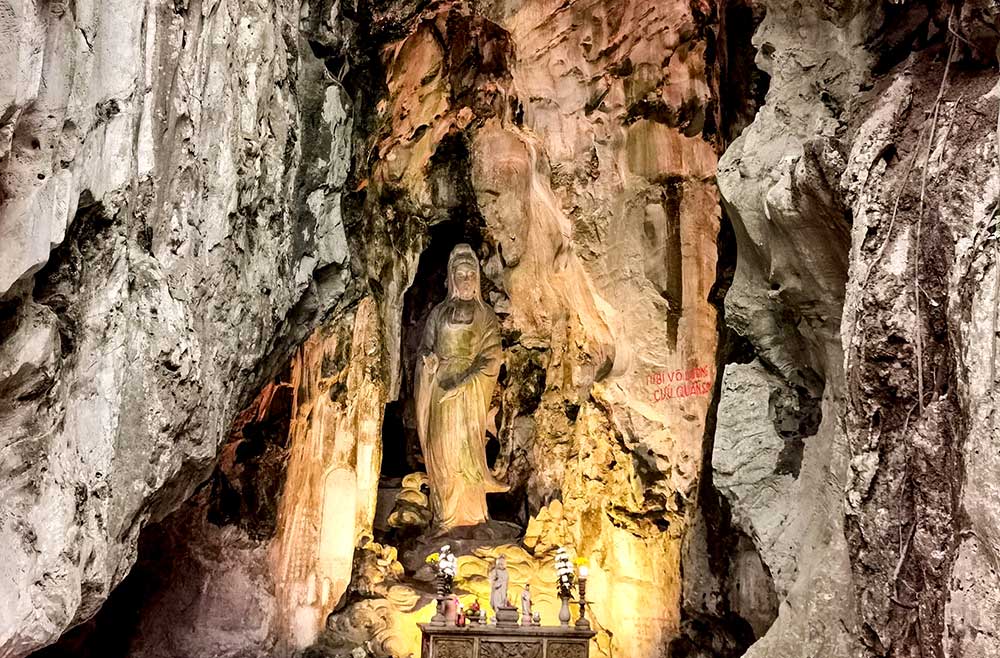 Lady Buddha Cave Marble Mountains in Vietnam, Copyright © Cooltourismical.com
The Hoa Nghiem Cave is a smaller, yet significant grotto, known for its remarkable carving of Quan Am Thi Kinh, also referred to as the "Female Buddha" or Goddess of Mercy. The statue is carved in the mountain stone and considered to be hundreds of years old.
This one is found right next to the most beautiful and biggest of all: Huyen Khong Cave.
Huyen Khong Sanctuary Cave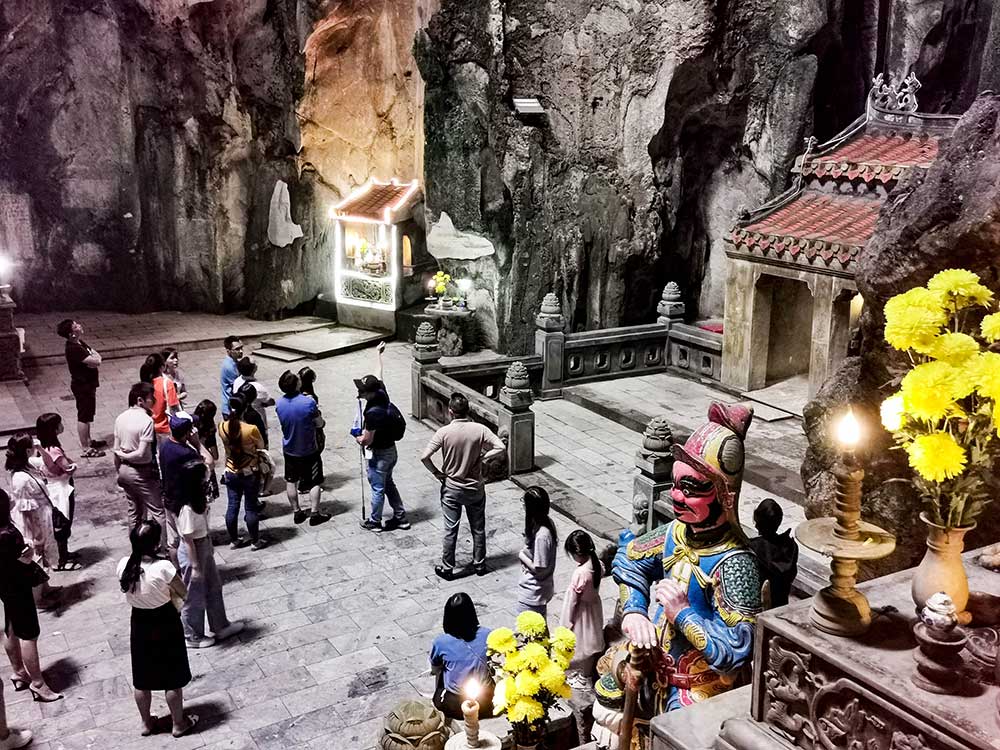 Huyen Khong Cave, Copyright © Cooltourismical.com
Most beautiful and airy of them all, Huyen Khong Cave is an age-old sanctuary watched over by a towering 3-meter-tall statue of Buddha.
On the left and right sides of the cave, dwell colourful deities along with some small shrines dedicated to Ngoc Phi, who is believed to bring prosperity, and Loi Phi, who is associated with good health. But especially to the right, there is also the charming ancient Trang Nghiem Tu temple beautifully ornated, bearing the atmosphere of an old Vietnamese house.
During the day, beams of light fall down from the open ceiling through hanging trees and drooping vegetation, on the caramel rugged stone walls. At this time, the stairs leading down into the heart of the bell-shaped cave are nothing less than a gateway to a surreal realm.
During the Vietnamese war, the army used this cave as a hideout to devise tactics, train troops, and provide medical aid to wounded soldiers.
Tam Thai, Ton Tam & Tu Tam Pagodas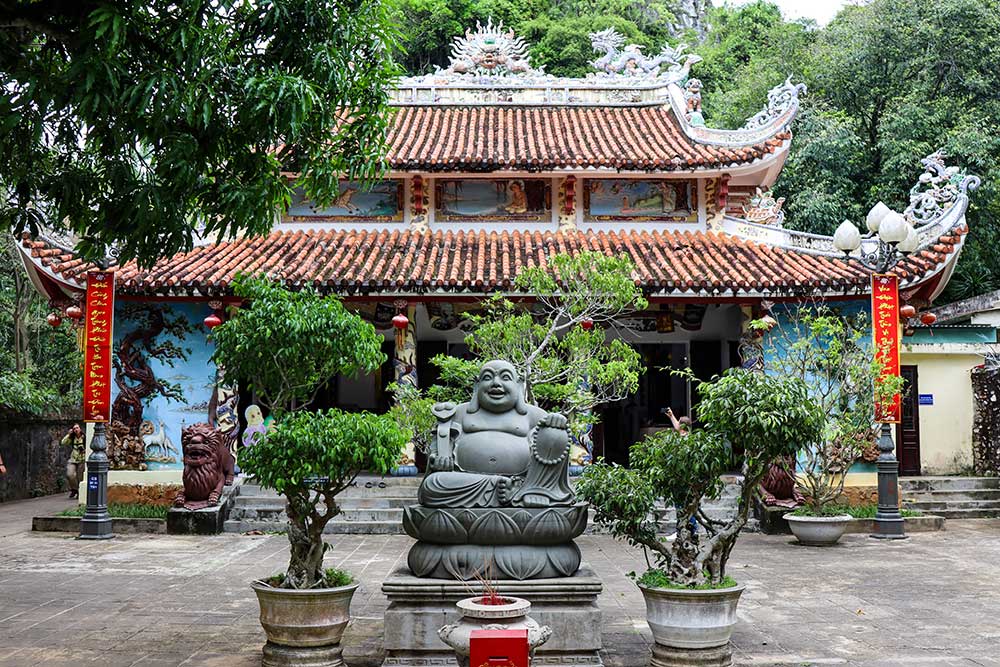 Tam Thai Pagoda, Copyright © Cooltourismical.com
After you've finished exploring the hidden parts of the mountain, you'll come across three beautiful pagodas on your way down.
The first of these, Tam Thai, is where visitors can participate in the Buddha's ceremony alongside the monks who have led the location for 12 generations. Ton Tam, the second pagoda, is home for the monks from Tam Thai and has seven Buddha statues inside, while outside, there is a pavilion overlooking the river. Tu Tam Pagoda (Grinding Dragon), the final stop, dates back to the 15th century and has undergone several renovations over the years, serving as a site for prayer and education.
Out of all the serene spots on the mountain, this is one of my favorites. Blossoming frangipani and poinciana trees surround all three pagodas, and their golden statues glisten in the sun.
"Building pagodas, sculpting statues, casting bells 🔔. These three virtues should be done in the ten directions." – Tu Tam Co Tu, January 2020
Am Phu Cave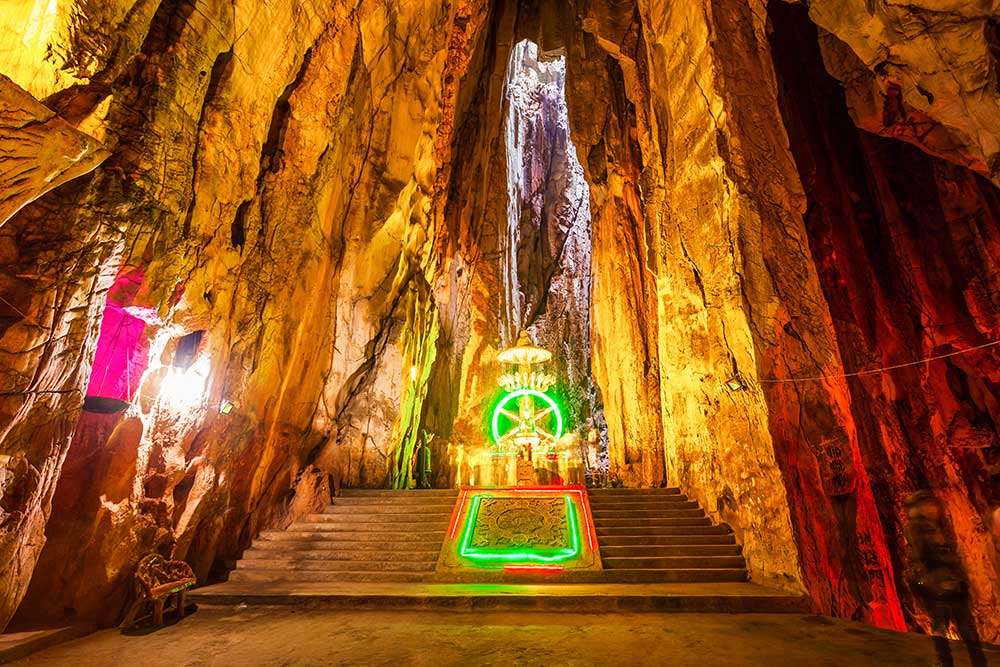 Located at the foot of the mountain and extending deep into the Earth, is the immense and infamous Am Phu cave.  This is a recreation of Buddhist hell, where sinners confess their crimes, undergo punishments, and aspire to reach heaven's light.
The cave's route is a scary one as the natural stone walkways are embellished with eerie and bizarre statues.  That includes scattered demons, monsters, and punishments symbol sculptures. For me, it was fun and daunting at the same time, as all decorations were giving the impression that they are waiting to devour one's soul.
You will have to cross a bridge, pass by a shrine, and climb a steep staircase – a final step towards the light, all amidst an overpowering incense fragrance.
Getting to & Around Marble Mountains
You can get to Marble Mountains by taxi or Grab.
Taking a taxi or Grab (a Southeast Asian version of Uber) is undoubtedly the most comfortable way to reach Marble Mountains, with a travel time of only 20 minutes. However, it's also the most expensive option, as we had to pay around 350,000 VND for a round trip. Renting a bike is a more economical alternative, costing approximately 250,000 VND, with parking available on-site for around 5,000 VND.
For budget-savvy travelers, the local bus is the way to go. Bus number 1 (the yellow bus that runs between Danang and Hoi An) can be taken from Da Nang's Central Bus Station (Bến Xe Trung Tâm Đà Nẵng near Han Market). Keep in mind this one can get quite crowded during peak hours.
Once inside Marble Mountains, exploration can only be done on foot.
Other Activities in the Area
Some of the activities you can enjoy in the area are mostly outdoors, and range from shopping to walks in the nature, visiting other nearby mountains near Thuy Son, the village or the beach.
Well, rock climbing is becoming more and more popular at the Marble Mountains.
These peaks with views of the sparkling sea and lush green forests have become a mecca for rock climbers of all levels, offering routes that range from beginner to advanced. Usually climbing is part of a tour offered by the local agencies. Like, for example, this tour.
If you're either shopping for tiny souvenirs or towering 3-meter statues, the Non-Nuoc Village surrounding the Marble Mountains, has a bit of everything.
Near the entrance, small artisan studios sell jewelry and precious stones, while larger retail stores offer unique and elaborate marble pieces. For over 400 years, local artists have produced beautiful Vietnamese-style artwork, featuring Buddhas, sacred animals, and national symbols using locally sourced materials.
Although Non-Nuoc remains a popular destination for high-quality handmade souvenirs, be aware that some items may be made of resin rather than genuine marble. Additionally, each mountain range produces marble with a slightly distinct tone, such as pink for Thuy (Water Mountain), white for Moc (Wood Mountain), and red for Hoa (Fire Mountain).
---
🍹 Water Sports & Sun Bathing
---
Located just a kilometre away from the Marble Mountains ticket booth, lies the serene and pristine Non Nuoc Beach with its long stretches of sandy shores and turquoise seas.
Though it can be a bit of a challenge to find a free area due to resort ownership along the beach, the effort is worth it. Thanks to its shield from large waves, the beach is quite calm and peaceful, making it perfect for sunbathing, swimming, and various adventurous water sports. Upon arrival, you will be greeted by a secluded and unspoiled beach that is ideal for strolling, jogging, and reading while taking in the stunning view of the Lady Buddha across the harbor
FAQ
---
⭐

Is It Worth a Day Trip to Marble Mountains from Da Nang?
---
Yes, it is definitely worth. It is known as the place with most statues in Vietnam. All immersed lush vegetation.
Cut almost to perfection from solid stone, the steep stairs going up to the first pagoda on the Water Mountain, and beyond, are not an easy hike. However, with each step you rise a bit more above the breath-taking horizon.
Like a spiritual maze of an incredible complexity, unveiling on different levels and depths of the mountain slopes. The mountains are topped with pagodas and temples, 17th-century Buddhist sanctuaries and pagoda temples, as well as hidden grottoes where locals pray and have their fortunes told.
---
🧗

Is Marble Mountains hard to climb?
---
Exploring the Marble Mountains is a challenging hike, requiring comfortable shoes and good physical fitness. The mountain paths are rocky and there are many steep stairs, with no smooth paved walkways.
While an elevator is available to reach the first level, the pathways beyond are not accessible for wheelchairs.
---
🎟️

Do you need a tour for Marble Mountains?
---
Not really. If you like exploring on your own,  you will see that when you buy your ticket, you will also receive a map (and some postcards 💚). There is also a big map when you get to the first level. Inside Marble mountains there are also plenty of informative wooden boards, leading you around.
However, if you want some well informed travel companions, there are plenty of organized day or half-day tours to take you out of Da Nang. Some of the best rated are mention below. These tours focus on one or combine multiple destinations from the Da Nang day trips trips.
If you're wondering what you should wear during your visit at Marble Mountains, I would say there is no dress code. I've seen people in shorts and t-shirts. Women sometimes wear dresses. Do consider this is a pilgrimage spot and decent clothing would be a way to show respect.
---
⛅

What is the best time to visit Marble Mountains?
---
The ideal time to visit the mountains on the outskirts of Da Nang is during the dry season, sometime between January and September. This period is perfect for sightseeing and outdoor activities as the weather is stable with little rain. Clear blue skies, bright sunlight, gentle breeze, and occasional light rain create a mesmerizing atmosphere.
The rainy season has its own charm, but I would not climb during this time.